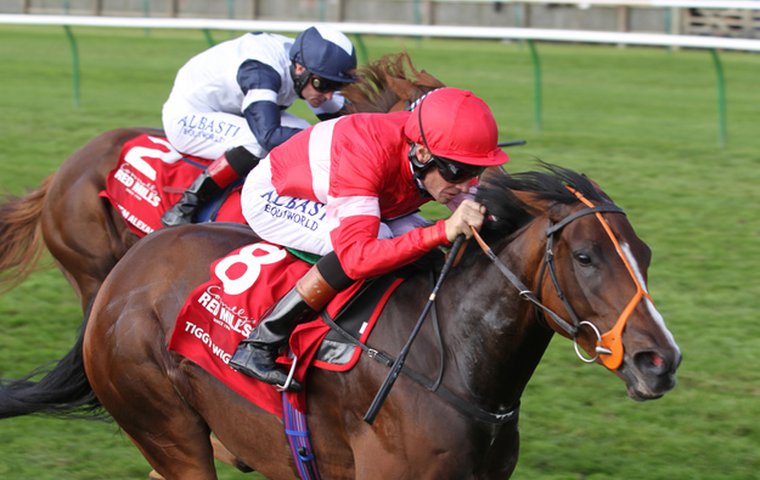 Tiggy Wiggy's speed blitz in winning the G1 Connolly's Red Mills Cheveley Park Stakes over six furlongs at Newmarket on Saturday may have propelled her toward a fascinating tilt against older sprinters on the Prix de l'Arc de Triomphe undercard.

In a cameo unheard of in other primary racing jurisdictions worldwide, the juvenile filly is set to reappear eight days later in the G1 Qatar Prix de l'Abbaye de Longchamp on Sunday (Oct. 5). She is one of three 2-year-olds who may try to become the first of their age to win France's definitive championship sprint since Sigy won the five-furlong test back in 1978.
Tiggy Wiggy, the Aidan O'Brien-trained War Front colt The Great War, and Cotai Glory, a son of Exceed And Excel trained in England by Charlie Hills, will all need to be supplemented - at a cost of €25,200 ($32,000) - but all three camps have been making positive noises. Should they run, they will be trying to turn back the clock to an era when 2-year-olds routinely crossed swords with older sprinters. They are spotted a significant weight concession: Tiggy Wiggy will be assigned 116 pounds and the two colts 120 pounds by the race conditions. Older fillies and mares carry 133 pounds and older colts and geldings 137 pounds.
Richard Hannon, Jr., who trains Tiggy Wiggy, agreed that the concession was attractive. "Also, the older sprinters have been doing the rounds all year and different horses have been winning," he said. "Sole Power might prove hard to beat, but you wouldn't be frightened of anything else."
Hannon's assessment is corroborated by British bookmakers, who quote Tiggy Wiggy as favourite ahead of Sole Power, even though the final decision to run her has not yet been made. The latter, trained in Ireland by Eddie Lynam, has already plundered the King's Stand Stakes and Coolmore Nunthorpe Stakes, the only other G1 races over five furlongs in Europe.
The last 2-year-old to win an all-aged G1 sprint was Kingsgate Native, winner of the 2007 Nunthorpe Stakes. Tiggy Wiggy was under consideration for that York race in August this year.
"We looked at it but decided we really needed to win a Group race with her, so we went against our own age and sex [in the G2 Connolly's Red Mills Lowther Stakes]," Hannon said. "Winning the Cheveley Park allows us to be more adventurous. It's pretty clear this is her year. She is so fast there is a big question about her lasting the mile [in the 1,000 Guineas] next year."
Loosing a rapier juvenile against older horses is not new to Hannon, whose father, also Richard, saddled Lyric Fantasy – dubbed "The Pocket Rocket" – to win the Nunthorpe 22 years ago.
"I was still at school," Hannon, then 17, reflected, "but I remember the occasion well. Who wouldn't?"
Lyric Fantasy and Tiggy Wiggy are hardly peas from the same pod. "Both were on the small side, but Tiggy Wiggy has more scope," Hannon said. "Lyric Fantasy was the fastest thing we had until Tiggy Wiggy came along but she wouldn't have coped with soft ground. Tiggy Wiggy loves it. Any rain at Longchamp would be great."
Juveniles are allowed to contest some all-aged championship sprints in Europe because there is no G1 race over five furlongs for the division. The 1950s and 1960s was a halcyon era: from 1957, 2-year-olds won six of the first 10 renewals of the Prix de l'Abbaye.
Simultaneously, over in England, juveniles were equally prolific in the Nunthorpe Stakes through the victories of High Treason (1953), My Beau (1954), and Ennis (1956).
This beguiling inter-generational match-up was actually inaugurated in France back in 1867. Initially run over four furlongs, the Prix du Petit Couvert was established specifically for that purpose until the race was redefined as a seven-furlong test in 2002 – by which time 58 2-year-olds had triumphed.
Among them was Deep Diver, who broke the all-aged track record at Longchamp in 1971 before he became one of the founding stallions at Ireland's Coolmore Stud under John Magnier's leadership.
Two-year-olds are no longer eligible for the Petit Couvert after the race's ethos was usurped by the Prix de l'Abbaye's inception in 1957. In that year, Texana annexed the prize to close out her juvenile campaign with 11 straight victories.
Texana's full-sister, Texanita, won the race six years later for French training legend Francois Mathet, who won the Prix de l'Abbaye a record eight times – four of them with juveniles.
Tiggy Wiggy would thus be seeking to recreate some of racing's sepia-tinted heritage on Sunday. Her regular rider, Richard Hughes, hopes to tip the scales at 118 pounds (against the slated impost of 116 pounds) and connections are considering whether to allow him to put up 2-pound overweight in exchange for the benefit of his knowledge of a difficult horse to handle.
A daughter of freshman sire Kodiac, himself a three-parts brother to Kingman's sire Invincible Spirit, Tiggy Wiggy is an impetuous individual. She was rank all the way in the Lowther Stakes but settled more kindly under Hughes when making all the running to win the Cheveley Park.
"The two of them go so fast from the stalls I sometimes think they are on a suicide mission," Hannon said. "But that's obviously the way the filly likes to do it. She goes out on her own at home [for morning exercise]. She basically trains herself, which is probably why she keeps winning. We don't really have anything to do with it.
"She has a very good action," Hannon continued. "That's what sets her apart from a lot of others. When their stride is shortening, she's still lengthening and using her stride."
More of the same would make Tiggy Wiggy very hard to beat on Sunday.
-----
Richard Hannon, Jr. announced on Sept. 30 that Tiggy Wiggy will not be running in the Prix de l'Abbaye.