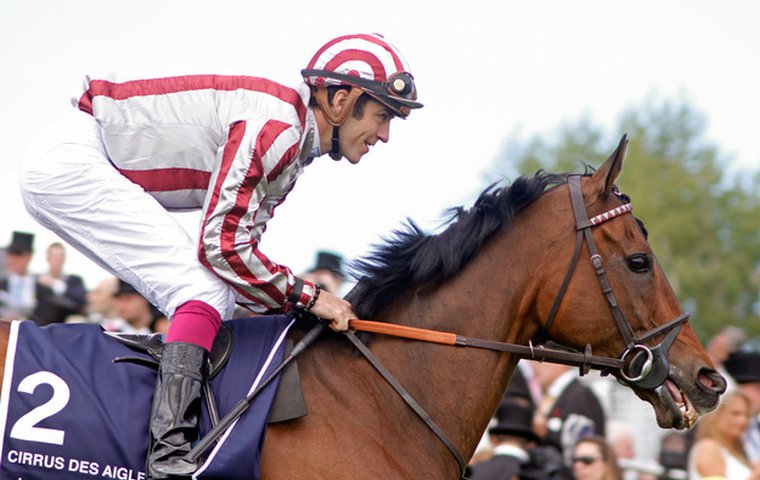 He's beaten the mighty Treve in a titanic head-to-head up the Longchamp straight and he's put it up to the even mightier Frankel - he was the only horse to give the great champion's supporters cause for concern even for a moment. He's won 21 races, including six G1s in France, Britain, and Dubai, and he's collected more than $9 million in prize money during a remarkable seven seasons.

Eight-year-old, French-trained Cirrus Des Aigles is not only one of the best horses in the world, he's also one of the most popular. There were 6,892 hits on his dedicated Facebook page last Friday morning, when he left Chantilly for the flight to Hong Kong for Sunday's international meeting.
Indeed he has more than 5,000 "likes" on his Facebook page, as well as an army of fans worldwide. "I often receive gifts for him, including carrots and sugar, plus fan mail," said his trainer Corine Barande-Barbe.
Sunday's run - in the $2.8 million Hong Kong Cup - will be his 61st race. It will also be his fifth at the annual Hong Kong International Races, a meeting where he keeps showing up but has so far failed to shine in six visits (he was withdrawn in 2012 after straining a tendon in training at Sha Tin, which kept him off the track for six months). Third last year is his best Hong Kong effort to date, but Barande-Barbe doesn't subscribe to the view that the track is too sharp for the gelding and is looking for something much better this time.
"I don't think the track is the main issue," she said. "A bigger problem has been the draw and getting stuck behind horses. This year, all being well, I hope Cirrus des Aigles can run a big race. His recent training has been very good and he is very well and fresher this year.
"His slight lameness when winning the Coronation Cup at Epsom in June may be to his advantage as he perhaps needed a little bit more time to recover. He did not have too hard a race in the Champion Stakes [at Ascot in October], which in the circumstances came too quick after his run at Longchamp in the Prix Dollar."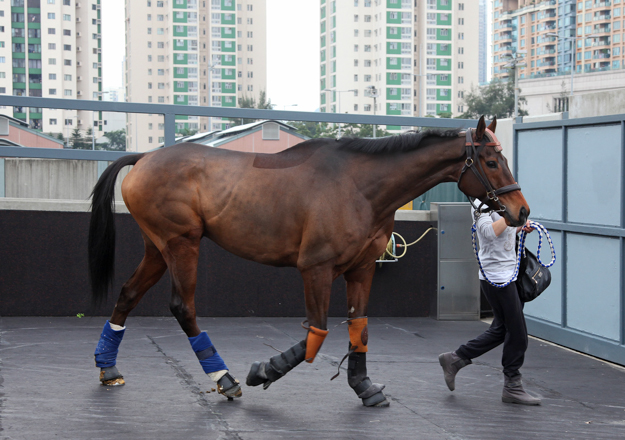 The story of Cirrus Des Aigles is a world away from the elite bloodstock operations normally associated with racing at the highest level. His dam, Taille de Guepe, was considered too slow to race by French trainer Elie Lellouche so was given as a present to Yvon Lelmouzin, supervisor of Les Aigles training area at Chantilly. Lelmouzin, in partnership with Benoit Deschamps, mated her with the Irish-bred stallion Even Top to produce Cirrus des Aigles in 2006.
Barande-Barbe said: "Cirrus Des Aigles was bought privately by Jean-Claude-Alain Dupouy as one of three horses sold for €20,000 [$24,600] and put into training with me. He proved very unruly and, in March 2008, was gelded. I knew first time out in a maiden 1,650-metre race at Chantilly in October 2008 Cirrus Des Aigles had something extra. After totally missing the break, he ran on well to be fourth."
The horse has gone from strength to strength as he got older (of his six G1s, three have come this year), and he was particularly effective on soft or heavy ground.
Perhaps the highlight was June's victory in the Coronation Cup over a mile and a half at Epsom, beating Flintshire, who would go on to be second in both the Arc and the Breeders' Cup Turf, by an easy two lengths. This was just a few weeks after beating Arc winner Treve by a short-neck in the G1 Prix Ganay.
Cirrus also had a notable season in 2011, culminating with a superb ride from Christophe Soumillon to win the Champion Stakes at Ascot, which saw him named Cartier European Champion Older Horse.
"It's been like a fairytale," Barande-Barbe said. "Cirrus Des Aigles has given everybody connected with racing some memorable moments competing at the top level. He just loves to race and travel.
"His Champion Stakes win when getting up to shade So You Think [in 2011] was something special and Christophe gave him a superb ride, while beating St Nicholas Abbey in the 2012 Dubai Sheema Classic, where Olivier Peslier accelerated in front entering the straight at just the right time, was also superb.
"But obviously, the race against Frankel in the 2012 Champion Stakes, where for just a few seconds it looked like Cirrus des Aigles could beat Frankel, was a race to remember for a lifetime, while beating Treve in April for the Prix Ganay was another great moment to cherish."
The horse's most successful race has been the G2 Prix Dollar at Longchamp, which he has won three times - in 2010, 2012, and 2013. He was denied a fourth this year when he crossed the line first but was disqualified and placed fifth for causing interference.
Back at home, Cirrus Des Aigles has always been a character with his own ideas about training.
"On the gallops he does what he wants - not too much at first, but on the second canter back, he likes to be the best and fastest," Barande-Barbe said. "When in his box or taking a shower at the yard, he is always curious and looking round at what is happening. When I wash his legs after training, he has the habit of trying to take some particles of food out of my coat pocket and, on one occasion, I lost a USB card and two days later found it behind his water bucket in his box."
Before Cirrus came along, Barande-Barbe, who has been training since 1991, tasted big race success with Carling, winner of the 1995 Prix Diane.
She said: "I don't buy horses and have a loyal selection of small owners and a stable of 25 horses, which enables me to pay attention to every horse in the stable and know them all well.
"If I win a little race rather than a bigger one, it's a great thing too. I never take an official holiday, but thanks to Cirrus Des Aigles, I have been able to travel to Hong Kong and Dubai on several occasions over the past few years and spend a few days in these countries. I am a dreamer by nature and have been lucky to do a job that I love, working with racehorses and great staff."
Whatever happens on Sunday, retirement is not on the horizon for Cirrus. When that day does come, his trainer is hoping he will stay on at the yard he knows so well.