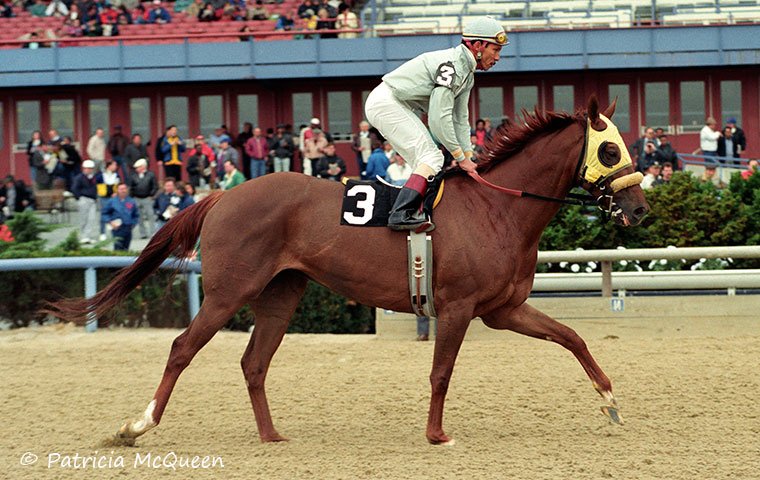 In 1973, the Eclipse Award for outstanding trainer went to H. Allen Jerkens, who masterminded not one, but two defeats of Triple Crown winner Secretariat that year. It wasn't an easy thing to do, even if the big red colt was off his game in those two starts.

In saddling Onion to win the G1 Whitney and Prove Out to win the G1 Woodward, Jerkens enhanced his reputation as a "giant killer" – the trainer had already knocked off the great Kelso three times with Beau Purple, and sent out longshots to defeat odds-on favorites Buckpasser and Cicada. In 1973, Prove Out upset not only Secretariat, but champions Riva Ridge and Forego as well, all in different races.
Sixteen years later, Jerkens welcomed into his barn a 4-year-old daughter of Secretariat named Summer Secretary. And darned if the filly's female bloodlines didn't go right back to the incredible years 1972 and 1973, when Secretariat and his stablemate Riva Ridge graced the land.
Summer Secretary's dam, Golden Summer, bred by Paul Mellon's Rokeby Stable, was a daughter of the top filly Summer Guest, a Rokeby runner who was in a heated battle with Susan's Girl for the 1972 3-year-old filly championship. In an effort to win the title, Summer Guest was entered in the Woodward against two colts who were in their own tussle for year-end honors.
Riva Ridge was trying to restore the luster on his campaign, during which he had won the Kentucky Derby and Belmont Stakes, while arch rival Key To The Mint (owned by Rokeby) was riding a 3-race winning streak. With a victory in the Woodward, Key To The Mint secured the championship as Riva Ridge faltered on a sloppy track he was known to dislike. Meanwhile, Summer Guest finished second, but was disqualified to third, and she lost the title to Susan's Girl. Still, she was the first 3-year-old filly to race in the Woodward, and the first female of any age to place in the race, until Rachel Alexandra won against older males in the 2009 edition.
In 1973, Summer Guest won the Grey Lag at Aqueduct against the boys on the same day that Secretariat won the Kentucky Derby. Later that year, she again raced in the Woodward, this time against Secretariat – and that upstart named Prove Out from the Jerkens barn. She didn't fare as well as the year before, finishing last of five.
Mellon was one of the original members of the then-record $6.08 million Secretariat syndicate, and he sent Summer Guest to the Triple Crown winner in 1980, a mating that resulted in the winning filly Wish You Were Here. But it was the mare's 1979 foal by Key To The Mint – Golden Summer – who would be the one to produce a stakes winner by Secretariat.
First victory
Golden Summer won three of 11 starts for Rokeby. Bred to Secretariat in 1984, she was sold in foal at the Keeneland November sale. The buyer, at $450,000, was the Stavola family of New Jersey – patriarch Michael Stavola and his sons William and Joseph. They operated as Middletown Stable, a leading New Jersey racing and breeding operation. For them, Golden Summer produced a chestnut Secretariat filly in Kentucky on March 27, 1985.
Named Summer Secretary, the youngster didn't actually start her racing career with Jerkens; she was originally trained by Tim Kelly.
Secretariat's daughter made four starts at two in 1987, with two thirds at Monmouth Park to show for her efforts. After eight months off, she returned at three in a 5-furlong maiden race at Garden State Park on June 3, 1988. Favored at 2/1, the filly took the lead shortly after the break, opened up in the stretch by a wide margin, and coasted home in front by three lengths for her first victory.
After placing in three of her next four starts at Philadelphia Park (now Parx) and Monmouth Park, Summer Secretary got her second win on August 24 at Monmouth. The even-money favorite, she was on the lead for most of the 9-furlong race, winning by four lengths while in hand over a sloppy track.
A fondness for turf
Next out, Kelly sent her to New York for her first try on the turf. Although sixth, she was only beaten about five lengths on the Belmont Park grass. After a good second back on New Jersey soil, she won two consecutive allowance races on the turf at The Meadowlands – only twice in her 52-race career did she put together back-to-back wins.
They were both on firm turf – a head victory going 8½ furlongs on October 1, and an easier four-length win at the same distance on October 13. Summer Secretary closed out 1988 with three unplaced stakes tries at The Meadowlands, two on dirt and one on grass.
In early 1989, she was transferred to Jerkens' barn in South Florida. She started in three straight turf stakes at Gulfstream Park; her best finish was a second in the G3 Suwannee River Handicap on February 4, just threequarters of a length behind multiple stakes winner Fieldy.
After the stable shipped back to New York, Summer Secretary placed in two of three starts on dirt, including a third in the G3 Betsy Ross at Garden State on April 8. For the rest of her career, she raced almost exclusively on grass.
On that surface, she won her first stakes race, the G3 Beaugay at Belmont on May 14. Run over a yielding turf course at 8½ furlongs, the 15/1 chance took the race by a half-length over another longshot, Far East, with favored Fieldy third. The filly's uneven history prompted Jerkens to comment after the race, "I don't know why she runs bad and why she runs good. There was nothing different about her today, except maybe she wasn't as fussy in the paddock."
Puzzling filly
The puzzling filly was fourth in her next two starts, including the G2 Matchmaker at Atlantic City, and returned to the winner's circle in the Atlantic City Budweiser Breeders' Cup Handicap on August 23. She was bumped at the start of that 8½-furlong turf event and raced wide, but rallied in the stretch to just prevail by a nose in a tight 4-horse finish.
She followed that with a decent effort in the G3 Violet at The Meadowlands, finishing third to winner Gather the Clan (by Secretariat's son General Assembly). The time of 1:39.6 was just one-fifth of a second off the course record for 8½ furlongs.
In her only career attempt in a G1, Summer Secretary was last in the Flower Bowl on September 16. Another poor effort in early November closed out her 1989 season.
Back at her winter home, the chestnut was second in three straight races on the Gulfstream Park turf, including a heartbreaking nose loss in the G3 Buckram Oak to Laugh And Be Merry, who was on her way to a divisional championship in 1990.
After a victory in an Aqueduct turf allowance on April 28, Summer Secretary ran well enough over the next few months but couldn't get back to the winner's circle in eight more starts – mostly stakes races – through year's end.
Her third Florida winter produced her first-ever win at Gulfstream Park, a one-mile turf handicap on February 18, 1991. She followed that with a seventh in the Buckram Oak, beaten only 2¾ lengths, and then an excellent second in the Honey Fox Stakes.
Summer Secretary then headed north for the last time, and finished third in an Aqueduct turf allowance against the boys on April 20. Second most of way, pressing the pace just a length off the lead, she only gave way late.
Repeat in the Beaugay
Two more starts off short rest resulted in back-to-back wins for just the second time in her career. She won an Aqueduct allowance on April 29, and followed that with a victory in the Beaugay, the race that provided her first stakes win two years before. In the 8½ furlong race over firm Belmont turf, she dueled for the lead most of the way, surged clear at the top of the stretch, and held off stablemate Virgin Michael to win by 1½ lengths. The time of 1:40 was a new stakes record and just .8 of a second off the course record.
A fourth in the G3 Vineland at Garden State Park on May 25 was followed by the final stakes win of her lengthy career in the Rumson Breeders' Cup Handicap at Monmouth Park on June 15. Third early, she gained steadily and drew away late to win by 1¼ lengths in 1:34 for the one-mile on the turf.
Jerkens indicated that he'd send her for a repeat try at the Matchmaker on July 3. He told the Daily Racing Form's John Piesen, "The Matchmaker is a little longer than this mare likes, but if the course is firm she can get the distance [9½ furlongs]." The trainer noted that the mare would be retired at the end of 1991. "I think she would make a valuable broodmare."
Instead of the Matchmaker, though, Summer Secretary headed to New Hampshire for the July 4 Rockingham Budweiser Breeders' Cup, and then closed out her career in the Atlantic City Budweiser Breeders' Cup Handicap on August 21. She was unplaced in both races.
In total, Summer Secretary made 52 starts over five years, with 11 wins, 11 seconds and eight thirds. She earned a total of $555,144, which makes her Secretariat's eighth leading earner.
The mare carried several prominent jockeys during her long career, including Julie Krone, Eddie Maple, Rick Wilson, Marco Castaneda, Art Madrid, Jose Santos, Jean-Luc Samyn, Jacinto Vasquez, Jean Cruguet, Jorge Velasquez, Raul Rojas, and Nick Santagata.
Producing success
As a broodmare for the Stavolas, she delivered seven foals, the last one in 2003, the year of her reported death. Only three of her foals made it to the races, but one of those was stakes winner Dayjob, a son of Dayjur.
After starting his career in Southern California, the gelding ended up in the Midwest, winning five stakes at Prairie Meadows and placing in more throughout the region. He earned a total of $348,960.
Several other stakes horses have come from Summer Secretary's daughters, including Japanese champion 3-year-old filly Kawakami Princess, an earner of more than $3 million. The mare did her part to live up to Jerkens' prediction of broodmare success.
More than 20 years after Summer Secretary's racing career ended, the Hall of Fame trainer remembered incredible details about his former charge. Talking about her in 2012, he noted that she had a tendency to tie up, and even on race days she sometimes had to be carefully managed and rubbed – but then she'd go out and run her best races. "She had the syndrome, but it didn't bother her a bit. It was incredible."
And she loved standing with her feet in a tub of water. It was a typical morning routine for most of the trainer's horses, usually in ice water, to keep their legs tight. But Summer Secretary enjoyed it so much that when she went to the farm for a little break, she would – on her own – stand in any available water tub.
"I never heard of a horse doing that before," marveled Jerkens, who then summed up the filly succinctly: "She was as nice a filly as you'd ever want."