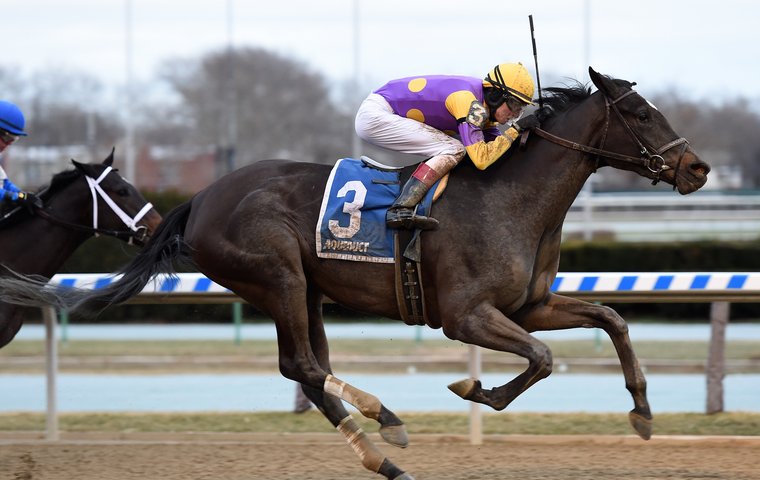 On a cold March afternoon, Joan Taylor and Bill Wilmot stood in the paddock at Aqueduct Racetrack in Queens, New York. They'd traveled nearly four hours from their farm in Saratoga Springs to watch Holiday Disguise, the 4-year-old filly they'd bred and sold as a weanling, run in the Heavenly Prize Stakes and try to get her fourth win in a row.

Holiday Disguise had to settle for second that day, bringing her record for owner Lady Sheila Stables to 6-4-1-0 and increasing her earnings to nearly $240,000.
It was the second straight weekend at Aqueduct for Wilmot and Taylor. The prior Saturday, March 3, they'd watched as Midnight Disguise, a homebred half-sister to Holiday Disguise, won her second consecutive race in the listed Busher, an official points race for the Longines Kentucky Oaks at Churchill Downs on May 5. The 50 points Midnight Disguise earned ensures the New York-bred a spot in the starting gate for the prestigious Oaks.
Both Holiday Disguise and Midnight Disguise are out of Thin Disguise, a 2006 Taylor/Wilmot homebred by Yes It's True, who won one race in nine starts. All four of Thin Disguise's foals to make it to the races are winners, with three of them earning more than $200,000.
Commercial breeders
Both veterinarians, Wilmot and Taylor have been prominent on the New York racing and breeding scene for decades. In 1975, Wilmot trained Gold And Myrrh to an upset win over Forego in the G1 Metropolitan Handicap; six years later, the couple purchased the land on which they'd build Stepwise Farm and turned from racing to breeding. Their successes as breeders include Naughty New Yorker, a Graded stakes winner who also won eight listed stakes, and more recently the multiple stakes winner Twisted Tom.
Taylor and Wilmot are commercial breeders. They breed to sell, not to race, unless they end up with a foal that they think, for one reason or another, won't appeal to the market. Midnight Disguise is one of those foals.
"She had an issue early on as a weanling," said Taylor. "We were going to sell her a yearling, but we realized that she had some issues that needed to be addressed and we felt that she wouldn't be well received at the sale."
Click here for full details of the New York owner and breeder awards
Before she was a year old, the big dark bay/brown filly by Midnight Lute had been poked, prodded and treated back home at Stepwise Farm and, said, Taylor, had grown pretty "crotchety and grouchy".
"She lacked confidence, and she needed to grow into herself," said Taylor. "We continued to give her lots of TLC, and our staff was great with her. She stayed with us until January of 2017, and we didn't know whether she'd ever make it to the races."
She was a farm project, with the staff on "high alert" to be nice to her and help her mature, and, while Taylor described that period as "pushing a huge snowball uphill", their patience and hard work paid off.
"Suddenly," she said, "she just bought into the program."
"It was like Tinkerbell visited one night and sprinkled fairy dust on her," said Wilmot. "Her attitude completely changed."
Ordinarily, the young Stepwise horses head to Ocala for breaking and early training, but Taylor and Wilmot wanted to keep this one close to home, where they could visit her regularly. She went to Mike Shrader's In Front Training Center in Ghent, NY, where she showed a competitive spirit virtually from the beginning, wanting to run past the horses she was training with.
"It was clear that she was happy in what she was doing," said Wilmot.
Like a sullen teenager, as she has matured Midnight Disguise has left her surliness behind. She approaches the front of the stall when Wilmot and Taylor visit her, nuzzling them, clearly happy to see them, and the sense of competition that she displayed at In Front has carried over to her racing career.
Trained by Linda Rice, she won her first race, a maiden claimer, by 6½ lengths as the favorite. And, much to her connections' relief, she wasn't claimed.
"We'd admired Linda for some time," said Wilmot. "She's the only woman to have won a training title at Saratoga, and she does so well in the winter at Aqueduct."
Late blooming
He added a third reason for entrusting Rice with their late-blooming filly: she was already training Holiday Disguise, the half-sister.
"She turned her into a stakes winner," said Wilmot. "She seems to have a knack with this family."
Taylor offered a slightly different perspective. "That she was a woman didn't enter into it for me," she said. "She's a good trainer."
Currently leading the Aqueduct meet with 30 winners from 107 starters (28 percent), Rice has trained Midnight Disguise to four wins and a second in five starts, the most notable coming in the Busher, given its significance to the Kentucky Oaks.
And, while Wilmot and Taylor couldn't even find people willing to buy into the filly as partners when she was younger, they've now received several offers, all of which they've turned down because they have no interest in selling her completely. While they're open to offers, they want to remain involved with her as owners, and none of the filly's suitors thus far have been interested in that.
They did sell Thin Disguise, Midnight Disguise's dam, in foal to Bodemeister at the recent Keeneland January sale; McMahon and Hill Bloodstock went to $200,00 for her, but the purchase isn't all that made Wilmot and Taylor happy.
"We've known Mike McMahon since he was a kid," said Taylor. "His mother Anne is one of my best friends."
As a result of that relationship, Taylor and Wilmot will continue to own a piece of the mare, who will be bred to Gun Runner this year.
"It's really cool to be partners with them," said Wilmot. "They're great partners to share the risk with."
Looking to Saratoga
Following the Busher, Midnight Disguise will be pointed to the $300,000 G2 Gazelle at Aqueduct on April 7. And, while the Kentucky Oaks is definitely circled on the calendar, that might not be the ultimate goal for the filly's team this year.
Said Wilmot, "After the Busher, Linda said, 'I'm a New Yorker. I race in New York. The Oaks is on the schedule, but I'm a New York girl.'"
And that New York girl is looking ahead to August 18 at Saratoga Race Course, when the $600,000 G1 Alabama will be run.
"One step at a time," said Wilmot, prudently. "We're enjoying this. The next race is the Gazelle. If she races well, she'll tell us whether she wants to go to the Oaks. We'll do what's right for her. If she signals that that's in her future, we would obviously be thrilled — that's not something you can do every day."
Then he added, "All of these races have special meaning, but the Alabama in Saratoga — there's nothing like winning a race that prestigious in your hometown."