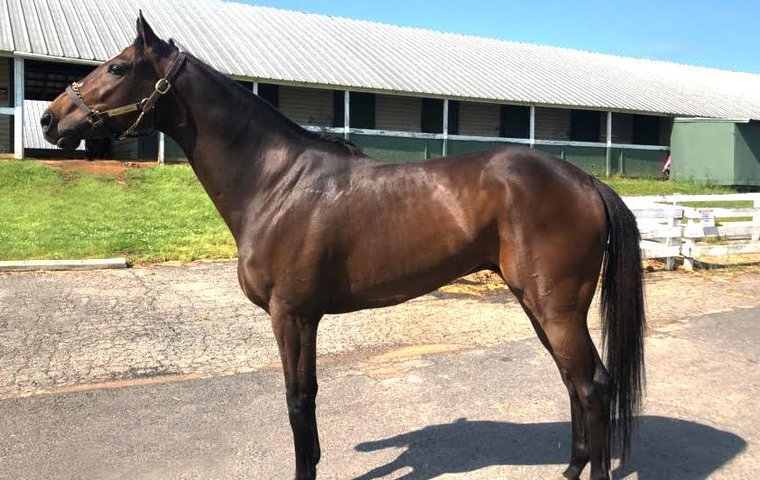 JUNE 4, 2019: I bought a Thoroughbred racehorse, a living, breathing, direct descendant of Byerly Turk, Godolphin Arabian, and Darley Arabian (well, one of them anyway).

More recently (fast forward a couple of centuries) Moon Unit is a grandson of A.P. Indy (yes, that A.P. Indy, the one who earned $2.9m on the racetrack) and son of broodmare Holiday Soiree, a daughter of Harlan's Holiday (who earned $3.6m).
Yes sir, yes ma'am, the Sport of Kings has added to its court: just call me 'King Ken'. And here's the best part: I got him for a bargain, paying the decidedly unprincely sum of $149.
I am, of course, part of the growing legion of 'micro-owners', a relatively young phenomenon in racing that entitles me to proudly proclaim I am a horse owner. So what if .05 percent is approximately six pounds of this dark bay beauty. That six pounds is mine, and if my co-owners don't mind, I'll claim that weight from the nose back, which I fully expect to cross first under the wire soon, and very soon.
I must sheepishly admit the question of whether he is a 'bargain' is still on the table, still up for discussion. For starters, there's this nettlesome issue of Moon Unit breaking his maiden. A stakes runner Moon Unit is not, and his value is, well, not so high.
Wasabi Ventures Stables, of which I and my $149 are a part, paid $9,000 for him in a private sale. His highest potential, to be realistic, is earning purse money in the claiming ranks and maybe, just maybe, breaking his maiden.
Not that Moon Unit hasn't come close to winning. He's finished, to date, second in his 11 races thrice, and never mind those placings were by an average margin of six lengths. He hit the board, by damn, and finished third in three other races.
In short, he's been in the money in more than half of his starts, which isn't bad. Never mind, too, his pursuit of initial victory began with a maiden special weight race with a purse of $74,000, and never mind his next race is a $18,000 maiden claiming race. With Moon Unit, I'll settle for a piece of a $10k claiming purse if his trainer can find a race at that level for him to enter. It's sure to exceed my inves ... no wait, I'll have to split, say, a $6k winner's share with 40 other owners and earn, uh, just short of $30.
June 15, 2019
'Soon' is not as soon as I expected for 'my boy' as I've begun to call him. He ran third in the $18k race at Laurel Park in Maryland.
Believe this: it's one thing to be a fan; it's quite another to be an owner, even a micro-owner. The second-guessing on my part was instantaneous and, were Moon Unit all mine, I know for certain I would be a pain-in-the-rear to the trainer.
Why was he going a mile when most of his races had been six-furlong sprints? Was his impressive workout, going 100.80 for five furlongs 12 days from the race, too far out? Did the jockey move him too soon on the turn going into the stretch? Why didn't he go to the whip sooner? Why was he on the rail when the track bias was in the middle?
Enough about the trainer and jockey. Now, for the Laurel stewards: the winner lugged in twice from the outside to the rail, slowing Moon Unit, if not causing him to have to take up. And. hey, don't tell me about the Kentucky Derby disqualification being routine, something that would go unquestioned in claiming races. Not this claiming race, and I can hear the stewards (conspirators?) muttering, "Ah, who cares?"
Well I do and 39 other co-owners.
Still, the big guy hit the board, earning me purse money of (drum roll please) $9.90.
Am I disheartened? Are you kidding. It's as much fun as I've had recently with my clothes on. I laughed at myself starting Wednesday before the Saturday race when my stomach started tying up in knots. Seriously. I even slipped out of my Saturday religious service to check my Equibase phone app for results.
I both can't wait for my boy's next race and, at the same time, dread it for the butterflies and the valium I might need to get through it. If he finally does break his maiden, I can't imagine the delirium I'll experience. I will be as happy as the owner of a Kentucky Derby winner.
TK Kuegler, founder and principal of Wasabi, brought Moon Unit into my life. (Melodramatic as it sounds, that's how I'm going to express it.)
I'm ready to send him another $149 as a tip. Finding out 'Moon's' next start, I messaged him with questions followed by, "TK, have I told you I love you?" True story. I'm over the moon for this horse and the whole experience - pun intended.
I'm among company that would surprise you. According to Kuegler, 42 percent of Wasabi horse owners are women, 37 percent have never been to a racetrack, and only 8 percent have ever owned a horse or a portion of one.
Somebody explain that.
In a sport supposedly dying for new blood, TK Kuegler and other clubs might be just what horse racing needs. The statistic most meaningful to Kuegler is Wasabi has spawned three people who've gone out on their own to buy horses.
The business premise for Wasabi is a simple one: "If I can keep the cost low, it's very easy for someone — the average 'Joe Schmo' out there - to be an owner," said Kuegler. Unlike horse clubs that some racetracks offer, which give members access to a horse with no financial return, or syndicates, with a potential return but ongoing expenses, Wasabi members purchase their percentage and that's that.
After Moon Unit's last race, the other owners and I will receive profits if earnings exceed expenses. If not, that's it. On to the next horse (more on that later). Amazingly, around 50 percent of Wasabi claiming horses have been profitable. (Wasabi this year expanded into yearlings, broodmares, and stallions with shared expenses.)
Wasabi limits percentages purchased to 5 percent of a horse. Kuegler explains that the limit precludes licensing for ownership through horse racing commissions or racetracks. The limitation dovetails with Kuegler's mission for Wasabi: "My main goal is to create more owners."
August 9, 2019
It is weeks out from Moon's last start as my horse. A trainer claimed him in a $10k race at Charles Town on July 26.
It has taken weeks, in the various stages of grief, to finally come to acceptance, and I'm not sure I have. He ran second (God bless him), overtaken in the stretch, as in all his previous races, it seems.
One might think I'd be interested in jumping back into ownership? Nah. It's the furthest thing from my mind. Maybe acceptance is still down the road. The emotional attachment to the horse is there, even if there is no financial one, paltry through it may have been.
This is the magic of this game. A horse, I imagine for every owner, may begin as an investment, a lark, or a gamble. But then it becomes something else, whether a top stakes runner or a cheap claimer. They all are flesh, blood, and heart with this mysterious innate drive to run. They are God's most beautiful and wondrous animal creation.
My cut from the venture: a check for $1.91! Still, we're not really in it for profit, are we?
Today Moon ran fourth … in a field of only five horses in a $27k maiden race for the new owner/trainer, maybe a bit of a stretch for a horse coming off a $10k claiming race.
The disappointment is akin to hearing some bad news about an old friend. Apparently, according to the former trainer for Wasabi, Moon has physical issues, which means light training only. This accounts for races where I watched him fade in the stretch and breezes spaced further out from races than typical. I wish better and want better for Moon, but it's all from a distance with no passage.
September 6, 2019
He did it! Dropped back down to an $11k claiming race, he won by a nose. The new trainer, Barry Utterback, is apparently another Todd Pletcher or Aidan O'Brien in the making, and the jockey, Grant Whitacre, gave Moon a ride Oisin Murphy would envy. And the stewards at Charles Town Race Track are exemplary judges of adherence to riding rules (maybe the finest in the sport), dismissing a patently ridiculous foul claim after Moon merely brushed another horse, inaccurately described in post-race comments as a "bump". Please.
No, I'm not running out for a bottle of champagne to celebrate with my wife as I had planned. It was a delight to see a replay of him gamely fend off a horse to his inside down the stretch and a closer to the outside. His victory subsided into wistfulness soon after.
Maybe it had to do with the margin of victory. He won by that nose I no longer own.