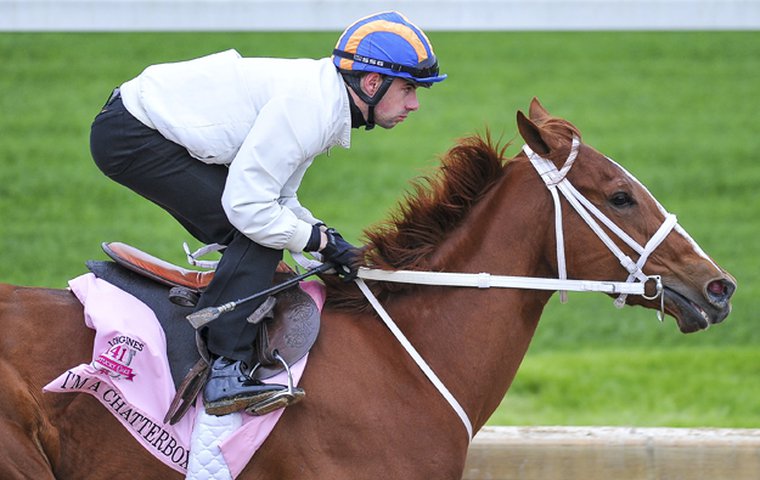 On Tuesday afternoon after the draw for the Kentucky Oaks, Carolyn Gray was enjoying a rare afternoon off. Warm and sunny weather in Louisville invited al fresco dining, an invitation that Gray accepted, eating lunch and having a beer at an outdoor patio, followed by a trip for ice cream.

"I can't remember," she said, "the last time I had a beer with lunch on a Tuesday afternoon."
She and her husband Fletcher had arrived the previous night, after making the eight-hour drive from their farm near Springfield, Missouri; welcoming a call from a stranger, she sounded pretty relaxed for a woman preparing to run a filly in Friday's Longines Kentucky Oaks.
"I'm having a delightful time," she said, pleased laughter in her voice. Her conversation is peppered with words like "fun," "wonderful," "great," and more than once, "delightful."
And why not? The filly that she and her husband bred is undefeated this year, securing a spot in the Oaks with three apparently easy victories in Louisiana, sweeping the Fair Grounds filly prep series for trainer Larry Jones. She earned 161 Oaks qualifying points, good enough to tie leader Condo Commando, who edged her out of the top spot with more stakes earnings; the two fillies are co-second choices at 4-1 for Friday's race.
The Grays have been breeding Thoroughbreds for more than 20 years; they got started breeding Quarter Horses and make their living breeding to sell. Among Grayson Farm alumni are two champions: Left Bank, the champion older horse in 2002, and Stardom Bound, champion juvenile filly and Breeders' Cup Juvenile Fillies winner in 2008.
Had things gone according to plan, I'm a Chatterbox would have joined them in the ranks of horses that the Grays sold and watched go on to racing success for other people.
But at the Keeneland yearling sale in September 2013, the chestnut filly by Munnings out of Chit Chatter (Lost Soldier) failed to meet her reserve, bringing a final bid of only $30,000.
"She was a nice enough filly," said Gray, "so we thought we'd take another chance and sell her as a 2-year-old.
"But at the sale the next year, she got a slight blemish—not an injury, nothing significant, but enough to take her out of the sale. We decided to take her on to training and she started to show a little promise."
The Grays will occasionally keep one of their horses to race, and the decision to keep this one seemed smart from the start. Gray explained that the filly's name comes from dam Chit Chatter but added, "Fletcher swears I'm her namesake!"
I'm a Chatterbox broke her maiden at Keeneland last October for trainer Ken McPeek; after two losses later in the fall, she resurfaced at Fair Grounds in January, where she crushed the field in the Silverbulletday Stakes, winning her first race for Jones by eight lengths.
"Larry and Cindy have trained a few horses for us over the years—normally we have just one, because our business is selling," Gray explained. "We've had a good relationship with them for a number of years, and they've always kept a spot open for us. They're just tops, and we're very fortunate to be able to have Chatterbox with them."
The Grays breed about half a dozen horses every year on their 110-acre farm, where, said Carolyn, "We take care of things pretty much ourselves. We're a small operation and we love what we do."
Like their other foals, I'm a Chatterbox was foaled by Bernard and Michelle Vertuca at Calabria Farm.
"They're very hands-on," said Gray. "They're a wonderful couple."
I'm a Chatterbox is the third foal out of Chit Chatter that the Vertucas have foaled, and all of them, said Bernard, are athletic, good movers.
"She was a great filly to be around," he said. A veterinarian who focuses on equine reproduction in Midway and Versailles, Kentucky, he said I'm a Chatterbox had the hint of aggressiveness not uncommon in a good filly, coupled with intelligence.
"The mare is really sweet and laid-back," he said, "and she throws good babies."
Formerly at Adena Springs, whose broodmare band numbers in the hundreds, Vertuca marvelled at what the Grays have accomplished with just a few mares.
"It's just incredible," he said. "Left Bank, Stardom Bound, Icon Ike--how many people could do that?"
Chit Chatter foaled a Flat Out filly last week and will be bred back to Munnings to produce a full sibling to I'm a Chatterbox next year.
I'm a Chatterbox drew post eight in the full field of 14 horses (with longshot Peace and War an also-eligible), a position with which Gray declared that she and her husband are "very, very pleased."
"If we could have chosen," she said, "that would have been our spot."
"Chatterbox is pretty versatile," she observed. "She can lay anywhere, pretty much. We wanted speed inside of us, and that's pretty much how it turned out. Florent [Geroux] is an excellent jockey—he's very smart and he really pays attention, and he has a great relationship with her."
It's easy to believe Gray when she talks about how much she loves what she and her husband do, the passion they have for their work. She's also pretty convincing when she talks about how laid-back they are, as they wait for one of the biggest days in their professional lives.
"We're not doing too much different from what we'd do at home if we had the day off," she said.
Those days off from the farm back home don't come along too often, nor do days like Friday, when the filly they bred will go in the gate for the 141st running of the Kentucky Oaks, with a pretty good shot to win it.
"We're delighted to be in this position," she said. "It's quite an honor, and really a lot of fun for us. It's a lovely spot."