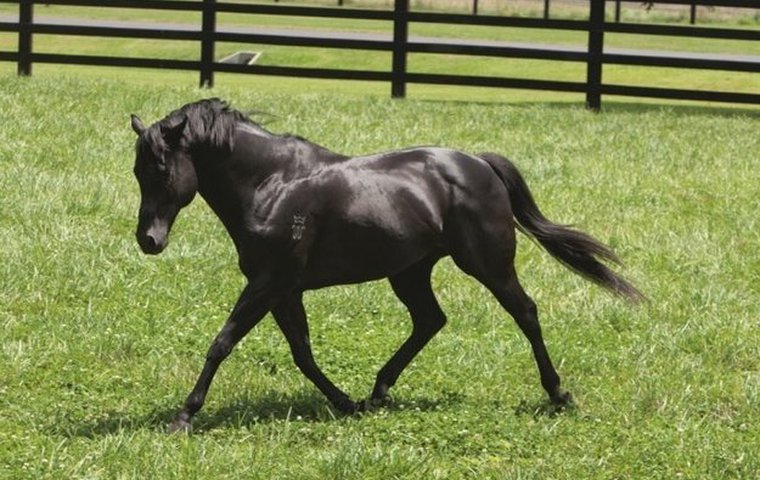 In recent weeks, Darley America announced its 2015 stallion roster and, for the first time in three seasons, there wasn't an Australian horse on it. Lonhro, the breeding giant's rising 16-year-old, will remain in the Hunter Valley next year. In light of this, Jessica Owers looks at Lonhro's pioneering "reverse shuttle" to Kentucky, and wonders if it has been a success.

Late in 2011, as the Northern-Hemisphere breeding season rattled close, the thick set, near-black Lonhro departed Sydney for Jonabell Farm, Kentucky. He was cutting new ground. The first Australian champion sire to serve stallion duties in the United States, he was a horse that had no form on dirt, but an enviable record on turf. The decision to send him to Kentucky had been met with questions, skepticism and excitement in both hemispheres.
It was nothing new for Australian horses to "reverse shuttle" to the Northern Hemisphere, a process that sees them go north for the Australian winter. But it was relatively new for one to head to America. Lonhro was only the second Australian horse to do it (All American had reversed from Arrowfield Stud to Darby Dan Farm in 2011). Henry Plumptre, head of Darley Australia, had been matter-of-fact about Lonhro's mission.
"We've been bringing American stallions down here for years," he said in 2011. "There was no reason to think it wouldn't work the other way."
It was obvious the Darley operation had thought long and hard about it. John Ferguson, chief bloodstock advisor for Sheikh Mohammed, believed that soundness, rather than dirt form, was critical to a horse's potential success in the U.S.
"The Thoroughbred is probably as fast as it's ever been," he said, "but I think the number of times that it is soundness that holds a horse up, rather than lack of ability, is becoming more and more frequent. Lonhro can provide that remarkable soundness and toughness that Australian horses are very famous for."
Lonhro was sound, and he was tough. In a race career that fanned 2000 to 2004, he raced 35 times for 26 wins, figures that just don't occur these days. Eleven of his victories were at G1 level, and only out of the top-three four times, he collected almost AUD$6 million in prize money, pocketing a number of useful accolades along the way: Australian Champion 3-Year-Old, Australian Middle Distance Champion, Australian Racehorse of the Year (2004), and World Champion Miler (2004).
Darley had inherited Lonhro after its buy-up of Woodlands Stud in 2008. The horse had been creeping into champion-sire territory, but within three years he won the title for Darley. He was also as physically imposing a thoroughbred as could be imagined.
"When you see his physique, you can see why he was sound," Ferguson said. "He has great bone, he has great body, and he is passing that along to his progeny."
Lonhro is a hulking thoroughbred, a horse with density and power in every corner. He has a thick neck on a very big, masculine body, and though some might say he is short-coupled, in fact he was the perfect racing machine from 1,100 to 2,000 metres. Nicknamed "the Black Flash", he is dark, dark brown, like his sire Octagonal, and though big, he stands no more than 16.1 hands high. Physically, he raised a lot of American eyebrows in 2012, for he was unlike any classic-type Thoroughbred that had previously visited U.S. shores.
L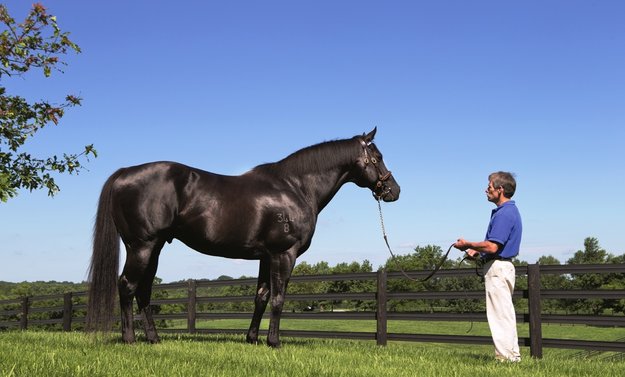 American breeding was a tough nut to crack. Lonhro had peaked as a 4- and 5-year-old during his own career, so many Americans expected his offspring would need the time and patience that U.S. racing just didn't have. They wanted precocious types, the kind of foals that would hit the ground galloping. Also, there was risk involved with him. He required breeders to act outside the circle they knew. Lonhro was by Octagonal, who was by Zabeel, who was by Sir Tristram by Sir Ivor. The Sir Ivor line was one of Kentucky's great legacies, but it had fallen off the map a long time ago.
However, the most resistance came from the dirt argument: Lonhro was a turf horse with no certainty to throw types suitable for U.S. surfaces.
"One of the things one has to realize about Lonhro is that he has great strength," said Ferguson, "and one of the great things about a dirt horse is that he has to have great strength. Lonhro raced on the turf because that is all that was open to him, but of the many turf horses I have seen, I would suggest that he is the kind of horse that can adjust just as easily to the dirt as to the turf, because he has that great physique. And all top dirt horses have a great physique."
Lonhro was packaged at USD$30,000 for his first American season. It was a fee that Darley said made him "accessible to everyone," and it was far less than the AUD$80,000 he was commanding in the Hunter Valley. Lonhro covered 103 mares at Jonabell that first season, 40 of which belonged to Sheikh Mohammed, and the book was a sell-out, as it was in 2013 (122 mares), and again in 2014 (100 mares), according to numbers supplied by Darley.
"Absolutely, his shuttle to the U.S. has been a success," said Alastair Pulford, Darley Australia's head of sales. "We have limited his book each year, and there has been more demand for his services than we have had space for."
Pulford says that, give or take, Darley sent an average of 20 mares to the stallion during each of his three seasons at Jonabell, and in that time, Lonhro's service fee remained steady at $30,000. But this doesn't reflect demand, because in 2014, the Lonhro-sired Denman, also a top racehorse and a fellow Darley stallion, was on his way to Jonabell for $15,000 a service. He covered a book of 65.
Lonhro's first U.S. foal on the ground was a filly out of the Danehill Dancer mare Aquarius Star, and there followed foals from Kentucky Oaks winner Flute, Sky Song (the dam of French G1 winner Laverock), and a host of other top females, including Australian G1 winners Assertive Lass and Danelagh. But the real test would be the yearling sales, and the 2013 foals, bred from Lonhro's first season at Jonabell, hit the auction rings in August and September this year.
The first to sell was a bay colt, hip 135 at the Saratoga Selected Yearlings. From Apache Dancer, he was a half-brother to Central City, who had run second to Chamberlain Bridge in the 2010 Breeders' Cup Turf Sprint. The colt fetched USD$75,000, a modest result, and was one of three Lonhros catalogued; Hip 15 did not meet a USD$95,000 reserve, and the other, a filly, was withdrawn.
A month later, Keeneland's September Yearling Sale rolled around, with 38 Lonhro youngsters in the catalogue. They came from Darby Dan, Adena Springs, Gainesway, Lane's End, and more, and they were an even split: 19 colts, 19 fillies. The first went to John Ferguson for USD$170,000, which proved the highest price point of the group. By close of trading, 23 of the 38 Lonhros had sold for a tick over USD$1.5 million, average price USD$65,575, with 12 passed in and three withdrawn.
"They were respectable results without being outstanding," said Pulford. "Because the reverse shuttle is a very new thing for America, his support came more from owner-breeders (breeding to race) rather than commercial breeders. Breeders who breed to sell generally take safer commercial risks with their best mares."
To date, Lonhro has sold 31 yearlings in the Northern Hemisphere. They average USD$80,617, with colts USD$91,397, and fillies USD$65,692. But these results don't reflect the exceptional returns he has had in the rest of the world. In Australia last July, he cruised into the record books with the highest tally of individual winners sired in a single season, and at the Inglis Easter yearling sale in Sydney in April, a Lonhro filly was sold to American bloodstock gun John Moynihan for AUD$870,000. At the Goff's Orby Sale in October, Shadwell Stud snapped up the sale's only Lonhro colt for €450,000 (approximately USD$565,000). It was early days for Lonhro in the U.S., but the market had proved stubborn.
For many, then, it was no surprise when Darley America announced its 2015 stallion roster in late October, and neither Lonhro nor Denman were on it.
"There's nothing sinister in that," said Pulford. "We are just conscious of Lonhro's age, and we decided he needs the season off. Denman will not shuttle after a very busy season in Australia. He will be covering close to 200 mares in the Southern Hemisphere."
Tongues were wagging after the announcement. Had the Keeneland results been too modest? Was American breeding too closed a book for Lonhro? Or was Darley simply protecting its pod after the sudden losses of both Commands and Street Cry in the same season? The news also raised questions about the success of the reverse-shuttling process.
Australian horses have been shuttling north for their winter for a long time. Among today's top reverse-shuttlers are Exceed And Excel, Fastnet Rock, and recent boomer Starspangledbanner. But these have all headed to European bases, as has Redoute's Choice (France) in recent years. They are burrowing into a market almost wholly raced over turf, and one that has shared its stallion lines with the Southern Hemisphere for decades.
However, even the European reverse-shuttle has been shaky at times. Some of the earliest Australian stallions to pioneer it in the 1990s were Octaganol, Flying Spur, Baryshnikov and Hurricane Sky. None left an impression in the Northern Hemisphere.
In more modern times, Encosta De Lago failed to fire in Europe when he replaced Mozart on Coolmore's 2007 roster. Exceed And Excel is now well established in European racing, but it was a slow roll to stardom for him. It is worth mentioning the influence of Danehill in the pedigrees of both these horses. Encosta De Lago does not descend from Danehill, while Exceed And Excel is a Danehill son.
Over the years, Australian horses have reversed to Ireland, England and France, and two (Snitzel and Commands) have gone to Japan. Only three have tackled the U.S. All American's tenure at Darby Dan lasted a single season, and with Lonhro and Denman staying in the Hunter next year, it spells the end, even temporarily, of Australian sires heading to Kentucky.
This is an anomaly in the otherwise healthy story of shuttling. In Australia, though the number of stallions standing this year dropped by 217, the number of shuttlers remained the same – 42, of which 11 were reversing. Shuttling is a big business in breeding, perhaps the biggest business. Darley and Coolmore possess the majority of the reversing sires, being able to easily transfer horses between world bases, but there are a few lone gunmen. Newgate Farm's Foxwedge, a top sprinter in Australia, is reversing to Whitsbury Manor Stud in England's Hampshire region.
After Lonhro's three seasons at Jonabell, it appears that reversing to the U.S. remains a gauntlet, one that few Australian horses will be willing to run until the Lonhro yearlings hit the racetracks. Until then, it remains to be seen if Lonhro's sojourn to Jonabell was a success.
"We think his progeny will run on all surfaces," said Pulford. "He is a great source of speed, and is likely to get good sprinter-milers there."
American breeders will be watching, and so will Australians.