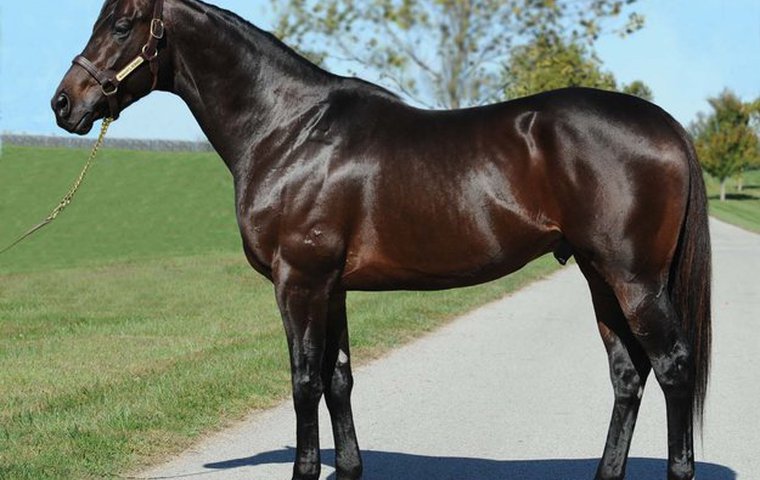 A fast start at stud is imperative if a stallion is to retain respect in today's industry. Opinions are formed by early results and judgments are cast just as rapidly. Each influence the commercial market, which can be an unforgiving arena if a stallion isn't living up to expectations.

That certainly won't be the case when the second crop of Warrior's Reward comes on to the market during the next few weeks. Although a number of promising American first-crop stallions have emerged this year, none can boast the start made by Spendthrift Farm's son of Medaglia d'Oro, who struck with his first five runners.
Most stallion masters are celebrating if a stallion scores with his first runner. In the case of Warrior's Reward, his supporters barely had time to draw breath after the success of his first runner, Liatris, at Pimlico Race Course on May 30 before his second and third representatives, Unbridled Reward and Strawberry Baby, completed the trifecta at Churchill Downs and Lone Star Park, respectively. Thus, by the end of the day, he had pulled off the remarkable feat of siring three winners from his first three runners, each of whom had scored by wide margins.
Just for good measure, his fourth runner, Bad Read Sanchez, was a 10-length winner of his debut on June 20 at Santa Anita for Doug O'Neill, while his fifth, Lady Paislee, ran out the eight-length winner of her debut at Canterbury Park on July 5. Another representative, Strong Coffee, landed his debut on the Saratoga lawn for Graham Motion on Aug. 2.
At the time of writing, Warrior's Reward is the sire of six winners from ten runners, statistics made all the more impressive when you consider that the stallion himself was unraced at age 2 and has never stood for more than $15,000. Between them, his progeny have won more than $300,000 in earnings, enough to place him ahead of Super Saver at the top of the leading American first-season sires' list.
His start is also very good news for those who bred to him by taking advantage of Spendthrift Farm's Share The Upside program – by committing two mares to a certain stallion for two consecutive seasons, breeders are entitled to a lifetime breeding right in that horse and, unlike a syndicate, are charged no bills.
Since Warrior's Reward's progeny burst on the scene, four of his winning quintet have added stakes form to their records, led by the unbeaten Strawberry Baby, a 7 ¼-length winner of the Prairie Gold Lassie Stakes at Prairie Meadows on July 19. Another daughter, Liatris, ran second to subsequent Schuylerville Stakes winner Fashion Alert in the Astoria Stakes at Belmont Park on June 14, while Unbridled Reward ran second in the Debutante Stakes at Churchill Downs on June 21.
Meanwhile, Bad Read Sanchez ran third in Sunday's G2 Best Pal Stakes at Del Mar. While Bad Read Sanchez was bought for $130,000 at the Keeneland September Yearling Sale by Red Wings, Strawberry Baby was a bargain $15,000 Keeneland September yearling purchase by co-owner Brad Miller.
"I was discussing Warrior's Reward recently with a colleague in the stallion business and neither of us could remember a horse who had had such a fast start," said Ned Toffey, general manager of Spendthrift Farm. "None of them look like cheap speed - they've broken comfortably, settled mid-pack, and then kept going. And we're hearing good things about some of the others that haven't run yet."
Trained by Ian Wilkes on behalf of A. Stevens Miles, Jr., Warrior's Reward won four races at 3-4 years old, culminating with a victory in the 2010 G1 Carter Handicap at Aqueduct. That victory, in which he became the first son of Medaglia d'Oro to win an American G1, naturally secured him a berth at stud and, in September 2010, it was announced that he would retire to B. Wayne Hughes's Spendthrift Farm in Kentucky.
"We had our eye on him and then he won the Carter, so we sat down with owner Steven Miles and worked things out," Toffey said. "He was a son of Medaglia d'Oro, who was really on the rise at the time and becoming out of reach for some breeders. He was his first son to go to stud so represented a real opportunity for breeders. Buying the son of an emerging horse, such as Medaglia d'Oro, is something that has worked out well for us before.
"Plus, he is out of a Seeking the Gold mare. That was a pedigree pattern which was very appealing."
Out of the Seeking the Gold mare For All You Do, Warrior's Reward is from the further family of British champion 2-year-old Forest Flower and this year's 2,000 Guineas winner Night Of Thunder.
Retired to stand at $15,000, he was well received in his first season, covering 152 mares that resulted in 110 foals. He has 63 foals in his second crop, but covered a large book of 166 mares in 2013 as breeders reacted to the popularity of his first foals.
His first yearlings averaged $57,739, led by a filly out of Smolensk that sold for $310,000 to Borges Torrealba at last year's Fasig-Tipton Saratoga Select Sale. However, better results came this year when his first 2-year-olds went through the ring, especially at the OBS Select Sale in March, when they sold for an average of $223,333 - a figure indicative of their early talent.
"He's a big, strong horse with lots of bone and very correct - all attributes that attracted breeders to him," Toffey said. "He got good-looking foals and there was a buzz about them. Then there was a tremendous buzz with his yearlings. Even then, a number of trainers expressed an interest in him to me.
"He's a big horse and they tend to be good-sized, so it was natural for some people to question how early they would be. But then, as we saw at the 2-year-old sales, they built upon that buzz. They might be good-sized, but they seem to handle themselves like racehorses."
The Share The Upside program has been an important element to the Spendthrift operation since it was launched by B. Wayne Hughes in 2009 with two second-year horses, Into Mischief and Notional. In fact, the program was so well received that it has since been mimicked by other farms in Kentucky, South America, and Australia.
By offering a lifetime breeding right to a stallion through two years of commitment, it not only provides breeders with an incentive to support that horse, but also a guaranteed reward should he prove successful. In the case of fellow Spendthrift stallion Into Mischief, whose fee has risen from $7,500 to $20,000 off the back of excellent early results, the rewards have been immense.
"People love the idea and it's nice to see the program come through and be successful with a horse like Warrior's Reward," Toffey said. "A substantial number of people signed up to the program with Warrior's Reward. There are occasions when a third of the horse's book is made up of mares associated with it."
The key now is for Warrior's Reward to maintain his early momentum. In the meantime, his fast start must bode well for the other sons of Medaglia d'Oro at stud in the U.S., among them Violence (stands at Hill 'n' Dale Farm in Kentucky) and Passion For Gold (Pleasant Acres in Florida), both of whom stood their first Northern Hemisphere seasons this year.