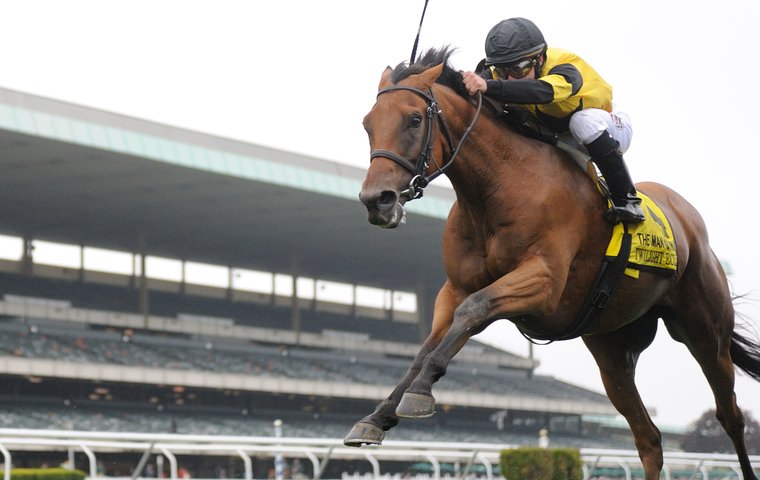 These days, Jim Diorio laughs when he talks about the "humiliating" time his West Point Academy roommate, Terry Finley, signed him up for a jazz dance class.

There he was in black and gold tight-fitting shorts and T-shirt, pointing his toe with 25 female cadets, and at the nation's stick-to-the-rules military academy there was no dropping courses.
Playing practical jokes on his buddies was a hallmark of Finley's MO – a touch of levity that has helped him through tough times at the Academy, as a military CO who had to send his men off to battle, and, for the past 25 years, as the founder and owner of West Point Stables, one of America's most successful Thoroughbred racing partnerships.
In its 25th year, Finley, whose personality combines organization, discipline, salesmanship, devilish humor and intensity, has built the partnership into a major national and international stakes contender.
"It's a pressure-filled business, a business that has a lot of intensity year round. You've got to have fun," Finley said of the release valves he has incorporated in his day-to-day life. "You've got to have good karma, and having good karma is having people who respect each other and respect the fact that we're all working super, super hard to be successful."
The outfit has nearly 400 partners in various configurations and a stable of more than 80 horses, trained from coast to coast by some of the country's most successful conditioners. From 1991-2006, West Point purses totaled $8.4 million; from 2006 until the present, that figure is more than $30 million.
The current leading horses
Currently the top West Point Thoroughbreds are headed by Twilight Eclipse, a 7-year-old son of Purim, who has earned $1.8 million (biggest win in the G1 Man O' War Stakes in May 2015 at Belmont Park). Purchased privately by West Point in 2012, Twilight Eclipse also set a world record (2:22:63) for 1½ miles on the turf in the 2013 G2 Pan American Stakes at Gulfstream Park.
The other horse du jour, a 5-year-old Tapit colt, Ring Weekend, owned jointly with St. Elias Stables, has earned $1.1 million and won numerous stakes races, including the 2015 G1 Frank E. Kilroe Mile at Santa Anita.
Cot Campbell, who started Dogwood Stables more than 40 years ago, called West Point Thoroughbreds one of the most "highly respected and dominant outfits in the history of partnerships". "You don't hear anybody knocking Terry Finley," Campbell said.
Partnerships are "tricky business because you have to be a salesman but, at the same time, you have to be honest about the product you're selling. You're asking people to participate for a big price, but you're also telling them 'chances are you're not going to be successful," Campbell said.
No promises up front
Said Finley: "We're honest and straightforward because it's part of our culture. No one gets any promises up front, except that they're going to be treated respectfully and professionally."
Finley's partners say he has been straight with them and has kept them in the loop through personal contact, social media and the stable's highly advanced website. They also cite his leadership skills, and knack for finding the right experts in picking out horses.
The outfit is based in Saratoga Springs, where the 52-year-old Finley lives, has nine full-time employees, and there are branches in New Jersey, California and Kentucky.
His wife, Debbie Finley, is the office manager; his daughter, Erin Finley Birkenhauer, is the racing manager; a son, Ryan, graduated from Notre Dame and plays professional soccer in Sweden.
The West Point operation runs smooth as silk, although to look at the small grey frame two-story house, next to a used car dealer, it would be hard to detect a multi-million dollar Thoroughbred racing outfit was housed there. In a small second-floor office, packed with a treadmill, horse photos on the walls and Rosary beads hanging off the edge of a large desk, sits the bald-headed Finley, his hazel eyes darting between a pair of computer screens, a cell phone inches from his hand.
Emphasis on social media
Finley relies heavily on social media, with constant information about horse ownership and updates for his partners, as well as weekly partner-only chats on westpointtb.com. When West Point purchases a horse, it is posted on the website and partners buy in, first come, first served.
One of his major partners, Wall Street equity trader Robert Masiello, said that, although his bloodstock team "filters horses down for him . . . at the end of the day, Terry is driving the bus".
Masiello got involved 15 years ago as a college student when he heard an ad for West Point on a sports talk show while driving from John Hopkins University in Baltimore to his New Jersey home. He immediately phoned Finley and "in 10 minutes he called me back and we had a half-hour conversation", said Masiello.
The journey has turned out well for Masiello, who is in on 35 WP horses that have taken him to a host of tracks, including to Dubai for the Sheema Classic.
The image of a stern soldier
Partnership benefits are costly but, says Masiello: "I can sit at my desk in New York and get weekly updates that often include videos of workouts."
"At first, people are intimidated by him: he's an Army ranger – shaved head – the image of the stern soldier," Masiello continued, "and he takes advantage of that." But underneath is a gentle soul who takes losses hard because he feels for his partners.
During a race, Finley "gets very intense and has tunnel vision", said Joe Veasey, a school teacher in New Jersey, who signed on five years ago when his wife gave him a piece of a horse for his 50th birthday. "I could be on fire if the race is going on and he wouldn't care. We all look to Terry because he's taking a loss harder than we are. He wears his heart on his sleeve."
Veasey recalled an incident when a promising filly with an abscess died on the Saratoga backstretch. "I was disappointed but Terry wasn't disappointed; he was outright mad. That's who I want to party with – the guy who's angry and then says 'hey, when's the next race'."
Finley's anger also surfaces when he speaks of what he sees as gross inconsistencies and unethical practices in the industry.
Outspoken advocate of reform
He has been an outspoken advocate for reform, partially as a result of a contentious election in 2014 with the New York Thoroughbred Horsemen's Association incumbent president, trainer Richard Violette Jr., to whom he lost by 14 votes. Finley demanded a revote (and initiated a lawsuit) claiming that hundreds of owners, primarily in partnerships, were disenfranchised because they weren't sent ballots. The NYTHA, which rejected Finley's call for a revote, maintained it made every effort to contact eligible voters and that the election conducted fairly.
Finley is optimistic that NYTHA board members will have an electronic voting process in place by 2017, when he plans to run again, so that the election is run by an independent party and all eligible voters can cast ballots.
He has also come around to thinking that some federal oversight of drugs is necessary in Thoroughbred racing.
The best leaders "are the ones who aren't afraid to change their minds … when you've painted yourself into a corner and you can't change, even though you know it's the right thing to do, you're putting yourself ahead of your organization," he said.
Finley is demanding of those with whom he deals, especially when it comes to modernizing their enterprises.
Worldwide business
If a member of his staff tells someone "'we do that because that's the way we've always done it'," that person is fired.
"This is a worldwide business and we have to look at it like that," he said. "There are great horsemen all over the world and the ones who continue to stay or rise to the top know it's a different game than it was 20 years ago. I'm OK with people talking about the past, but the past is the past. This is an industry where the winners get the spoils. We're not a welfare society in this industry."
If, for example, a trainer asks him for a shot but doesn't have a business card or a website, he cuts him off. "I say 'you don't have a website and you're asking for business?' What business today doesn't have a website? The guys who are technologically savvy – they are building the industry. But the challenge is how do you make it sustainable?"
He has done a good job of sustaining his end since he entered the business after completing his military obligations. Thoroughbreds weren't the original plan, although he had a lifelong interest in them. The military helped prepare him for an industrial job but "something didn't feel right".
Humble beginnings
"It was God's voice and His influence saying 'I've got a different plan for you'," he said. So he bought a few cheap horses and placed "Own a Racehorse" ads in The Blood-Horse, Daily Racing Form and on New York sports call-in shows. He picked up a few partners and was literally off to the races.
"The lesson I learned from the military is that you have to separate yourself out; that's why I started doing different marketing things to make some noise and build a brand," he said.
An early favorite was Awesome Gem, an Awesome Again gelding, who Finley says, "personified a lot of things in my life". "Awesome Gem was from humble beginnings, had chips in both ankles when we bought him and ended up making almost $3 million and took us all over the world."
Finley's own "humble beginnings" were in Levittown, Pennsylvania, an early post-World War Two fabricated housing community, where he lived with his high-school chemistry-teacher father, his mother and six siblings. His eldest sibling passed in the spring after years of illness, but not before the two of them shared a drink and a cigar at Gulfstream Park.
Tight bonds
All his life Finley has stuttered, but he has worked to overcome the disability so that now only those close to him can detect it. He approached the affliction like he does everything else, with a fearless attack that has made him always think a few words ahead of what he is going to say to avoid stuttering. He also approaches it with humor. "It has its weird benefits. I think about all the dumb things I haven't said because I'm stuttering," he said.
A defensive back in high school, Finley caught the eye of then Republican Congressman Jim Coyne, who recommended him for the Academy, and a life of discipline, order and camaraderie began to take shape.
Finley is among the prime movers behind the Johnny Mac fund, started after a West Point friend was killed in Afghanistan in 2010, to raise money for his and others' families.
Most of his West Point friends are involved in the fund, the bonds still tight among them.
"There's a reason his stable colors [of black and gold] are West Point's," said Steve Cannon, CEO of the Arthur M. Blank Family Foundation and a part owner of the NFL's Atlanta Falcons. "What he has become stems from that place we all came from when we were 18 or 19; it unites us. We're all hard-wired guys who get things done."
The leader of the pack
Cannon is a member of an exceptionally successful 1986 graduating class, many of whom have gone on to important managerial positions. Jim Diorio is a senior level FBI agent, and former roommate Joe DePinto is CEO of 7-Eleven, Inc.
But these modern-day business tycoons agree on one thing: Finley was the leader of their pack. "He can do anything when he puts his mind to it," said DePinto. "He's persistent and driven and self-confident. People just gravitate to him."
Diorio said: "You come to West Point and know that, at some time, you'll be asked to do the unthinkable and go to war and do it with guys shoulder to shoulder like Terry Finley. I trust him with my life."
As soon as the Saratoga meet began last week, Terry Finley was pouring his slender, fit 5-10 frame into his black Jaguar, driving the four miles to the backstretch and getting down to his work: talking to his trainers, inspecting his horses, glad-handing potential clients and making sure his partners are comfortable.
Two-year-olds by Bellamy Road, Bernardini and Arch are likely to debut this summer.
Whispered conversation
Masiello remembers an anxiety-filled morning in 2008, however, during which Terry Finley the wry practical jokester was also at work.
"We were going to debut Justwhistledixie, but the morning of the race Terry pulls me aside with some bad news. 'I've gotten into psychics lately and one of them told me running today is a bad omen so we're going to have to scratch'," Masiello recalled of the whispered conversation at trainer Kiaran McLaughlin's barn.
"My mother was freaking out," demanding how Finley could believe a psychic, he said.
"'Mom, you don't have two lawn jockeys with your silks on Nelson Avenue if you scratch horses because a psychic tells you to,'" Masiello told her, referring to NYRA's jockey statuettes painted in previous winning colours and positioned by the racecourse.
Coincidentally, as they were preparing Dixie for her maiden race that morning, a thunderclap exploded and this "sweet, gentle horse reared up. I turned to Terry and said 'the psychic was right'," Masiello said
Dixie ran third and went on to bank $449,427 (including several G2 victories) from 12 starts until she was retired in 2010.
She did it all on her own, without psychics or thunderclaps, although that West Point Thoroughbreds support system was on her side her entire life.