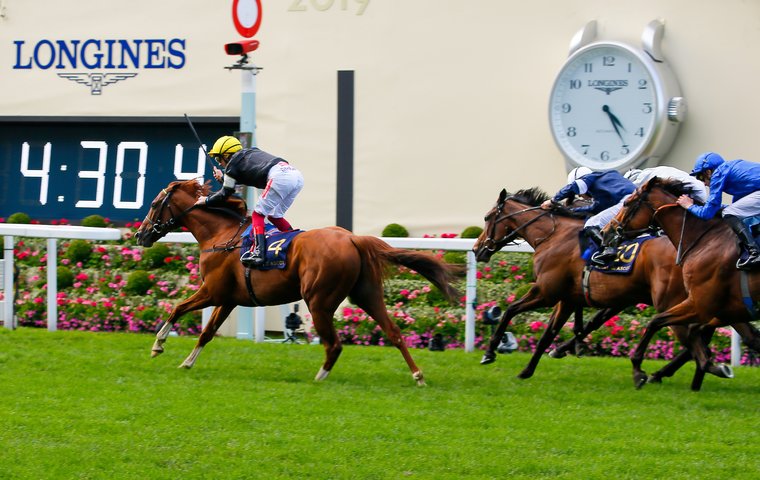 If Stradivarius scoops his second Weatherbys Hamilton Stayers' Million by repeating last year's success in Friday's Lonsdale Cup, it might suggest that what was widely expected to be a near impossible feat was not that tough a challenge after all. However, that would be to sell Stradivarius short.

Stradivarius is just one step away from completing a hugely demanding schedule not once, but twice, and while it's true that conventional ratings might suggest he is not yet one of the truly great stayers - in recent times Big Orange, Fame And Glory, Order Of St George and Yeats all had peak official marks equal to, or better than, his current 121 - his style of racing has never been conducive to achieving more extravagant figures.
What matters is that again and again Stradivarius has proved more than a match for all who have challenged him, and in doing so he has achieved an air of invincibility that no other recent stayer has come close to. For sheer metronomic reliability and consistency he is out on his own, and probably only Yeats, with his four successive wins at Royal Ascot, garnered a comparable measure of public acclaim and affection.
It has been almost two years now since Stradivarius was last beaten, when third to Order Of St George in the QIPCO British Champions Long Distance Cup at Ascot on his final 3-year-old start, and few are betting against him extending the winning sequence by seeing off his four opponents in the Weatherbys Hamilton Lonsdale Cup.
Though some will be surprised to hear it, if Stradivarius is successful again Weatherbys Hamilton chief executive Charles Hamilton will be only too pleased to hand over a second cheque for £1 million to owner breeder Bjorn Nielsen.
Hamilton explained: "Some have said that it is unlucky for us that the Weatherbys Hamilton Stayers' Million has coincided with the brilliance of Stradivarius, but nothing could be further from the truth. He is the horse of a generation and we are so fortunate to have him as the poster boy for the stayers and the Weatherbys Hamilton Stayers' Million.
"Stradivarius embodies all the qualities of courage, soundness and will to win that has defined the Thoroughbred since racing began in earnest in the 17th century and is precisely what the Million was designed to promote. We are not waving the white flag just yet, with one race still standing between Stradivarius and his second Million, but whatever the result the success of the series has massively exceeded our expectations."
There was a moment 12 months ago when connections must have feared that the Lonsdale was one race too many, for starting up the straight Stradivarius looked in a bit of trouble. However, while his length-and-a-half defeat of Count Octave was not his best form, he found a way of winning, and that has become one of his defining qualities.
Despite the small field, this is theoretically no formality, for with his 3lb G1 penalty Stradivarius has nothing at all in hand of his old foe Dee Ex Bee on either Royal Ascot or Goodwood Cup form. Indeed a strict reading of both results suggests that the placings ought to be reversed on the revised terms.
Then there is a new threat in Falcon Eight, a smart winner of a decent listed race at Sandown last time and representing Dermot Weld, who has such a gift with stayers and won the Lonsdale with Pale Mimosa five years ago.
Added to the mix rather unexpectedly we also have Magic Circle, who would not be out of it if recovering the level of form he showed in last year's six-length wins in the Chester Cup and the Henry II Stakes, and the Aidan O'Brien 3-year-old Il Paradiso, who looked a different horse when stepping up to two miles for the first time at the Curragh, where he won very easily by 12 lengths.
However, as those who have been prepared to take him on in similar circumstances have found to their cost, Stradivarius will surely find a way yet again.
Hamilton hopes so and he said, "It is extraordinary to be on the brink of being asked to write out a second successive £1 million cheque, but then Stradivarius is no ordinary horse. Victory in the Weatherbys Hamilton Lonsdale Cup would be a ninth in a row - a prodigious achievement for any horse at the top level but even more so in one who races over long distances.
"We could not be more thrilled with the way that the 2019 Weatherbys Hamilton Stayers' Million has continued to capture attention and concentrate focus on the special attraction of the stayers. The extension of the qualifiers to include Dubai, Ireland, Germany and France, as well as the UK, achieved exactly what we hoped and the line-up for the Gold Cup at Ascot saw five winners of these races with a shot at the Million.
"The incomparable Stradivarius has of course seen off every challenge so far, but in doing so has reminded of just how much interest the stayers generate in racing and their importance to the programme. Roll on the denouement."