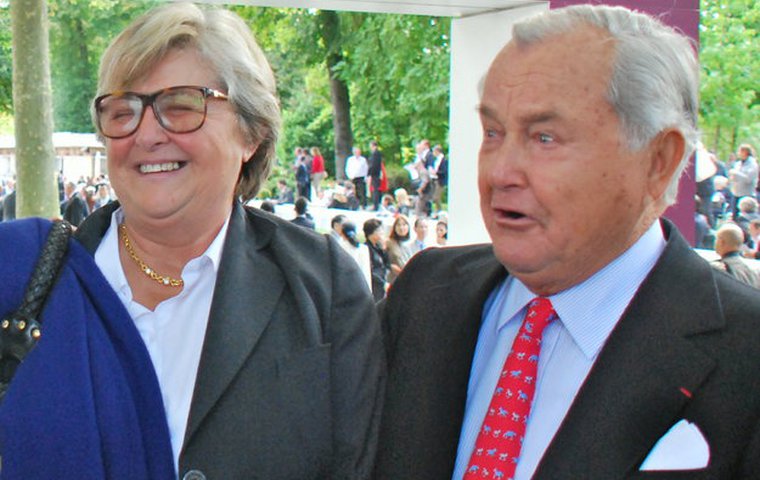 There's never been a family like them in modern racing. For four generations, the Heads have been ever present at the very top of the sport, registering an endless, barely credible catalogue of success, and their influence has had huge impact not only in their home country of France but across the rest of Europe too, as well as in the United States.

The most obvious illustration of their dominance is the Prix de l'Arc de Triomphe, arguably the most important horse race in the world. Members of the Head family have either trained or ridden one in every eight winners of the Longchamp super race since it was first run in 1920. Indeed, since 1947, the year of their first Arc victory, they have won one in every six, as illustrated by this table:
THEIR INCREDIBLE ARC COLLECTION
| | | | | |
| --- | --- | --- | --- | --- |
| Year | Horse | Trainer | Owner | Jockey |
| 1947 | Le Paillon | William Head | Lucienne Aurousseau | Fernand Rochetti |
| 1952 | Nuccio | Alec Head | Aga Khan III | Roger Poincelet |
| 1959 | Saint Crespin | Alec Head | Prince Aly Khan | George Moore |
| 1966 | Bon Mot | William Head | Walter Burmann | Freddie Head |
| 1972 | San San | Angel Penna | Countess Batthyany | Freddie Head |
| 1976 | Ivanjica | Alec Head | Jacques Wertheimer | Freddie Head |
| 1979 | Three Troikas | Criquette Head | Ghislaine Head | Freddie Head |
| 1981 | Gold River | Alec Head | Jacques Wertheimer | Gary Moore |
| 2012 | Solemia | Carlos Laffon-Parias | Wertmeimer brothers | Olivier Peslier |
| 2013 | Treve | Criquette Head | Sheikh Joaan al Thani | Thierry Jarnet |
| 2014 | Treve | Criquette Head | Al Shaqab Racing | Thierry Jarnet |
Three generations of Heads have been French champion trainer more than once, and one, Freddie, was champion jockey six times. Each of them has won most of the biggest races in France on multiple occasions, and many major races worldwide.
And, just as significantly, they are exerting an increasingly powerful influence on the bloodstock world through the success of their powerful Haras du Quesnay stud, near Deauville, which they have owned for more than 50 years and where they bred perhaps the ultimate testament to their legacy, Treve, who is hot favourite to win an unprecedented third Arc a week on Sunday.
The Head dynasty has spanned five generations over 130 years, since William Head Snr first arrived from England in the 1870s as a jockey. He began training at Maisons Laffitte from 1900.
Here, as part of TRC's Great Racing Families series, John Gilmore examines the achievements of the subsequent three generations.
On Monday, he talks to Treve's trainer, the remarkable Criquette Head-Maarek, about her career, some of her training theories, and the operation at Haras du Quesnay.
William: first of the Head greats
William was born in 1899. He became a successful jump jockey, amassing around 500 winners, before taking up training in 1922 at Maisons-Laffitte (he later moved to Chantilly). It was a career that would last 50 years and scale many of the heights of European racing.
He married Henrietta Jennings, daughter of Henry Jennings, whose younger brother Tom trained the first French winner of the Epsom Derby - Gladiateur in 1865. They had three sons, including Alec, who was born in 1924.
It was after the Second World War, when William returned to Maisons-Laffitte after serving in the British Army, that the family's fortunes began to take off.
The first of 11 Arcs that have borne the Head stamp came in 1947, when William won the race with Le Paillon, a horse that six months earlier had finished second in the Champion Hurdle at Cheltenham, ridden by son Alec.
Other major triumphs for William included the 1964 Prix du Jockey Club (French Derby) with Le Fabuleux and another Arc, the 1966 renewal, with Bon Mot, ridden by grandson Freddie.
Alec: a prodigious lifetime contribution
Like his father, Alec, now 91, became a successful jump jockey before taking out a training licence in 1947, three years after marrying trainer Henri Van de Poele's daughter, Ghislaine. The couple celebrated 70 years of marriage last year.
They had four children, Freddie, who was a top jockey and is now a top trainer, Criquette, who became a successful trainer, Martine, who is involved in stud management in the United States, and Patricia, who ran a successful boutique in Beverley Hills.
It was the year of Le Paillon's Arc success for his father when Alec Head took out a training licence. By the time he retired in 1984, he had forged one of the most successful training careers French racing had seen.
His powerful owners included the previous Aga Khan, his son Prince Aly Khan, and Pierre Wertheimer and son Jacques. Alec's numerous victories included four Arcs - Nuccio (1952), Saint Crespin (1959), Ivanjica (1976, ridden by Freddie) and Gold River (1981). He also won the Epsom Derby with Pierre Wertheimer's Lavandin in 1956.
Yet perhaps his most significant long-term contribution to the sport was Haras du Quesnay, the run-down stud farm which he took over with his father in 1957 and turned into one of the most successful breeding operations in Europe.
It was a fitting tribute to Alec Head's prodigious lifetime in racing that he was presented with the Longines and IFHA International award of merit at the 48th annual IFHA conference in Paris last October.
Freddie: a giant in the saddle, and now as a trainer
Freddie Head, now 68, was French champion jockey six times and won over 3,000 races, more than 100 of them G1s, including seven in Britain and two Breeders' Cup Miles on Miesque (1987,88).
He rode four Arc winners, including, uniquely, three trained by three different generations of his family (Bon Mot in 1966 for grandfather William, Ivanjica in 1976 for father Alec and Three Troikas in 1979 for sister Criquette). His other winner was San San in 1972 for trainer Angel Penna.
Nowadays, though, he will be known in the United States more for his achievements as a trainer, specifically with three-time Breeders' Cup Mile winner Goldikova (2008-10), who won a total of 14 G1s.
Indeed, he has recorded more than 30 G1 successes worldwide since he began training at Chantilly in 1997. Another of his leading performers was the six-time G1 winner Moonlight Cloud, owned by American George Strawbridge, and currently he has been excelling with 5-year-old Solow, winner of four of the world's most prestigious mile G1s this year.
Until this season the son of Singspiel had been campaigned as a stayer. "Last year we tried Solow in the Group 2 Prix Vicomtese over 3,100 metres at Longchamp in May and clearly he didn't stay the distance," said Freddie. "We then put him back to a shorter trip [nine furlongs] at Clairfontaine in his next race, where he won easily, and then came the turning point, the Group 3 Prix Quincy over 1,600 metres [a mile] at Deauville at the end of August. When he won in a canter, it was something special."
Head said he was not disappointed that Solow, being a gelding, is ineligible for a number of top-class races, like the Jacques Le Marois at Deauville in August. "These type of races are essential for maintaining the breeding industry," he said.
He started training in Chantilly in 1997 but found it hard going at first. He said later: "I had spent over 30 years as a jockey without any responsibility for others, though I understood the training and breeding side. At first, managing staff and organising the yard work load took me quite a bit of getting used to."
Having a good, loyal staff to rely on was always key in a training operation, he said. "It's important to know that, when you are not there, the assistant trainer and the rest of the staff will do a professional job."
Criquette: a groundbreaking career
"I have been used to seeing racehorses in a yard, since being a child, and was riding out before going to school each morning," said Criquette Head-Maarek, now 66. "My ambition was always to become a trainer.
"At that time, I can remember my father liked to talk a lot about horses and was always helpful in giving me sound knowledge and advice about training and breeding, while my grandfather, an equally accomplished horseman, gave me useful information about racehorse conformation and what to look for in buying racehorses when we went to the sales. My mother was involved as a secretary to my father's training and breeding operations."
Getting started as a trainer was easier said than done.
After college, she spent three years studying in England, finishing her education at a boarding school in Eastbourne on the south coast. In 1967, Criquette went to Madrid, initially to learn Spanish, and ended up staying seven years. She married Jose Ramon Lomba Recarte, and the couple had a daughter, Patricia.
Criquette had a number of jobs during this period - including selling houses. After the couple separated, she returned to Chantilly in 1974 and she went back to the world of racehorses.
By the early 1970s, France had no women trainers and the only way to get a licence was on the recommendation of other trainers. Yet, after a spell as assistant to her father, Criquette received her training licence in 1976 – only the second female trainer in France (after Myriam Bollack).
She also spent time in the 70s as a bloodstock agent in France and England, buying for several different clients. One of her purchases, a 41,000-guinea yearling bought at Newmarket in 1977, was Three Troikas, who went on to win the Arc for her two years later in her first full season as a trainer. Three Troikas was owned by her mother, Ghislaine.
From then on, it was one long success story. Criquette Head has trained more than 100 G1 winners worldwide, including, at the moment, three Arcs (Three Troikas and the last two with Treve). Fourteen G1s have come in Britain, and there have been others in Singapore and North America.
She was consistently in the top three trainers in France during the 80s and 90s, at one time having up to 150 horses in training. The numbers have fallen to around 60 in recent years, since her recovery from cancer, diagnosed in 2005.
"My family and staff were a great help during this period while I was getting over my health problems," said Head-Maarek, who married journalist Gilles Maarek in 2000. "As a trainer, you always have to be prepared for the ups and downs in this sport if you want to be successful as nothing is ever sure."
She is President of the French trainers' association and head of the European trainers' association.
The fifth generation
The next generation is continuing the Head family involvement in racing, with Christopher, one of Freddie Head's seven children, now his assistant.
Criquette Head-Maarek's only daughter, Patricia, is married to Chantilly-based trainer Carlos Laffon-Parias, who added to the family tally when he won the Arc in 2012 with Solemia.