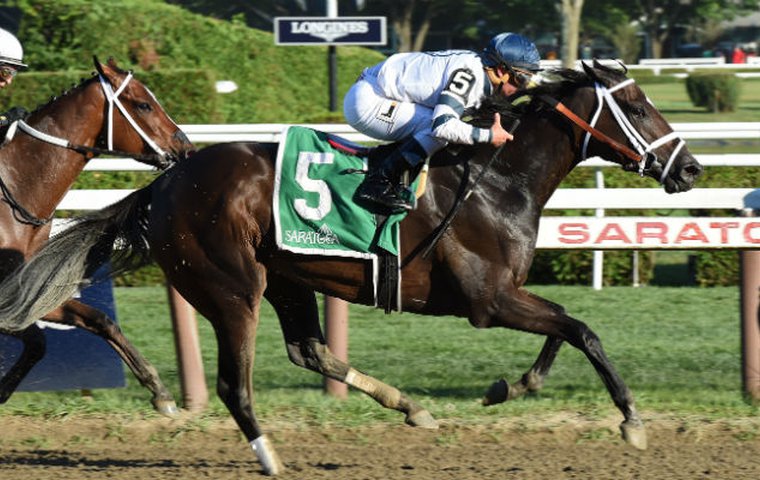 With her hands clasped together, owner Kiki Courtelis stood in the winner's circle at Saratoga Race Course earlier this month and watched with pride as her filly Stopchargingmaria walked toward her, led by her 83-year-old mother, Louise.

"It was the first time my mother walked a Thoroughbred into the winner's circle, and it was absolutely priceless. It was worth every penny we paid for Stopchargingmaria to see Mom do that — to let her have that experience, and to be able to share that with her," Courtelis said of the events that followed Stopchargingmaria's victory in the G3 Shuvee Handicap on Aug. 2.
The Courtelises, whose nom-de-course is Town and Country Farms Corp., privately bought Stopchargingmaria last fall after the filly failed to reach her reserve of $3.15 million at Fasig-Tipton's November sale. She was consigned to the auction by Mike Repole, who raced her throughout her 2- and 3-year-old campaigns.
Stopchargingmaria will eventually join Town and Country's growing and high-end broodmare band. Until then, the 4-year-old filly, who won last year's G1 Alabama for Repole, has more racing to do. On Saturday, she will run in Saratoga's G1 Personal Ensign Handicap, where she will face, among others, last year's champion 3-year-old filly, Untapable, who she defeated by one length in the Shuvee.
Town and Country Farms transitioned from a renowned Arabian racing and breeding operation to Thoroughbreds about 11 years ago. Kiki's father, Alec, who died in 1995, established the Arabian Jockey Club and was its chairman. At one time, the Courtelis family boarded 300 Arabian mares, owned by Sheikh Mohammed bin Rashid Al Maktoum, and raised and broke the horses for the Dubai ruler at their Florida farm. Additionally, the Courtelises bred and raced their own Arabians, and were recognized with the Darley Award as breeders of the year in the United States on several occasions.
When Sheikh Mohammed took a step back from his Arabian operation in the U.S., the Courtelises viewed it as an opportunity to become involved in Thoroughbreds.
"We never looked back," Kiki Courtelis said. "We love it. We like having a bigger playing field."
While at last year's Keeneland November sale, the Courtelises were underbidder on multiple G1 winner Iotapa, who was bought by China Horse Club for $2.8 million. Todd Pletcher, who trained Stopchargingmaria for Repole and also has horses for Town and Country Farms, was sitting next to Kiki and her mother at the sale, and suggested Stopchargingmaria would be a good purchase.
"When we didn't get Iotapa, Todd mentioned to our bloodstock agent, Shannon Potter, who is with Taylor Made Sales, if you're willing to spend that kind of money, why don't we try to get Stopchargingmaria," Courtelis recalled. "She fit our program."
The "program" Courtelis speaks of is one based on acquiring mares who are Graded winners, or producers of the like.
Town and Country Farms currently has 38 broodmares at its 250-acre Kentucky nursery, located outside of Georgetown. The Courtelises have been quite active in acquiring broodmares in the last few years and have spent a considerable amount of money to obtain them. They paid $1.75 million at the 2013 Keeneland November sale for multiple Graded winner Upperline, a daughter of Maria's Mon. The same year, at Fasig-Tipton's November sale, Town and Country spent $1.5 million for Graded winner Agave Kiss, a daughter of Lion Heart.
With Taylor Made Sales as its agent, Town and Country has consigned 12 yearlings to Keeneland's September sale. Among them is a Frankel colt — only a handful of progeny from the European champion are catalogued to the sale — out of the Irish-bred mare Tashzara, and a War Front colt produced by Upperline.
"[Town and Country] hasn't sold that big yearling for a million yet," Shannon Potter said. "I say yet, because, looking at things to come, and hopefully with the broodmare band Town and Country has in place, it maybe could happen this year.
"We're just getting the racing end of it going," Potter added. "Our goal is to have nice mares as well as nice racehorses. We are trying to balance the act of getting both up and running, and we feel like we have established our broodmare game and now we're at least trying to dabble in the racing game."
Including Stopchargingmaria, Town and Country Farms have 17 horses in training. They race some horses in partnership with Eclipse Thoroughbred Partners, including their homebred Matterhorn, a Tapit ridgling, who has won his last two starts.
"Primarily, we breed to sell, but we are getting much more involved in racing," Courtelis said. "Our heart has always been in racing. Selling yearlings pays the bills and is what keeps it all going, but we are more like a boutique farm. We don't have a lot of quantity; we are just trying to get real quality here."