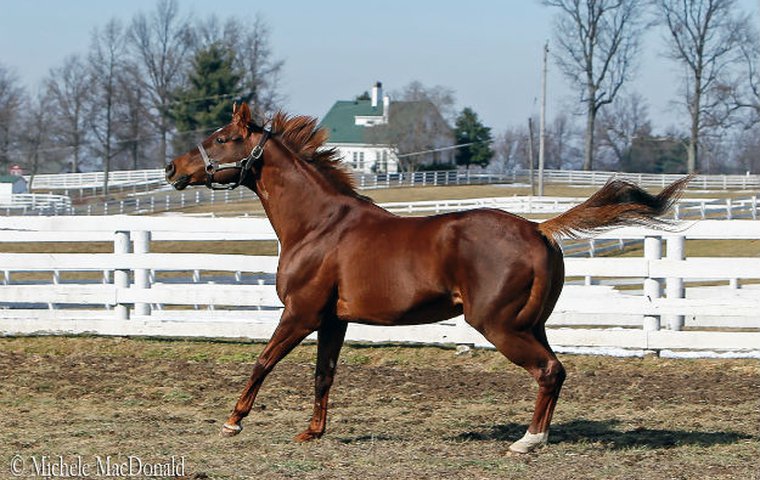 Hearing footsteps approaching his stall, the compact chestnut contentedly munching hay in a shaft of afternoon sunlight lifts his head and listens for a moment before boldly striding through deep straw bedding to see who is there.

As he approaches, the look in his eye is bright, intense, magnetic.
Even if visitors did not recognize who they were seeing when encountering this horse in the hallowed shrine that is the Calumet Farm stallion barn, they would want to know. Through his eyes, he demands acknowledgment.
It's been nearly a dozen long years since Smarty Jones stood in the winner's circle at Churchill Downs with red roses cascading over his withers or since he pranced past the crowd gathered at Pimlico draped with Black-Eyed Susans.
But that unmistakable light in his eyes has not faded at all. Indeed, Smarty Jones's expressive eyes have been his hallmark virtually since birth, according to Patricia Chapman, who bred, raised and raced the champion with her late husband, Roy, and who now is giving him an unusual second chance at stud in Kentucky by placing him at Calumet.
"He always had such a sparkle in his eye. I noticed that when he was just a wee foal — that look in his eye," Chapman recalled. "I should have known he was special. He was trying to tell us something, but I just didn't know until he got into his early training.
When fans held 'Smarty Parties'
"He was playful, he had personality; he would run circles around his playmates out in the field. But he was small and we had no idea of what he might turn into," she reminisced. "But, if we had listened to his attitude, we would have known. He wanted us to know he was important because he knew it, but we didn't. He was on the smallish side, so we kept thinking, 'We hope you can run'.
"He sure proved himself," she added, laughing softly.
Chapman holds tight to her memories of Smarty Jones, the champion 3-year-old of 2004 who set a single-season earnings record of over $7.5 million, not broken until this year by Triple Crown winner American Pharoah. In his own special but brief career, Smarty Jones stirred the souls of racing devotees around the nation as he sought the elusive grail of the Triple Crown.
Fans were so enamored with him that they held "Smarty Parties" to watch his races. A record mass of 120,139 people filled Belmont Park to witness his run for a coronation, and the grandstand fell into stunned silence after Birdstone skipped past him in the stretch to win by a length.
Yet no one could deny that the muscular colt had given the sport a valiant and unexpected hero who rose from the ashes of the Belmont defeat untarnished in the minds of those who loved him. They thought he had been unfairly hounded, sandwiched down the backstretch, by Rock Hard Ten and Eddington.
Storybook recovery from skull fractures
Even his catchy name — bestowed on the colt because he shared the February 28 birthday of Chapman's mother, Mildred, who had been nicknamed Smarty Jones due to her sassy personality — caught and held the public's imagination.
As did his story. From his likeable owners, who with their wistfully named Someday Farm evoked an everyman's dream for a "big horse" to his storybook recovery from skull fractures suffered as a juvenile when he reared during a starting gate training session, the colt became the people's horse.
The sight of him running, with his ears pinned and his nose thrust out determinedly, thrilled old and young.
Smarty Jones romped to the finish line first in every race he ever ran until the Belmont. He achieved his Derby victory on a sloppy surface following a raging storm that flooded areas of Churchill Downs and sent fans scrambling to cover themselves in plastic bags in order to stay dry. Seventeen rivals trailed behind him in the mud, including Birdstone and America's current leading sire, Tapit.
In Baltimore, Smarty Jones drew a record crowd of 112,668 and won by an unprecedented 11 ½ lengths. He was nothing short of a phenomenon.
$39 million syndication
Chapman said she and her husband often marveled how the little colt with the sparkle in his eyes had grown into such a charismatic sensation.
"When we were going through all of it, I kept saying to my husband that I couldn't believe it was us. It's incredible. Those are memories that I certainly will never, ever forget," she said.
After seven electric months of racing, however, Smarty Jones was retired when he was diagnosed with bone bruising of his ankle joints. While veterinarians advised that he could have recovered, economic considerations related to his $39 million syndication in 60 shares for stud duty at Three Chimneys Farm swung the decision.
The initial stud fee for the son of Elusive Quality out of multiple stakes winner I'll Get Along, by Smile, was set at $100,000, and breeders were so interested that the farm offered the option of a four-year contract to those who wanted to be assured of access.
Three Chimneys estimated at the time that 15,000 people would visit Smarty Jones every year.
Over time, however, the excitement for his services waned. His first year at stud yielded 84 named foals, which remains the highest of his career so far, yet is lower than the typical crop total for most successful stallions.
By 2010, there were only 38 named foals in the crop, and Chapman decided to move Smarty Jones to Pennsylvania, where he had been born at Someday Farm in Chester County.
"I thought he deserved better"
While Smarty Jones continued to get a lot of visits from fans in Pennsylvania, he didn't get any increase in mares. Following five years there and three seasons of Southern Hemisphere shuttle duty to Uruguay, Chapman kept wondering "Oh my goodness, now what am I going to do?" regarding her champion, who has 31 2-year-olds this year and 11 yearlings.
"I thought he deserved better," she said.
Few stallions who are perceived as disappointments to breeders and sent away from Kentucky ever return, much less to a storied stud farm.
But Chapman, marshalling the determination of her horse along with her own unyielding passion for him, found a way to make it happen. She already had bought back many breeding rights in the horse so she would own a majority interest and be able to make decisions about his life.
To help in her mission, she called upon bloodstock consultant Dan Rosenberg, who had been president of Three Chimneys when Smarty Jones stood at that farm, and asked for assistance. Rosenberg also harbors a special fondness for the horse he described as "great to be around" and he remembers watching adult fans become so moved by the champion that tears streamed down their cheeks when they stood in front of his stall at Three Chimneys.
How the move to Calumet came about
"We investigated several regional markets and also Kentucky, and we learned that (Calumet Farm owner Brad) Kelley had purchased a significant number of fillies and mares by Smarty Jones, and we thought maybe he really liked Smarty Jones. So we called them up and said, 'would you be interested in standing him?' and they were," Rosenberg said.
Through talks with Calumet General Manager Eddie Kane and Stallion Season Sales Director Charlie Boden, Rosenberg made the arrangements with a personal sense of purpose and connection.
"Even more than just (Smarty Jones's) welfare, for me this was significant. I was the Calumet broodmare and stallion manager from 1975 through 1978 — and I have to add under the old regime when Mrs. (Lucille) Markey was still alive — and so I have deep affection for Calumet Farm and its tradition and heritage. When I went to work for Calumet Farm, I really felt like I had been signed by the New York Yankees and I couldn't believe it," Rosenberg said.
"For Smarty Jones, a Kentucky Derby winner, to be in a barn that had eight previous Kentucky Derby winners is meaningful and significant and appropriate," he declared.
While Rosenberg is not involved in managing Smarty Jones's stud career and Calumet officials follow Kelley's policy of not discussing farm business, there are signs that Smarty Jones could perhaps enjoy a renaissance.
Smarty remains light on his feet
"I do know that Mr. Kelley has promised to support him with some of his mares, and that was very important to us in making the decision to send him to Calumet," Rosenberg said. "And I know that there are some shareholders and breeding right holders that did not support him in Pennsylvania but have mares in Kentucky and have told me they will support him here."
But, for both Rosenberg and Chapman, the placement of Smarty Jones at Calumet is not just about mares and matings.
"She loves the horse, without any question. This is not about money — it's about her love for the horse," said Rosenberg, who is so fond of Smarty Jones himself that he has visited him several times at his new residence and plans to continue to do so. Chapman also intends to reunite with Smarty Jones once she returns north from her Florida home.
"I had visited Calumet a few times in the past and had just fallen in love with it, as everyone does who goes there," Chapman said. "The famous horses that have lived there, the famous matings that have taken place there — that was my dream for Smarty Jones. Dan was able to work this out, and I'm so very happy."
Judging by his shiny coat and his bright eyes, Smarty Jones also is very happy about his move to Calumet. At age 15, he remains lithe and light on his feet, and the muscles of his hindquarters — which left all rivals but one at Belmont in their powerful wake — ripple as he walks.
"He is a good guy," said groom Jorge Arambula as he brushed the stallion and tried to avoid a few playful nips.
Smarty Jones occupies one of the most historic stalls in the main stallion barn at the farm, with the shiny brass plates outside the door indicating it was previously home to Calumet-bred 1944 Kentucky Derby winner Pensive and to his son, 1949 Kentucky Derby victor Ponder, also bred by Calumet. Ponder in turn sired 1956 Kentucky Derby winner Needles, a rare three-generation Derby success that is just one of many examples of Calumet's historic contributions to American Thoroughbred breeding and racing.
He's clearly settled into the farm's routine
Calumet-raced 2013 Preakness Stakes winner Oxbow lives in the stall next to Smarty Jones, with 2007 champion turf male English Channel across the hall. Other famous residents of the Calumet stallion complex include 2001 Horse of the Year Point Given, another graduate of Three Chimneys; Melbourne Cup winner Americain; Irish Derby winner Grey Swallow, and Breeders' Cup Turf winner Red Rocks.
When it comes time for his daily turnout in the afternoon, Smarty Jones saunters casually beside Arambula, clearly settled into the farm routine following his arrival at the end of November. While he canters briefly after Arambula unsnaps the shank, he is more interested in finding the hay that has been placed in his paddock, since the winter landscape lacks green grass.
Chapman does not know what the future holds as Smarty Jones — who will stand for $7,500 this year, up from the $4,000 fee advertised by Pennsylvania's Northview Stallion Station in 2015 — begins his second tour of duty in Kentucky.
"I don't know if there is going to be an awful lot of interest in breeding to him. And if there's not, we'll take the next step when it comes.
"But I hope he gets a fair number of mares and I hope he gets a lot of wonderful mares. He's been a fairly useful stallion but he has not had the top-notch mares to breed to," she said.
Smarty Jones has sired Singapore champion Better Life, Panamanian Horse of the Year Smart D N A and California G1 winner Centralinteligence, as well as G2 winners Old Time Hockey, Backtalk and Cary Street. He had sired a respectable six percent stakes winners from foals of racing age prior to the end of 2015, and current data shows he has nine graded black-type winners and the earners of over $30.1 million.
"I still believe in him tremendously," said Chapman, who continues to breed her own mares to Smarty Jones. It was her mare, Shootforthestars, by Seattle Slew, that produced Centralinteligence.
"If he just is bred to the right mare, he'll have a very important runner, I hope," she said, noting that breeders never know when, or from where, the next champion will emerge.
"After all, that's what happened when Smarty Jones popped out," Chapman noted. "Hopefully the move to Calumet will help keep him alive in some of the breeders' minds. Hopefully, breeders will see this and think, 'There is another possibility'."