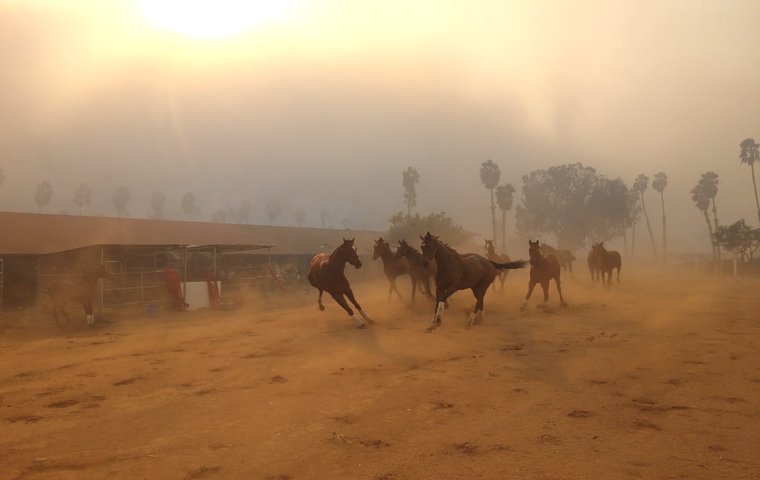 There are a few old patches of blackened cacti peppering the natural amphitheater to the east, a stone plinth on those same hills marking the ghost of a house reduced to dust and ashes, one lone palm tree on the west side scorched around the crown, and, perhaps most tellingly, the skeletal remains of large steel muck crates, their charred husks waiting to be repurposed with new skins of sheet metal.

The ceaselessness of life, or as the naturalist John Muir put it, time's "endless song" – it's quite the theme here at San Luis Rey Downs.
That's because, if you take a stroll today around the matrix of dirt paths, all leading in some way or another to and from the training track, there are scant other visible reminders of the devastating fire that tore through the facility exactly one year ago today, killing 46 horses and altering forever the course of too many lives.
The barns of cinders and gnarled steel have been replaced by two gargantuan pavilions, like giant white circus tents, each housing a maze of airy stalls. The red tiles of the remaining barns have been replaced with galvanized steel. Red, of course, for continuity's sake.
'Everyone has learned from that day'
Gone are the 300 or so Mexican fan palms circling the perimeter - the ones over which the fire hopscotched, shooting down burning fronds like something from medieval warfare. Today, you're more likely to find ice plants and small juniper bushes and pockets of brown grassland neatly trimmed to resist the hot fingers of burning embers.
There's a certain utilitarian feel to the modifications - an extra water truck has been refurbished, and all three are now kept permanently on standby, topped up with water. The broad guts of the two large white pavilions have just been dressed in a sprinkler system. But the changes are more than skin deep.
Should tragedy come once again knocking, the entire San Luis Rey Downs staff are simply that much better prepared, said facility general manager Kevin Habell, from the driver's seat of his golf buggy on a bright, crisp November morning that had been sculpted, it seemed, from a vast pristine hunk of crystal.
"Everyone has learned from that day - now we're experts in the field," said Habell. Routine safety meetings. An app on Habell's phone, alerting him to nearby wildfires. "We know how to respond faster. It's been a team building experience, that's for sure."
'If I was a good artist, I could draw you a perfect image'
As for the mental scars — well now, those are the sorts of things that no lick of paint can hide.
"I'll still cry, oh yeah - probably once a month. You'll think about it. Something just triggers it," Habell admitted. Sometimes, provocation can be as nondescript as speaking with someone who was there that day. "The look in their eye, you can just tell," he said.
"You'll have in your mind a barn burning. Or, when you saw a horse carcass," he added. "If I was a good artist, I could draw you a perfect image. The flames. The embers. Everything. The barns. The melted steel."
As for Habell's crew, "it hits them once in a while, you can tell," he said. That's why, every month, they gather for a BBQ on the grounds. "Once in a while we'll bring up the day - just how crazy and how fast the fire hit. We'll have little talks."
Just then, trainer Michele Dollase wandered by the buggy, handed Habell a flyer announcing a meal and get-together at a nearby restaurant on the anniversary of the fire for all who endured it.
Habell glanced over the details.
"I'm sure there'll be a few tears shed there, too," he said, as Dollase strolled away. "It's good to get it out, [but] you'll never get it out totally."
'I'm still paying for it now, even'
Earlier that morning, I had stopped by Dollase's barn at San Luis Rey, which was virtually untouched in the fire, despite its next-door-neighbor proximity to another barn that wasn't nearly so lucky.
"I was surprised there weren't more injuries – soft tissue injuries, especially," Dollase said, reflecting on the melee and the confusion and the horses on whom fate smiled kindly.
"They ran for hours - it wasn't just a few minutes. Up and down and over. Between trailers and fire trucks and through people's barns. They wanted to get home, obviously. The ones who did get burned are the ones who went back in [to their stalls]."
Certain things trigger these thoughts, like they do for Habell. "If you get a smell of smoke, you think about it – you can't forget," she added.
"I was at a [Home Owners Association] meeting, this was about six months after the fire. I was standing in line, and on the wall was a wildfire poster. I was kind of staring at it, and I just…" and she let the thought trail off.
As lingering as the memoires is the financial toll. Because Dollase wasn't directly impacted — was unhurt, no horses lost, and belongings intact — she was ineligible for the biggest chunk of the funds raised for the fire victims. And, though she received a little assistance, largely paid out of pocket the costs associated with relocating to Del Mar for the four months after the fire.
"I'm still paying for it now, even," she said, estimating the personal cost at about $30,000. "I was just getting my credit card paid off, then suddenly it's back up there."
'There's scar tissue that feels like cardboard'
Those coffers from the San Luis Rey fire victims' fund have been well received in other corners, mind you.
Earlier this week, the California Thoroughbred Horsemen's Foundation (CTHA) sent an update to each of the 5,705 separate donors, itemizing how $976,763 of the total $1,128,060 has thus far been apportioned.
All told, the funds have been distributed between 230 workers whose lives were "significantly disrupted" by the fire; to 33 trainers for lost supplies and equipment; to CARMA — California's retired racehorse rehoming organization — for injured horses; and to three hospitalized victims, to cover medical expenses.
One of those three victims was trainer Joe Herrick, who left San Luis Rey that day with only 78 percent of his body untouched by the fire.
"My wrist still doesn't bend all the way down," he said, explaining his ongoing injuries. "Aside from that, I've lost some sensation in my skin, and there's scar tissue that feels like cardboard."
The name Herrick has become synonymous with that of Lovely Finish, a seashell roan filly who, like her trainer, received a thorough licking from the flames. He lured her from her stall that day as the inferno wrapped them in its terrible embrace.
Since September, Lovely Finish has finished in the frame in three tough maidens, becoming, in the process, something of a four-legged prophet, extolling through her actions the virtues of a life plucked from the shadows of the abyss.
"The other day, I finally met the people who shipped Lovely Finish out of San Luis Rey [to Del Mar]," Herrick said. "Nobody wanted to put her in their trailer because of the swelling. She was basically blind, all swollen up … The next morning, my wife shipped her to the hospital. Those people and my ex-wife, I can't thank them enough for the help they gave."
He spoke proudly about his approach to training throughout his 23-year career - how he has always "put the horse first", preferring R&R to the roll of a dice when they're anything but 100 percent. "I don't feel the pressure to run them if they have an issue," he said.
"I've never lost a horse in a horse race, but then I lose six out of eight in one day," he added. "It's rough to take, you know." Indeed, the first few months after the fire, those unpitying night-time hours were the hardest.
He suffered nightmares - woke in cold sweats. Since then, he's started playing soccer a few times a week, figured if he exhausts his body, leaves it sapped to the bone, he'll sleep through to the morning, uninterrupted.
"Physically I wasn't ready to start playing, but mentally I was," he added.
'How horrible it all was'
For others who battled the flames and the stinging smoke that day, this anniversary will blow the cobwebs off the dustier memories - as it already has for Linda Mikus, second assistant at the Phil D'Amato barn.
In April, when San Luis Rey first reopened its gates, she was mostly relieved to be back, relishing the chance for normalcy after months of enduring the out-of-the-ordinary. As we hit the one-year mark, however, relief has turned to renewed curiosity at the capriciousness of the wildfire, and its random acts of violence.
With morning stables over, Mikus retreated to the D'Amato office at San Luis Rey, a pot of coffee getting cold in the corner, and pointed past the office walls towards the hills behind.
"When I'm walking around and I look up at the houses up there, it's amazing how most of them didn't burn," said Mikus, one of a number of staff from the D'Amato barn to stay back and fight that day. "And I wonder why [the fire] came down here, why it skipped our barn but didn't skip others. I often think about that. Now more so, because we're coming up on the year. How horrible it all was."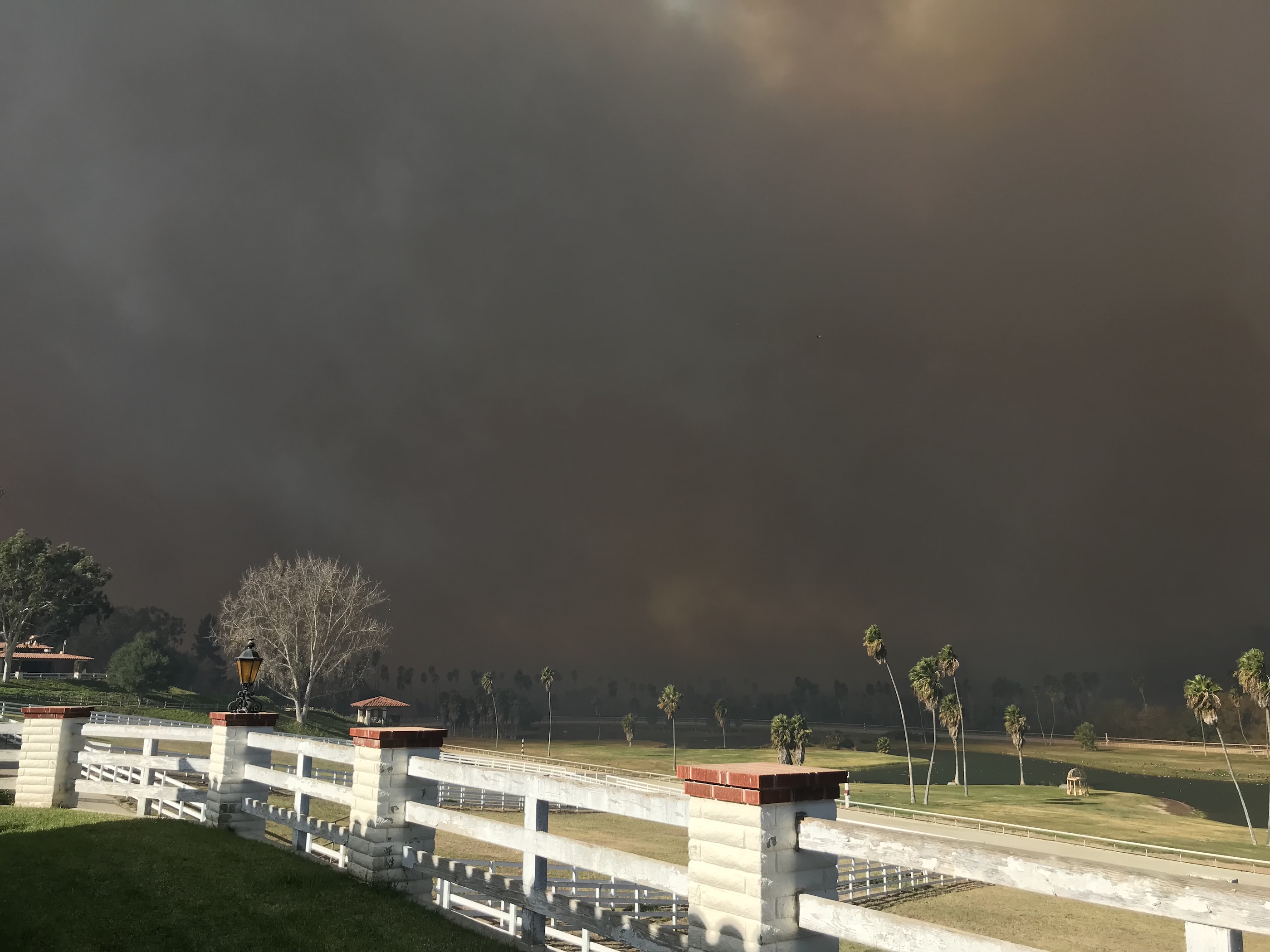 For groom Marcial Tovar Bedolla, the year has passed quickly. And so, "whenever there's talk of a fire nearby, you just hope it doesn't approach us," he explained, in Spanish.
He remembers vividly each long hour of that day: fiery palm fronds carried on the hot winds, a hay stack that caught alight, the folks on the barn roofs watering them down, and the frightened herds scattering through the smoke.
"These are horses that weren't used to being loose," he said. "A loose horse will always injure themselves. With a fire especially."
He then asked if I'd ever seen the videos of that day. "They don't tell the story of how people were trying to help the horses," he added. For sometimes, it's the words of those who were there that can do what no shaky camera footage can.
'That just happened to be the crappiest of the crappy'
Last year, veterinarian Charles 'Chuck' Jenkins described the feeling of helplessness as he and others, having done all they could, were forced to watch with horror the flames engulf the stables. "I wasn't just scared, I was fucking scared, man," he said, at the time. "But I tell you what, there were lots of heroes yesterday. Lots."
Those heroes, he said on a recent telephone call, subsequently proved their mettle again and again over the ensuing months. "You'd think that, with something that catastrophic, it would take them a long time to bounce back, but you know the people around the racetrack - they're a resilient crew," he said.
So, what is it that makes them this way? What drives trainer Martine Bellocq, who suffered burns to 60 percent of her body and who subsequently lost the lower part of a leg, to stubbornly refuse anything other than a philosophy of "life goes on".
"I've been in this game 30 years. You're going to see some crappy stuff," Jenkins replied, alluding to the peaks and troughs of a game that humbles even the most pig-headed of souls. "That just happened to be the crappiest of the crappy."
Jenkins did, however, offer a cautionary note: that, as time goes by, "you kind of forget."
Immediately after the fire, "people were up on fire safety, 'let's check this, let's check that'. I don't know where that went," he said - careful, though, not to include San Luis Rey in the rebuke. "It was on the front burner for about two months, and then it went to the back burner. Everyone seems to have forgotten."
Among the many things, no doubt, that Habell would like to forget are the messages and telephone calls fielded through the San Luis Rey office in the aftermath of the fire – anonymous, face-less and vitriolic voices blaming them for the fatalities. "We even had death threats called in to us," said Habell.
The issue of guilt is always thorny. As Habell pointed out, "we didn't kill them, the horses died because of the wildfire." Nevertheless, is it inevitable that he shoulders a sense of blame, because of his position? "Of course you do, but you can't bury yourself in it – you'll kill yourself."
'Thanks to All'
Nevertheless, on the drive home from San Luis Rey, my mind wandered to the day after the fire last year, and the outpouring of support from all corners as the tired, beaten San Luis Rey refugees who had congregated at Del Mar began the slow process of piecing together the tattered shards of their lives and livelihoods.
"It's hard to grasp what those present at San Luis Rey Downs that day went through, the horrors of which will linger with them in some form or other unto eternity," I wrote at the time, genuinely overcome at the response from inside and outside the industry as Del Mar filled with supplies and volunteers, veterinarians and sincere goodwill.
"In the days, weeks and months that follow, they'll need the enduring support of this industry. And the support they'll receive will be unflinching - that we know."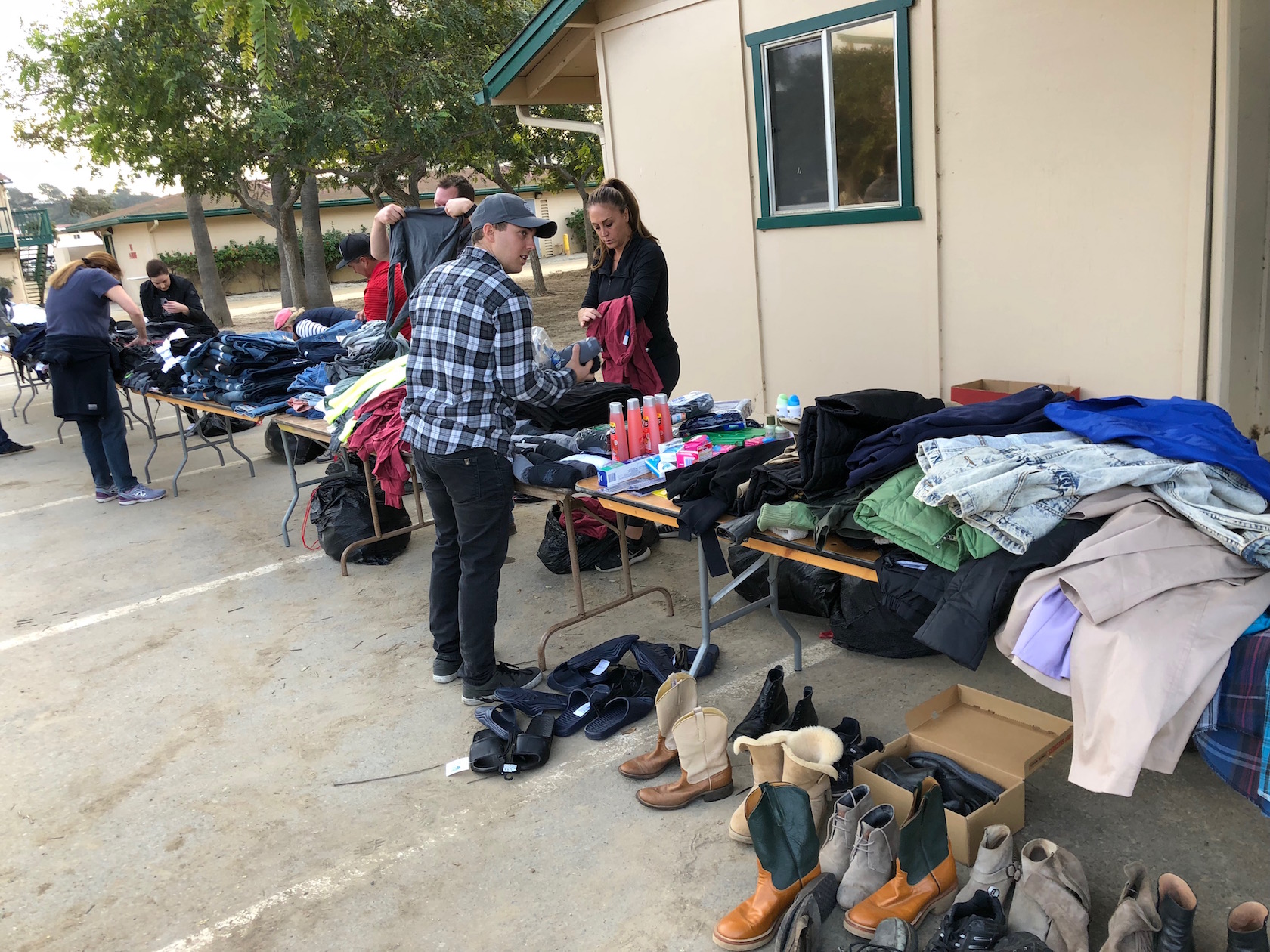 As though telepathy were a thing, my cellphone pinged – a message from Habell, asking that, in this story, I emphasize the help they've received over the past 12 months.
He singled out in the message Del Mar, Santa Anita, as well as "our industry, and the extended horse community", the local neighborhood, "our own horsemen from San Luis Rey, and my team here at SLRTC".
Without that support, "none of this could have happened in the time we had to get back on track," he wrote, before signing off with a sentiment I'd heard over many months from so many involved in this long, still unfolding story.
Sometimes there were specific people in mind. Sometimes it was all encompassing. Sometimes it was uttered with a sense of awe and fear and wonder at the sheer inexplicable nature of what has come to pass this past year.
"Thanks to All."