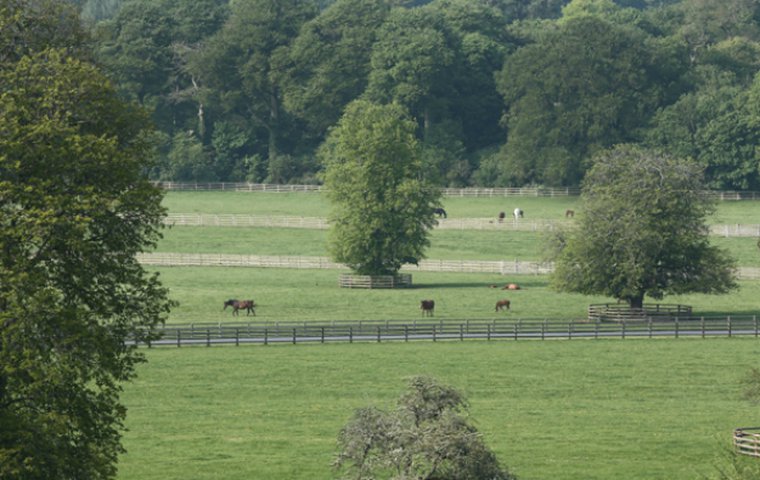 John and Leslie Malone's course in the Thoroughbred industry is governed by humble, old-fashioned tenets. The Malones harbor a deep-rooted respect for historic traditions, believe in preserving green space, and take great pride in enriching the lives of the people, horses, and communities they invest in. They also revel in seeking out endeavors that combine their respective passions.

The Malones share compatible interests that make the Thoroughbred industry a natural pursuit. Leslie, an equestrian and significant supporter of the U.S. Olympic Dressage Team, is a lover of horses. For John, the largest landowner in the U.S., more is better when it comes to rolling fields of green, especially when the picturesque landscapes are dotted with horses.
As the owners of Bridlewood Farm in Ocala, Florida, a storied operation they bought from the Appleton family in 2013, the Malones have promptly set out to expand their Thoroughbred holdings internationally. They recently added historic Ballylinch Stud in County Kilkenny, Ireland to a swelling portfolio of equine interests, buying the farm from the Mahony family's Killeen Group Holdings late last year.
The Malones are just the third owners of Ballylinch, which was established originally in 1914 by the McCalmont family and acquired by Tim Mahony in 1987. The famed stud farm was once home to the world-famous, Irish-bred racehorse and influential sire The Tetrarch.
"You have to go back to first principles," John Malone explained on a recent morning at Bridlewood Farm. "The first principle for Leslie and I is that we look for things we can do together as we age. She's always loved horses, and I've always loved beautiful land. This [the horse business] seemed like a pretty good thing to get involved in.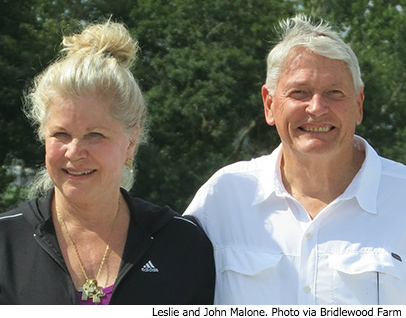 "I think it's the Irish gene in me that says it's all about land," Malone continued. "I love land, but I particularly love beautiful land. It's so wonderful to be here at Bridlewood, just looking out the window. As for Ireland, our involvement there has been substantial. It's logical to say that Ireland is as horsey a place as you're going to find on the planet."
As the stewards of two historic Thoroughbred farms, the Malones rely heavily on the experienced leadership of Bridlewood Farm's longtime general manager George Isaacs. Instrumental in much of Bridlewood's success since assuming the management reins of the 800-acre full-service facility in 1996, Isaacs plays a key role in helping to navigate the Malones through the equine industry.
"George thought we could have some real fun in the Thoroughbred business," Malone said. "We're not necessarily racing people, but we've always been a part of the breeding business with warmbloods. Leslie has a good eye for horses, and she enjoys going out and looking at horses with George.
"We have been in this business 1 ½ years now," he added. "George would say we're starting slow. I don't know. Obviously, we have a lot going on in Ireland. It's a beautiful country, and the people are terrific. When we heard that there might be a chance of picking up a historical stud farm, Ballylinch, George and I went over and took a look. We negotiated, and we ended up buying the place."
The acquisition of Ballylinch is also satisfying for John on another level.
"This has given us a chance to own a little more of Ireland. You know, buy it back from the English," he said with a broad smile. "We also picked up another place, Castlemartin. We still haven't figured out what role it will play. We just bought it because it was so pretty. It's near the Curragh in County Kildare."
Isaacs explained how a fortuitous conversation with bloodstock agent John McCormack led to the acquisition of Ballylinch.
"Ballylinch was put on our radar screen by John, who is a very good bloodstock agent," Isaacs related. "It's fair to say that John informed us of Ballylinch. I did the preliminary homework, and it seemed compelling. I say this politely, it was an absolute no-brainer once we got over there, saw the facility, and met John O'Connor and the management team.
"We did a complete appraisal of the bloodstock, and the farm itself has a tremendous history of racing horses. As a student of pedigree, it was the farm that The Tetrarch stood at, and his box is at the farm. When you like horses like I do, it just blows your mind. Once we reviewed the whole picture, it was something that we needed to involve ourselves in."
The Malones view the opportunity with Ballylinch in much the same way.
"You have to see Ballylinch Stud and meet John O' Connor to see what the opportunity was," Malone said. "The first time we went to see Ballylinch it was so foggy and cold that I thought in all honesty that it was great in the sense that there are successful horses there, but you couldn't see the facility. It was enough with the assessment of the land by my real estate partners there, and with George and John McCormack's evaluation with respect to the Thoroughbreds that it was definitely something we thought we wanted to own.
"I was blown away on our trip this past March," Malone added. "I was taken with the natural beauty of the place and the history. It is magnificent. To meet some of the other folks there and take a more thorough tour was just wonderful. Things like this you don't really own. You are a steward for a period of time, but you have to give them up. We are not on this planet forever. It is such a pleasure to be able to contribute to a place like this. We're also delighted to have also picked up John O'Connor and his entire management team, a bunch of first-class animals and six stallions."
Among the stallions that reside at Ballylinch is Lope de Vega, a dual classic winner, and the best son of Shamardal. Lope de Vega (Shamardal-Lady Vettori) was crowned Europe's champion freshman sire of 2014, a year he was represented at the races by Ballylinch-bred European champion 2-year-old Belardo.
"His first crop has been extraordinary with five group winners and a champion," O'Connor said. "As you can imagine, his fee has jumped considerably. He is overbooked by 100 mares that we just couldn't take. He is on track to be a truly leading international sire."
Lawman (Invincible Spirit-Laramie) is also establishing himself as a leading European sire with three G1 winners from his first two crops. Rounding out Ballylinch's stallion battery are Beat Hollow (Sadler's Wells-Wemyss Bight), Dream Ahead (Diktat-Land of Dreams), and Intense Focus (Giant's Causeway-Daneleta). A sixth stallion, Whipper (Miesque's Son-Myth to Reality), stands at Haras du Mezeray in France.
"The Malones have gotten involved with Ballylinch at a very interesting time," O'Connor declared. "Both the broodmare band and the stallion roster are performing very well internationally.
"Mr. Malone's instructions to me were 'You are doing pretty well. Do more of that.' So that's what we intend to do," O'Connor continued. "We have been working on a strategy since I joined here 25 years ago, and it is coming to fruition with the Malones' support. I think we can even take it to another level with extra investment. It's a beautiful facility [about 1,000 acres], and it's been a stallion farm for 100 years."
The Malones, Isaacs, and O'Connor are excited about the synergies expected to emerge between the two operations.
"The first synergy I could identify is that it's nice in Florida in the winter, and it's nice in Ireland in the summer," Malone offered. "So I suspect we'll have a lot of volunteers who would like to cross-breed at the management level, which I think would be delightful. Learning from each other; techniques and so on, would be great.
"I was encouraged to see the uphill gallops in Ireland and the synthetic surface there is their primary training tool. I think that a lot of cross-training will take place, especially for me. There may be many new opportunities there. Right now the dollar is strong relative to the euro, and we might be able to find some mare prospects in Ireland. Of course, there's no one in a better position to identify opportunity there than John [O'Connor]."
In expanding on the idea of collaboration between the two farms, Isaacs said he anticipates a time when injecting new bloodlines into each operation is a distinct possibility.
"I think eventually down the road there might even be families that we want to transfer from Ballylinch to Bridlewood to get some fresh outcross blood into our American program, and perhaps, vice versa. I see bloodstock synergy down the road. I'm excited about that. I also see a lot of synergy between the employees, perhaps an exchange program from time to time.
"This is very significant," Isaacs added. "It was easy for me to see from day one. Mr. Malone is a big-picture guy, and when you talk about getting involved in acquiring properties in Ireland, this just seemed natural."
With the Thoroughbred industry more global than ever, O'Connor also sees the many benefits of an international operation.
"I think there will be plenty of synergy between the three as Castlemartin will come into play at some point," O'Connor said. "You can certainly benefit from moving stock around. I'm sure there are plenty of things we can do together to benefit the operation."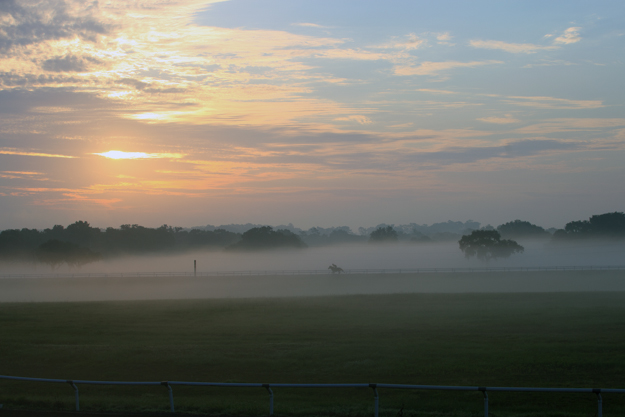 Back in the U.S., Bridlewood Farm is no stranger to top stallions. The farm is currently home to eight stallions: Aikenite (Yes It's True-Silverlado), Backtalk (Smarty Jones-Apasionata Sonata), Benny the Bull (Lucky Lionel-Comet Cat), Big Drama (Montbrook-Riveting Drama), Corfu (Malibu Moon-Fashion Cat), Fort Loudon (Awesome of Course-Lottsa Talc), Mach Ride (Pentelicus-April Invitation), and Wagon Limit (Conquistador Cielo-Darlin Lindy).
"With Bridlewood's rich history of standing influential sires such as Skip Trial, Jules, Stormy Atlantic, Halo's Image, Put It Back, and others, it only makes sense that we continue to build on that tradition," Isaacs said. "I look forward to one day retiring to stud a homebred that we have raced."
The farm's training division is thriving under the watchful eye of trainer Jonathan Thomas, and among Bridlewood's recent training graduates is G1 winner Condo Commando.
"We are already profitable by our training and board operation in our heaviest months," Isaacs noted. "We wanted to prove to the Malones that we can do this. I am also wired as a bottom-line guy, so I'm only going to be happy if the farm is self-sustainable or profitable."
Malone added, "The best you can do is be profitable and reinvest everything back into the business. That is the goal. We have found that the training business was much more of an opportunity than we originally thought. Especially since George recruited Jonathan. Demand has been very strong. We really like that part of the operation. It provides activity here, as well as jobs and opportunity."
There is little doubt that the Malones have a winning formula for success in life and work, and it's safe to say that their initial foray into the Thoroughbred business has thus far generated ample returns. So much so that further expansion may be on the horizon.
"It's been a lot of fun so far. Leslie and I have really enjoyed ourselves; beautiful places and beautiful horses," Malone said. "Of course, we wouldn't mind seeing a few of ours run fast. Whether we own or train them here on the farm, there is a thrill to the actual race and the end result."
As for the future, Malone says, "We're wide open to anything that makes sense and will be fun. We've kicked some tires up in Kentucky. It might be fun to have a place there."