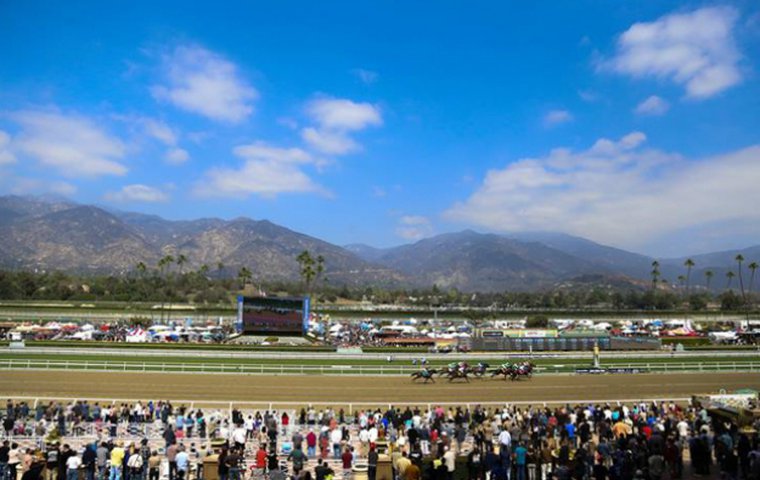 Steve Lym was born into racing thanks to a father who worked as a trainer in Jamaica. Lym moved to Canada in 1975, took out his trainer's license in 1986, and started working at Woodbine Racetrack in 1987. He moved up from the clocking department all the way to being the Director of Racing there. In 2018, Lym (pictured below) transferred to Santa Anita to become the Vice President of Racing and Racing Secretary.

Who do you think is the most important figure in world racing history?
I don't think there's just one person that's been influential. If it was the most prolific horse, it would be Northern Dancer. As for a person, I would say EP Taylor. He influenced the breed of the horse for a long time and made Canada relevant. Another answer would be the creator of the Breeders' Cup, John Gaines, or maybe the Breeders' Cup itself. It changed the game and it continues to bring racing to the masses.
Which is your favourite venue and race?
My favorite venue is Santa Anita. It's the scenery, the history … it's the most beautiful racetrack.
My favorite race would be the Kentucky Derby (even though I've never been). It's the importance of it, how everyone is guided to it. Every spring, that's where every 3-year-old is trying to get to.
I could have gone a few times, but I've always been working. I've been to some cool races around the world, but the Derby is my favorite race, for anticipation and all the hype of getting there.
What is your fondest memory in racing?
That one is an easy one: Zenyatta winning the Breeders' Cup Classic at Santa Anita in 2009 (see video below). I was at Santa Anita for that race. I've never felt energy like that at a race, or anywhere. It started building early and kept building all day, and when Quality Road broke through the gate … it was just an amazing event to be a part of. Secretariat at Woodbine was pretty good, American Pharoah being the first Triple Crown winner in more than 30 years was good, but for me it was Zenyatta's Classic.
What do you see as the biggest challenge racing faces today?
It's obviously horse safety, and what we do as an industry to make that better.
I think the public perception of racing is what they see on the nightly news, and I don't think that's an accurate reflection of what we – and in particular Santa Anita - are doing as an industry. I think we're doing a lot better than we were, and I think we are always thinking about how to improve. I think the public doesn't see the real effort that we are making. I don't want to vilify the press, but it's hard to see exactly what we're doing if you're not there every day, and obviously they can't be there every day.
If you could change one thing in racing, what would it be?
The one thing I would change would be the training. I wish we could do a combination of the European and Japanese models. Using technology from the Japanese model, with different surfaces to train on, and more time, as well as the European model, where they have yards and more people involved with each horse. Wouldn't it be nice to have three tracks, a thousand acres, and all day to train?