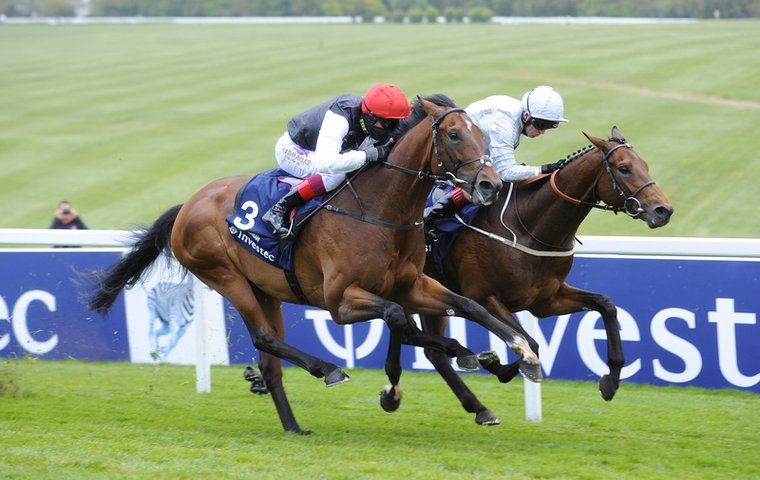 His first season is happily consigned under the 'Success' column, thanks to a G1 winner in Japan and a bunch of other Group and Graded victories there and in Europe. The real test for Frankel, though, is just beginning.

His first crop made a promising start in 2016, but how will they fare as 3-year-olds? Will the highest-profile scorers at two train on into high-achieving classic runners? Are there later developers ready to blossom into G1 performers?
Certainly in Europe, there's a mood of huge, positive expectation about the mighty champion's emerging progeny, fueled partly by the early classic trials at Newmarket and Newbury last week - and, it must be said, by a not-inconsiderable dollop of wishful thinking.
Headline act at this stage is Eminent, impressive winner of the G3 Craven Stakes at Newmarket, who is now disputing second favouritism for the 2,000 Guineas back at Newmarket on May 6.
Full of potential
Like all Frankels, Eminent is fabulously bred, being the daughter of a Kingmambo mare who was out of a G1-placed relative to a host of top-level performers, many of them trained by Aidan O'Brien at Ballydoyle. There's no denying the potential of a colt whose only previous run was a tidy win in what was likely to have been a quality maiden last September.
Backing him up in the 2,000 Guineas may be Dreams Castle, a Godolphin colt out of a Dubawi mare who was unraced at two but is attracting attention after finishing second in another leading trial, the G3 Greenham at Newbury on Saturday.
Frankel's daughter Fair Eva, a Juddmonte-owned G3 winner at two, disputes second favouritism for the 1,000 Guineas on May 7 - she will go there without a prep. Also among the entries is another daughter of Frankel, G2 winner Queen Kindly, who disappointed in a G3 at Newbury on Saturday.
But this isn't just about the Guineas. Much of Frankel's own renown may have centred on his performances over a mile - he turned the 2011 2,000 Guineas into an astonishing all-the-way procession (see the YouTube video above) - but many of his offspring look destined to excel over longer trips.
Such an animal is his son Cracksman, who is now as short as 8-1 second favourite for the Epsom Derby on June 3 after a fascinating triumph at the track yesterday. The colt, owned, trained and ridden by the same Anthony Oppenheimer-John Gosden-Frankie Dettori combination that took the 2015 Derby via Golden Horn, overcame bad luck in running and a slow pace to scramble home in a ten-furlong Derby sighter on only his second visit to a racecourse. He will run in one of the big trials at Chester or York next month.
And, while just five are likely to enter the gate tomorrow for another early trial for Epsom, the Sandown Classic Trial, won in the past by Shahrastani, Old Vic, Fantastic Light and Sakhee, three of the five are sons of Frankel, including the likely favourite, Monarchs Glen, who is also trained by Gosden.
So, despite the defeat in the G1 Japanese 1,000 Guineas earlier this month of the 2-5 favourite Soul Stirring, the picture for sons and daughters of Frankel in the classics looks rosy indeed.
But is there actually much substance to this, or is the reality that these horses are being overrated because of goodwill?
In this study based on TRC Global Rankings last December, James Willoughby compared Frankel's first season with those of other outstanding young stallions, in particular Uncle Mo.
Frankel compared favourably then, and he's doing the same now. TRC Global Rankings are not fooled by hype or goodwill. They take no notice of a horse's reputation. And Frankel's strong start to the new season is reflected in his move this week up to #60 in the sires' standings - climbing 15 places after a four-point gain week on week.
That's freakily high for a stallion in just the early weeks of his second season.
Uncle Mo's trajectory
Lord Grimthorpe, racing manager to Juddmonte's Prince Khalid Abdullah, owner-breeder of Frankel, said: "The beauty of Frankel is that the expectation is so enormous that everyone expects something spectacular every time one of his progeny sets foot on a racecourse. Breeders and the public both expect him to deliver at the highest level.
"What Frankel gives them is that good stride – which was pretty devastating in his case – and a will to win. In the Craven Stakes, Eminent really wanted to get on and do it, which was very reminiscent of his father.
"He has started off exceptionally well as a stallion, there is no question about it. It's tremendously exciting. He looks magnificent and is very fertile.
"When a horse goes to stud, the interest in him tends to diminish but, unusually, in Frankel's case if anything it has grown even further. All his charity days are booked up as people just want to see him and have their photo taken with him."
The signs are that Frankel may continue to match the trajectory of Uncle Mo, who produced a Kentucky Derby winner in his second season and went on to reach the top ten in the sires' list. Uncle Mo is currently world #6.
Of course, Uncle Mo is already an elite stallion and appears capable of joining the world's big four supersires - Deep Impact, Frankel's father Galileo, Dubawi and Tapit.
At his current rate of progress, that prospect may not be too fanciful for Frankel either.
Bowman back on top
Ryan Moore and Hugh Bowman, the top two in the world jockeys' rankings, flip-flop for the third week running this week, the Australian regaining the #1 position.
John Gosden's superb start to the season - three Group wins last week, including the two main fillies' classic trials in Britain - mean a five-point gain in the trainers' standings. He remains at #8.
Both Gosden's winning fillies (Daban and Dabyah) are owned by Dubai's Abdullah Saeed Al Naboodah, who gains nine ranking points to rocket up 208 places in the owners' standings to #116.
Click here for a list of the week's biggest points gainers.
Click here for a list of the week's group and graded winners.