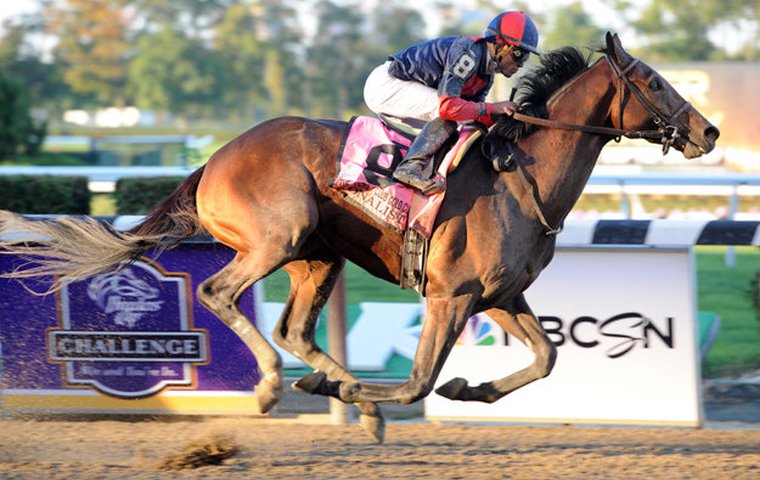 While there's no singular reason for the growth and success of the Breeders' Cup, unprecedented television coverage from Day One belongs near the top of the list.

Back in 1983, when some horsemen were scoffing at the notion of staging seven million-dollar championship races on the same day, the idea of airing them in a four-hour show on network television was generating robust belly laughs.
Sports Marketing and Television International (SMTI) handled marketing and television rights for the fledgling series and was responsible for making sure that first Breeders' Cup in 1984 did not unfold in obscurity, like the proverbial tree falling in the forest.
"When (SMTI heads) Mike Letis and Mike Trager first shopped the Breeders' Cup to networks there was initial interest in showing just the Classic. But they knew the importance of television exposure and pushed to get a four-hour show with all of them," said Breeders' Cup media relations director Jim Gluckson, who handled communications for SMTI. "They finally found a partner in NBC and Arthur Watson [then president of NBC Sports] who aired the entire package."
The rest is history, which has recently come full circle with Breeders' Cup once again partnering with NBC to create expanded coverage and increase the reach and visibility of both the championships and the sport itself.
After a contract with ESPN [2006-2011] was terminated two years shy of its original eight-year term, the Breeders' Cup returned home to NBC and its family of networks in 2012 through the signing of a four-year deal to air both days and 12 of the races on NBCSN with NBC presenting the climactic Breeders' Cup Classic in a prime-time slot.
"As much as things change, they stay the same because we're back with NBC again," said Peter Rotondo, vice president of media and entertainment for Breeders' Cup Ltd. "If you want to spread your wings, you need a national television partner. NBC has a commitment and passion for the sport."
The newest phase of the partnership between the Breeders' Cup and NBC Sports Group was unveiled in June with the first of 11 telecasts highlighting Breeders' Cup Challenge "Win and You're In" races. The series started with the G1 Metropolitan Handicap and G1 Ogden Phipps on the Belmont Stakes undercard and concluded Sunday with the G1 Spinster and G3 Bourbon from Keeneland. In between, premier G1 races such as The Gold Cup at Santa Anita, Haskell, Whitney, Travers, Pacific Classic, Jockey Club Gold Cup, and Awesome Again were featured on either NBC or its cable sports affiliate NBCSN.
"NBC was happy to do it,'" said Rotondo, who worked with Breeders' Cup Senior Television Advisor Basil DeVito to construct a two-year deal with NBC Sports Group to air Challenge races in 2014 and 2015. "They get great programming and content. We get a place to sell the commercial inventory we need to grow our sponsorships. Tracks get their races on national television. It's a win-win. Even if the Breeders' Cup is an amazing event, it's just two days. So the idea was to spread things out again."
While ratings have been miniscule in comparison to a juggernaut like Sunday Night Football, Rotondo said what's most important about the deal is not the number of eyes watching the races. Through working with NBC, the Breeders' Cup has received beneficial crossover exposure through promos on shows and sports events aired by NBC and NBCSN as well as other cable networks such as USA, E!, and The Golf Channel under the NBCUniversal umbrella.
"We've been thrilled with the results," Rotondo said. "What goes under the radar is that people have lives and are not watching sports 24 hours a day. Our shows are being promoted on other NBC shows. If you watched the Ryder Cup, you saw Breeders' Cup promos. During the summer, you saw Breeders' Cup Challenge promos. We're trying to sell the lifestyle of racing and you saw Challenge promos on E!. We're on 'The Tonight Show,' 'The Voice,' and Sunday Night Football. That's the difference between NBC and ESPN. When you can get into the subliminal consciousness, it's a huge help. Even if people don't turn on the race on Saturday at 5 p.m., they know about it. Then for the Breeders' Cup, we'll all over the place. We're trying to break through and attract sponsors from luxury brands so we need to be on multiple platforms."
In the end, it was the ability to reach a mainstream audience that made the departure from ESPN quite palatable.
"ESPN was great, but we didn't get as much support as NBC, and when we did, it was just on sports programs," Rotondo said. "ESPN reevaluated their programming, realized they wanted to be in the college football business and that was it. Their primary goal on Saturdays in the fall became showing college football and they went all-in with it. NBC, which has the Triple Crown, wanted to double-down in its association with horse racing and we were happy to do it."
Aside from television, NBC also offers live streaming on NBC Sports Live Extra, and the Breeders' Cup has supported the venture through placement of profiles on People.com and Sports Illustrated's SI.com featuring Breeders' Cup ambassadors such as Joe Torre and Jim Rome.
The launch of the expanded NBC Sports Group programming comes at a time when the Breeders' Cup also switched its distribution of international rights from ESPN International to Henry Birtles Associates earlier this year.
"What is important is the partnership element where both organizations will work side by side to get the best out of Breeders' Cup for international TV purposes, and where the passion that defines racing comes across to a new audience and succeeds in winning new fans for this great sport," said Henry Birtles, the company's managing director, in a press release.
Rotondo said he plans to work with Birtles to find international outlets for next year's Challenge series.
Together, it's part of a strategy involving increased use of television cameras to reach both current and prospective fans – just like the 1980's all over again.
"It's not just putting races on television," Rotondo said. "We're promoting the hell out of them. We've started from scratch again on television and this is the beginning of the next chapter for us."