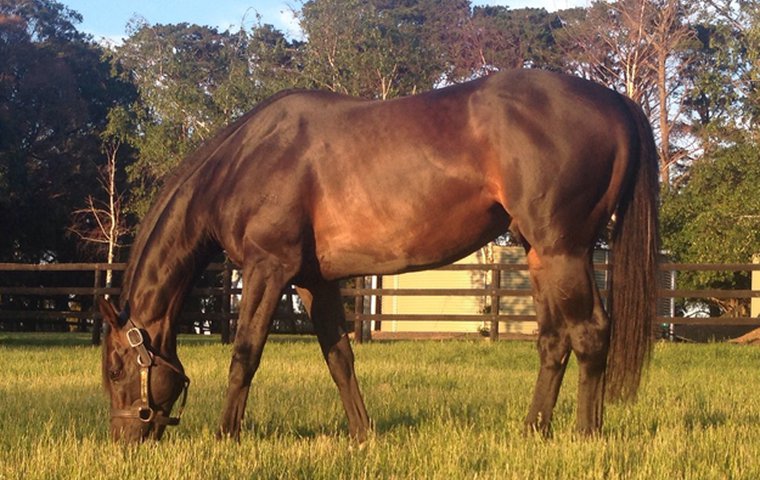 At the commencement of the Southern Hemisphere breeding season on Sept.1, the Australian Stud Book listed 445 stallions reporting for covering duties. It was a number remarkable for one reason: it was a huge drop from the previous season's 662 stallions. From one season to the next, Australian breeding had lost 217 active sires. Katrina Partridge talks to a few industry figures, and asks them what has happened to the stallion numbers in Australia this year. Is it a sign of something sinister, or is the market simply correcting itself?

Sydney man John Madgwick knew a thing or two about breeding racehorses. In 2011, he sold the most expensive filly by champion sire Encosta De Lago, a homebred called Hoybell that fetched him AUD$690,000 at the Inglis Easter Yearling Sale. At one time, Madgwick had 14 broodmares in his fold at an average value of AUD$250,000 each. Today, he doesn't own a single one.
Madgwick is representative of many small breeders who hit the wall in recent years in Australia, and he believes there is a strong correlation between a decreasing broodmare band and decreasing stallion numbers.
"The first major blow to the small breeder, the breeder with modest financial backing when compared to the large studs with their strong stallion-service fees and much lower costs to bolster their cash flows, was the Global Financial Crisis (GFC) in 2008," Madgwick said. "In 2007, service fees had reached extremely high proportions, and after the GFC hit, the subsequent very much lower sales revenues achieved on those yearlings that related to these 2007 services fees was the beginning of the end for the small breeder. Service fees were reluctantly reduced by the big studs after that, but never by enough, nor soon enough."
Madgwick cites innumerable other difficulties facing small breeders: mandatory X-rays required for the top-sale bound yearlings, adding AUD$2,500 to the cost of selling a horse, and tax discrepancies introduced by the Kevin Rudd government in 2009. But the competition for top broodmares is one of the most serious.
"Young mares off the track that have the pedigree and performance necessary to qualify their offspring in the major sales did not lose their value as breeding prospects during the GFC," Madgwick said. "The big studs, with their deeper pockets, could afford the AUD$250,000 or more price-ticket to secure purchases at auction. The small breeder was often an under-bidder and unable, or more to the point unwilling, to commit further investment when end results are so often uncertain."
Basil Nolan is the head of Thoroughbred Breeders Australia (TBA), and he prefers to place the blame of declining stallion numbers at the feet of the bigger books that stallions now cover. He is supported by figures from the Australian Stud Book that reveal 110 stallions covered 65 or more mares in season 2013, 63 stallions covered 100 or more, while four stallions (Snitzel, Sebring, Fastnet Rock, and So You Think) covered in excess of 200 mares each. In lieu of the total broodmare population in Australia, which in 2013 was 21,404, these enormous books for a select group of stallions puts enormous pressure on smaller breeders to give their own stallions the requisite chances needed at stud to get numbers to the track.
Australia welcomed 21 new sires for the 2014 breeding season. The most prolific was Zoustar, an AUD$85,000 weanling that went on to be a champion sprinter for trainer Chris Waller, selling to co-owners Widden Stud, where he is standing for AUD$44,000, and Qatar Bloodstock for a reported AUD$18 million. Also new to the ranks are Dundeel (who raced as "It's A Dundeel" in Australia) at Arrowfield Stud (fee AUD$27,500), Cox Plate winner Shamus Award, also at Widden (fee AUD$27,500), Coolmore's Camelot (fee AUD$22,000), and U.S. sprinter The Factor at Newgate Farm (fee AUD$22,000).
These new stallions represent a typical challenge for smaller breeders, as the market is less willing to accommodate a G3-winning stallion when it can go to a G1 stallion for a competitive price. This is something Adam White, sales and nominations manager for Vinery Australia, is happy to talk about.
"It has become commercially prohibitive for a smaller farm to stand a stallion," White said. "It is very difficult for small breeders to firstly secure a commercial stallion prospect, and then compete with the higher-profile stallion farms that have great access to the more attractive stallion prospects. The larger farms that have a wide range of stallions are also able to offer breeders an attractive package if they use two or more stallions, which then makes it harder for those farms just standing one or two stallions."
James Harron is a bloodstock agent behind such horses as Melbourne Cup winner Fiorente, multiple Group winner Sweet Idea, and boom reverse-shuttler Foxwedge. He said:
"There's an increasing focus of the entire business on quality, and horses by less commercial stallions and out of less commercial mares really struggle at the sales. With everybody focusing on quality, there are fewer spots to fill for stallions. With the big farms now well able to cover 150-plus mares with a stallion, the commercial reality is that less attractive stallion prospects are a huge struggle for a farm in terms of attracting mares."
For 2014, of the stallions presenting first-crop yearlings, only two out of the 34 that stood for more than AUD$5,500 in 2012, retired without G1 credentials. They were Arlington, by Red Ransom, and Moshe, the full-brother to Black Caviar. While the evidence supports the suggestion that G1 stallions have greater success as sires, it is still worth noting that Danzig, who was unbeaten in three starts but cannot claim any black type, left an indelible imprint on international breeding, and racing is full of such stories.
Australian stallion numbers have been decreasing for a long time. Twenty years ago, there were an incredible 2,122 stallions on duty for the breeding season 1993/94, but 10 years later, there were only 994, a cut of almost half. Since then, the numbers have continued to dwindle. But there has never been a plummet from one year to the next as marked as this season, and while all of the above factors must be considered, so also must the effect of equine influenza in 2007, when the intake of shuttle stallions fell from a regular squad of approximately 65 to approximately 40 (this year, as last, there are 42 shuttlers).
TBA has witnessed a 19 percent drop in breeder numbers in recent years, a trend it expects will continue. Its acting Executive Officer Les Young reports that six years ago, there were around 12,000 people or entities sending mare returns to the Australian Stud Book. This figure halved in 2013 to 6,500, of which 4,500, or 60 percent, returned only one mare.
Young believes that costs, including stallion service fees, agistment, veveterinarians, and transport, continue to reduce the number of mares smaller breeders own, or reduce the number of mares bred each year, or, worse, force smaller breeders out of the industry altogether.
Like John Madgwick, Sydney law partner John Baxter is a small operator. After a number of years of financial loss, he considerably reduced his broodmare band this season.
"It is very difficult, if not impossible, for a small breeder operating at the mid- to lower-level of the breeding spectrum – insofar as mare quality and serving stallions are concerned – to break even, let alone make money," he said. "One can only subsidise a loss-making enterprise for so long."
Baxter cited high expenses involved in the breeding of horses as a huge problem: service fees, vet fees, surgery costs for corrections and emergencies, along with auction-house fees, agistment, and the difficulty of getting stock into commercial sales. He said top sales companies have an aversion to the risks involved with non-commercial stallions, and they tend to favour the larger commercial breeders, and the progeny from them.
"There is no middle ground between top tier sales, like Magic Millions and Inglis Easter and Premier, and bottom tier sales, like Queensland Thoroughbred Incentive Scheme (QTIS) and Inglis Classic and Autumn sales," Baxter said. "In the latter, the average and/or median price often doesn't even cover the cost of production, let alone provide a profit. The risk-return ratio is completely out of whack. It's an enormous risk for a poor return."
If there is any remaining threat to local stallion numbers, it is probably the Australian trend of the last few years of spending heavily on European middle-distance horses for importation. This began with Sydney trainer Chris Waller, who had a lot of early success with the practice, and gradually it caught on with the rest of the country. Many of these imports have claimed Australia's biggest races, including Fiorente, who went into the Waterhouse barn, and the trend is now considered irreversible. At the recent Tattersalls Autumn Horses In Training Sale at Newmarket, England, Australian buyers purchased 24 horses for a combined total of 2,940,000 guineas (approximately USD$4.8 million), or just over 12 percent of the sale aggregate.
The small-breeder impact of this overseas spend is significant. The yearling market has consistently demonstrated that precocious yearlings are where the money is. If a breeder can turn out G1-winning 2-year-olds or 3-year-olds, the subsequent stud value can be, as in the case of Zoustar, AUD$18 million. Everyone wins. But the international spend has shown that Australian buyers are becoming more willing to buy a tried middle-distance horse from Europe and race it immediately in Australia, rather than buy into the great unknown at the yearling sales, and wait years for it to mature into a Cup horse.
Given this worrying trend, it will be interesting to follow the market reception for the progeny of successful imports, now sires, Fiorente and Dundeel. Their yearlings will hit the sales in 2016, and these results will augur how imports of the future are treated at stud in Australia.
Across the board, breeding figures are down in Australia – numbers of stallions, numbers of mares. and numbers within foal crops. But while alarmism is evident in the industry, many seasoned breeders believe that the figures of pre-2007 were unsustainable, that the business is correcting itself now and returning to manageable numbers. In that respect, a drop in stallion numbers might not be such a bad thing. The problem is if this drop represents the smaller, boutique breeders going under, and that is certainly where the evidence is pointing.