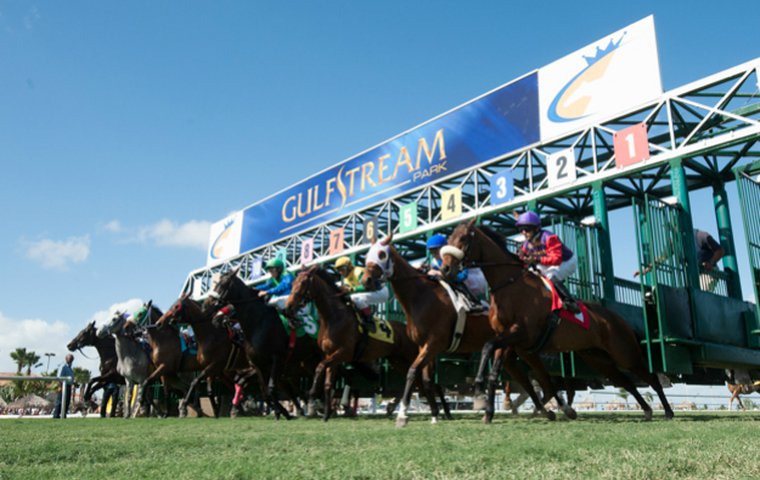 There was a time when the Florida Derby, which will be run Saturday, meant closing day at Gulfstream Park wasn't far behind, and the Hallandale Beach track would be shuttered until the following January.

Those days are gone. In incremental steps over the past several years, Gulfstream, which first opened its doors in 1939 and was completely rebuilt 10 years ago, has morphed into a year-round presence.
In 2011, rather than a January start, the traditional kick-off to Gulfstream's winter meet, the track commenced with an early-December opening, and has done so ever since.
In 2013, for the first time in its history, Gulfstream held a July-through-November meet, on weekends and holidays. In doing so, it went head-to-head with Calder Race Course, eight miles to the west in Miami Gardens. In turn, Calder added racing dates to its calendar, in direct competition with Gulfstream during its 2014 winter meet. This placed a burden on both tracks to card full fields.
But a new era dawned on the South Florida Thoroughbred racing scene in July 2014. Gulfstream, which is owned by one of North America's most prolific owners and breeders, Frank Stronach, and operates under The Stronach Group (TSG), reached an agreement last summer with Churchill Downs Incorporated (CDI), the proprietor of Calder, that put an end to the racing dates war.
Through a lease with CDI that runs through 2020, Gulfstream began conducting a two-month meet at Calder in October of last year and called it Gulfstream Park West. The rest of the year, Gulfstream races at its Hallandale Beach track, without opposition from Calder, which is still owned by CDI. Gulfstream's racing dates at Calder fulfill the state's requirements for CDI to continue operating a casino there. The lease entitles Gulfstream to use a portion of the stalls -- approximately 435 -- on the Calder backstretch. Last year, TSG spent more than $1 million to refurbish those stalls when the deal was complete.
In 2014, Gulfstream's pari-mutuel handle was $1.2 billion, a record for a single year at the track. And it was achieved despite direct competition from Calder for the first six months of the year.
"From a horsemen's point of view and a handle point of view, obviously, the deal made a lot of sense," said P.J. Campo, vice president of racing for TSG and general manager at Gulfstream. "Mr. Stronach's motto has always been that racing comes first. And that's a culture that people have bought into here in South Florida. We definitely have gone in the right direction as one unit in terms of dates between the two tracks, and making it a full-year schedule."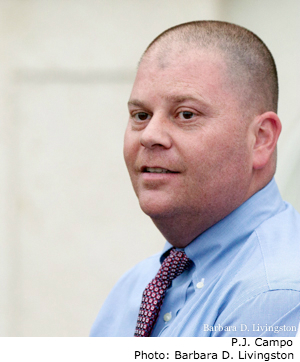 Following Saturday's Florida Derby, racing at Gulfstream will continue on a five-day-a-week racing schedule through the middle of May. During the summer months, racing will be offered four days a week. The second annual Gulfstream Park West meet at Calder will cover a 40-day period in October and November, with racing five days a week. Upon the conclusion of that meet, racing returns to Gulfstream on Dec. 5 for the start of its championship meet. For the fourth consecutive year, the Claiming Crown, an eight-race stakes series for claimers and former claimers, will be contested on the opening-day card.
Before joining TSG in 2013, Campo spent 16 years on the year-round circuit of The New York Racing Association, rising to the role of vice president and director of racing by the time of his departure in the racing office. One of his jobs at Gulfstream is recruiting horsemen to Florida on a year-round basis.
"I'm a big planner. As you're operating in the present, you always have to have a plan for the future," Campo said. "When you can plan for the future and give horsemen that plan -- what your races look like, your purse structure -- that's huge. And last year at this point in time, we didn't have that. There was uncertainty, and now there is none. We have a year-round schedule. You can now tell a trainer, 'You're going to be here 230 days, and you're going to have stalls.' We're trying to grab as many new outfits as we can. We want to call this a year-round circuit and want to promote that."
Campo said he has received stall commitments from trainers, some new to the South Florida summer racing scene, and others who raced there in the past but will increase their presence this year. In addition to the year-round regulars, Campo said Jane Cibelli, David Cannizzo, Mike Maker, Michelle Nihei, Jorge Navarro, Chuck Simon, and Marcus Vitali will have horses in Florida beyond the conclusion of the championship meet on April 5.
Campo noted the participation of trainers with juggernaut operations, such as Chad Brown, Christophe Clement, Bill Mott, and Todd Pletcher, whose main bases of operation during the spring, summer, and fall are in New York, is no longer confined to the winter meet.
"Look at Todd Pletcher, staying through April and coming back right after Labor Day, so realistically, he's gone just [four] months and he sends a string back," Campo remarked. "And look at Chad Brown, who ran horses at Gulfstream Park West last year in the fall, and he really never ran at Calder before that. The same thing with Christophe Clement and Bill Mott."
Gulfstream's spring/summer meet this year will feature a record 29 stakes with purses of $4.7 million, and will mark the debut at the Hallandale Beach track of the Princess Rooney and Smile Sprint, "Win and You're In" races for the Breeders' Cup. Those stakes, part of Calder's popular Summit of Speed card since 2000, were canceled in 2014 due to the pending agreement between CDI and TSG.
The G2 Princess Rooney and G2 Smile Sprint, races that have produced several Breeders' Cup winners, will be run alongside five other stakes at Gulfstream on July 5 and will retain the "Summit of Speed" branding.
Another highlight of the spring/summer stand is the Florida Sire Stakes, a series of 2-year-old races for the offspring of nominated stallions that will be conducted over the course of three months, beginning in early August. The combined purses of the six races is a record $2 million, an increase from the $1.6 million offered last year. The track also has created a new stakes program for 3-year-old Florida-breds, which offers $900,000 in purse money.
Campo said the 2-year-old stakes program underscores Gulfstream's overall commitment to the division.
"We started our first 2-year-old race last year on April [18] and we ran 40 2-year-old races before the end of July," he said. "If you want to start a 2-year-old in April, May, June, and July, this is the place to be. Ours is a very strong 2-year-old program. We ran a 2-year-old stakes [$75,000 Cassidy Stakes] with a 12-horse field here last July. That's unheard of. It's another selling point for summer racing here."
Two-year-olds also factor into Gulfstream's landscape beyond that of the racing product. This year, for the first time, Fasig-Tipton partnered with Gulfstream and held its boutique 2-year-olds in training sale at the track. The auction was conducted on the evening of March 4 in the paddock. Gulfstream constructed 150 new stalls to accommodate the horses in the sale, and the breeze show was held there as well.
With The Village at Gulfstream Park, a shopping and dining mecca that Stronach built and opened in 2010, serving as a backdrop to the proceedings, the sale venue was both unique and aesthetically pleasing.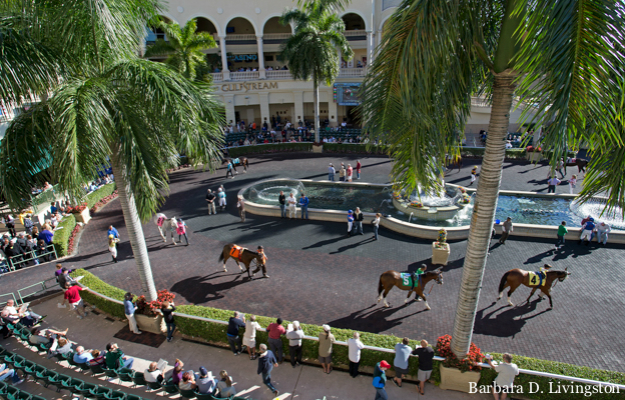 The popularity of Gulfstream, both as a track and an entertainment destination, has made it a natural spot to hold industry events. The track hosted the Eclipse Awards for the third consecutive year in January, and the National Thoroughbred Racing Association, which produces the awards ceremony, has announced it will back there in 2016.
"It's so important to build on those relationships with industry leaders," Campo said. "Besides running the races, we're a racetrack that can pull off events like that. That's unique in this industry."
With the new racing model in South Florida off to a flying start, TSG is also looking to improve operations at their two Maryland tracks, Laurel Park and Pimlico Race Course.
To that end, TSG's chief operating officer, Tim Ritvo, has spent a considerable amount of time in Maryland in recent months. Among the projects Ritvo has overseen is the ongoing construction of 300 new stalls on Laurel's backstretch. Also part of the $7 million investment by TSG at Laurel is the building of new lavatories for men and women on the backstretch, and the installation of security cameras, both on the backside and frontside.
Other enhancements and renovations extend to both the grandstand at Laurel and Pimlico. The first floor at Laurel has been outfitted with more than 150 new flat-screen televisions and betting carrels. At Pimlico's Sports Palace bar, walls were removed to afford customers better views of the racetrack.
Ritvo is also looking at the bigger picture and is aiming to strengthen the racing product in Maryland, making it more attractive to bettors. Ritvo said he is in talks with horsemen and management from neighboring states, Delaware and Virginia, in an endeavor to create a unified racing circuit with tracks there and in Maryland. The concept is for a coordinated year-round racing schedule in the Mid-Atlantic, under one racing office, that will bolster field size.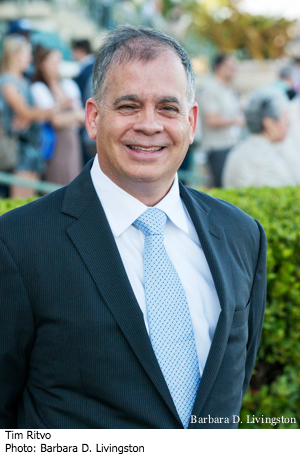 "I don't think there is anybody that doesn't agree that it would work," Ritvo said. "Now, it's all about coming up with a good solution so that everybody wins. These are really hard deals because we don't want to slant it so that one guys gets a bigger advantage than another. We want it to be a win-win-win for everybody. The horsemen, obviously, which I consider our true partners, have to be happy with what this [model] looks like, too.
"We're hopeful that horsemen's groups around the country understand that the days of five or six-horse fields aren't attractive to the public and that bigger fields creates a larger handle and a bigger pool of money," he added. "It's not as easy to win [races with full fields], but it's what the customers are looking for. And it is what the survival of the game will depend upon, field size and quality racing, not five-horse fields and short-term thinking."
Creating a cohesive racing circuit will not take place overnight but in the meantime horseplayers will have something to look forward to when the Pimlico meet opens April 2. It was recently announced that Pimlico will offer a pick five with an industry low 12-percent takeout. Additionally, the Rainbow 6, a popular wager offered at Gulfstream Park, and one that has yielded payouts in the millions, will be added to Pimlico's wagering menu.
And there is more good news on the horizon for bettors.
"We will be announcing, hopefully, right after the Pimlico meet, some lower takeouts at Laurel," Ritvo said. "This will drop us from being, let's say 45th on [the Horseplayers of North America Association's takeout list] to somewhere like 15th, which will be a significant cut."
Currently, takeout on win, place, and show wagers at Laurel and Pimlico is 18 percent, a number that ranks among the highest in North America. The takeout on some exotic bets, such as trifectas, the pick three and pick four, is 25.75 percent, which is also among the country's highest.
"[Lowing the takeout] requires racing commission approval," Ritvo commented. "The horsemen are involved, too, so everyone has to go as an unified force. Basically, we all will take a small revenue hit, but we're hoping we increase handle and churn so we can grow our business. We're pretty sure the horseplayer will be satisfied with this move in the right direction."
----
Read TRC Publisher Charles Hayward's commentary: "A racetrack model to improve racing - right here in the US"