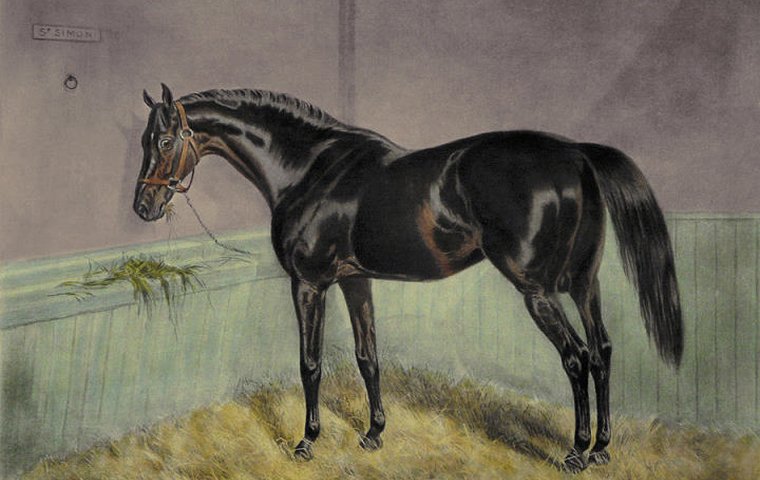 Renowned bloodstock writer Tony Morris with the 19th in his series celebrating 100 horses instrumental in shaping the modern Thoroughbred.

St Simon, br, 1881, Galopin – St Angela, by King Tom
The renowned Victorian trainer Mathew Dawson, who saddled the winners of 28 Classic races, used to say that he had had only one real 'smasher' in his long career. He bestowed that accolade on his unbeaten charge St Simon, who would ultimately attain even more distinction as a sire than he achieved as a runner.
St Simon was bred by Prince Gustavus Batthyany, a Hungarian-born naturalised Englishman whose horses were trained at Newmarket by John Dawson. A popular figure on the racecourse, he had his greatest triumph as an owner when Galopin won the 1875 Derby.
Eight years after that victory, Batthyany, an octogenarian with a history of heart problems, was present at Newmarket for the running of a 2000 Guineas in which Galliard, a son of Galopin, was a fancied contender. The excitement proved too much for him; he dropped dead on the steps leading to the Jockey Club luncheon room. (The Classic would later provide something of a temporary heart-stopper for other racegoers, Galliard emerging best in a thrilling three-way tussle, a head and a neck in front of Goldfield and The Prince.)
Tattersalls conducted the auction of Batthyany's horses at Newmarket some ten weeks later. The main attraction was naturally Galopin, bought by Henry Chaplin for 8,000gns, the stallion rounding off a consignment that included many of his products – a mare, four 3-year-olds, four 2-year-olds, a yearling, and three foals, along with seven mares due to produce Galopin offspring in 1884.
Mat Dawson attended the sale, accompanied by the 25-year-old 6th Duke of Portland, an Old Etonian imbued with a passion to revive the glories of his family's Welbeck Stud. Inspection of the horses in training confirmed that 3-year-old Fulmen, who had shown respectable form as a juvenile, seemed to represent the pick of the group, but the Duke had budgeted to spend no more than 4,500gns and that colt might well fetch more.
Dawson advised that the unraced 2-year-old St Simon looked promising, and because his dam had produced no runner of real consequence as yet, he was bound to fall within budget. Why not take a shot at him rather than wait ten minutes longer to bid for Fulmen, and possibly find that he could not be bought?
The Duke went along with that plan, and never had a moment's regret. He was able to buy St Simon for 1,600gns, then saw Fulmen (who was destined never to win another race) knocked down to Richard Naylor for 5,000gns.
By the rules then in force, engagements that had been made for St Simon by Batthyany were automatically rendered void at the breeder's death. That meant the colt could not contest the 2000 Guineas, the only Classic for which he had been entered, but he would become the champion of his generation anyway.
Unusual juvenile campaign
St Simon was not race-ready when he left John Dawson's Warren House yard, but he was not long in brother Mat's Heath House stable before his merit was recognised. Exactly four weeks after his purchase, he made his debut in the five-furlong Halnaker Stakes at Goodwood as even-money favourite in a field of nine. He trotted up by six lengths. On the following day, he reappeared in a six-furlong maidens-at-closing event, opposed by a single rival to whom he had to concede 7lb. With odds of 5/1 laid on him, he won as he liked by a length.
If Batthyany had lived, St Simon would have had a conventional juvenile campaign, but the voiding of his engagements meant that a different route had to be plotted for him. The colt's third race came at Derby in the five-furlong Devonshire Nursery Plate, a handicap that attracted 19 runners of mixed abilities.
St Simon carried top weight of 8st 12lb, asked to concede from 9lb to 40lb to his rivals, five of whom failed to win a race that year. The other 13 showed only modest form, collecting 24 wins between them, 14 of them in selling company. Second favourite at 11/4, St Simon won in a canter by two lengths.
In the normal course of events, the Champagne Stakes would have been St Simon's natural Doncaster target, but instead the race he had to contest there was one very similar to that he had run in at Derby. The Prince of Wales's Nursery Plate was a seven-furlong handicap for which the son of Galopin was allotted top weight of 9st; no others had a burden above 7st 11lb, and one carried only 5st 12lb.
Unique event
The quality of the opposition was modest enough, but because he had 20 rivals and had to concede lumps of weight to them all, he could be backed at generous odds of 11/8. He trounced them by eight lengths and more.
St Simon's campaign ended at Newmarket in late October, not among Classic aspirants in the Dewhurst Plate, but in a match race over six furlongs that immediately preceded it. His opponent was the Duke of Westminster's Hampton colt Duke Of Richmond, who had won the Richmond Stakes at Goodwood on his only previous appearance and was held in high regard by his trainer, John Porter.
Having watched St Simon trounce other high-class youngsters in Busybody and Harvester in a gallop, Mat Dawson would not hear of defeat for the Duke of Portland's colt, who duly prevailed readily by three-quarters of a length. The trainer had no doubt that he was the best 2-year-old he had ever trained.
St Simon's first season was decidedly unusual in that he did not contest any of the races that generally featured on the agenda of a potential top-class performer. His first appearance in public as a 3-year-old was even more extraordinary, as it came in what was erroneously described as a 'trial match' – an event unique in the annals of the Turf.
It came about because the Duke of Portland and Charles Lefevre, respective owners of St Simon and Tristan, arranged for a gallop involving the pair to take place over a mile and a half at Newmarket before racing on May 15. Both horses were highly-strung and temperamental, needing some strong work to settle them down before their important 1884 campaigns.
It was not, strictly speaking, a match, as St Simon (8st) and 6-year-old Tristan (9st 9lb) each had a pacemaker – Iambic (6st 2lb) for the colt, Credo (5st 8lb) for the older horse. It could be correctly deemed a trial, as there was no prize for the winner, but when word got out that two such high-profile performers were to be tried, it was hardly surprising that a betting market should be formed, even though the Rules of Racing were not applicable. St Simon was backed at 3/1 on and won easily by six lengths.
St Simon's principal target for the season was Ascot's Gold Cup, over two and a half miles, and it turned out that the trial match had worked out well for him, as his planned warm-up for that did not happen. There were 14 other entries for the Epsom Gold Cup (forerunner of the Coronation Cup), but none cared to take St Simon on, so he duly walked over.
The only official clash between Tristan and St Simon took place at Ascot, the 23lb weight differential the same as in the trial. Tristan, who had failed to give 24lb to recent Derby dead-heater St Gatien in the Gold Vase on the first day of the meeting, had few fanciers for the Gold Cup two days later, when St Simon, at 15/8 on, beat him by 20 lengths.
The margin between them was not a true bill. Once St Simon had established his superiority, Tristan coasted home, conserving energy for his third race in four days on the following afternoon. His target on that occasion was the Hardwicke Stakes – more than twice as valuable as the Gold Cup – and he won that as a generous 100/30 shot, with Derby dead-heater Harvester only third.
The myths
St Simon had two more starts. A fortnight after Ascot he turned out for the Newcastle Gold Cup, a mile contest in which he was opposed only by 4-year-old Chislehurst, who had finished second in the 1883 St Leger but had been beaten in his two previous starts in the current season. A prohibitive 100/9 on favourite, St Simon trounced him by eight lengths.
St Simon was required to beat the winner of the 1883 St Leger, Ossian, and only one other in the Goodwood Cup, in which he signed off for the season. Unbackable at 100/7 on, he sauntered home by 20 lengths in that two-and-a half-mile event.
Over the years, a number of myths have grown up around St Simon's racing career, not least the Duke of Portland's own memory failure over his purchase of the colt. In his memoirs, he described how the 3-year-old Fulmen had sold for 500 guineas more than he had been prepared to bid, so he then decided to bid for St Simon. In fact, Fulmen entered the ring four lots after St Simon's appearance.
It has often been suggested that Fred Archer, St Simon's partner in all five of his races at two, was replaced as the colt's rider by Charlie Wood on account of some supposed misdemeanour. There is certainly evidence that relations between Archer and Portland were not always cordial, but St Simon's programme at three was always going to be in open-age company and Archer could no longer make the weights that the colt would be assigned. He rode for Portland in other races in 1884, notably on the smart 2-year-old Langwell, winning a Goodwood maiden, the Champagne Stakes at Doncaster and the Clearwell Stakes at Newmarket.
The fact that St Simon did not race at four was for many years misrepresented as a conscious decision to allow him a year off before starting his stud career. The myth endured for decades and it was said that wartime Triple Crown winner Gainsborough's innings as a stallion was similarly delayed in the belief that it would help him to emulate St Simon's exceptional success at stud.
How good was he?
St Simon was active in training as a 4-year-old, when he held engagements in the Rous Memorial Stakes and Hardwicke Stakes at Ascot, the Stockbridge Cup, and the Challenge Stakes at Newmarket. He remained on target for that schedule until breaking down in his final gallop on the Saturday before Ascot, reports indicating that he had never been 100 percent sound after his race on hard ground at Newcastle in June 1884.
So how good was St Simon? Can we give credence to the remark expressed in the Biographical Encyclopaedia of British Flat Racing, that he was possibly the greatest horse ever seen on the English Turf? Mat Dawson's view, though obviously biased, is worthy of note. He reckoned that St Simon would have been unbeatable at any distance from one furlong to three miles, and like everyone else who saw him run, he could not help but recognise that he was never extended in any of his races. He was much the best in every race he contested.
That ranks as perfection, of a kind. But a devil's advocate might still mount a strong case. St Simon was quite entitled to win all his races just as he liked, because he never once met another top-class horse at the peak of his powers. The best was Tristan, whose run behind St Simon in the Gold Cup was treated by his connections as a warm-up for the more valuable Hardwicke Stakes on the following day.
In May 1886, the weekly Sporting Times sent a circular to around 100 leading figures in racing – including members of the Jockey Club, owners, trainers, jockeys and Turf writers – asking them to list the ten best horses they had seen, and to name one as absolutely the best. Of 88 respondents, eight had St Simon as number one, which placed him fourth, behind Gladiateur (11), Isonomy (ten) and West Australian (nine).
Significantly, there were already four votes for Ormonde, who was still less than halfway into his unbeaten 16-race career, and who regularly defeated much more accomplished performers than ever lined up against St Simon. Indeed, two trainers had Ormonde in their top ten in responses published in the paper's May 25 issue – a day before his Derby victory.
Futile exercise
However, trying to find fault with St Simon's record at stud would be a futile exercise. Among 19th century stallions, only Stockwell could be ranked alongside him, and by some key measures the horse who revived the fortunes of Welbeck Stud, then raised its status to a new level, seems entitled to the top slot.
St Simon and his trainer both left Heath House towards the end of 1885. The horse was to begin his second career a couple of miles away at Heath Farm Stud, while George Dawson took the reins at the famous stable and his uncle relocated to Exning, supposedly for semi-retirement, but keeping his hand in with a team mostly in the ownership of the 5th Lord Rosebery. In his twilight years there he would train two Derby winners, Ladas and Sir Visto, for that patron.
It was common practice for first-season stallions to be restricted to 20 mares, and St Simon was soon fully booked, patronised by a number of leading breeders at a fee of 50gns. He got 16 of his mares pregnant, and in 1887 there were 14 live foals, six colts and eight fillies. To say that he made an excellent start as a sire hardly does justice to what he achieved.
The first meeting of the 1889 season began at Lincoln on March 25 and the first important race for 2-year-olds, the Brocklesby Stakes, was staged the following day. It was won by St Simon's first runner, the Duke of Portland's filly Semolina, whose record at the end of the season showed 12 wins from 14 races, plus the receipt of forfeit in a match. But she was not her sire's best daughter that year; that was Signorina, who won nine times from as many starts, including the Middle Park Plate, the top event for juveniles, by three lengths, with Semolina only fourth.
Principal honours
St Simon had nine individual winners of 33 races in his first season's representation, earning him third place on the sires' list, behind only Galopin and Hampton. It came as no surprise that he was crowned champion in 1890, when he had eight individual 2-year-old winners, products of his first season at Welbeck at a fee of 100gns.
But it was not the juveniles who starred for him this time. The principal honours were gleaned by his first-crop 3-year-olds. He had the first two in the 1000 Guineas, Semolina thwarting her owner's second string, Memoir, by three-quarters of a length, and there was another one-two in the Oaks, Memoir leading Signorina home by the same margin.
Memoir, who had won the valuable Newmarket Stakes between her filly classic ventures, went on to add the St Leger and finish runner-up in the Champion Stakes. St Serf, his sire's first notable colt, won six races as a 3-year-old, including the Epsom Grand Prize.
St Simon's stock won 27 races in 1890, with Signorina contributing just one minor victory, but she came back to register another major triumph at four in the valuable all-age Lancashire Plate at Manchester. She was to earn renown again as a broodmare, delivering the Derby and Oaks heroine Signorinetta.
Star 2-year-old
There were classic placings in 1891 for Siphonia (third in the 1000 Guineas) and St Simon Of The Rock (third in the St Leger), while Charm was another good 3-year-old, winning a hard-fought Yorkshire Oaks. Memoir remained in training to win one minor event at four, but the season was more remarkable for the emergence of her full sister, La Flèche, as a star 2-year-old.
La Flèche, who had been a record-priced yearling at 5,500gns, won all four of her juvenile starts – the Chesterfield Stakes at Newmarket, the Lavant Stakes and Molecomb Stakes at Goodwood, and the Champagne Stakes at Doncaster. She was widely regarded as the best of her sex, and reckoned by some as the best of either sex. Ormonde's son Orme, her stable companion, was her rival for that accolade.
St Simon's 1891 runners included 18 individual winners of 24 races, tallies that he exceeded in the following year, when 20 of his stock collected 47 wins and their accumulated earnings came to £53,504, the highest sum since Stockwell's progeny accounted for a record £61,391 in 1866.
The chief contributor to the prize money haul in 1892 was La Flèche, who notched eight wins from nine starts, including the 1000 Guineas, Oaks, St Leger, the Lancashire Plate and the Cambridgeshire. In the last-named handicap, she beat 29 others, as the highest-weighted 3-year-old, giving away as much as 38lb. In both filly classics, her runner-up was The Smew, another daughter of St Simon.
Sole failure
Unfortunately, La Flèche's sole failure that year came in the Derby, when an injudicious ride from George Barrett resulted in a three-quarters of a length defeat by longshot Sir Hugo. As a 4-year-old, she finished third in the Eclipse Stakes, and at five she won both the Gold Cup and the Champion Stakes. At stud, her 1900 mating with Isinglass resulted in John o' Gaunt, the sire of Swynford.
Best of the colts from La Flèche's generation were Dunure, winner of the Great Yorkshire Stakes, and St Damien, who won the Hardwicke Stakes and ran third in the Eclipse Stakes.
The pick of the fillies foaled in 1890 were Mrs Butterwick, her sire's third Oaks winner, and Silene, who took the Coronation Stakes. Among the successful colts, Raeburn, three-parts brother to Derby hero Donovan, created a sensation by lowering the colours of otherwise unbeaten Isinglass in the 1893 Lancashire Plate, with La Flèche only third. He had the help of substantial weight concessions from both, but he had previously shown his worth with third places behind Isinglass in two Classics.
Three other colts from that generation are worthy of note. Childwick won the Cesarewitch before becoming a sire of some consequence in France. Bill Of Portland, who won four times, and Soult, who had five successes, were others who earned distinction at stud abroad, the former in Australia, the latter as a five-time champion sire in New Zealand.
The crop foaled in 1891 was the last conceived for 100gns. The best of the distaff runners was Amiable, winner of both filly classics. There were three notable colts, the first to make a mark being Matchbox, who won the Dewhurst Plate before reaching second place in the 2000 Guineas and Derby, and third in the St Leger. Florizel won the St James's Palace Stakes at three, the Goodwood Cup and Jockey Club Cup at four, and was third in the Gold Cup at five before a creditable innings at stud, while St Florian, whose biggest win came in the Duke of York Stakes as a 3-year-old, would earn fresh distinction as sire of Derby and Eclipse Stakes victor Ard Patrick.
Fertility blip
St Simon's fertility suffered a blip in his sixth season at stud, for which his fee was raised to 150gns. Of 47 mares covered, only 23 conceived, and he wound up with a crop numbering only 18. The best performer, one of 11 colts, was Raconteur, full brother to the aforementioned Childwick. He won the Dewhurst Plate, but proved a disappointment at three, unplaced as favourite for the 2000 Guineas and as joint-favourite for the Derby. Despite his lack of a top-quality 3-year-old in 1895, other age-groups served St Simon well enough for him to win his sixth consecutive sires' championship.
A seventh title followed in 1896, and with progeny earnings of £59,734, the highest of the stallion's career. Persimmon (a brother to Florizel) and St Frusquin, from the first crop conceived at 200gns, had displayed high merit at two, the former as winner of the Coventry Stakes and Richmond Stakes, the latter successful most notably in the Middle Park Plate (beating Persimmon) and Dewhurst Plate. They were to lead their division again at three.
St Frusquin and Persimmon each won four out of five that season, and each had a win over the other. St Frusquin won the 2000 Guineas, the Eclipse Stakes and the Princess of Wales's Stakes, in which Persimmon failed to concede him 3lb. Persimmon was a dual Classic winner, adding the St Leger to a Derby in which St Frusquin was runner-up. Two other notable colts from the 1893 crop were His Reverence, a brother to Mrs Butterwick who won the St James's Palace Stakes, and St Bris, successful in the Cesarewitch.
Santa Maura, runner-up in the 1000 Guineas, was the pick of the female runners born in 1893, but two of her generation, daughters of Classic winners, were to excel as broodmares. Roquebrune, out of 1000 Guineas heroine St Marguerite, produced 1903 Triple Crown hero Rock Sand; Festa, whose dam was Oaks winner L'Abbesse de Jouarre, delivered high-class performers in Germany, among them Fels (Deutsches Derby) and Fervor (Deutsches St Leger).
Classic clean sweep
St Simon's popularity had reached new heights, and after a second year at 200gns in 1893, his fee rose by 50gns in each of the next two seasons. The quality of his mares seemed as high as ever in that period, but for some reason they did not deliver stock who were able to perform at the customary high level. It is possibly significant that an outbreak of virus abortion at Welbeck in 1894 meant that the stallion was moved to Rufford for that season and the one that followed.
There was nothing of classic calibre, and the only products of real note were Collar, an 1895 colt out of Ormonde's sister Ornament, and Desmond, an 1896 brother to Festa. Collar won the Hardwicke Stakes as a 3-year-old and went on to limited success at stud, while Desmond won the Coventry Stakes and July Stakes at two, but was unplaced in all five outings as a 3-year-old. Desmond became a far better sire than anyone envisaged, heading the list in 1913, when he had the first two home in the Derby.
St Simon ranked second to Kendal among the leading sires of 1897, a modest fifth to his own sire Galopin in 1898, and third behind Orme and the imported U.S.-bred Sensation in 1899. His influence was apparently on the wane while the charge for his services had risen again to 400gns, then 500gns.
As the new century arrived, St Simon was not history; he was still creating history. In 1900, his stock completed an unprecedented clean sweep of the British Classics. Diamond Jubilee was not as good as his brother Persimmon, but he outdid him as a Triple Crown hero, and added the Eclipse Stakes for good measure.
Back at the top
The 1000 Guineas went to Winifreda, who also dead-heated with another daughter of her sire, Sainte Nitouche, in the Coronation Stakes, while La Roche won the Oaks and later added the Yorkshire Oaks. There were classic-placed performers too – Sidus finishing third in the 2000 Guineas, Simon Dale runner-up in the Derby.
St Simon was back at the top of the sires' list in 1900, and he claimed a ninth and final title in 1901, when he had good fillies in Santa Brigida (Yorkshire Oaks) and St Aldegonde (Park Hill Stakes). His leading colts included Lauzan (St James's Palace Stakes), and a pair who later achieved distinction as stallions. William The Third ran second in the Derby, won the Gold Cup at four and did well at stud for the Duke of Portland. Pietermaritzburg, winner of the Jockey Club Stakes, was to become champion sire in Argentina in 1911.
The best of St Simon's 1899 crop was St Windeline, who won eight races and finished second in the 1000 Guineas. Her innings at stud was notable for a St Leger-winning son in Wool Winder, while another of her generation, Svelte, became dam of Cherimoya, who won the 1911 Oaks on her only racecourse appearance.
Two important sons arrived in 1900. Chaucer, out of Oaks heroine Canterbury Pilgrim, won seven races, including a Gimcrack Stakes and two Liverpool Cups, but his enduring fame rests on his record at stud, especially as a broodmare sire. Pharos, Fairway and Hyperion were among many celebrated products of his daughters. Rabelais, third in the 2000 Guineas and winner of the Goodwood Cup, became a three-time champion sire in France.
Ubiquitous presence in pedigrees
Prominent performers and stud influences came along few and far between after that consequential pair, but the 1901 crop brought an Eclipse Stakes winner in Darley Dale, and a Princess of Wales's Stakes winner in St Denis. The latter was also third in the Derby, and there was still one more colt to reach a place in the premier Classic, Primer, Signorinetta's runner-up in 1908.
There were only ten foals in the 1907 crop, but among them was Glacier, out of Isinglass's daughter Glasalt. She became the dam of Toboggan, an Oaks winner and a celebrated broodmare. The final crop in 1908 consisted of just five males and two females. One of the colts, Juggernaut, met with some success as a sire.
St Simon dropped dead of an apparent heart attack while returning from exercise on 2 April 1908. If it was hard to define his merits as an athlete, he was readily recognised as a phenomenon at stud. His ten individual winners of 17 English Classics equalled the record set by Stockwell and has never been surpassed. He remains unique for his progeny's clean sweep of the Classics in 1900.
But the outstanding record of the sons and daughters who raced in England tell only part of the story of St Simon the sire. His sons became successful progenitors all over the world, except in the U.S., which obtained few of any consequence. He became a ubiquitous presence in pedigrees, and enriched the breed to an extent unmatched by any other horse.