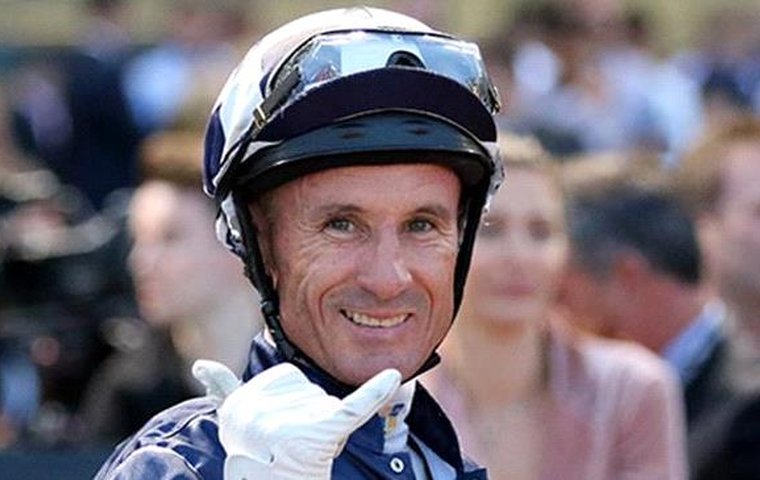 Glen Boss will surely never have another moment to compare with what happened on November 1, 2005.

That was the day he and the legendary mare Makybe Diva defied all ideas of what was possible by winning a third successive Melbourne Cup.
Boss was at the pinnacle of his profession, one of the first people connections called when they needed a jockey for the big races. He was put up on some world-class horses over the next few years, including the likes of So You Think and Starcraft. He also won three Cox Plates (one on Makybe Diva). If we'd had a TRC Global Rankings at the time, Glen Boss would have been a top-ten regular, right up there with the most elite jockeys on the planet.
But in the past decade, the picture changed. As he reached his late 40s, Boss considered retirement.
The graph below shows just how far he had sunk. Remember, the chart begins only in 2014, and Boss had already fallen some way from that top ten by then. His best ranking since the rankings began (#41) was in April 2014. By 2018 he had fallen out of the top 500 completely.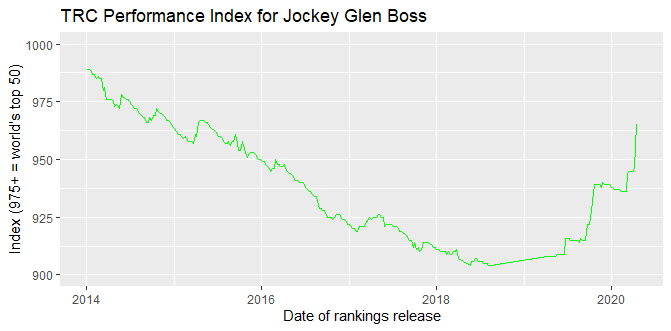 But he hadn't retired. Instead, he moved to Singapore. When he returned to Australia last year after a three-year stint there, Boss was a different proposition.
"I feel fresh and, if anything, I feel going to Singapore has prolonged my career," he told racing.com at the time.
And so began the remarkable rise back up the rankings of a rider who turned 50 last August. By last Saturday morning, he was already back up to #96 after annexing a series of Australia's biggest races, including two of the world's new generation of mega-rich contests, The Everest (on Yes Yes Yes) and the Golden Eagle (on Kolding).
By early evening that same day, he was at #60 after another one of those blistering big-race days Boss is once again famous for.
As The Championships at Randwick closed with one of the most prestigious cards in the sport down under, Boss captured two G1s (Etah James in the Sydney Cup and Colette in the Australian Oaks) and a G2 (Away Game in the Percy Sykes Stakes) for a 20-point rise in his Performance Index.
Once again they are talking about him with reverence in his homeland. "Bossy is a sporting great," current world #7 trainer Chris Waller told the Sydney Morning Herald last year. "If you're in a Super Bowl, and you need a quarterback to throw you that winning pass, he's your man."
So what's the secret of this amazing revival? Boss was perfectly frank about his attitude when interviewed by the Herald.
"I feel great," he said. "I know I'm a lot smarter than when I was in my mid-30s. I'm also fitter. I was a hothead when I was younger. I was actually rude to people.
"I'm brutally honest and if I don't like you I'd tell you. Now I look at things so much differently. I was always right, I was never wrong. You couldn't convince me I was wrong. I was pig-headed. Really stubborn.
"I only wish I had the mindset I have now about 15 years ago."