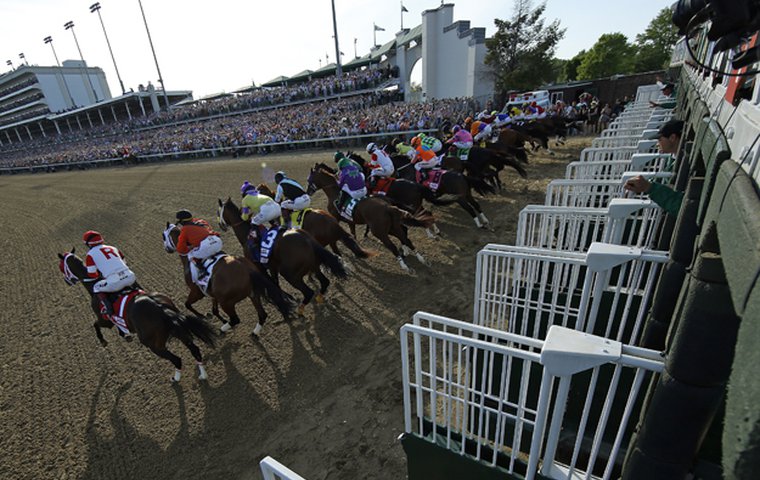 If asked for one word to describe the 2015 "Road to the Kentucky Derby," most punters likely would choose "formful." Of the seven races that comprise the second leg of the Kentucky Derby Championship Series, the favorite was victorious in five of them. The exceptions were second choices Materiality in the Florida Derby, and Frosted in the Wood Memorial, both of whom returned less than $7.00 for a $2 win bet.

So, does Kentucky Derby 141 boil down to "haves" and "have nots?" Bettors are projected to approach it as such, with presumptive favorite American Pharoah priced at 9-4 by international bookmaker Bovada. He is one of three horses at 10-1 or less, with stablemate Dortmund 9-2 and Blue Grass winner Carpe Diem 7-1. This sets up a wagering scenario that now occurs infrequently in the post-Mine That Bird era. If the listed prices hold, it is highly likely that at least two horses will drift above 50-1. The last time two horses went off at 50-1 or greater was in 2012 when Liaison (56-1) and Prospective (57-1) went postward.
If you frequent social media sites, you likely arrived at the conclusion days ago that the Kentucky Derby is a foregone conclusion. American Pharoah, continuing his penchant for flashy morning drills, dazzled onlookers beneath the Twin Spires on Sunday morning in a five-furlong spin clocked in :58 and 2/5. His past plaudits in his home state of California prompted highly respected clocker Gary Young to say: "He might be the best horse I've ever seen." Despite on-track performances that would make him a less likely winner than stablemate Dortmund, American Pharoah is expected to be roughly half his price. He is indeed on a four-race winning streak since dropping his debut, and his two wins thus far in 2015 have been earned with consummate ease. They have, however, both occurred against drastically inferior competition with favorable race dynamics in play.
Dortmund is considered the main threat to American Pharoah. The age-old handicapper's phrase applies perfectly to the behemoth Dortmund: "He has done nothing wrong." He is a perfect 6-6, and each of his last three victories was his best race to date. He took the Santa Anita Derby field wire-to-wire in early April, and ripped off a shoe when bobbling slightly after the start. In his first start as a 3-year-old, Firing Line seemed to have his measure when he opened up by a length at the quarter pole, only to have Dortmund gradually erase the deficit before winning by a head. He has speed, stamina, and a local win heading into the Kentucky Derby.
It has been a spring to remember for Kiaran McLaughlin, whose barn has won a staggering 17 races from 40 starters through the first 27 days of April between Pimlico, Aqueduct and Keeneland. Frosted showed flashes of serious ability as a juvenile before being defeated in his first two starts at 3. The prevailing thought after his sudden stop in mid-stretch of the Fountain of Youth was that he had distance limitations. McLaughlin never wavered and sent him back home to New York for the Wood Memorial. Racing over the surface that yielded his first victory and first graded stake placing, Frosted ran the best race of his life to win very sharply from off the pace.
There is one unknown among Derby participants in 2015. That is determining whether Dubai invader Mubtaahij is a real win candidate. He earned his berth to the Kentucky Derby with a smashing win over the new dirt surface in the UAE Derby, dusting his competition with a breathtaking stretch drive. How that will translate to the world's most taxing dirt race remains a point of contention.
The Kentucky Derby is generally run at a frenetic early pace. This has taken its toll on even some of the best speed horses to take their chances over the years. In 2012, Arkansas Derby winner Bodemeister set a white hot pace with eventual Breeders' Cup Sprint winner Trinniberg close in tow. A year later, Palace Malice peeled off to a four-length lead on the backstretch of the 2013 Derby and went the opening half-mile in a sensational :45.33. The field for this year's running lacks this type of blazing speed on paper.
Instead, a large group of horses who have tactical speed is signed up. That can easily lend itself to a strong early tempo. Race favorite American Pharoah has posted pace figures from TimeformUS that make him one of the projected early leaders. However, he has not been a part of a particularly strenuous pace in any of his prior starts. In fact, the fastest early pace figures of any horse in this race belong to Bolo, who earned them on the turf.
In addition to the concerns regarding pace, value becomes a major issue. If American Pharoah is indeed the 2-1 that offshore books are offering right now, that looms a horrid value proposition. In the last seven Derbies, the only horses who left the gate at less than 3-1 were Big Brown and California Chrome. Both had been so dominant in prep races, and were also facing fields that lacked depth. In the 2014 Kentucky Derby, only one horse aside from California Chrome had earned two or more wins in graded prep races. In 2015, that number is four, with two horses winning three races of that type. This speaks to the depth of the field, and shows again the strength of the upper echelon. The regular strong performances of horses like the largely forgotten Upstart and Carpe Diem have been overshadowed with the public's fascination with American Pharoah.
In addition to Dortmund, a runner that many will settle on as an alternative to American Pharoah is Carpe Diem. He has done little wrong in his career, with his only defeat coming in second place finish in the Breeders' Cup Juvenile. If you believe that American Pharoah has faced weak competition in 2015, then you have to be very careful with Carpe Diem. The best horse he has defeated in two starts this year is Danzig Moon, nothing more than an outsider in this year's Kentucky Derby. He has won both races with very easy trips tracking soft early paces, and he is another who will face adversity the likes of which he has not seen before.
When constructing Kentucky Derby wagers, you want to establish a comfortable budget. If you are generally an exotics player that is comfortable structuring trifecta wagers, then that is the pool to concentrate on in the Derby. It is pivotal to remember that the Kentucky Derby is a horse race, it just happens to be one with 20 horses. Approaching it in an altogether different way from a normal race at your local facility is ill-advised. The value that exists in the Derby occurs infrequently on a yearly basis, so have prices in mind for horses that you like. In the 2007 Kentucky Derby, Street Sense was almost 5-1. The defending 2 year-old champion racing over a surface he clearly loved was a 9-2 favorite, even with his recent defeat over Keeneland's Polytrack. These opportunities present themselves in the Kentucky Derby, so establishing what you feel are fair odds for the horses that you like.
In wagering on this particular Kentucky Derby, the approach of betting against American Pharoah in the intra-race exotics is advisable. Protecting with him in multi-race exotics is feasible, and profit can be maximized by him missing the top slot in trifecta and superfecta wagers. Good luck!
-----
Nick Tammaro has been a public handicapper for 7 years and finished 4th in the Breeders' Cup Betting Challenge in 2014, earning over $104,000. His analysis and selections for each NYRA race day are available at SaratogaBets and BataviaBets.