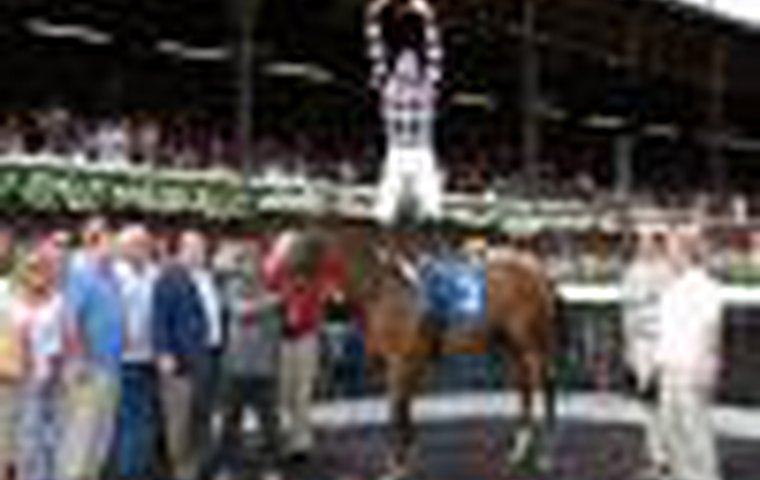 He arrived late. His luggage was lost. He rode in borrowed boots. He got sick. He had to leave early.

But it was worth it.
"100 percent," said Frankie Dettori of his weekend trip to ride for the first time at Saratoga Race Course.
"It was always my ambition to get here," he said Monday, sitting outside the Saratoga jockeys' room before heading back to the U.K.
He came at the invitation of trainer Wesley Ward after riding Ward's Undrafted in the July Cup at Newmarket earlier this month. Undrafted finished fourth, and Ward, who annually sends horses to run in Europe, asked Dettori to come ride for Saratoga's opening weekend.
"I didn't even really know [Dettori] prior to a month ago," Ward told The New York Racing Association last week. "I send horses to Europe just about every year and send over a different jockey each time, and he's always been very kind and gracious to my riders. On this latest trip, I ran into him, and I happened to need a rider for Undrafted, who was going to run in England in his next start. Since he was so kind to my riders, I wanted to return the favor, so I offered him the mount. In the paddock before the race, he mentioned that he had never ridden at Saratoga. Since he had been so good to me, I was happy to accommodate him."
Ward gave him five horses to ride on opening day, but his late arrival at the track meant that he missed the first two.
"Wednesday, I was riding in Istanbul in the Jockeys' Challenge," he explained, "and I thought I could fly direct from Turkey to New York, but I had a runner in the U.K. on Thursday night."
He took an early morning flight Friday to New York City and a private plane to Saratoga. He, but not his luggage, arrived in time for the seventh race, and then he scrambled to find pants, boots, and a crop.
"I'm all in a rush because they lost my luggage, I'm borrowing things from everybody, and the next minute you know I'm on the horse," he said.
Then his mount, Tiz Sardonic Joe, threw a shoe and couldn't be re-shod before the race, running for purse money only according to a New York State rule that forbids pari-mutuel wagering on a horse with an unannounced equipment change.
Dettori finished second by a half-length on his first mount at Saratoga, but a race later, the fans got to see the famous flying dismount in the winner's circle when the jock scored on Aventure Love. Dettori also won the finale aboard Jet Majesty.
"We ran a good second, and the next two won, and that was brilliant," he said. "Winning two was beyond my dreams."
Though he rode exclusively for Ward that first day, on Saturday, he had seven mounts for a variety of trainers, his best finish a neck loss in the G1 TVG Diana on Stephanie's Kitten.
By Sunday, the rigors of the trip had taken their toll: Booked on only two mounts, Dettori took off both of them after reporting ill to First Aid.
"I think I tried to do too much, and it eventually caught up to me," he said. "I had seven mounts on Saturday and I was exhausted."
Further logistical difficulties—the unavailability of a private plane to get him back to New York on Monday—had him riding only one horse on Monday, but despite the travails of the weekend, Dettori was upbeat.
"It's been amazing. I thought when we arrived we must be in Disney World because there are so many people, like people queuing for rides," he said. "It's brilliant. I got a great welcome as well."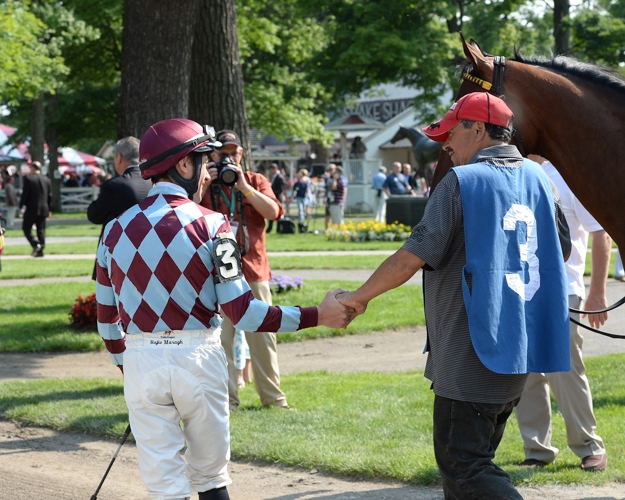 Most of his mounts over the weekend were on turf, and he admitted that the adjustment to riding on dirt was difficult.
"I'm not fond of [riding on dirt]—I find it quite boring – but I get on with it," he said. "It's very hard to adjust to it, especially the speed from the gate, but I had four winters riding in California, and that played to my advantage."
"The racing here is spectacular," he went on. "Every race here is an above average race."
He also had kind words for the city of Saratoga Springs, although he said that he didn't get to see much of it.
"We went to a couple of restaurants," he said, "and it's a right buzz, everywhere you go."'
Though busy with the European summer racing season, Dettori is eyeing the end of the Saratoga racing season for a possible return visit.
"Maybe Travers weekend, or the weekend after," he said. "I'll go home and look at my diary and see.
"It's been a successful trip. I've really enjoyed it, and if I can get back again, I'd love to."