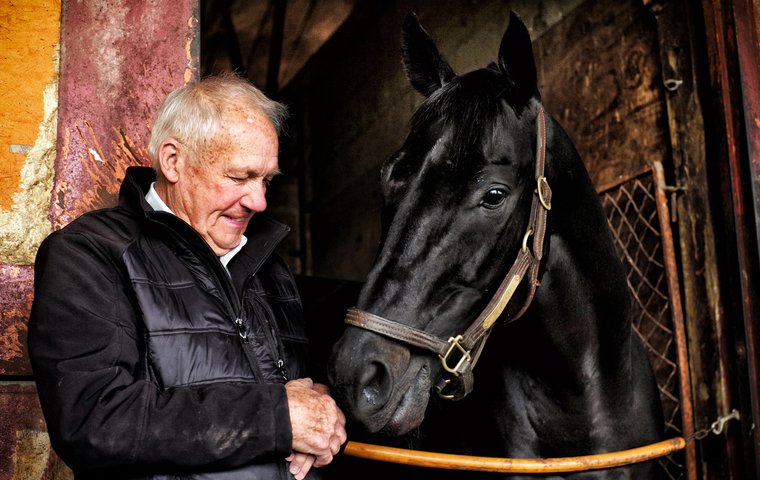 By the time he had invested half a century into a training career that dates back to 1959 and continues to this day, trainer King Taylor Leatherbury had long since stopped waiting for his 'super horse'.

He watched as contemporaries such as Grover 'Bud' Delp and Hubert 'Sonny' Hine found theirs, ultimately riding the success of Spectacular Bid and Skip Away respectively into Thoroughbred racing's national Hall of Fame, an honor bestowed on Leatherbury in 2015.
Leatherbury instead put his focus on winning races, and few have done it better. At the height of his success in the mid-1970s, he won 300 or more races four consecutive years, with a high of 365 in 1976. Only four other trainers in history have more than his 6,489 victories, and counting. His closest pursuer trails him by more than 600 wins.
Over the years Leatherbury, 84, has had his share of good horses. He enjoyed Graded success with names like homebred Ah Day, Thirty Eight Go Go and Taking Risks, a $20,000 claim he turned into a G1 winner. There were also the hardy sorts such as Port Conway Lane, who won 52 of 242 starts in the 1970s and 80s and raced until he was 14.
Then there was Ben's Cat.
Popularity
Foaled on April 17, 2006, the son of Parker's Storm Cat missed his 2-year-old season with a fractured pelvis. Bred, owned and trained by Leatherbury, he didn't debut until nearly midway through his sophomore year, reeling off eight consecutive wins on dirt and turf, three of them in stakes.
It was only the beginning.
Leatherbury's 'super horse' – the horse of a lifetime in a lifetime of horses – had finally arrived. Ben's Cat would go on to win 32 races, 26 stakes, four of them in Graded company, and more than $2.6 million in purse earnings over a legendary career during which his success was matched only by his popularity.
"He got me in the Hall of Fame, there's no question about that. He was just a super horse," Leatherbury said. "I've had some really nice, good horses. Of course, I always look back. This is an odd thing to even say, but I took so much for granted in my whole career that, after it was over with, I would look back and say, 'I wonder if I really appreciated that particular horse as much as I should have at the time he was running?'
"I go all the way back to Port Conway Lane that won 51, 52 races. 'Did I appreciate that?' he added. "I'm asking myself because it happens to very few trainers to have the special horses like that. All I know is I've had what I've had and I probably didn't appreciate it as much when it was happening as I should have.
"One came right after another. We always had a horse I was proud of. As far as Maryland-breds we've had a lot of champions, a lot of champions. Of course, Ben was a special horse. He was very unique."
Tomorrow Laurel Park will host Ben's Cat Day to celebrate the life and career of the four-time Maryland-bred Horse of the Year, who was euthanized July 18 due to complications from colic surgery just three weeks after being retired at the age of 11.
Ben's Cat merchandise
Prior to the races, highlighted by six stakes worth $575,000 in purses, Ben's Cat's ashes will be buried in the grass adjacent to Laurel's historic paddock and the site marked with a plaque. Minister Richard Monterrey, a former jockey, will preside over the ceremony.
A bobblehead of Ben's Cat will be given away to the first 4,000 program purchasers, while all fans will receive a free Ben's Cat poster, while supplies last. Five of the six jockeys who rode Ben's Cat – Rosemary Homeister Jr., Horacio Karamanos, Trevor McCarthy, Julian Pimentel and Jeremy Rose – will join Leatherbury to sign autographs from 1:30 – 2:30 p.m. in the first-floor clubhouse.
Fans can also purchase a Ben's Crush beverage in a frosted commemorative cup for $4. A video tribute will be played during a winner's circle presentation to be made to the connections following the third race.
In honor of Veterans Day, all active and retired military, plus a guest, will receive a 25 percent discount on food and beverage purchases, excluding alcohol, throughout the day.
"It'll be nice to see the riders that rode him and reminisce. It's a tribute to a champion and I know there's a lot of people talking about it," Leatherbury said. "He had such a big fan support and the people love him. I'm sure it'll be a good day for the memory of him."
Everyone paid attention
Starting from their debut victory on May 8, 2010 at Pimlico Race Course, Pimentel and Ben's Cat teamed up to win 22 races, 17 in stakes, with eight seconds and three thirds from 41 races. Three of Ben's Cat's four G3 wins came with Pimentel aboard.
"We had good run together. He was a very special horse. I think he knew where the wire was. You see most of his races he'd win by a neck or a head. He was very smart about that," Pimentel said. "He helped my career a lot. He was the best horse I ever rode and everybody loved Ben's Cat.
"Everybody paid attention when he was running and how he was doing, so it helped me a lot," he added. "He had a lot of fans, so I'm sure people will come out and enjoy the day. It's going to be a very special day."
McCarthy, working his way back from early summer shoulder surgery, took over as the rider of Ben's Cat to start of his 2016 campaign. They won two of nine starts together with three seconds, and McCarthy has the distinction of being up for Ben's Cat's final win, the Jim McKay Turf Sprint, on the undercard of the 2016 Preakness Stakes (G1).
Emotional
"That's pretty cool. That's pretty cool," McCarthy said. "I only got to ride him at the end of his career, but to see any horse like that who was a phenomenal racehorse and a very rare horse – just a horse that loved to win and loved to run, just loved his job every day – for him to go out the way he did was heartbreaking.
"It will be a little bit emotional because we lost him, but also very exciting. To have a day named after a horse you rode or a horse you trained, that is so huge," he added. "It's so nice of Maryland racing to do that. They named a race after him, but to have a day for him goes to show what kind of horse he was to Maryland racing."
Ben's Cat was a winner in each of his first seven racing seasons, and came within a length of making it eight straight when fifth in a 5½-furlong turf allowance April 16. After finishing off the board in the Jim McKay Turf Sprint and Mister Diz – a race he won six consecutive years from 2010-15 – Ben's Cat was retired.
"He wasn't getting anything and it wasn't fair to him. I was so used to him running down that lane, getting up and winning. When he wasn't doing it, it was sad," Leatherbury said. "He kept trying to win. When he had a horse in front of him he tried his best to beat him. When he won he was proud of it. You'd see him in the winner's circle and he'd be looking around to the crowd when they'd cheer for him. It was almost like he knew exactly what was going on.
"The first time I brought him back [this year], he broke from the one hole and were trapped in there the whole way. At the very end he got through and started rolling but the race was over with. That looked like his old self," he added. "That was a shame. Trevor McCarthy got off him and said if the post position was different, he have won it. I was still high on him thinking he was going to come back really well and it just seemed to be one thing after another why he wasn't getting there. Finally I just had enough."
Different life
Leatherbury sent Ben's Cat to Chris Welker at Spring Ridge Farm in Versailles, Ky. Welker had long been a fan of the horse and had expressed an interest in giving him a home when his racing career was over.
"When I finally called her, I said, 'This is the call you've been waiting for for two years.' And she said, '2½ years.' It was cute," Leatherbury said. "She loved him, and it was a great place down there he had. He had everything that he should have had. He deserved it, going through all the racing wars. That was a chance for him to live a different, more comfortable life, although he liked racing. After he died, she called me up and said, 'I guess God only intended him to be a racehorse.'"
More than that, Ben's Cat became part of the Team Leatherbury family that includes his long-time assistant, Avon Thorpe, and Fern Augusti, Ben's Cat's groom throughout his legendary career.
"Everybody's got their memories, and I'm glad they're having a day for him," Leatherbury said. "That'll be nice. If there's a horse that deserves a day in his honor, it's him. He was a magnificent animal."