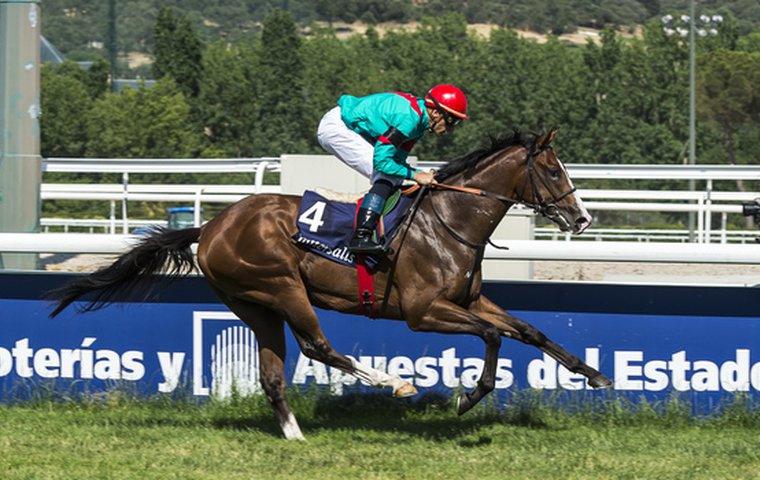 He's one of the best horses, if not the best, to be trained in the relative racing backwater of Spain – some have even dubbed him the "Spanish Frankel" – and on Saturday, Noozhoh Canarias has a real chance to make a lasting mark on the sport internationally when he takes on Europe's elite in Newmarket's G1 QIPCO 2000 Guineas. James Crispe, of the International Racing Bureau, tells his story.

When the stalls open for the 2,000 Guineas at Newmarket on Saturday, the race will include an ingredient that has not been present for any of its previous 205 renewals.
For when Noozhoh Canarias bursts out of the boxes and, most likely, tows the field along for at least the first few furlongs, he will become the first ever Spanish-trained horse to take part in a British Classic.
Newmarket officials are keeping their fingers firmly crossed that no last-minute hitch scuppers this Iberian project as Noozhoh Canarias is expected to bring some 200 fans with him from Madrid, via London Stansted Airport, which should boost the attendance revenue nicely given that advance tickets for the smartest enclosure are retailing at £36 ($61) per head.
Whatever the result, it will be a momentous day both for Noozhoh Canarias's 33-year-old Spanish trainer, Enrique Leon, and for Spanish racing in general.
Leon is an intriguing character as it would be an understatement to suggest that he does not hail from one of Europe's traditional racing centres. Geographically, he is more of an African than a Spaniard, as he was born and raised on the island of Gran Canaria, a Spanish colony situated just off the coast of Morocco, some 800 miles from mainland Spain.
Gran Canaria did, up until 2011, have its own racecourse. And in Leon's words, "the island is home to a lot of mad racing people. I was always into racing - I grew up around horses."
Leon was so into it that, at the age of 21, speaking barely a word of English, he was recommended for a job as stable lad in Newmarket by his fellow Spaniard, Oscar Urbina, at that point the retained jockey to British trainer James Fanshawe.
"I just remember him as a very nice rider, a natural rider, and lads with that ability are worth their weight in gold," Fanshawe recalled. "As a result, I put him aboard Soviet Song, and she took some riding."
So, this kid from the Canary Islands was entrusted with exercising a filly who landed a G1 race at Ascot as a 2-year-old (in 2002), then finished fourth in the 1,000 Guineas before retiring as a five-time Group 1 winner.
Another remarkable aspect of the Noozhoh Canarias story is that he is a son of Leon's first ever winner as a trainer, Noozhah. The mare got him off the mark at the course where he trains, La Zarzuela Racecourse in Madrid, in June 2008.
"I always believed Noozhah was a lot better than her form showed," Leon recalled. "We bought her at the [July] Horses In Training Sale in Newmarket [for £5,250/$8,820] because she had loads of physical problems, but she had plenty of class and ability. She had a big heart like her son."
THIS WEEK'S TOP TEN
Sires of female racehorses
| | | | |
| --- | --- | --- | --- |
| 1 - Galileo | 1019pts | 6 - Dark Angel | 981 |
| 2 - Deep Impact | 991 | 7 - Shamardal | 980 |
| 3 - Street Cry | 988 | 8 - Siyouni | 978 |
| 4 - Dubawi | 986 | 9 - Bernardini | 977 |
| 5 - Medaglia d'Oro | 983 | 10- City Zip | 974 |
According to TRC Global Rankings algorithm. Includes all runs by fillies and mares in Group or Graded races worldwide in the last three years
Sold by her owners, the Bolanos brothers, who made their money through a chain of supermarkets in the Canary Islands, she became a broodmare at Spain's top stud, the Dehesa de Milagro, near Pamplona. And when her colt by the resident stallion, Caradak, went to the sales he was bought back by the Bolanos family, mainly for sentimental reasons, for €11,000 (£9,167/$15,216).
He has since earned more than 12 times that amount, suffering just one defeat (second in the G1 Prix Jean-Luc Lagardere at Longchamp Racecourse) from five career starts.
What does his emergence say about the current state of the Spanish racing and breeding industries? Breeding-wise, not much, given that both his sire and dam were imports from Newmarket and the size of the annual Spanish Thoroughbred foal crop remains below 200. His brilliance just underlines the unpredictability of Thoroughbred genetics.
But Spain has always been able to produce the odd top-class horse – the 2008 and 2010 Royal Ascot victories of Equiano, who was French-bred but initially Spanish-trained, spring to mind. And although the Spanish economy remains in tatters, racing there seems to be faring remarkably well.
La Zarzuela, with its world-famous art deco grandstand, lay idle for nine years until 2005, but now leads the way again with both exactly half of the nation's fixtures and its richest race, the €102,000 (£85,000/$141,100) Gran Premio de Madrid.
It is currently home to 450 horses, but has capacity for more than 1,000. Two-year-olds are particularly well catered for there - all juvenile races are worth at least €7,000 (£5,833/$9,683).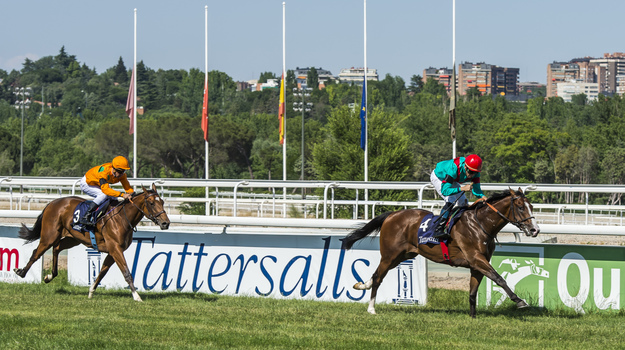 San Sebastian is the next most important of Spain's 10 active racecourses and plays host to another 130 horses (but has 170 boxes sitting empty). Overall, the Spanish fixture list runs to 88 race days – a number dwarfed by Britain and France, but representing more than 50 percent of the annual total in that well-respected stronghold of European racing, Germany.
If Noozhoh Canarias does win the Guineas - and there are currently only four horses ahead of him in the betting - there may be one man present prouder than the winning trainer. For Noozhoh Canarias's stable hand is 56-year-old former jockey Olindo Mongelluzzo, who rode Spain's Royal Gait to victory in his breakthrough international success, the 1987 Prix du Cadran in Paris.
A year later, Royal Gait infamously put the cream of Britain's stayers to the sword (albeit with Mongelluzzo replaced in the saddle by Cash Asmussen) in the Ascot Gold Cup only to have the prize taken away by a highly controversial stewarding decision. After a wait of more than a quarter of a century, Mongelluzzo is surely dreaming of revenge.