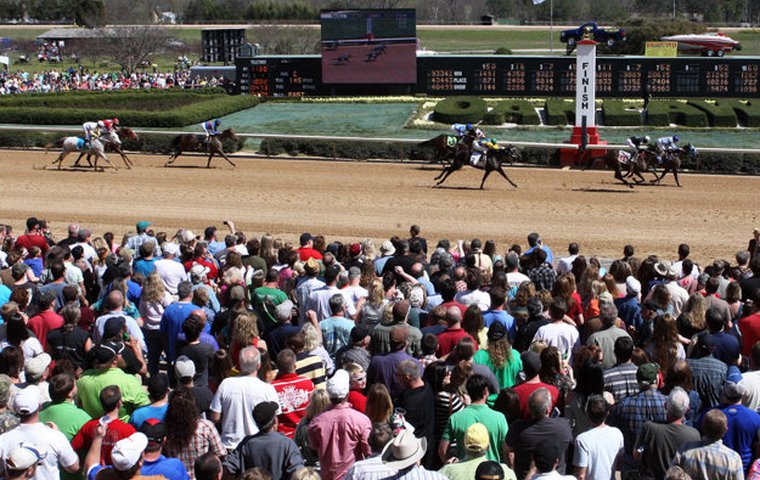 Because of what it described as "booming business," Oaklawn Park in Hot Springs, Arkansas, recently announced a purse increase. The bump, by $1,000 to $3,000 a race, will take purses to about $450,000 a day, and another increase, said general manager Eric Jackson, is possible in the coming weeks.

In Oaklawn's maiden special weight contests, horses race for a $61,000 jackpot, which is more than maidens can run for at Aqueduct, Gulfstream Park, or Santa Anita. Oaklawn will offer more than $24 million in purses this season, an increase of 14.5 percent from a year ago, and 72.2 percent during the last decade. Such purse levels hardly could have been imagined 20 years ago, when the racetrack was perilously close to going out of business. But Oaklawn has become the indisputably preeminent racetrack in the region; even more, it's a reminder that racing in the Southwest is still relevant.
These, of course, are turbulent times for horse racing. The sport is struggling through a transformational period of contraction to redefine itself. National handle has declined in eight of the last 10 years, according to data compiled by Equibase; purses have fallen in six of the last 10. Foal crops have been shrinking steadily, too, according to The Jockey Club statistics, from 33,976 foals in 2003 to an estimated 21,275 in 2013. And even while the housing market rebounded and the unemployment figures improved and the stock market rallied last year, horse racing's economic indicators all continued to fall, with the national handle declining 2.8 percent and the purses 1.4 percent from the previous year. Where will they land? And when they finally settle, what will the sport look like with fewer horses, racetracks, and dollars?
One thought is that major league racing will be confined to New York-Florida, Southern California, and some scattered weeks in Kentucky, and that everything else will be either supportive or irrelevant. But is that necessarily inevitable? Oaklawn Park seems to be arguing it isn't.
Led by Oaklawn Park's resurgence and by a renaissance at Remington Park in Oklahoma City, the Southwest region has actually become more prominent in the national landscape than it was just 10 years ago. In 2005, Arkansas, Louisiana, New Mexico, Oklahoma, and Texas offered $146 million in purses, or 13.5 percent of the national total. By 2013, the southwestern states offered $165 million in purses, or 14.7 percent of the national total. And the region prospered despite the shocking decline of racing in Texas, where the sport plummeted as if it had been pushed out of a nest.
Texas, of course, was expected to be the region's, if not the sport's, "shining light," to borrow a phrase from Bret Calhoun, who has trained two Breeders' Cup winners and who has consistently been among the nation's winningest trainers for more than a decade. The native Texan ranked 11th nationally in 2014 with 168 victories. Calhoun grew up just a few miles from the site that would become Lone Star Park, the racetrack located midway between Dallas and Fort Worth, and like many Texans he grew up dreaming of possibilities.
"We expected Texas to have the highest purses and some of the best horses and best racing in the country," Calhoun said, recalling Lone Star's early years. "And it could have happened. But Texas has been handcuffed."
In 2004, of course, Lone Star Park, which had opened in 1997, became the youngest racetrack to host the Breeders' Cup World Thoroughbred Championships. The Breeders' Cup celebrated not just racing but also Texas, and it was expected to be something of a graduation party, launching Lone Star into perpetual prominence. In retrospect, though, it was a wake. For nine of the 10 years since then, even though Lone Star has trimmed the length of its season, the track's average daily handle has declined, from $3,010,077 in 2004 (not counting the brief Breeders' Cup meeting) to $1,394,013 last year. (Handle has fallen during the track's Quarter Horse season as well.) Attendance also has slipped dramatically. Lone Star purses have sunk 50 percent during the last decade, to $7,136,465.
And since Lone Star has been Texas' most prominent racetrack from the day it opened, the result, as you might expect, has been an exodus of horses and horsemen and even fans, most of them going to neighboring states, where purses have been augmented by gaming and account wagering. Neither is legal in Texas. Worst of all, since it precludes a quick recovery and makes even the most marginal survival difficult, the Texas foal crop, according to The Jockey Club, has shrunk 66.2 percent, from 1,862 foals in 2003 to 630 in 2012.
Calhoun owns homes in New Orleans and Louisville. But, he said, he stays in a hotel when he goes home to Texas. Still, like many Texans, owners and trainers alike, he maintains a small stable at Lone Star, not because it's practical or sensible to do so, given the economics, but because Texas will always be home.
"I never thought that I would say this," Calhoun said, "but it's conceivable that one day there won't be any racing in Texas. And that would be a tragedy because horses are such a large part of our heritage and culture."
The equine population in Texas, according to a United States Department of Agriculture 2012 census, is by far the largest in the country at 395,818 horses. Oklahoma has the second-largest horse population at 158,918, followed by California at 142,555 and Kentucky at 141,842. But with no off-track betting or account wagering or gaming — which have been blocked more by politics than by any economic or even moral concerns — Texas racing would seem to be doomed, or at the very least destined for irrelevance.
And so it's ironic that the state that was expected to become a "shining star" has fallen while Oaklawn Park, which, as Jackson put it, was "looking over the edge of the abyss" in the 1990s, has ascended. When Texas racetracks began opening, Oaklawn's business began declining.
"We very nearly went out of business," Jackson explained, pointing out that track owner Charles Cella overpaid purses by about $5 million for three years to try to maintain the quality of Oaklawn's racing. "That kept Oaklawn afloat. If we had been a publicly traded company and done that, management would have been fired. We didn't know if there would be any tomorrow. From a business point of view, it didn't make any sense; from a strategic point of view, it saved Oaklawn Park...If somebody had told me 15 years ago that we'd be offering $24 million in purses, I would have thought he was drunk."
Even in 2000, when it started introducing its Instant Racing machines, which are gaming devices that employ historical races, Oaklawn, unlike many "racinos," continued to emphasize the product it put on the racetrack. Instant Racing eventually turned Oaklawn around, but it has been a pride of ownership and a relentless focus on racing that have enabled Oaklawn to build momentum.
"I think we have done as good a job as any racetrack I know of in merging racing and gaming," Jackson said. "Some racinos I know just shove horse racing aside as if it's unimportant. But racing's in our DNA. And because of that I think Oaklawn's in a very good position moving forward."
And so when everything settles and horse racing redefines itself, what will the region look like? Will major league racing be confined to certain states? What will that mean for the Southwest?
Unless Texas makes some dramatic changes — efforts to introduce Instant Racing machines have been, for at least the moment, blocked — its racing almost certainly will be irrelevant in the future, it there's any racing at all. Louisiana, New Mexico, and Oklahoma should all prove capable of supporting major league racing, while not quite making the grade themselves except for some major events. Louisiana continues to harness itself to a populist approach, emphasizing quantity - according to The Jockey Club statistics the state hosted 340 days of live racing in 2013. And Oklahoma, with improvements to its breeding program, continues to move forward, but has far to go.
But in this new and contracting environment, Oaklawn Park could be much more than merely supportive. Oaklawn has become a major player itself.
"Over the years," Jackson said, "I've often heard people describe Oaklawn Park as the Saratoga of the South, but I never quite believed that was actually the case." He paused, as if to let his thoughts wash over the description. "It could be the case now."
And, even more important, Oaklawn Park could be a model for the future.