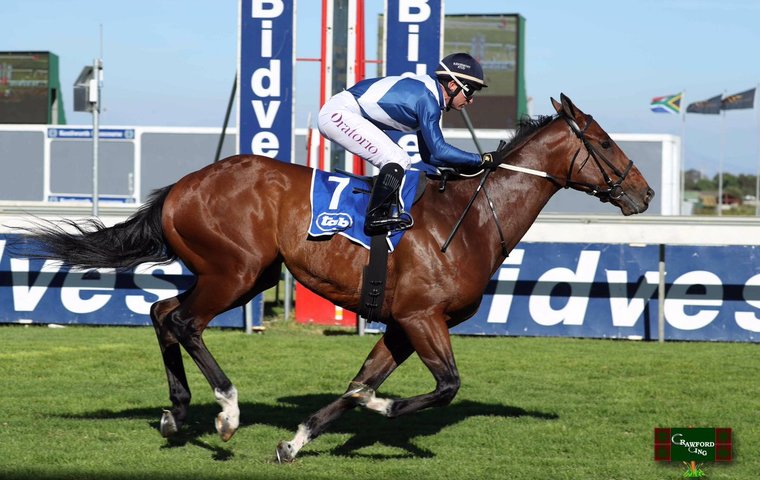 South African import Whisky Baron, owned by former England cricketer Craig Kieswetter, is set to make his European debut in the G2 Shadwell Joel Stakes at Newmarket's Rowley Mile Racecourse on Friday, September 29.

This £100,000 one-mile contest has attracted a superb initial entry of 34 horses, featuring no less than 19 Pattern winners.
Irish Champion Trainer Aidan O'Brien is responsible for over a third of the entry, his dozen-strong contingent including last year's winner, Cougar Mountain, and the dual Classic runner-up, Rhododendron, while further international flavour is added by Whisky Baron and the French raider Dicton, placed in the 2016 renewals of both the French Derby and 2000 Guineas.
The home team features a number of in-form emerging stars, most notably the recent G3 Sovereign Stakes hero Ballet Concerto; last month's Strensall Stakes winner Mustashry; and Zonderland, touched off by a nose in the G2 Celebration Mile ten days ago on his return from a long absence.
The entry also includes a handful of battle-hardened performers already proven at G2 level, such as the popular veteran Sovereign Debt and Dutch Connection, who got back to winning ways in last month's G3 Supreme Stakes.
Trained by Brett Crawford, Whisky Baron has not run since landing one of South Africa's top all-aged races, the G1 Sun Met (formerly the J&B Met) at Kenilworth in Cape Town in January. He was forced to spend three months in quarantine in Mauritius in order to be allowed to leave South Africa but has been stabled in Newmarket since June.
Whisky Baron is owned by Craig Kieswetter and his younger brother, Ross. Kieswetter senior was Man of the Match when England won the World T20 Final in Barbados in 2010 but was forced to retire from cricket five years later after suffering a serious eye injury when a ball burst through the grille of his helmet while batting for Somerset against Northamptonshire.
Trainer Crawford, who is world-ranked 48 on the TRC standings (and second in South Africa) said: "Whisky Baron is doing exceptionally well and, although he has the option of waiting for the Challenge Stakes [another G2 at Newmarket's Rowley Mile Racecourse on October 13], the way he is going at the moment I am confident that he will make the Shadwell Joel Stakes as long as the ground is not too soft.
"He spent three months in Mauritius, which is a nice holding facility but only has a very tight round track so all you can do there is canter. He was let down completely and we have had to start again from scratch.
"After a lot of build-up work, we have upped his work and put him under pressure over the last three weeks and he has responded really well. He was such a big, bulky horse that it was inevitable that we would have to have him gelded, but since he's had that done he has been unbeaten in five starts - it's helped tremendously.
"Everything is on track and he has already given us the journey of a lifetime, but fitness will obviously be an issue for him and he has also never raced up a hill before.
"He's a very versatile horse, his biggest asset it that he has a fantastic turn of foot, and though his first big overseas target is the Hong Kong International Races in December, I'm not sure if he will go for the mile race there or step up to a mile and a quarter.
"I don't quite know what he is capable of as I don't think that I have ever got to the bottom of him and I still feel that he is open to improvement."
"This has been family venture for the Kieswetters, and Craig, who lives in England, has been very hands-on – he goes to Newmarket once a week and spends the day with Whisky Baron."