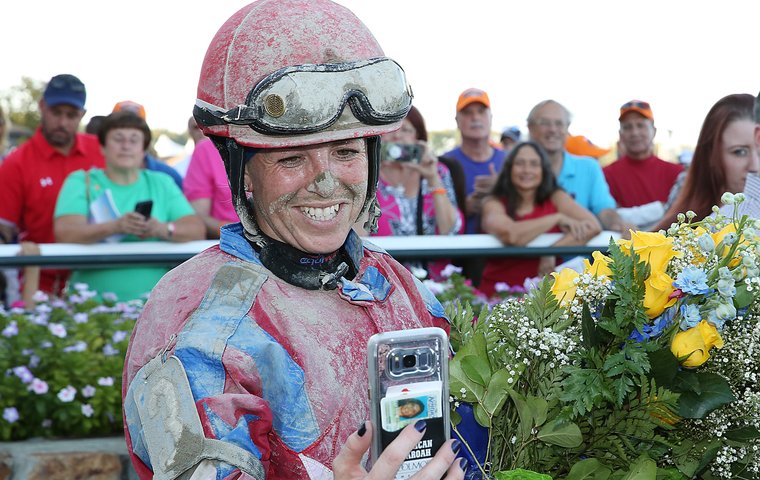 It happened a few years ago, the sort of bitter, gunpowder feud that could all too easily have crushed the spirit — and maybe a bone or two — of someone with less chutzpah than Sophie Doyle.

"I can still see his face looking back and yanking his horse in on top of me," Doyle said, of a desperate mid-race maneuver that fellow jockey Didiel Osorio pulled at Indiana Grand racetrack. "My horse clipped his heels and sent me flying."
After that in future races, Osorio kept her in his sights, she said — not that she rolled over in passive resistance. "I didn't let him get beside me. I didn't let him in. Wherever he was, he got in trouble with me."
This, though, had the effect of rankling Osorio all the more, Doyle said. "He'd always come back in: 'Oh, that girl, that girl. She got me in trouble. She held me in.' I was like, 'why would I want him riding anywhere near me?'"
But, like all bad blood, there comes a point when the lance is a better panacea than the medicine.
"So, this last race of the day, I was on the favorite," Doyle said. "He took me 15 wide the first turn. He went after me properly." Doyle swung to the inside, to catch up with the field, "but he's going after me again," she said.
In the end, her horse ran down the field, and so Doyle, understandably disgruntled, waited for Osorio near the jock's room, she said. "As he was coming to the top of the stairs, I asked him what his problem was. As he opened his mouth, I just punched him one — all that anger that came from when he dropped me."
'It's not ladylike to do that'
From that day on, "the guys in the jocks' room have respected me," Doyle said.
"It's not ladylike to do that. But if you're a jockey and if you don't have that kind of fight in you, then they know you're just a girl out there," she said. "When they see that you've got that much anger and determination, they know, 'alright, don't mess with her'."
For Osorio, "he got his comeuppance," she said. Indeed, the scales of justice have found redress — and how.
Osorio hasn't ridden in the States since 2017, when he was suspended for using a 'buzzer' during a race (on a horse that Doyle used to ride, no less).
Doyle, meanwhile — well, the 33-year-old's career in the saddle, though still a work in progress, reached a high tidemark recently with an inaugural top-flight victory in the G1 Cotillion Stakes at Parx in Pennsylvania aboard the 3-year-old Istan filly Street Band (see video below).
Tucked out the back, victory looked anything but assured until a wet-sail move into the home turn. "It's almost like she said, 'don't worry, I've got this. You just hang on,'" Doyle said, of Street Band's eye-catching choreography. "She did it picture perfect."
Now with the Cotillion under their belt, Doyle and Street Band are gearing up for the G1 Breeders' Cup Distaff, and in this design, there's pleasing symmetry.
That's because those two Grade 1s are the same races Rosie Napravnik annexed on Untapable in 2014, when the former jockey's career was entering its last 16th of a mile. And Napravnik, it barely needs noting, was the last female rider to scalp a top-flight victory in the U.S.
That it took five years for a woman to seize the mantle Napravnik left for grabs in 2014 is a thing that deserves examination. A product of something institutionalized, like sexism and misogyny? Or something more benign — simply a dearth of top-class female talent in the saddle?
Whatever the answer — and we'll return to that later — Doyle's ascent has been fashioned from a singular focus, sharpened to a point. It helps, of course, that she boasts a fine pedigree for the job, her mother being former trainer Jacqueline Doyle, and her brother Godolphin's retained jockey, James.
'I kind of got penalized'
In her early years as an apprentice, working mainly for her mother, Doyle could be found riding out in all the right yards — the likes of Sylvester Kirk, Stan Moore, and Henry Cecil. But things really started to heat up when she went to work for Jamie Osborne, in Lambourn.
There, she jumped from seven wins from 114 rides in 2009 to 28 wins from 249 rides in 2010, making her the leading female apprentice of that year.
In the winter of 2010, Doyle took a three-month busman's holiday riding track-work in Southern California. But afterwards, when she returned to Osborne's, things had cooled, she said.
"I never really got going again, and my boss, Jamie Osborne, wasn't as supportive of me," Doyle explained. "Because I wasn't there throughout the whole winter to prep all the 2-year-olds, I kind of got penalized. That's how it felt to me."
Indeed, in 2011 she had only ten wins from 165 rides, and by 2012 — by which time she had switched to the Charlie Hills yard — she scored a big fat zero from less than 100 mounts. And so, in 2013, off she flew across the Atlantic, landing back in California.
Not that she stayed there for long — about six months. From a dozen or so rides, Doyle realized her European riding style — not exactly the streamlined seal of her U.S. counterparts — was more hindrance than help, and so, off she took to Oaklawn Park, in Arkansas.
'Tough time with agents'
There, she joined the yard of Kellyn Gorder, who's assistant at the time, John Ortiz, son of jockey Carlos Ortiz, assumed the job of smoothing down "as much as we could" those rough edges in the saddle of their new-recruit, Doyle said.
For a time after that, she plied her trade around the nation's regional tracks, the Ellis Parks of this world, with one eye keenly honed on the more fashionable venues. "If you want to be one of the best," she said, "you have to go where the best horses, jockeys and trainers are."
Before her career really took off towards today's heights, there was another obstacle to overcome. "A tough time with agents," she said, ticking through a handful of examples — those who doubted her confidence after injury, or who played her in second fiddle to other riders on their books.
It was then she teamed with Hall of Fame jockey Randy Romero. "I think that was a really good turning point." He analyzed her races, offered critiques, and reassured her "I was making the right moves", she said.
When, last year, she headed to Arlington Park for its summer meet, Doyle teamed up with Penny Ffitch-Heyes, a partnership she describes as "phenomenal". Initially, they were focused on percentages, Doyle said, with the aim of landing in the top three with a minimum of 50 wins — goals they met.
'Oh, that's Sophie Doyle'
"She has a work-ethic to die for," said Ffitch-Heyes, listing one after the other what she sees as Doyle's assets: studiousness when it comes to form, and the Yin and Yang qualities of self-criticism and self-assurance.
"She's a natural horseperson," Ffitch-Heyes added. "She's more than a jockey."
The dreaded female jockey tag, said Ffitch-Heyes, has been a tough one to shake loose. She likens it to a hump to get over. Mind you, this year's run of high-profile successes has certainly helped.
"I walked into a barn the other day, and it was so nice to hear one of the owner's wives say, 'oh, that's Sophie Doyle — she won the Grade 1 on Street Band the other day. We have to ride her.' And the husband took a big gulp."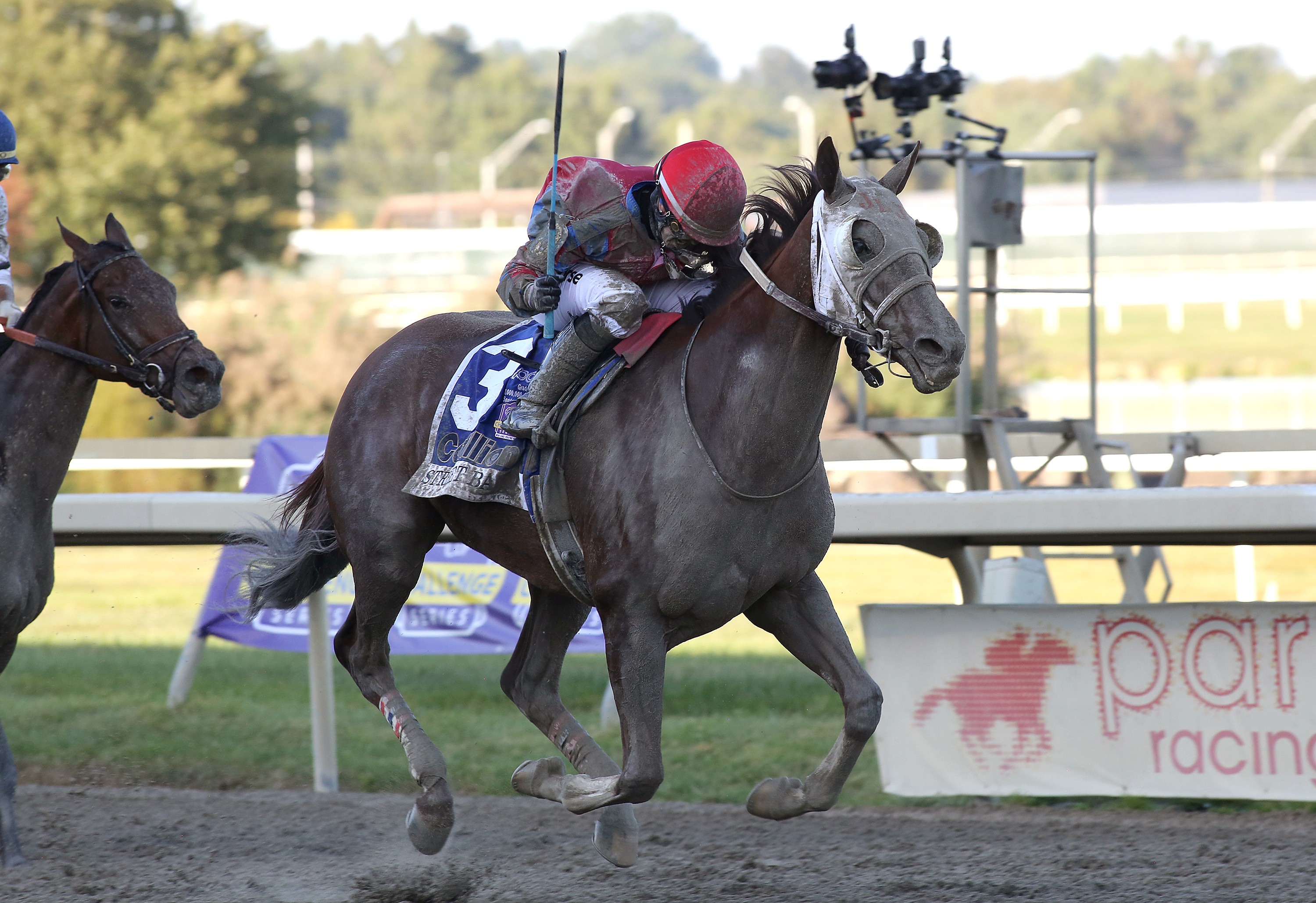 According to Larry Jones, Street Band's trainer, a lot of talented riders are discarded in favor of more fashionable names as good horses work their way up the ranks. Not with him.
"We prefer to stay with someone who brings us to the dance," the Kentucky-based trainer said, adding how Doyle's diligence helps her cause. "She would come down from Chicago every week to just work this filly. She didn't want anybody else getting on her and messing her up."
That, and Doyle's "very seldom in a bad spot" in a race, he said — something trainer Jack Sisterson agrees with.
"Someone just asked me about her at Keeneland," said Sisterson, who supplied her with the winning ride on Flap Jack in this year's Arlington-Washington Futurity. "She lets the horses find themselves. Whether that's at the front end or coming off the pace, she'll put a horse where they're comfortable."
'It should have been easier for them to intimidate me'
That Doyle is one of few female jockeys competing at the highest level in the States — indeed, she's the only one in the top 500 in the TRC Global Rankings (she's currently the world's fifth-highest ranked woman at #230) — is intriguing, especially when female riders are flourishing elsewhere.
In the UK, for example, the likes of Nina Carberry, Katie Walsh, Rachael Blackmore and Bryony Frost have made a serious dent on the jumps scene. In Australia — a country Doyle considered moving to before choosing the States — female riders routinely appear on the top stage.
"Rachel King wasn't getting the opportunities in England," said Doyle, of the Brit-born rider cooking up a storm in Australia (she's currently world #191) . "Right now, she's in the same position I am, one of the top female riders out there."
Rosie Napravnik, incidentally, peaked at #12 in the TRC standings just before she retired from the saddle at the end of 2014.
In Doyle's eyes, the current dearth of top-class female jocks in the U.S. is partially a matter of ambition among those riding competitively at a slightly lower level — like Carol Cedeno, a leading rider at Delaware and Laurel Park, and Ashley Broussard, lethal in Louisiana.
"I asked Ashley, 'what stopped you?' And she said she came to Kentucky to ride, but in all honesty, she's more comfortable staying at home, where she knows she'll get plenty of mounts," said Doyle. "She's making decent money."
Could another barrier be the reception female jockeys receive when they start to edge towards the top of the tree? This is what Napravnik told the Guardian of the intimidation she faced when she first arrived at Fair Grounds in 2010:
"They all had the same idea that they were going to be a little bit more territorial, and because I'm a girl, it should have been easier for them to intimidate me," Napravnik said. "I remember one jockey was trying to push me out of my spot. All I did was stand my ground and refuse to move. He put himself in a really bad position and ended up checking on heels really badly and almost went down."
Trainer William Van Meter witnessed the altercation between Osorio and Doyle — he was aware of their simmering feud. Indeed, it could have been all too easy for Doyle to have caved to Osorio's hectoring, "maybe even get scared", he said.
"But with her, it was the exact opposite," said Van Meter, who, like Doyle, believes the incident elevated her standing among her peers. "I think she's probably earned the respect of all her male counterparts in the jocks' room."
Not that Doyle's dispute with Osorio, she's quick to add, is indicative of a tinder-dry temper. "I get along with as many people as I can," she said. "Sometimes you do need these big guys on your side in the big races, in any race. You don't want people hating against you."
'It should just be Sophie Doyle'
While the Cotillion victory certainly broadened Doyle's visibility, it gave her another reason to cheer, the opportunity to step out completely from beneath her brother's shadow.
"I saw it on Facebook the other day, 'why is it when you Google Sophie, she comes up as James Doyle's sister. Surely by now, it should just be Sophie Doyle?'" she said.
The way she sees it, James "got the first jump" on the ladder. "If I'd been ahead of my brother, and had this sort of career before him, I'm sure he'd be known as Sophie's brother. But, it's fine. It's a family affair."
What would further help lift the yolk of the familial tie is if she beat him to a maiden victory at the Breeders' Cup.
Of the team she's quietly assembling for the two-day extravaganza, Street Band is undoubtedly the pick of the bunch. "I think she could win," Doyle said, adding that while "everybody's shouting about Midnight Bisou" — the five-time G1-winning mare — "everybody is beatable".
In her horse's corner is a turn of foot and proven form at the Distaff trip. That, and she's improving still, Doyle said. "Look at what she's done this year. Imagine what she could do next year as well."
As for her own future in the saddle, Doyle's quick to list the one remaining goal Napravnik left forsaken with retirement — a win in the Kentucky Derby. If Doyle similarly fails in the attempt, it won't be through want of trying.
"I believe in myself," she said. "I'm not going to quit."