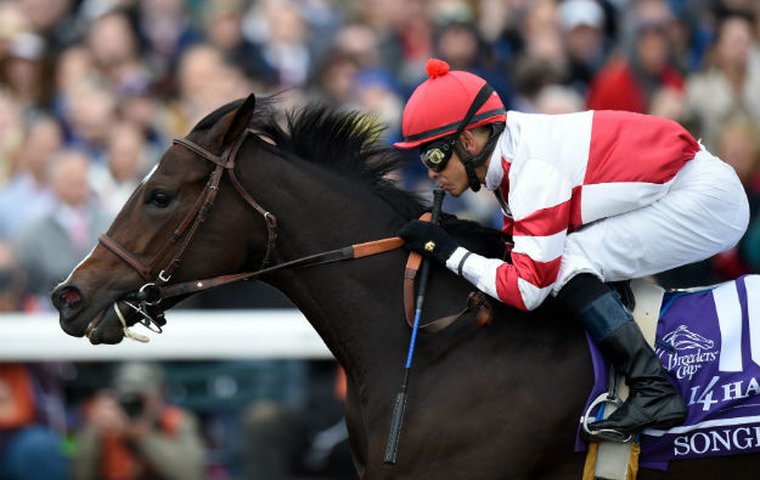 Horse racing owns a delightful capacity to renew itself. Even at the meeting that saw American Pharoah, Golden Horn and Liam's Map retired to stud just after we had got to know them, the sport's next superstar was born.

Songbird is her name and the depth of her talent is just revealing itself. The Breeders' Cup Juvenile Fillies was just the start.
Showing the same front-running game as American Pharoah in the Classic – a devastating weapon on dirt – she kept her unbeaten record while trouncing the regally bred G1 winner Rachel's Valentina by six lengths at Keeneland.
If the later Classic was to prove the meeting's higher water mark in terms of both class and emotion, Songbird's win was every bit as commanding as a championship performance. And it left more than just the promise of similar days.
Could Songbird take on the colts next season? Her owners, Fox Hill Farm, threw the tragic Eight Belles into the Kentucky Derby in 2008 and this filly is her superior.
Songbird has already thrashed the boys, in effect. She did so on the clock. Consider the split times of the two G1 juvenile races on dirt on Saturday:
| | | | | | |
| --- | --- | --- | --- | --- | --- |
| BC Juvenile | 23.49 | 47.62 | 1:12.14 | 1:37.26 | 1:43.79 |
| BC Juvenile Fillies | 23.60 | 47.15 | 1:11.42 | 1:36.33 | 1:42.73 |
Songbird was faster than the colts to halfway, faster in the middle of the race and faster at the end. Faster by a long chalk.
The colts running 1-2-3 in their race found the pace so hot that they wound up tiring badly and finishing up the track. Yet, Songbird didn't let the filly in pursuit of her, Rachel's Valentina, even breathe down her neck. The track might have been running a shade faster early on the card when the fillies' race was run, but the two races were night and day on the clock.
Songbird owns the priceless ability to front run, referred to by Andy Beyer as "the universal track bias". It's an apt description because dominating dirt horses scared their rivals into backing off.
This tendency was seen in the Classic. How in the world did American Pharoah get away with a first quarter of 23.99, at which point the race was basically over? Simple, the implied threat of tearing to pieces any opponent brave enough to take him on. Heck, he even scared Liam's Map off into the Breeders' Cup Dirt Mile.
The same thing happened when Ghostzapper won the Classic at Lone Star in 2004. A horse at least the equal of American Pharoah – and facing a tougher field, including Dubai World Cup winners Roses In May and Pleasantly Perfect, not to mention tip-top filly Azeri, the Ghost streeted them all after being gifted a first quarter of 23.42, which he used to run 1:59.02 and win by three lengths and four.
Even if you were being charitable, you could not credit the field American Pharoah beat as being in the same ZIP code. But that's missing the point, as everyone knows. Just as his Triple Crown sweep was made easy in the Belmont Stakes by timid opponents, so too was this.
The connections of any prospective opponents of Songbird can be forgiven for taking a similar view in future. Some horses go to the front because they don't have the guts to run by a rival, others because they are laden with nervous speed but can't finish, others still because they simply lack dimensions to their game. None of these things are true of this filly, who seemingly owns a deadly balance of speed and stamina.
So might a crack at boys be on? Horse racing has been absolutely bedevilled these last few years with connections playing it safe and taking the cash. Why else was Liam's Map in the Dirt Mile on his final start? He was so impressive that he might have changed the shape of the Classic and made it more a playoff game than an exhibition, even if the result would likely have been the same.
Songbird's sire, Medaglia d'Oro, can get pacey horses, but he was a stayer (at least as defined by the U.S. environment) himself. He is by the Sadler's Wells sire El Prado, and he might have been a 12-furlong horse in Europe, for he got a mile and a quarter very well. For her part, Songbird's dam, Ivanavinalot, was a smashing juvenile round the old Calder (now Gulfstream Park West) but ran as if something was amiss on her 3-year-old debut in a G1 and wasn't seen again.
Maybe Songbird will prove best at up to nine furlongs, but maybe not. She wasn't stopping on Saturday, the same impression gleaned from her previous romp in the G1 Chandelier at Santa Anita.
The compelling aspect of a potential Derby bid for Songbird would be provided by the sad tale of Eight Belles. That filly ran a gallant second to Big Brown but fractured both ankles in the process and was immediately put down. It would be a bold shout to send Songbird on the same mission, but only superstition would prevent it: there is nothing inherently unfair about running fillies against colts on dirt when they are good enough. And her owners are reportedly keen.
A more positive Classic precedent is provided by Medaglia d'Oro's best runner, Rachel Alexandra, who won the G1 Preakness in 2009 (as well as the Haskell and Woodward Stakes the same year) against the boys. It is pretty neat that her daughter chased Songbird home at Keeneland. Then there's Rags To Riches (2007 Belmont), Winning Colors (1988 Kentucky Derby) and Genuine Risk (1980 Kentucky Derby) to name but a few.
If they can do it, Songbird can do it too.