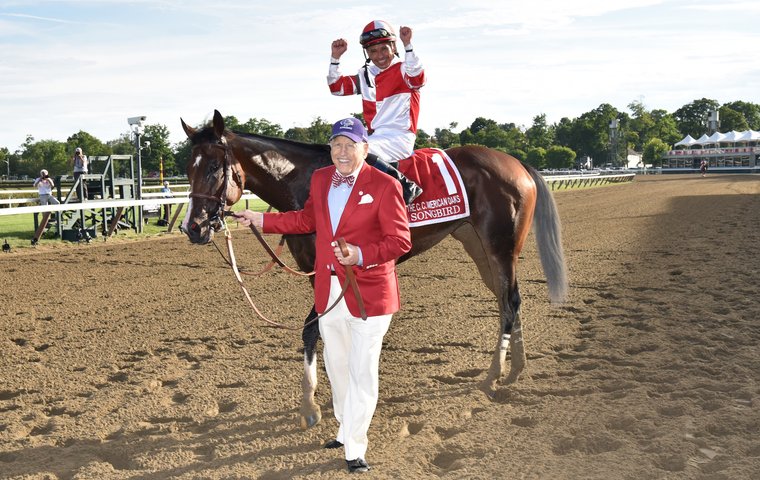 The story of Songbird and owner Rick Porter surely has some incredibly uplifting elements to it. Yet, for all of the Walt Disney in the tale, there are also parts worthy of Shakespeare.

It centers on a brilliant two-time champion filly and her septuagenarian owner. It tells the story of how she captured the hearts of racing fans across the country, brought joy to her owner as he fought the battle of his life against cancer, then took a dramatic twist that fractured the relationship between that owner and the filly's trainer, and reached its final chapter in a manner that might be viewed by some as sad yet was described by a central figure as a happy ending.
"Every moment with her was special. Everything she did was extraordinary and eye-catching," said Mike Smith, the Hall of Fame jockey who rode the filly in all 15 of her starts. "Everything she did was a blessing. It was such a blessing for all of us in a variety of ways."
Such accolades are reserved for only the greatest of champions and Songbird was truly a very special Thoroughbred. In those 15 starts, she won 13 times for trainer Jerry Hollendorfer and was her division's Eclipse Award winner at two and three.
Something special
"There's no question she was the best horse I've ever owned," said the 77-year-old Porter, who also owned 2011 Horse of the Year Havre de Grace. "I don't think there's any question about that. I've had some good horses, but Songbird was something special. She won 11 in a row. Won nine Grade 1s at seven different tracks. She was spectacular. It was a shame it came to an abrupt end."
She earned $4.6 million for Porter's Fox Hill Farm and, in her two losses, she was beaten by inches as opposed to lengths. In the 2016 Breeders' Cup Distaff at Santa Anita, she engaged with Beholder, who would retire as a four-time champion, in one of the greatest stretch duels in the 34-year history of the World Championships (see video below). She lost by what was listed as a nose but was closer to an eyelash.
Then, in her final start, she lost by a neck in last year's G1 Personal Ensign at Saratoga to Forever Unbridled, who was unbeaten last year and was voted the champion older female after winning the BC Distaff.
To some, her losses spoke of her in the same glowing terms as her collection of decisive wins on both coasts.
"Her losses weren't really defeats. She ran amazing in them," Smith said. "The first time I didn't get the bob against one of the greatest fillies of all-time in a Breeders' Cup race that was right up there with Personal Ensign and Winning Colors. The other was to a mare who went on to win the Distaff. Those were great fillies that beat us. It shows how great Songbird was."
That greatness was on display from the very beginning. Bred in Kentucky by John Antonelli, she was purchased by Porter at the 2014 Fasig-Tipton Saratoga sale for $400,000. She breezed to a front-running 6½-length victory in her career debut at Del Mar on July 26, 2015, and after that she won the G1 Del Mar Debutante and Chandelier at Santa Anita by a combined margin of nearly ten lengths.
She then shipped cross country and was never threatened in posting a 5¾-length, gate-to-wire triumph in the Breeders' Cup Juvenile Fillies that sealed a perfect 4-for-4 season and her first Eclipse Award.
At three, she was just as dominant. The dark bay or brown daughter of Medaglia d'Oro reeled off wins in the Las Virgenes, Santa Ysabel and G1 Santa Anita Oaks by a combined 14 lengths. A fever kept her out of the Kentucky Oaks, but it did not diminish her reputation as a superstar in the making.
In June, she showed no ill effects from the lost time in the spring by winning the Summer Oaks at Santa Anita by 6½ lengths at a time when Porter's medical problems mounted and his filly became a national sensation.
Songbird was shipped to Saratoga, where the charismatic filly received a hero's welcome befitting of an undefeated champion. The New York Racing Association gave out placards saluting her, and her presence in the G1 Coaching Club American Oaks on opening weekend created a huge buzz and made her a darling of fans all over America.
"Everyone loved her. They loved her on both coasts," Smith said. "You couldn't help but love her. You don't see too many horses like her."
She was the talk of the town in a region where racing has ruled for more than a century and she did not disappoint on the racetrack. Sent off as a 3/10 favorite, she fended off a spirited bid from the Bill Mott-trained Carina Mia on the final turn and romped by 5¼ lengths (see video below).
"The fans just loved Songbird and she put on a performance for them that day at Saratoga," Porter recalled. "That was a beautiful thing to watch. It showed how well she got over the ground. She was a piece of perfection that day. She ran to a different beat than they did. Bill Mott told me he had to go down and applaud when she got back to the winner's circle."
Songbird returned four weeks later and registered an even easier seven-length score in the Spa's famed Alabama Stakes to make her a perfect 10-for-10 in her career, but for all of the excitement and happiness on the racetrack these were among the most difficult of times for Porter.
During those days his battle with cancer, which started a year earlier, took a turn for the worse. His immune system weakened by chemotherapy, Porter suffered an infection and was hospitalized, preventing him from returning to the Spa for the Alabama.
"It was a tough time, particularly the Alabama. I wasn't doing well then," said Porter, who received the Mr. Fitz Award, for typifying the spirit of racing, from the National Turf Writers and Broadcasters last year. "I went through what everyone who has this awful disease faces."
Much-needed distraction
Songbird's magnificent career added some excitement to Porter's life and gave him a much-needed distraction from his illness. Some people have postured that Songbird gave Porter a reason to live, but the Delaware native prefers to says that it was the love and support of family and friends that was most important to him.
"The fact that Songbird was doing so well and that she gave me something to look forward to was just a sideshow," he said. "The important thing was having my family by me. Songbird was a help, but she wasn't the most important thing in my life."
As fall arrived, Porter's health improved and Songbird continued to thrive. She won the G1 Cotillon at Parx by a little more than five lengths and then headed back west to Santa Anita, where she was sent off as a 6-5 favorite against a star-studded array of seven rivals in the Breeders' Cup Distaff.
With Porter in attendance, Smith, as usual, quickly put Songbird on the lead and she carved out the early fractions until she was joined by owner B. Wayne Hughes' Beholder as she turned into the stretch. From that point on the 3-year-old filly and 6-year-old mare remained locked in an epic duel, neither able to grab more than a marginal lead in the final furlong until they hit the wire in unison.
"There's no question it was one of the greatest Breeders' Cup races ever," Porter said. "No one knew who was going to win during that final quarter of a mile. For a 3-year-old filly, she tried her heart out."
If not for an inch or two, the outcome could have been a dead-heat, but the photo finish gave the edge to Beholder as she notched her third Breeders' Cup win for trainer Richard Mandella.
"I was as proud in defeat as I was in victory. Either horse could have won. If you watched their heads, one was a neck ahead and then a neck behind with each stride. I was a little past the finish line and I thought we won it," Porter said about Songbird's first loss in 12 starts. "Then I looked down and saw Mandella and he was kissing [his wife] Randi. I thought [expletive]. [Announcer Larry Collmus] had the balls to call it and he was right, but I wouldn't have been surprised if it was a dead heat. A dead-heat probably would have been the fairest way to settle it, but fate didn't want that. It was a shame, but I've won a lot races and can take losing. If I had to lose to someone, it might as well have been to Wayne and Mandella."
Lofty expectations
Beholder was retired after the Breeders' Cup, but Songbird's 4-year-old season never matched the lofty expectations for the sport's leading lady.
She started 2017 with a length victory in the G1 Ogden Phipps at Belmont Park on Belmont Stakes Day in an effort where the small margin of victory was blamed on a seven-month layoff. Nevertheless Porter began to wonder if something was amiss with his prized filly.
Up next was a race dear to Porter's heart, the Delaware Handicap at Delaware Park, which the retired auto dealer considered as his hometown racetrack. The timing was impeccable the race came up shortly after Porter received the glorious news that his cancer was in remission.
Only four rivals turned out to challenge her and not one of them belonged in the same sentence as the 1-20 favorite, who gave Porter a coveted victory in a coveted stakes that eluded him twice before.
"For Mr. Porter there was added emotion. He wanted to win the race so badly. We had just found out that he was in remission and everything was going great. It was a real happy time and we were able to pull it off," Smith said.
Yet Porter's joy was tempered by watching his star filly struggle to win by only a length over a field she outclassed (see video above). His belief that Songbird was not the same as a year filly began to grow in earnest.
"It was a special race to win but watching that race in person I knew things were not right with her," Porter said. "She should have killed those horses, but she had to try so hard to win by a length."
Porter said he assured by Hollendorfer that there was not a physical problem. Songbird was kept in training and a month later she ran in the G1 Personal Ensign on Travers Day at Saratoga.
This time Songbird was a $0.45-to-1 favorite against just three foes, including Forever Unbridled, who was third behind Beholder and Songbird in the BC Distaff, and after six furlongs in the mile-and-an-eighth stakes, Smith had Songbird on a seemingly comfortable 3½-length lead in a moderate 1:12.29. But, in the stretch, as Songbird weakened along the rail, Forever Unbridled made a strong charge at her from the center of the track.
At the wire, Forever Unbridled prevailed by a neck (see video below) and Porter became convinced that his filly was battling a physical ailment.
"I kept asking if she was okay and was told she was fine and then finally in the third race of the year I saw enough. It was obvious in the post parade she was off behind, particularly when she turned," Porter said. "Jerry told me the next day he checked her from head to tail and she was fine. I said I wanted to send her to be checked in Kentucky and he asked why. I told him, 'Jerry, she's going to Dr. (Larry) Bramlage, period."'
When Songbird arrived at Rood & Riddle Equine Hospital to be examined by Dr. Bramlage, it did not take long for Porter's fears to be realized. Bramlage found what was reported as proximal suspensory ligament desmitis in both hind legs.
"She wasn't lame in individual legs, but she was sore in both front legs. We trotted her in a circle and she was not as sound as she was when we had seen her previously at the end of both of her championship seasons. You were talking about a filly who used to float over the ground," Bramlage said. "If she were a gelding, you would give her a chance to heal up. But her performances were being degraded by some low-grade bruising she had at the bottom of her cannon bone. Things were trending the wrong way. That was the biggest concern.
'Difficult situation'
"It's unlikely she would have had something terribly catastrophic, though that wouldn't have been impossible. The most likely thing is that she would have damaged her joint surface further and that continual progressive wear and tear was already affecting how strongly she could finish a race. She was not herself."
Upon hearing that news, Porter wasted no time in retiring the star of his stable.
"It was a difficult situation. It was poorly done and I'll never know why. I knew I was going to get bad news from Larry. I trust Larry with everything. We've been friends and I run everything by him. He's my adviser. When he walked the horse off the van himself, he knew she was off behind. Afterwards I called Mike and told him I felt so lucky that nothing happened to him while riding her. Mike would have been a sitting duck if there was a breakdown," said Porter, whose filly, Eight Belles, broke down shortly after crossing the wire second in the 2008 Kentucky Derby and had to be humanely destroyed.
While announcing Songbird's retirement, Porter took the unusual step of posting Bramlage's medical report on Facebook.
"The reports and images were posted online so that they could be seen by people who thought I retired her because she got beat. I didn't want anyone to say I retired her for the wrong reason," Porter said.
Final act
Bramlage said he was happy that Porter released that information.
"I've had people tell me, 'Did you see someone put your lameness exam report on the Internet?' I said, "Yeah, isn't that refreshing.' They put all the information out there for everyone to see. Fox Hill is superb in that situation. If there's something wrong with their horse, they want to get to the bottom of it to understand the implications of it. They always do the right thing."
As the curtain came down on Songbird's career, so too was it the final act in the working relationship between Porter and Hollendorfer. Not long afterwards, Porter moved the remaining six horses he had with the Hall of Fame trainer to Mandella's barn, leaving behind bitter feelings.
When Hollendorfer was contacted by TRC and asked for comment on this story, he replied, "I have nothing to say about Rick Porter and Songbird" and hung up the phone.
Looking back, Bramlage said he understood Hollendorfer's assessment of Songbird's physical condition.
"It wasn't surprising that [Hollendorfer] didn't see that. Trainers are looking at their horses when they are performing in a straight line and watching them at less than peak performance when they are training. Horses when they have symmetrical problems and they go in a straight line, they don't show that one leg is bothering them over another. If they have a problem with one leg then they get obvious lameness.
"In this situation, she had some version of the same thing in both front limbs and that's a very common scenario for us. She had no obvious heat or swelling to point to the right place," Bramlage said. "If you were a trainer and you had a two-time champion and someone told you that you had to take her out of training that person would not be popular with you. It's not that he didn't know what had to be done. It's difficult to find a horse as classy as she was and you hate to see that end when she wasn't showing any lameness."
Faced with the fantastic filly's retirement, Porter said it was an easy decision to enter her in the Fasig-Tipton November sale. With Songbird's breeding and race record it was hardly surprising that Mandy Pope bid $9.5 million to acquire her as a broodmare (see video below).
"Selling her was a no-brainer. I didn't think twice about it. You have to sell your horses that build up a residual value. We made close to $5 million with Songbird, but if you add up all the horses and all the expenses you can't possibly recoup your investment. You can keep digging a bigger and bigger hole. That's why so many people lose money when they keep breeding and running," Porter said.
"Some people don't care about money but I don't want to find out how much I could lose. We got $35 million for Hard Spun, $5 million for Rockport Harbor, $6 million for Round Pond and about $20 million for Havre de Grace and Songbird. Without that, imagine how deep in the hole I would be. I don't even want to think about it."
As much as the sale was the final chapter in the story of Porter and Songbird, there's different ending that stands out to one of the individuals involved in the filly's career. While Songbird's retirement filled some people with sadness, Bramlage believes that quite fittingly there was a happy ending to the story.
"The cause of her problems and the fact that it was affecting her performance that was sad. But the fact that they understood that she wasn't herself and they got to the bottom of it to find out there was a physical reason for it, that's a good thing," Bramlage said. "People should learn from this. That's the way things should go more often. It was a happy ending to me."
It's a safe bet the script writers at Walt Disney Company would agree with that.