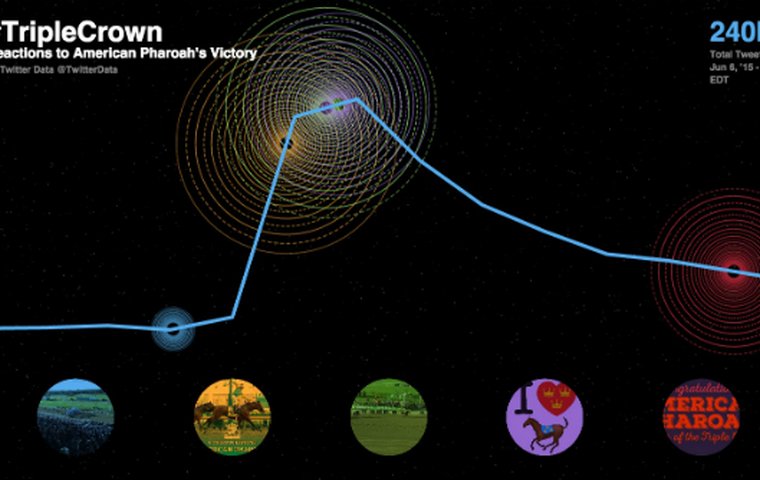 After American Pharoah won the Belmont Stakes and became the first Triple Crown winner in 37 years, and after taking in the moment and attempting to beat the crowd out of Belmont Park, I did something that has become part of my routine of watching any sporting event: I checked Twitter.

It seemed that everyone -- even those who weren't on the bandwagon of a possible Triple Crown winner before the Belmont -- was tweeting about the victory. Hashtags were used, photos were uploaded, and news alerts went out -- all of which was favorited and retweeted over and over.
Twitter, and the internet that we're familiar with today, was not around for the other 11 winners, so it's interesting to see how it reacted to this one.
On June 6, in a 15-minute period between 6:50-7:05 p.m. EDT (the race went off at 6:52 p.m.) there were 240,000 tweets about American Pharoah and the Triple Crown, according to Twitter.
One of the top tweets during this time came from @SportsCenter at 6:55 p.m. The tweet had approximately 29,000 retweets and 25,000 favorites.
Although the Triple Crown and American Pharoah made a big impact on Twitter this weekend, the platform still remains unused by a large percent of the internet-using population. Only 23 percent of adult internet users are active on Twitter, which counts for 19 percent of the American adult population, according to the Pew Research Center. The most popular social media platform is Facebook, which is used by 71 percent of adult internet users and 58 percent of the American adult population.
The story of American Pharoah winning the Triple Crown was also trending on Facebook. One post showing a video of the race replay posted by the official Belmont Stakes page received more than 18,000 "likes" and 19,000 shares. The video currently has almost 400,000 views. Facebook did not respond to a request for information on the number of posts about American Pharoah and the Triple Crown.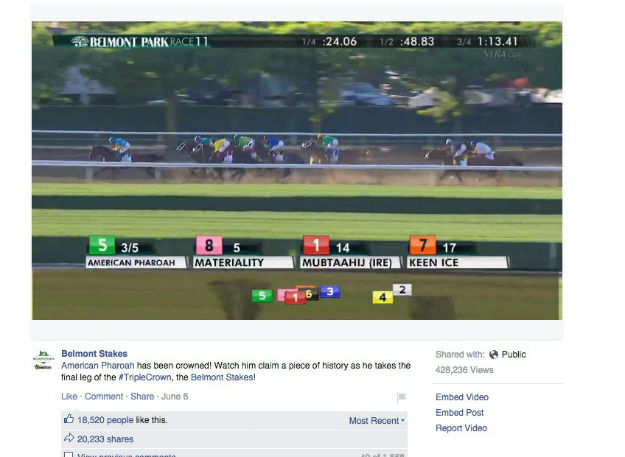 This seems like a lot of promotion for the Sport of Kings, but how do these numbers compare to America's most popular sport and its most popular event?
Super Bowl XLIX on Feb. 1 was the most-tweeted Super Bowl ever, according to Twitter. There were 28.4 million tweets about the game from kickoff until 30 minutes after the game ended, roughly a four-and-a-half-hour period.
This massive number of tweets breaks down to approximately 1.58 million tweets every 15 minutes.
So it wasn't quite the Super Bowl, but it's not exactly fair to compare a two-and-a-half-minute event to a giant sports and entertainment spectacle that lasts four hours. Nevertheless, American Pharoah's win did gain a lot of social media traction and the tweets are still coming. Can racing keep the social momentum going?