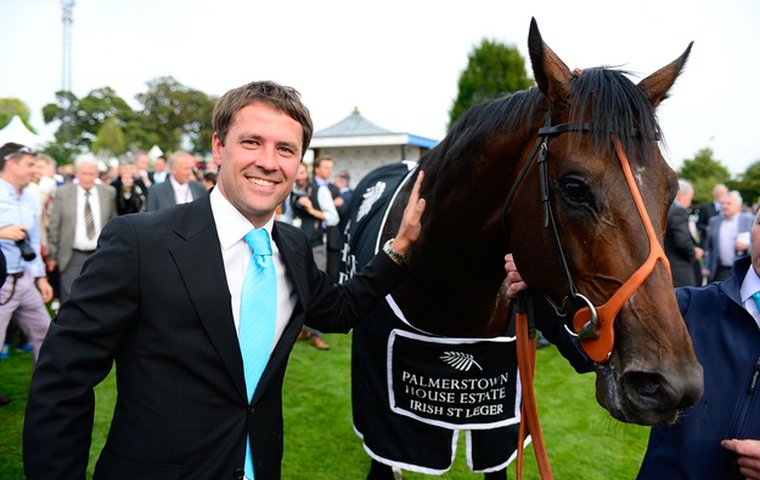 British superstar Michael Owen is aiming exciting stayer Brown Panther at the Canadian International

When Brown Panther takes aim at the $1 million G1 Pattison Canadian International on Oct. 19, the Woodbine grandstand is likely to be graced by British sporting royalty.
Michael Owen, who owns half of Brown Panther, is among the most revered soccer players of recent times. He scored 40 goals in 89 appearances for England, placing him fourth on the all-time list, and remains the youngest player to score 100 goals in the British Premier League.
More than that, however, Owen will forever be remembered as the man who scored three goals when England inflicted a rare, 5-1 defeat on Germany, the current World Cup holders, in Munich 13 years ago.
Owen, now 34, took an avid interest in horse racing during his soccer days. But he has had more time to indulge his passion since he retired in May last year when he morphed seamlessly into the role of television soccer analyst.
Brown Panther has always been the apple of Owen's eye – particularly after his latest victory, when he romped away with the G1 Palmerstown House Estate Irish St Leger at the Curragh on Sept.14.
Owen described it as the horse's totem triumph among 10 to date. Asked to compare that feeling with his hat-trick against Germany, he replied: "They were totally different. I rarely got nervous before a big match because I had some form of control. But in racing, you have no control whatsoever. All you can do is keep your fingers crossed and shout as loudly as you can."
Work commitments permitting, Owen will be doing just that when Brown Panther tilts at the Canadian International over 12 furlongs on turf. It will mark his first experience of racing in North America, where he often spent summers on pre-season soccer tours.
"I've never been racing there before," he said. "I have driven past a few racetracks when they weren't racing and popped in to have a look around, but this will be different. I am really looking forward to it."
Owen bred Brown Panther from the Unfuwain mare Treble Heights, who won stakes races in his silks a decade ago. Treble Heights was the first broodmare he owned; he now has five in partnership with Andrew "Bert" Black, a co-founder of the online betting exchange Betfair and a partner with Owen in Brown Panther.
While Black owns Chasemore Farm, where the mares are kept, Owen owns Manor Farm Stables in Cheshire, where he grew up, and where Tom Dascombe trains for the partners in addition to other owners.
Owen went to Australia when Brown Panther contested last year's Melbourne Cup, in which he finished eighth of 24 runners. He found the trip so exhilarating that he can scarcely believe where Brown Panther has taken him – or the heights the horse has scaled.
"At the time I bred him, I had one broodmare," he reflected. "It's basically one in a million to be in there with all the superpower owners who spend fortunes on horses to compete at the highest level.
"It is total luck. I had no experience of the bloodstock business, or in choosing stallions for Treble Heights. I probably made a few mistakes in selecting her mates in her early years, but I have learnt to trust the people around me. If you let the experts do their job, you'll have more chance of success."
Sadly, Treble Heights died earlier this year, having thrown a succession of colts.
"She only ever had one filly and the foal died a few days later," Owen said. "But we managed to track down Extreme Pleasure, a half-sister to Treble Heights, and bought her privately. We can now continue with the line."
British bookmakers rate Brown Panther as second favourite for the Woodbine International behind the Sir Michael Stoute-trained Hillstar. The two horses are part of a strong overseas challenge in a race won for the last four years by horses trained in Europe.
A son of 2005 Breeders' Cup Turf winner Shirocco, Brown Panther has an aggressive racing style. He is best when stalking strong fractions before making a sustained charge for the wire.
That's exactly how Black Panther's last race unfolded in Ireland, where he bounded clear before the two-furlong pole to beat the Ascot Gold Cup winner, Leading Light, by 6½ lengths.
"It was a brilliant day," Owen reflected. "Those days are special – not just for me personally but for the whole team at Manor House Stables, where everyone works so hard. You feel proud; you love sharing that feeling with everyone."
Having looked down a list of Europe's top horses, Owen insists he would not swap Brown Panther for any of them. He relishes seeing his silks in action, and in Brown Panther, he has a horse already committed to racing again next season.
"There are better horses than mine," he said. "But they don't tend to race much before they go to stud. I want horses to race, and although Brown Panther may not make me as financially wealthy compared to other top horses, he is perfect for what I enjoy about the game."
Brown Panther has also taken Owen on a scenic international odyssey that has already embraced Australia, Dubai, France, Germany, and Ireland. Next stop: Canada.