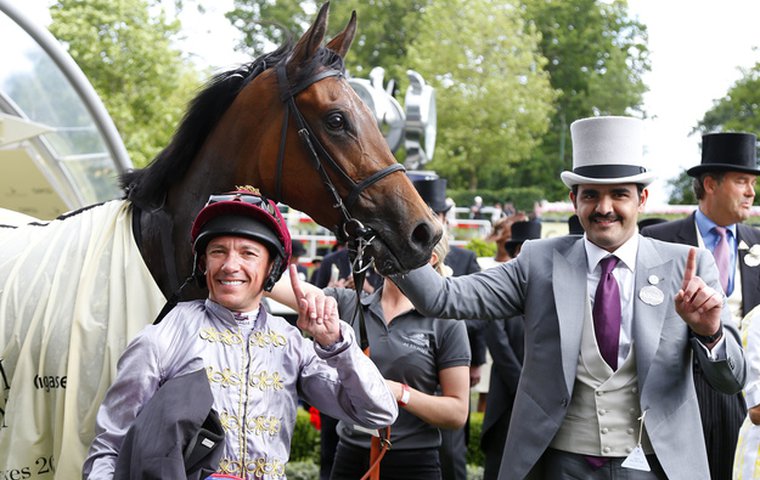 Whereas for at least 15 years the dominant force in world horseracing represented the United Arab Emirates, and Dubai in particular, today, almost in the twinkling of an eye, the axis has shifted 260 miles due west as the falcon flies, to the peninsular state of Qatar. But this is dominance with a difference, a whole set of differences to be exact.

While in 1992 Sheikh Mohammed first assembled his Godolphin operation as a worldwide promotional vehicle for Dubai's business and tourism industry with the blessing of his elder brothers, of whom Sheikh Hamdan lent staunch support while maintaining his own racing and breeding under the Shadwell banner, Qatar's rapid emergence on to the international stage has been choreographed by two branches of the country's ruling family, each with different philosophies, different strategies, and different modus operandi.
The more recent development has been spearheaded in the name of the Qatar Racing & Equestrian Club (QREC), which runs Qatar's single racecourse on the outskirts of the capital, Doha, under the patronage of the ruling Emir, HH Sheikh Tamim bin Hamad Al Thani, backed by his uncle and special advisor, HH Sheikh Abdulla bin Khalifa Al Thani.
QREC's sponsorship portfolio, which principally has involved the Prix de l'Arc de Triomphe weekend at Longchamp since 2008 and extended to Newbury's Lockinge Stakes day this year, takes on a fresh impetus for five days starting July 28, with the first running of the Qatar Goodwood Festival (formerly Glorious Goodwood), marking the start of a 10-year arrangement that has already brought an extra £2 million in prize money for eight major races, with the promise of more to come if any is elevated to G1 status.
Among the prime movers in the Goodwood venture, which includes raising the prize fund for the newly-named feature race, the G1 Qatar Sussex Stakes, to £1 million, was the Emir's full brother, Sheikh Joaan bin Hamad Al Thani, whose silks, now incorporated as Al Shaqab Racing, first burst on the Thoroughbred scene with the purchase in mid-2013 of the subsequent dual Prix de l'Arc de Triomphe winner Treve.
However, the catalyst for Sheikh Joaan's expansion -- and more indirectly QREC's recent emergence as a sponsor of note in Britain -- came from a separate branch of the Al Thani family, whose dynasty has ruled Qatar since 1825.
Sheikh Hamad, Sheikh Suhaim, and Sheikh Fahad, the three eldest but still relatively young sons of Sheikh Abdulla bin Khalifa – uncle of the Emir, Sheikh Tamim, and Sheikh Joaan – came together in 2010 to form Qatar Racing and Qatar Bloodstock, and appointed David Redvers, the well respected British stud owner, as their racing and breeding manager.
The initial venture, Pearl Bloodstock, which involved Sheikh Fahad alone, has been virtually phased out. Redvers explained how the operation now works.
"Qatar Racing is the racing organisation," he said. "It is basically Sheikh Fahad and his brothers, who have a budget every year to race for fun and also for the promotion of their investment company. Qatar Bloodstock is the business, run commercially to make money, including the stallions, the broodmares, the pinhooking, and the trading.
"Sheikh Fahad is essentially a trader at heart and he loves that aspect of racing. So he's happy to sell horses, though maybe he wasn't so happy to sell G Force, even if David O'Meara has done an amazing job and turned him into a G1 sprinter."
Redvers added: "Everything boils down to Sheikh Fahad's passion for the game, and when he won the Melbourne Cup in 2011 with Dunaden, he brought in the rest of the Qataris.
"So the reason you've got Al Shaqab spending so much is that Sheikh Joaan saw that Sheikh Fahad had done what they thought was impossible, to win the race that Sheikh Mohammed has been trying to win forever and failed. They just thought Thoroughbred racing was Sheikh Mohammed's domain and they couldn't compete.
"Sheikh Fahad had become very interested in British flat racing because he had watched it on Channel 4 while he studied in Britain. His initial strategy was to enjoy it, and learn as much as he could as quickly as he could from personal interest. Then, because he started winning big races and really enjoyed it, he managed to talk his brothers into joining him, which is why Qatar Racing was formed. From there, their cousin Sheikh Joaan and the rest of the senior Qataris wanted a piece of the action."
Redvers' emphatic reference to Thoroughbred racing is deliberate, for this represents one of the major differences between his patrons and Sheikh Joaan, who in November 2013 appointed a similarly well established British bloodstock figure, Harry Herbert, as racing advisor to the newly-formed Al Shaqab Racing, and several other prominent owners in Qatar, whose earliest influence was in racing top-class Arabian horses.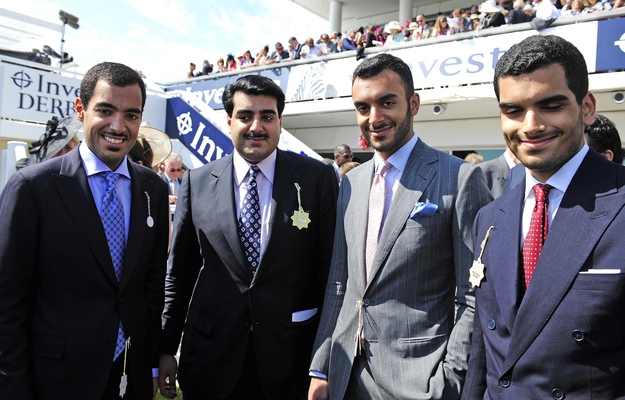 Sheikh Fahad and his brothers have no involvement in Arabian racing. Their father, Sheikh Abdulla, most certainly has, through his long-established and highly successful Umm Qarn operation, as does Sheikh Abdulla's brother, Sheikh Mohammed bin Hamad bin Khalifa, through the other Arabian powerhouse based in Qatar, Al Shahania, both of which race in Europe in the summer, where they have been joined by a large team assembled by Sheikh Joaan in France.
Equally notably, Sheikh Fahad and his brothers have no involvement in racing in Qatar, another major difference between the two equine-loving branches of the Al Thani family.
Although Umm Qarn and Al Shahania have long raced Arabian horses in Qatar, helping them and their associates to dominate the overall local owners' and trainers' championships for several years, they have both participated in the more recent growth of Thoroughbred racing in Doha, where the provision of a sand track – soon to be renovated – has enabled an increase in fixtures.
In turn, the balance of Sheikh Joaan's racing operation has tilted towards a greater involvement in Thoroughbreds, spreading across Europe and into the U.S., although his domestic runners have been mainly confined to the major races of the three-day February festival.
With Al Shaqab Racing in its infancy, the operation's overall strategy, other than to acquire top-class horses at all stages from foal to in-training, is still emerging. Qatar Racing and Qatar Bloodstock might also be a young, evolving force but its policy is already established.
Redvers explained: "My aim is to get Sheikh Fahad and his brothers as many high-profile winners as I can, but most importantly it is to use Qatar Racing to boost Qatar Bloodstock. So, for example, when we had first and second in the Summer Mile at Ascot with Arod and Lightning Spear, it was an extremely good day at the office, because we've now got two potential stallions who can go on to generate revenue to make Qatar Bloodstock more profitable.
"It is a definite strategy to breed our own horses, so we send mares to such as Frankel and Dubawi as well as our own stallions Mafki, Harbour Watch, and Havana Gold, and those we breed at the very top end we keep to try to produce future stallions as well.
"Most of the horses we breed are bred purely commercially. We keep one or two fillies, but the majority are sold, because ideally we want to keep generating revenue and profit the whole time.
"The problem is that it can get quite difficult, because there are some elements in the business who think we have weeded out the horses and don't like buying from us, but 90 percent of the horses are sent to the sales to be sold, because I have to generate income."
He added: "I used to sell them myself, but we now sell through agents, because it became obvious it was difficult to get a fair return on our yearlings, for example. People assumed that if we liked them, we would race them, but that's not how we operate."
Aside from managing the racing and breeding operation, Redvers' time is also occupied organising race sponsorship for Sheikh Fahad and his brothers – including three younger members of the immediate family who are not so deeply involved in bloodstock – under the banner of their investment company Qipco (the Qatar Investment & Projects Development Holding Company).
Qipco is chaired by Sheikh Abdulla bin Khalifa Al Thani, and has his son Sheikh Hamad as chief executive and other sons Sheikh Suhaim and Sheikh Fahad among its other directors. And here lies the most significant contrast with the ambitions of QREC and Sheikh Joaan's Al Shaqab Racing.
Qipco's sponsorship, which was taken to a higher level with last month's signing of a new 10-year contract worth around £100 million to support the 35-race British Champions Series until 2024, is all about boosting Qipco.
Redvers explained: "It's not promoting Qatar, but the family business, and there's a very definite difference between the two.
"Whilst my guys are proud of their heritage and their family and their country, this is all about promoting their investment company to a wide audience.
"They have no involvement at all in racing in Qatar, no involvement in football or the World Cup, no involvement in government policy. They live in England, have made their home there, and are passionate about racing.
"We chose Qipco, rather than, say, Qatar Racing or Qatar Bloodstock, because that's the parent company, which is putting up all the sponsorship money.
"The fact that Qipco doesn't actually sell anything is probably a drawback insomuch that if they were selling umbrellas, they would be getting a lot of exposure for their umbrellas and would be selling more of them.
"However, Qipco has many businesses under its own umbrella, including real estate, construction, oil and gas, finance, and health services, and it was deemed to be the best idea to run everything through Qipco. It's a very big investment company, and by raising the brand profile it has certainly opened many doors."
From the other side of the Al Thani family tree, Nasser Al Kaabi, formerly Sheikh Joaan's public relations manager, who was promoted to the position of general manager of the Qatar Racing & Equestrian Club immediately after the conclusion of this year's February festival, puts the club's intentions – and indirectly those of Sheikh Joaan and Al Shaqab Racing – firmly into perspective.
"Promoting Qatar as a country is very important to us and a race meeting like the Qatar Goodwood Festival will help this," he said.
The cause has already been well advanced through a deal with France-Galop, which began in 2008 and will continue until at least 2022, to back the two-day Prix de l'Arc de Triomphe weekend, plus other events, with massive prize money and overwhelming branding.
Although France was first off the mark, after a lengthy period of courtship, Britain's senior racing officials, working along the Qipco line in complementary fashion, have quickly caught up. Lockinge Stakes day at Newbury benefited hugely from QREC support in April; Goodwood will be awash with promotional material for five days, and Ireland will shortly be handed some of the same.
Al Kaabi explained: "It gives us a tremendous feeling to be associated with British racing at Newbury and Goodwood. Horseracing in Britain is one of the biggest sports, second only to football for spectators, so it is our plan to be associated with it for many years, and to join the big events makes it very special for us.
"It is all about promoting Qatar the country. Taking the Qatar flag around the world and promoting our country all over the world is very important for us."
When Herbert's appointment was announced, Al Kaabi went further, saying: "Our goals and objectives are to be the best racing operation in the world. We want the best horses, the best trainers, and the best people."
Part of the attraction of backing Britain is the opportunity to race horses trained in Qatar, most of the Thoroughbreds having been bought from Britain in the first place.
Tattersalls alone sold more than 60 lots at last year's autumn horses-in-training sale to Qatar for more than three million guineas, while at least 30 lots from this year's July sale are heading in the same direction for more than one million guineas.
Jassim Al Ghazali, Qatar's dominant champion trainer, and his family have been the most prolific buyers for the last four years, in three of which he has led the domestic prize money percentage-based title race with ever more impressive results – a personal best of 99 winners when runner-up in 2012-13, a Qatar best of 140 in 2013-14, and a record-shattering 176 from close to 1,350 runners in 2014-15, when the second most successful trainer, Julian Smart, compiled 39 wins from a tiny fraction of runners saddled by Al Ghazali.
For the first time this year, Al Ghazali, who had to halve his intention to buy 30 horses at the Newmarket July sale when late withdrawals and even competition from his fellow countrymen shortened his shopping list, has trained a small team from temporary quarters in Newmarket.
"It has been an honour and an education to be in Newmarket," he said, "and I am looking forward to having runners at Goodwood."
Al Ghazali's best hope will be Dubday, British-bred but whom he sourced as a 3-year-old at a sale in France from a German stable and turned into the horse with the highest official international rating achieved in Qatar.
Second at Newbury and narrowly beaten in a listed race at Newmarket this year, Dubday has already fulfilled one ambition, for he was bought privately by Sheikh Joaan just before Qatar's most prestigious race for Thoroughbreds, the HH the Emir's Trophy, in February 2014 and became the first of his breed to carry Al Shaqab Racing's new colours of grey with gold braid to victory, ridden by the stable's new retained jockey, Frankie Dettori.
Al Kaabi added: "We had an adventure at Newbury earlier this year, and we will continue to send horses to the U.K. for many years to come. There will be plenty of Qatari-owned horses running at the Qatar Goodwood Festival."
Among the targets on Goodwood's concluding day will be the £400,000 Qatar Harwood International Stakes, the first leg of a new Triple Crown for Arabian horses that will move on to the Qatar Arabian World Cup, worth €1 million, at Longchamp on Arc day and reach its conclusion with the HH the Emir's Sword, Qatar's most valuable race at three million Qatari Riyals ($820,000), next February, and offers a million-dollar bonus for the horse who wins all three legs.
"Arabian racing has a tremendous heritage in Qatar," Al Kaabi said. "It will be difficult to win the Triple Crown, but as American Pharoah showed in the U.S. this year, a Triple Crown over different distances can be won."
The change of name and backer for the Sussex Stakes, which was previously sponsored by Qipco, illustrates that the two branches of the Al Thani family are not inseparable, but will they ever come together, Godolphin style? Probably not, for the differences in outlook and operation are too wide.
More significantly, though, as was once asked about the Maktoum family, is the reliance on Qatari money, especially in Britain, a force for good or a recipe for potential complacency and disaster?
David Redvers sounded a cautionary note: "We compete on the racecourse, although not on sponsorship, but I recently had a conversation with someone high up in British racing who was asking if we would sponsor an event, or whether they should go to QREC, and I said 'Who knows what's around the corner? You should spread the net a bit wider.'
"Just going with a begging bowl isn't healthy for anybody. An over-reliance is never healthy. For one thing there's a danger of souring the golden goose."