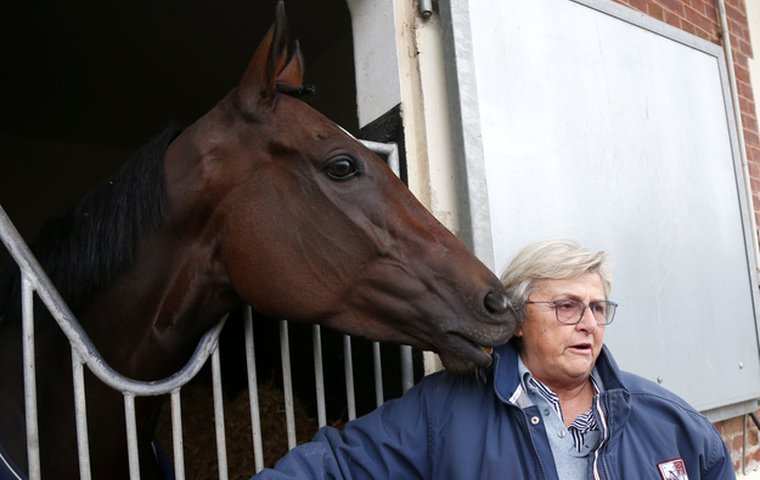 On Sunday afternoon in Paris, the wondermare that is Treve picked up the gauntlet, looked history squarely in the eye, and blinked.

There is no shame in succumbing to history. She is a formidable adversary. The creation of history, the deviation from precedent, is not easily done. Before Sunday, Treve had already taken her place among an elite group who had won the Prix de l'Arc de Triomphe twice: Alleged, Ribot, Tantieme, Corrida, Motrico, Ksar. And still no horse has won three.
So what went wrong?
You can easily argue that not much went wrong for Criquette Head-Maarek's mare. Treve had an official rating of 130 going into Sunday's race. Golden Horn was also rated 130. Golden Horn was receiving the oft-debated 3-year-olds' allowance, 8lb from the older horses, 5lb from the older fillies and mares, he had a better run through the race than Treve, and he beat her by just over two lengths.
But there were little things. For starters, Frankie Dettori was brilliant on Golden Horn. Tactically, he nailed it. The theory was that Shahah was in the race as Treve's pacemaker, but the reality that gradually dawned was that she was Golden Horn's.
Dettori turned the negative that was his wide draw into a positive. By charting a wide path through the first two furlongs, he was able to move over and slot in wherever he wanted, wherever he thought he should slot in given the strength or weakness of the early pace.
The ball hopped for Dettori
When you adopt such tactics, you need the ball to hop for you, and it hopped for Dettori. The early pace was slow, so he was able to allow his horse take up a prominent position. The fact that he was able to get as close to the inside rail as he did was down to fortune. They could have bunched up, he could have been forced four or five horses wide around the first turn. But that's the fortune that favours the brave. When Dettori got Golden Horn there, just behind the sedate pace, one off the inside rail, controlling the race, it was his to lose.
John Gosden and Dettori and Team Golden Horn had learned from the Juddmonte International experience, still the only occasion on which their colt has been beaten. There is no point in getting older if you are not going to get wiser. They said afterwards that they probably sat too far off the pacemaker that day, their pacemaker. Dick Doughtywylie may have raced in the Oppenheimer silks at York, but he effectively acted as pacemaker for Arabian Queen, who sprang a 50-1 shock in beating the Derby winner by a neck. On Sunday, shoe, other foot - that type of thing.
We know that it is difficult to make ground from the rear in a middle-distance race when the early pace is slow. It is not easy to make ground into a quickening pace. It is not a coincidence that the first three home in Sunday's Arc raced just behind the pacemaker and towards the inside from early. Golden Horn, Flintshire, New Bay, 1-2-3 behind Shahah. Treve was further back and wide. She would have had to have been significantly superior to her rivals to have triumphed on the day, given how the race was run.
Why the ground may have been a factor after all
She might have been. She did most things wrong in the race in 2013, yet she won by five lengths. And you can easily argue that she would have won last year's renewal however the race had panned out, so much did she have in hand at the finish. Alas, that wasn't the case on Sunday.
Freddie Head, he of four Arc wins as a rider, Treve's trainer's older brother, said on Monday that Thierry Jarnet couldn't ride a normal race on Treve, that the pressure was too great, that he didn't want to take risks by racing on the inside. And that may have been the case. If you think you are on the best horse, it makes sense to reduce the risk of traffic problems. By so doing, however, you give away ground, and, as things transpired, Treve couldn't afford to give it away on Sunday.
The ground was fast. Treve's connections said before the race that it didn't matter. They pointed, legitimately, to the fact that she had won the Arc last year on fast ground, that she had won the Grand Prix de Saint-Cloud this year on fast ground.
But, in reality, the ground may have been an issue. Treve is by Motivator, whose progeny have a 17 percent strike rate on heavy ground, as opposed to a 13 percent strike rate on fast ground. Also, the best performance of Treve's life was in the 2013 Arc, when the ground was on the soft side.
Did the Vermeille leave a mark?
Another factor that may have been at play was Treve's impressive win in the Prix Vermeille last month. Most took it as a positive, as proof that she was as good as ever. But it was a big run, a big energy-expender, just three weeks before her date with history.
Treve has used the Vermeille as a springboard to the Arc in each of the last three seasons. In 2013 she recorded a Timeform rating of 122 in the Vermeille before winning the Arc. In 2014, she recorded a Timeform rating of 118 in finishing fourth in the Vermeille before bouncing back to win the Arc.
This year, the Al Shaqab Racing mare recorded a Timeform rating of 127 in winning the Vermeille. That was a massive effort. Only twice in her life did she record a Timeform rating that was higher than 127: in the 2013 Arc and in the 2014 Arc.
As well as regretting Treve's defeat, however, it is important to appreciate Golden Horn's victory. Dettori has commanded the lion's share of the column inches all week, and deservedly so. Dettori's 2015 is a remarkable story, and this was one more incredible chapter in it.
This victory was also obviously testament to Golden Horn's own ability, and to the manner in which John Gosden has harnessed it all season.
It has been a long season, and the Cape Cross colt has danced lots of dances since his seasonal return in mid-April. Just like his sire's most famous son, Sea The Stars, he has raced every month since his seasonal debut, once every month, before bringing his career to a crescendo in Paris in October.
It was Gosden's first Arc, but it was Dettori's fourth, making him the joint most successful rider in the Arc since it was first run in 1920. Historic day after all.