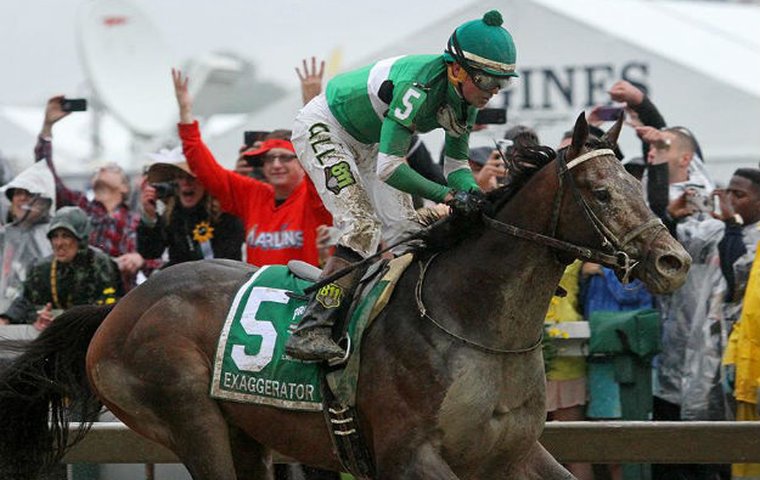 Ehalt won the David F. Woods Memorial Award for excellence in journalism for his report on American Pharoah's Preakness in 2015. Here is his account of this year's race.

The significance of what happened in the 141st Preakness on a sloppy track was not lost on Keith Desormeaux.
The meaning of it? That will be determined down the road. Perhaps in the Belmont Stakes or the Haskell, or even the Travers, when Exaggerator's victory yesterday in the middle jewel of the Triple Crown will be remembered as either a glitch or the day when a powerful tide finally turned.
"I hope it's not only because of the muddy track," Desormeaux said.
Before Saturday, in seven different races dating back to last June, the 48-year-old trainer sent out one or even sometimes two of his horses to tackle Nyquist.
In six of them, Desormeaux had to be content with finishing second to the mighty Nyquist as the undefeated son of Uncle Mo kept adding one notch after another to his bejeweled championship belt.
----------
Desormeaux: what we won't do with Exaggerator to try to beat Nyquist
----------

The most recent dose of frustration came when Exaggerator gobbled up about eight lengths in the final quarter mile but still fell 1 ¼ heart-breaking lengths shy of catching Nyquist on the grand stage of the Kentucky Derby.
That made Nyquist a perfect 8-for-8 and Exaggerator winless in four cracks at the 2015 2-year-old champion.
Yet the Derby and Exaggerator's three other losses to Nyquist (the G2 San Vicente, G1 Breeders' Cup Juvenile and a June 5 maiden race) were contested on a dry track, the direct opposite of the sea of goo that the two rivals battled on in the $1.5 million Preakness.
If anything, it was akin to the slop Exaggerator cruised over when he posted a 6 ¼-length landslide victory in the G1 Santa Anita Derby.
With a highly similar result.
How significant was the mud?
Putting a definitive end to Nyquist's winning streak and Triple Crown bid, Exaggerator launched a powerful bid turning for home under Hall of Fame rider Kent Desormeaux – Keith's younger brother - to swoop past Nyquist and post a decisive 3 1/2-length victory before a soggy but nonetheless record crowd of 135,256 at Pimlico Race Course.
"You can't deny what's happening here," Desormeaux said. "These are two huge races on off tracks. The one at the Santa Anita Derby, I tried to play it down because it was a meltdown pace in front of us. Today the pace was acceptable (a half-mile in 46.56 seconds) and he still ran huge. So you have to think that the track means a lot to his performances, but his fast-track performances are not bad, either."
That Nyquist, the 3-5 favorite off that perfect 8-for-8 record, was collared for second by a nose in the final stride by 17-1 shot Cherry Wine, certainly gives off at least a hint that owner Paul Reddam's Kentucky Derby winner did not relish the wet going as much as his victorious rival.
"I don't know," trainer Doug O'Neill responded when asked about the impact of the wet track on Nyquist. "Hats off to Exaggerator and Team Desormeaux. I didn't think we could get beat, to be honest with you.
Exaggerator and the bounce-back factor
"It's a bummer, of course. Our horse, God, he's such an amazing horse. I can't wait to see him in a little bit, give him a big kiss and pat on the head because he's still a winner in our book."
O'Neill said the Belmont Stakes (June 11) is under consideration for Nyquist and perhaps the mile-and-a-half Test of the Champion will prove him to be a modern-day Riva Ridge, the famed Meadow Stable star who won the 1972 Kentucky Derby and Belmont Stakes rather easily but finished fourth as a huge 3-10 favorite in the Preakness on a sloppy track.
If he does, he's almost certain to face Exaggerator, who will no doubt consider the three-week gap between races to be akin to hibernation. In detailing the reasons why he was finally able to defeat Nyquist, Keith Desormeaux pointed to the way Exaggerator quickly bounces back from seemingly strenuous efforts.
"The most important thing is this horse – and I've repeated it for two weeks – has an ability to recover from his efforts," he said. "He recovered from the Derby quickly. Even today, first comment (from Kent) when he pulled up here at the winner's circle was, 'Keith, he cooled out already.'. The horse's heart rate was down. His respiratory rate was almost normal, and you could see a real calm look in his eye. Most horses when they run that huge of an effort, they're bug-eyed and rattled.
Impact on the 3-year-old polls
"The Belmont is three weeks from today, so I'll be there with bells on … I can't wait to run in that race."
With a record of just two wins in seven starts on a dry track, the Belmont Stakes promises to be revealing challenge for Exaggerator – provided Mother Nature doesn't pitch her tent in Elmont, N.Y. on June 11 like she did Saturday in Baltimore. A win there in the final jewel of the Triple Crown could propel him past Nyquist in the 3-year-old polls, especially if he wins with the same flair as he did at Pimlico.
Exaggerator was 17 lengths behind the leader after the opening half-mile in the Kentucky Derby, but in the Preakness Kent Desormeaux followed an inside path to move the son of Curlin into contention on the backstretch, trailing the front-running Nyquist and Uncle Lino by a little less than seven lengths from eighth in a field of 11 after a half-mile.
"I wanted to strangle (Kent) when I saw him go to the rail," older brother Keith said. "I was like, damn, he didn't ride a race today. All those other jockeys realize it's a quagmire down on the rail and I'm like, 'What's he doing?'"
"Welcome to my house," Kent sang back to his brother.
'He felt like King Kong'
As aggravating as it was for Keith to watch, Kent described his trip as "an absolute dream ride". He said Exaggerator was moving up so smoothly and effortlessly that his rider said he had to slow him down approaching quarter pole.
After that, when Kent swung Exaggerator outside of Nyquist and the tiring leaders, it was as much of a lopsided mismatch as Nyquist vs. Team Desormeaux had been prior to Saturday.
"He just blew up and felt like King Kong," the Hall of Fame rider said. "When I pitched him out he did what he can do: he exploded."
The 5-2 second choice ($7.20) surged past the Derby winner with three-sixteenths of a mile left, drifting past Nyquist and heading back to the rail for the final furlong.
"I thought, well, since I'm clear, I might as well throw some mud in their face and not let them come back," said Kent, who needed just 1:58.31 to cover the mile and three-sixteenths with Exaggerator as compared to American Pharoah's 1:58.46. "So I let him drift over in front of Nyquist and hopefully finish the job, and he did."
And, when he did, it was a joyous moment for 46-year-old majority owner Matt Bryan, of Big Chief Racing, who also owns Swipe, the horse that finished second to Nyquist in four straight 2015 stakes. Bryan entered the sport just four years ago and, with his first horse, won the Risen Star Stakes with a 135-1 longshot trained by Keith Desormeaux named I've Struck A Nerve. Now he and Desormeaux have a classic winner with career earnings of nearly $3 million
Special American Pharoah
"I'll tell you one thing," said Bryan, who owns Exaggerator in a partnership with Ronny Ortowski, Sol Kumin and Keith Desormeaux and has already worked out a deal to send the colt to WinStar Farm at the end of his racing days. "These (Desormeaux) boys right here are awesome. What I'm probably the proudest of is to win this with these two. It is amazingly special for us. I mean, to have two (brothers) do this, I don't know if it's ever been done before.
"I'm going to tell you now, we'll put Keith Desormeaux in the Hall of Fame if I have anything to do with it."
As for Nyquist, his defeat on the same type of wet racetrack as American Pharoah posted a seven-length victory on in last year's Preakness, illustrated just how special the 12th Triple Crown champion was, and reinforced how rare a feat his sweep was. Nyquist, with his perfect record, surely seemed a worthy candidate to make it back-to-back Triple Crowns, but he was simply not up to the task.
The loss, however, did little to diminish O'Neill's affection for his second Kentucky Derby winner.
"Being 8-for-8, we kept thinking that this horse is never going to lose," O'Neill said. "But they all lose at one time or another. We'll be okay. Exaggerator just ran a monstrous race."
Indeed, he did, and in the process he crushed a Triple Crown dream, just like someone always did in the good old 37 years before American Pharoah.
He also moved his slate to a still imposing 1-4 versus Nyquist with one big question mark:
Was it the mud?
We'll have to leave it to a long, dry summer to find out.