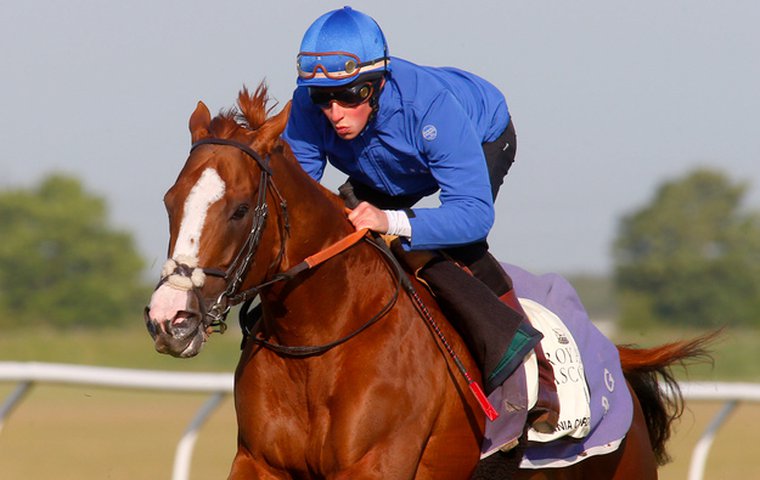 Editor's note: California Chrome was ruled out of the Prince of Wales's Stakes the week of the race due to a foot bruise.

He is responsible for one of the worst predictions in sporting history; he is also a candidate for the worst loser seen on television. None of that matters now, however, because Steve Coburn (and his ownership partner Perry Martin) deserve a huge pat on the back for bringing the wonderful California Chrome to Royal Ascot.
Coburn's rant after last year's Belmont Stakes ("I'll never see — I'm 61 years old — and I'll never see in my lifetime another Triple Crown winner because [of] the way they do this.") reflects more on the human condition than it does him. We have all had moments like this, if not in our personal lives, when betting on and following the careers of racehorses.
Well, the fast-talking half of the Dumb Ass Partners is now taking his show to Royal Ascot, where California Chrome will take part in the G1 Prince of Wales's Stakes on Wednesday. Many of us here in Britain thought we would never see one Kentucky Derby winner on British soil – now we will have seen two. But can "Chromie" do better than Animal Kingdom, who sunk without trace in the G1 Queen Anne over a mile two years ago?
California Chrome is tackling the two-furlong longer Prince of Wales's, which takes place on Ascot's punishing round course, the feature of which is a climb out of Swinley Bottom (the right-hand extreme of the far side of the track as viewed from the cavernous grandstands). For his part, Animal Kingdom was said to have been unsuited by the straight track, but the truth is he was finished mentally and physically by that stage of his career, and the last hurrah was really just a meek goodbye.
Animal Kingdom has a more European-oriented pedigree than California Chrome – to say the least. The former is out of the mare Dalicia, a G3 winner in Germany by the late Acatenango, three-time German Horse of the Year in the mid-1980s.
By contrast, California Chrome is the product of a union no less distinctly rooted in day-to-day America out West than the Dumb Ass Partners' commendable attitude to life. His sire, Lucky Pulpit, was a tough horse who ran second in the 2004 Santa Catalina Stakes at Santa Anita, while his dam, Love The Chase, won a maiden claimer at Golden Gate Fields in 2009.
Forgetting the question of how the product of such a union could win a Kentucky Derby, the relevant question now is whether California Chrome has any shot of mixing it over a stiff mile and a quarter on grass. True, he is already a top-level winner on the lawn via his domination of the G1 Hollywood Derby at Del Mar last November, but they ran nine furlongs in a rapid 1:47.88 (Chrome cut out easy fractions of 23.56 – 23.39 – 24.53 – 24.23 – 12.17) on a firm surface and with tight bends to break up the effort. This is a long way from what awaits at Royal Ascot.
Last year, the late-running filly The Fugue got the last three furlongs of the Prince of Wales's in 35.6 seconds with a superb last two furlongs of 24.0 seconds. This is typical of the relatively late distribution of energy that is ideal, given the layout of the track. Front-running or early-paced types need to get away with a slow, early pace.
An interesting precedent is provided by the victory of Dubai Millennium in the 2000 Prince of Wales's. Though Sheikh Mohammed's ill-fated superstar had not raced in the U.S., he was a dirt horse by nature, acing the same year's Dubai World Cup at Nad Al Sheba true to his pedigree (by Seeking The Gold out of a half-sister to the 1994 Breeders' Cup Juvenile and 1995 Preakness winner Timber Country).
In the hands of Jerry Bailey, Dubai Millennium won the Prince of Wales's as if it were a dirt race, carving out solid fractions, surging clear before turning in then tiring somewhat inside the final furlong but still winning by eight lengths. California Chrome isn't quite as good as Dubai Millennium (he would have no shot at getting under 2:00 for the Dubai World Cup like the former Godolphin horse) and he is a traveller/quickener, rather than a galloper. In other words, he won't be able to blast his Ascot rivals apart mid-race.
Perhaps more importantly than any tactical considerations, one wonders if this is near the end of the line for California Chrome, as it was for Animal Kingdom. It is important to recognise that a sample-of-one is no guide, however, and the other Kentucky Derby winner to come to Ascot provides only precedent not prediction value. Chrome's second to Prince Bishop in the World Cup at Meydan was rather a laboured effort to watch, though, notwithstanding the excuse that he was wide into a strong pace.
Coburn and Martin should be lauded for their decision to take the Royal Ascot challenge; if only connections here were so enterprising with their great horses. California Chrome hasn't been exactly sparkling in his work in Britain, according to objective observers, but perhaps he has needed time to get over the draining trip to the Middle East. Perhaps.
At their press day on Thursday, Chrome's connections said they were hoping for a place and that lining up as a 10-1 shot, as the horse is in the advance betting on the Prince of Wales's, is an unusual situation for so talented an animal (it is a good, but not vintage field by the race's standards). Coburn also joked: "I understand the Queen's a Chromie and I am looking forward to meeting her, although I'll have to get a top hat instead of this Stetson. I've also been told I have to wear shoes and I haven't done that since I got out of the U.S. army in 1979."
It's typically good stuff from Coburn, and while he hasn't always issued the most accurate of predictions, he is dead right about The Queen.
Next Wednesday, we are all Chromies here.