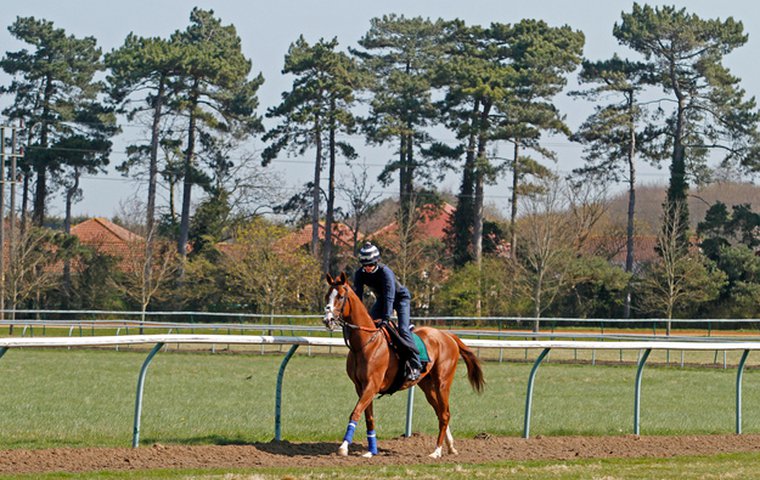 California Chrome's huge army of fans can breathe easy. According to Robbie Mills, the young man selected to oversee the early stages of part two of the U.S. Horse of the Year's world tour, he is eating and drinking well and has settled into his new surroundings at Newmarket, some 60 miles northeast of London, "quicker than you could ever have expected."

If California Chrome was a person, he would be given the full-on film-star treatment for his visit to England. A penthouse suite at the Dorchester Hotel in London's West End, perhaps? A butler on call all hours of the day or night to meet his every whim? A chauffeur-driven Rolls Royce to ferry him to countless personal appearances?
But he is a racehorse, albeit the most famous one in North America, and the reality of his stay in Britain is rather more mundane than, say, Johnny Depp might expect.
That is not to say Chestnut Tree Stables on Newmarket's Hamilton Road is unsuitable for California Chrome's needs as he is prepared for Royal Ascot in June, with a possible prep at Newbury on May 16. Far from it.
Formerly known as Marriott Stables, it was the venue for the start of the late, great Sir Henry Cecil's training career when he produced back-to-back 2,000 Guineas winners in 1975 and 1976. Yet, while geographically less than a mile from a number of historic yards, with their beautiful clock towers and traditional grass-centred courtyards, it is a world away in terms of architecture.
Less than 50 years old in the original horse racing town, where some equine establishments date back more than three centuries, Chestnut Tree Stables was built with functionality rather than aesthetics in mind. Corrugated roofs and concrete abound.
Its position -- backing directly on to Newmarket Heath -- and its extensive network of training tracks with both turf and artificial surfaces, makes it an ideal venue for a Kentucky Derby winner used to the hustle and bustle of the backstretch yet hardly expecting to have to endure -- like many of the town's 3,000 racehorses -- a walk alongside a traffic-clogged road en route to daily exercise.
When I met the big chestnut on a breezy spring afternoon last Friday, he seemed content, munching away at the occasional carrot and unflustered by the arrival of yet another visitor to check on the progress of America's finest. He is accompanied by none of the trappings of fame, save for the fact that his box is three times the size of most others in the yard.
The 4-year-old's temporary home has been the base for the past 15 years for Rae Guest, an unflashy operator with a highly international outlook and a reputation for getting the best out of his small string. A former jockey who rode all over Europe and spent many winters in India, he has a training career that encompasses big-race victories for Aldbourne in Atlantic City in 1990, My Emma at Longchamp in 1996, and Serious Attitude at Woodbine in 2010.
However, the reason California Chrome is under Guest's care is less to do with the trainer himself and more about Mills, his 27-year-old one-time apprentice jockey.
For Mills has been friendly with Art and Alan Sherman, California Chrome's father-and-son training team, ever since he first rode track work for them at Hollywood Park six or seven years ago. And, quite by chance, while California Chrome was preparing for the Dubai World Cup, Mills was also in the emirate. He had initially gone there for a holiday but ended up looking after Mirza, owned by his father Chris and trained by Guest, who was unplaced in the G1 Al Quoz Sprint on World Cup night.
"Mirza got injured, so I stayed on for longer than I had originally planned," Mills recounted. "I caught up with Art and Alan and had dinner with them most nights. I started going to the track to watch California Chrome train and then, out of the blue, they asked me if Rae would be able to take him [in England].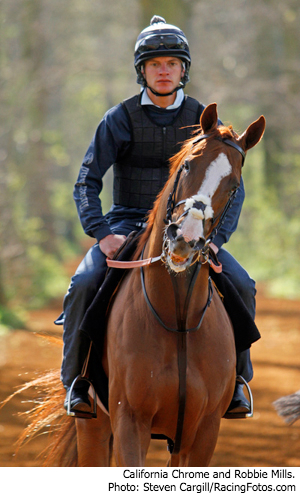 "They went on to ask if I would be able to oversee things and ride him – that was a question that there was only ever going to be one answer to. It's been an honour for Alan and Art to have chosen me, and I suppose you could say that my decision to go and lie in the sun [in Dubai] has paid off."
Mills never hit the heights as a jockey – his career score stands at six winners. But now, just as he is trying to get his new sales preparation venture, RMM Bloodstock, off the ground, he is back at the yard where he first brought his saddle as a 12-year-old. And he's no longer riding the stable hack. This time it's a global superstar.
"I try not to think about it in those terms," Mills admitted. "If you do, you end up taking your mind off the most important thing, which is looking after him properly. But you do tend to do everything with just a bit more care and attention.
"Everything he's done up until now has been pleasing and we're happy with his general well being. He was hand-walked for nearly two weeks after he arrived, then on the 13th day he was jogging, just in the yard for a day and then out on the Heath.
"This is a nice quiet yard and we take him out with third lot [at the end of the morning] when the Heath is a bit less busy. He's a gentleman of a ride when you're on top of him, and everyone knows when he's coming towards them, with his big white face."
Mills said Chrome "seems pretty straightforward." He added: "He seems to be enjoying it on the Heath. He's not got [heated] up once. I regularly speak to Alan on the phone to say what we're doing and make sure that he is happy with it.
"California Chrome does have a shout and a roar, but Alan says that those are just his normal traits. That's what he should be doing. He likes to stand and look and take his time and we just leave him to do that."
So far Chrome has done no more than a steady canter. "We've done nothing serious yet and that won't change for a while as we're just freshening him up and letting him enjoy himself. He came with a couple of bags of his regular feed, but from the word go we tried him on what Rae normally feeds his horses and he licked the bowl clean on the first day. It's the same with drinking -- he's been doing that really well ever since he arrived."
Before anyone gets concerned that the four-time G1-winner may have suddenly lost his competitive edge, Mills added: "He knows he's good, nothing fazes him and he's definitely a clever horse. When you are in his stable it's his stable and he wouldn't be backwards in coming forwards to bite you. He's had a few nibbles and I think that he might have caught Rae the other day.
"But he doesn't do it nastily. There isn't a nasty bone in his body. He does it with his ears pricked. Thankfully his owner sent seven or eight bags of Mrs. Pastures Horse Cookies over with him and these are our allies when he's hungry – it's either one of them or your finger."
Mills concluded: "I couldn't be happier with the way he's moving and eating and drinking. He's taken to the Heath, which is the first hurdle over with, so it's a case of 'so far, so good.'"
----------
James Crispe is associate director of editorial at the International Racing Bureau