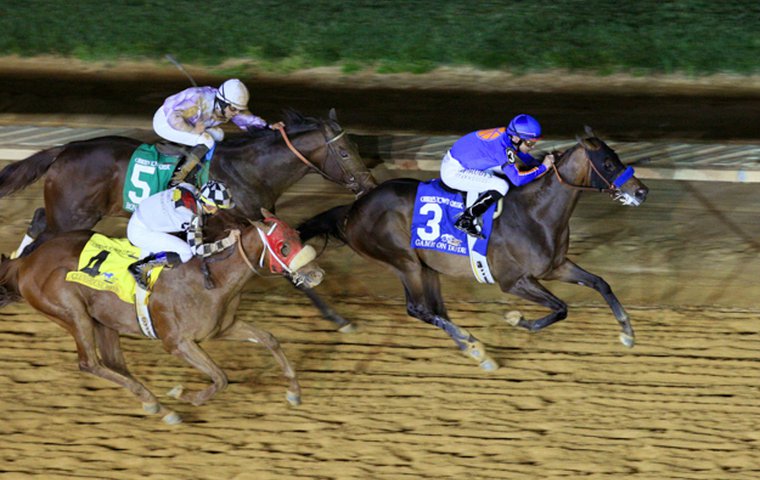 When Shared Belief runs in Saturday's $1.5 million Charles Town Classic, the eyes of the racing world will focus on a small racetrack in West Virginia, which until fours years ago didn't even have a single graded stakes on its year-round racing schedule.

Shared Belief, a winner of 10 of 11 career starts, all coming in California, is widely believed to be the best older horse in training in North America. His participation in the Charles Town Classic is a boon for a track that is rarely in the spotlight.
Charles Town, which first opened its doors in 1933, is situated approximately 60 miles to the west and north of the nation's capital, Washington D.C. With a casino, hotel, and entertainment venue on its grounds, Charles Town's one-time image as a "leaky roof track" no longer holds water. But its racing product stills falls significantly short of that of a premier track. With its bullring style of racing -- the main track's circumference is six furlongs and the stretch is a mere 660 feet -- Charles Town ably fills the needs of local horsemen. The track, however, had never been viewed as a destination for elite Thoroughbreds.
That changed in 2009, with the introduction of the Charles Town Classic, a 1 1/8-mile race for 4-year-olds and up.
The purse structure was tiered for the first running -- a practice that has continued, but with a new twist this year -- with $500,000 for horses who weren't graded winners, and up to $1 million for G1 winners. The first Classic drew a remarkably solid and full field of 10, which included two-time G1 Whitney winner, Commentator, and G1 Hollywood Gold Cup winner, Mast Track. But it was a local runner, Researcher, who won the Classic and then followed with a repeat victory in 2010.
Casino revenue from the track's gaming operation allowed for the creation of the Charles Town Classic, which gained G3 status for its third running, and then was elevated to a G2 in 2012. But the addition of the Classic to Charles Towns' racing schedule wasn't warmly embraced, at least initially, by some local horsemen, recalled Chris McErlean, the vice president of racing for Penn Gaming, Inc., which operates Charles Town's track and casino.
"We definitely had a lot of push back," McErlean said. "People didn't know what to expect. It was a big departure from what was previously done there. I think the local horse, Researcher, winning the first two years silenced a lot of those people because the biggest concern was that you're putting up a million dollars and someone is going to come in who has never raced here and they are going to take the money out of town after a minute and 50 seconds of racing. To have a local horse win the first one and then come back and win the second running, I think, in hindsight, was a great thing because it showed the locals you could compete with the big boys.
"We thought putting the one million dollars out there was a huge carrot," he added. "We were certainly hoping to find a niche on the calendar and grow it into a big event. But it kind of jumped right out of the gate and it's been a great success. It's hard to imagine that it has gotten such traction in such a short amount of time."
In 2008, McErlean and Erich Zimny, the vice president of racing operations at the track, which is branded as Hollywood Casino at Charles Town Races, came up with the idea of introducing a seven-figure event at the track.
"We wanted to do something that we thought would enhance the image of our track, and help promote our program, and integrate Charles Town into the national racing landscape," Zimny explained. "There wasn't a whole lot that did that for us at the time. When you're talking about a sport that has become so expansive in its distribution, it's kind of tough to be an isolationist and expect any growth in that respect."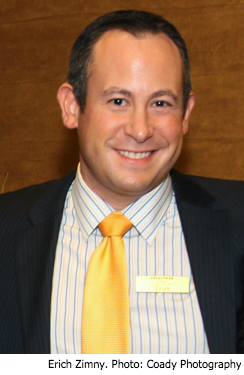 Zimny and McErlean settled on the third Saturday in April as the date for the race, partly because it wouldn't conflict on the calendar with venerable G1 races for the older horse division, such as New York's Whitney, Woodward, and Jockey Club Gold Cup. Additionally, Zimny believed running the race in mid-April made it attractive to the connections of horses exiting the Santa Anita Handicap, which is contested in early March.
Zimny's instincts were spot-on. This year's Santa Anita Handicap winner, Shared Belief, joins a list of other California shippers who have previously made the cross-country trek to Charles Town to run in the Classic.
The Bob Baffert-trained Game On Dude, the winner of the Santa Anita Handicap in 2013-14, ran in the Classic following both those wins. The gelding captured the 2013 Classic, and finished second last year. The 2014 Charles Town Classic winner was Imperative, a California-based runner who also exited the Santa Anita Handicap. Imperative seeks a Classic repeat this year after using the Big 'Cap again as his prep.
The Classic has attracted prominent New York horses as well, including the Bill Mott-trained Ron The Greek, and Caixa Eletronica, who won the 2012 running for trainer Todd Pletcher. The race proved to be an excellent spot for another New York-based runner, Tizway, as well. Following his third-place finish in 2011, Tizway won the G1 Metropolitan Mile -- a race that is on the radar of Shared Belief's connections.
Zimny said the Classic received its first big endorsement in the lead-up to the inaugural running. In the winter of 2009, Zimny set out to recruit horses and one of his first stops was to the Florida barn of Hall of Fame trainer Nick Zito. Zimny was hoping Zito would commit to running Da' Tara, the upset winner of the previous year's Belmont Stakes.
"You certainly had people out there telling us that this race wasn't going to succeed, despite the purse," Zimny said. "People who said, 'Who do you think you're going to get to run at Charles Town?' We said, 'OK. We'll see about that.'
"So, we went to Florida to talk to everybody, including Nick about Da'Tara who had won the Belmont the year before but might not have been in as high of demand as other horses at the time. But we thought Da' Tara would be a pretty good name to lure to our track for the first running of our race. Nick said, 'Yeah, I know about the race. We're going to send Commentator.' We hadn't really even gone down to [Florida] with the inclination to ask about Commentator. That was the moment when I think people said, 'Whoa, this is the top-rated handicap horse in the country and he [won the Whitney twice] and he's pointing to a race at Charles Town.' We were off and running after that."
This year, a new purse structure was implemented. The first $500,000 of the $1.5 million advertised purse is reserved in a tiered bonus structure for the connections of horses who won specific races -- the Kentucky Derby, Preakness, Belmont, Pacific Classic, Breeders' Cup Classic, and Breeders' Cup Distaff -- and for horses who have won any other G1 contest during their career. Just two horses in this year's anticipated field qualify for that bonus money: Shared Belief's connections receive $100,000 for having won last year's Pacific Classic, and Moreno's connections are on the receiving end of $50,000 because their horse is a G1 winner. The unused portion of the bonus, $350,000, will be added to the $1 million purse.
Charles Town typically races at night, and the first six runnings of the Classic were run at approximately 10:30 p.m. But this year, the 13-race card, which features seven stakes, kicks off at 12:45 p.m. Post time for the Classic is 6:05 p.m.
Zimny is hopeful the change leads to increased business on the card, which already has produced the six highest handle figures in Charles Town's history.
"We talked about going to a daytime post in previous years, but there was always a little concern with Keeneland still running, and if the stature of our race was big enough to draw eyes when there are these other major players out there in the daytime simulcast market," Zimny said. "But we felt the race had gotten to the point where at least we could take a shot with it in the daytime.
"And the timing was right to give it a go this year," added Zimny, who noted some horsemen with Classic runners were reticent about running under the lights and are happier with the earlier post. "The Lexington Stakes at Keeneland was moved up a week, which gets it off the date of our race. That is definitely going to help, too. So we could have a good amount of the national spotlight on us during the day."
Just as importantly, McErlean said the Charles Town Classic has had a positive impact on the track's image that extends beyond race day.
"The Charles Town Classic has had a nice halo effect for our entire year-long racing operation," McErlean remarked. "We feel very strongly that the race is something that sets Charles Town apart, and brings a lot of credibility to the racing program there and a lot of credibility to Penn Gaming's racing product at our other tracks. It helps us from a year-round basis as it gets people looking at Charles Town and thinking about Charles Town for our day-in, day-out program. We think there is a definite return on investment for this race."