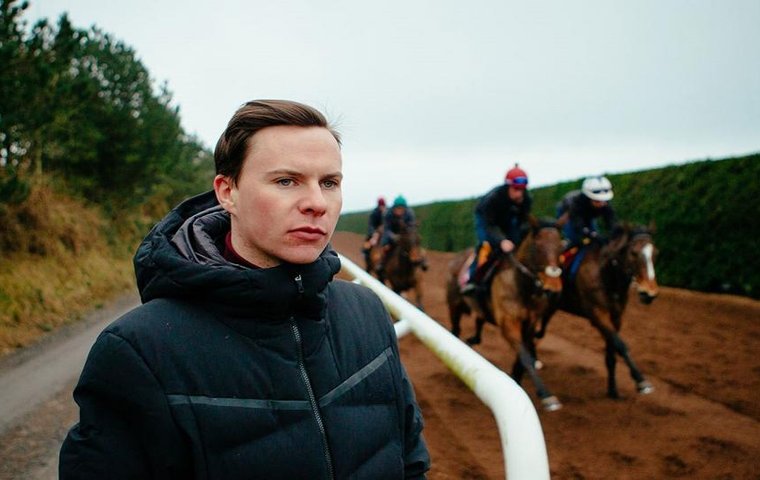 Aidan O'Brien has dominated Irish racing – Irish Derby weekend particularly – for years, and won countless TRC awards in the process. Yet, even though he carried off the big race yet again on Saturday, there is no Performer of the Week award this time as he was upstaged by someone very close to home.

TRC TRAINER OF THE WEEK
It really was an excellent Irish Derby weekend for trainer JOSEPH O'BRIEN (+9pts, #76 from #106). The former TRC Global Rankings world #1 jockey had five runners in Group races at the Curragh: Iridessa won the G1 Pretty Polly and Buckhurst the G3 International Stakes, while Latrobe finished second in the G2 Curragh Cup.
The Kilkenny trainer had his first Group runner as recently as July, 2016; the following year, remarkably, he won the G1 Melbourne Cup with Rekindling. This week marks his highest-ever ranking. There is more to come.
O'Brien now has three winners in 2019, having also scored with Master Of Reality who pulled off a shock in the G3 Vintage Crop Stakes at Navan in April. This isn't enough to make the list of the top 25 trainers globally by aggregate wins this year, led by the American ChadBrown (+1pt, stays #2) from a pair of Australian-based trainers, James Cummings (-1, stays #6) and the Kiwi Chris Waller (-2, #10 from #9). Lurking in fourth on this list is Joseph's father, Aidan O'Brien (no change, stays #3), who experienced mixed fortunes at the Irish Derby meeting: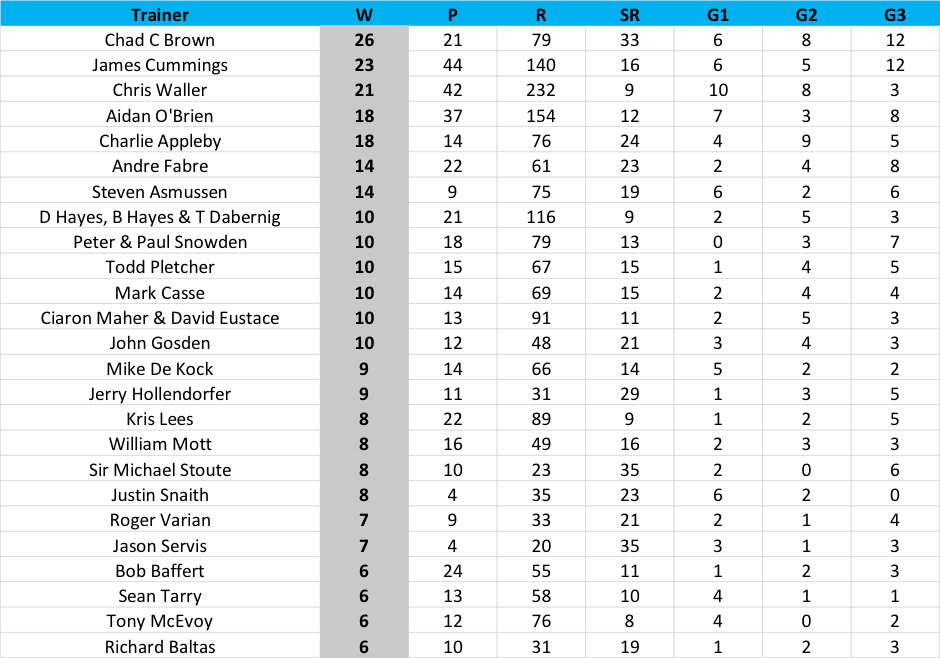 Of course, Joseph is likely to stay in the shadow of his father for a good while yet when it comes to TRC Global Rankings, but there is a ton of evidence already that he is a top conditioner in his own right. Let's trace his ascent to this week's highest position of #76 via his Performance Index: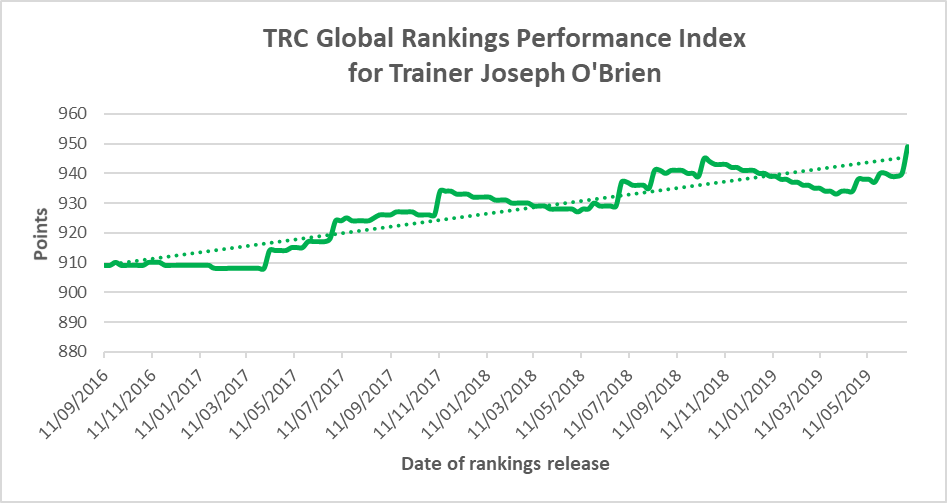 The dashed line in the graph is a trend line which, in effect, removes the effect of seasonality from the younger O'Brien's performance index; it shows that he is trending up over time in a predictable way. We use the gradient of a competitor's scores in the changes made to ranking points each week; this makes tracking the real-life impact of a Jockey, Owner, Trainer or Sire more accurate.
So, the nine-point addition to O'Brien's score this week reflects, to some extent, that he hasn't had many runners when compared to some trainers around the globe. So, it is desirable to be more bullish about his improved results.
Expect O'Brien to make the top 50 globally by the end of the year. And then what?
O'Brien has now ten career wins, with no less than half coming at G1 level. They are listed in the table: