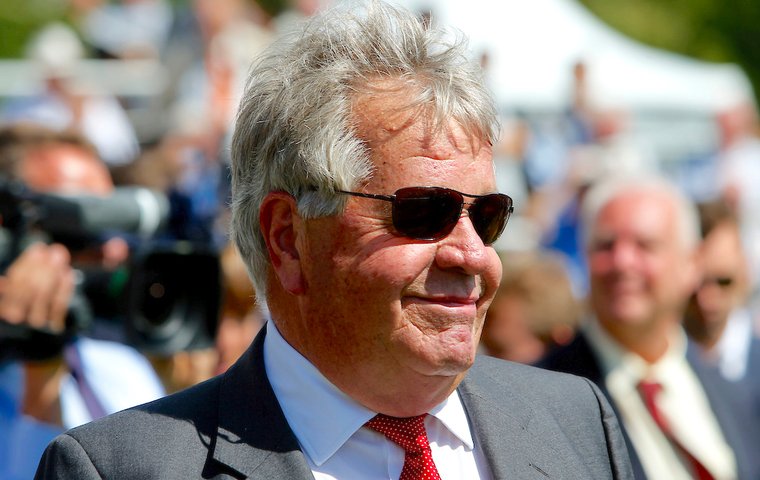 Last week we honoured one European training legend when the great Andre Fabre won a Performer of the Week award. This week we honour another …

TRC TRAINER OF THE WEEK
There were several possibilities here. Honourable mention should go to multiple scorers Aidan O'Brien (no change, stays #4), Brad Cox (+6pts, #15 from #18), Ciaron Maher & David Eustace (+6pts, #39 from #47), David Hayes, Ben Hayes & Tom Dabernig (+3pts, #39 from #43), John Gosden (+4pts, stays #5), Mark Casse (+4pts, #23 from #25) and Steve Asmussen (+3pts, #14 from #13).
Note that the highly ranked O'Brien makes no gain from a pair of G3 wins because his nine runners finished 112445569, which is in line with expectations based on his exceptional three-year record.
But Trainer of the Week honours must go to SIR MICHAEL STOUTE (+5pts, #13 from #14) after 6-year-old Mustashry won the G1 Lockinge Stakes and 5-year-old Crystal Ocean the G3 Al Rayyan Stakes, both at Newbury.
The veteran Newmarket trainer's reputation with older horses is well deserved. Let's take a look at his record by the age of the horse in Group races since 2011:

The table makes Stoute's modus operandi clear: during an age in which many horses have their potential ruined by being pushed too hard, too soon, Stoute is the antidote. No fewer than 60 of his 84 wins since 2011 have come with horses at least four years older, and he has an outstanding 30%+ strike rate with 5-year-olds.
Mustashry, a ready winner of the Lockinge, has never been better than he is at six. It is likely that few trainers would have managed him to a European G1 win.
Barbadian Stoute, who was gaining his eighth Lockinge victory in a storied career, has won the British trainers' championship ten times and saddled the Shergar to win the Derby (the trainer's first of five wins) back in 1981.
It has been great to witness the trainer's return to prominence in the last few years. In successive years since TRC Global Rankings began in 2014, we have placed Stoute #14, #16, #11, #13, #7 and #8 at best in each season.
Click here for a list of all last week's biggest TRC Global Rankings points gainers
Click here for a list of all the week's Group and Graded winners