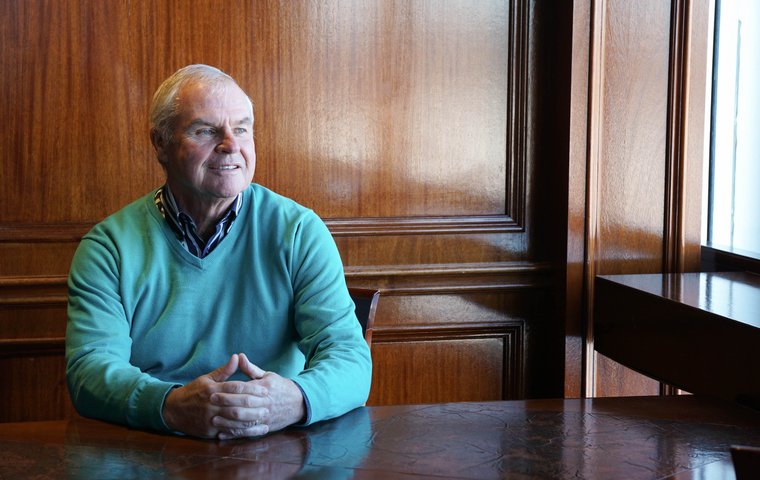 It is uncommon in North America to see the tracks and racing breeds (Thoroughbreds, Standardbreds and Quarter Horses) working together towards a comprehensive goal, but that is exactly what Ontario Racing strives to achieve. By offering a seat on the board of directors for representatives of every racetrack and breed, Ontario Racing is able to operate with one unified voice.

At the forefront of the year-old alliance is John Hayes, the independent chairman of the board. A lifelong racing fan and longtime owner, Hayes was unanimously voted to lead Ontario Racing in 2018. "I grew up in a mid-sized town in Ontario that had a racetrack, and all the neighborhood kids went to the races," Hayes said. "I fell in love with it early."
Hayes has been an owner in a Standardbred syndicate for 25 years and has worked with some of the bigger names in Ontario business. He held administration or finance positions with companies like Home Depot and General Electric and served as the gaming director with Ontario Lottery and Gaming. "My office was at Woodbine Racetrack," he said, "and I spent ten years in that role. I got to really appreciate the business side of horse racing."
But Hayes wasn't a stranger to Woodbine before; he was on hand when Secretariat made his final career start in the 1973 Canadian International. "I still have a win ticket at home that I never cashed."
Armed with business and racing knowledge, Hayes was a likely choice. He now heads a group that includes ten industry members; five from tracks and five from breeding and racing associations. Each person gets a vote, with the theory that the group is voting for the betterment of the entire industry, not their own personal gain. "We are the single voice of racing," Hayes said. "When it comes to decision-making, we're making it better for the province, not one particular breed or area."
First established in 2016, Ontario Racing replaced the old Ontario Horse Racing Industry Association. It was then merged with the Standardbred Alliance in 2017 and re-branded and launched as the 'new' Ontario Racing in the spring of 2018.
The not-for-profit Ontario Racing is responsible for allocating race dates in the area, maintaining the Sires Stakes and Horse Improvement programs, and attracting new ownership while growing the fan base.
The Horse Improvement Program (HIP) involves assisting local breeders in making sure that breeding is a viable business.
Growing the fan base
"I tend to look at racing from there," Hayes said. "To have owners, you need to have breeders breeding horses. To have trainers, jockeys, and drivers, you need owners, and the betting public needs to have horses on the track. Then the cycle starts over, but it always begins with breeders.
"I'm an old finance guy, so the value of a yearling is the expected future earnings of the racehorse while taking into account the risks associated with cash flow. With HIP, we enhance purses for Ontario-sired horses. In theory this will lead back to higher prices at the sales."
Hayes noted this has been very successful for local Standardbreds, and the goal now is to build and maintain these gains on the Thoroughbred side.
As for growing the fan base, Ontario Racing has been releasing generic advertisements promoting racing to the public, different from the ones a local racetrack such as Woodbine might release for its biggest race, the Queen's Plate.
"They're much more generic ads," Hayes said. "We want to show racing as a fun night out, directed to a younger demographic across all media outlets in the province. Individual tracks lead individual promotion, but we are trying to sell racing as a fun place to go."
And that means more than just promoting a big-name place like Woodbine.
John Siscos, director of communications at Woodbine but also a part of Ontario Racing management, said, "We need to make sure smaller tracks like Hanover and Clinton are a part of our Ontario Racing package going forward. There is some media out there that notes how great it is to go to a Fort Erie or a Woodbine, but it has to include a Hanover or a Clinton. That's the difference between us and the tracks: Ontario Racing is overarching. We have to make sure all these other tracks - which are valid in their own communities and legitimate in their betting options – are taken care of, too."
Hayes has been pleased with the way Ontario Racing has grown already.
"The board has done a good job of accommodating the various interests of all sectors in the industry," he said. "The board meetings are open, and we have all kinds of discussion. At the end of the day, we haven't had any major issues at the board level. But, not unlike other jurisdictions, racing is at a critical point, and we need to be in it together or we're going to have a problem."
Hayes was speaking of the crisis in Southern California, after the deaths of 23 horses at Santa Anita Park.
"I've been watching the situation keenly," Hayes said. "I'm not saying we do everything right here, but we do have an equine care committee. The care of the horse is the #1 priority. There's no more greyhound racing in Florida, so it's a real concern going forward. We have to make sure we are promoting the care of the racehorse."
Racing in the province of Ontario has undergone its own share of problems.
Watershed moment
In 2012, there was uproar when the government unexpectedly canceled the successful Slots at Racetracks program, putting tracks like Woodbine at risk of closure. "There was a lot of concern, but it is a business that adjusts quickly," Hayes said. "When that happened, it impacted the breeding industry in numbers of horses bred and thus sales prices. So now we have a number of things we can do to make racing sustainable in the province. We got a little more money from the government for the Horse Improvement Program, and we will allocate those funds back to the breeding industry in the most appropriate manner."
Another issue on the near horizon is that single-event sports betting has not yet been made legal in Canada but is expected to pass in the future. "I don't know exactly what impact that is going to have on the wagering in horse racing," Hayes said.
Siscos thinks racing needs to be prepared for this change. "If we plan to marry the two in our distribution network, maybe we will have a better chance."
Recent changes have been nothing but positive. A new funding agreement was reached with the government for 20 more years of horse racing in Ontario, which is a watershed moment for an industry that truly struggled just a few years ago. "45,000 people are employed in Ontario because of racing," Hayes said. "At the end of the day, the economic return to the government is more than their investment in the industry."
With guaranteed purses and Ontario-sired bonuses, things could rapidly improve. "I think there's a stable base there that will now encourage breeding, ownership, and racing in the province." Hayes said. "Wagering is increasing on the Thoroughbred side but had been flat for the Standardbreds, but we're off to a very good start this year for harness racing.
"There is a new agreement for stability at Fort Erie, which means there are two major Thoroughbred racing opportunities in the province now. A few years ago, Fort Erie wondered if they would survive. It's time to stop worrying about the past. Instead of worrying about putting food on the table, we need to worry about how we can flourish and thrive."