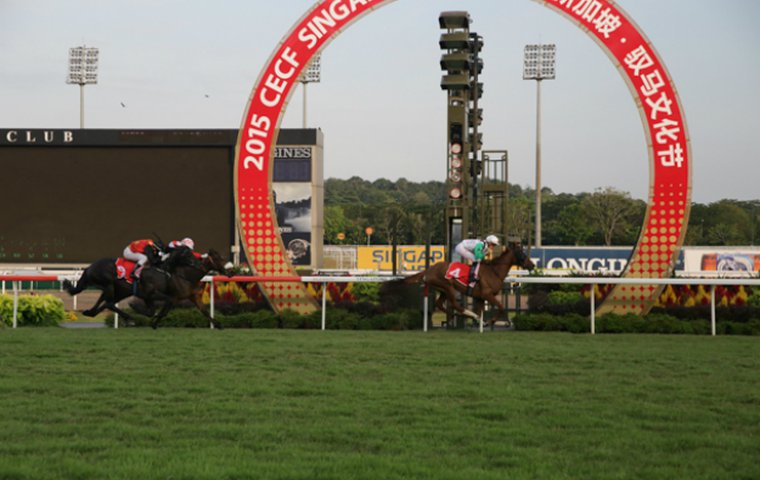 The China Horse Club is becoming an increasingly significant force in Thoroughbred racing. It spent lavishly at the major bloodstock auctions in 2014, its chairman and founder Teo Ah Khing owned a share in an Epsom Derby winner, and the group has already had winners in eight different countries. On Feb. 22, it staged the richest race ever run in Singapore. Paul Haigh reports on the latest development in the story of the world's newest major ownership power.

The fact that the race took place at all is important. It was one the cynics claimed to believe would never happen.
When the China Horse Club (CHC) announced after its Shanghai meeting in October that, on an unspecified date in February, it would stage the most valuable race ever run in Singapore, entry to which would be restricted to horses owned by CHC members (a condition that meant the richest race could only be a local G1) more than a few of those determined not to take the CHC seriously treated the idea as pie in the sky, an optimistic aspiration rather than a hard-and-fast arrangement.
"Where would the money come from?" was the first of their enquiries. "Where would the horses come from?" another. "Why should the Singapore Turf Club co-operate?" a third. There wasn't enough time to put an event like this together was the cynics' fall-back position as it gradually became evident that there were clear answers to the first three questions.
The CHC is an extremely rich organisation. It exists to get round the fact that, while there is an appetite for racing in mainland China -- particularly among the new, extremely wealthy class that is being encouraged, successfully it seems by CHC, to see the possession and competition of racehorses as the last word in chic -- there is no immediate possibility of a lifting of the ban on betting imposed by Mao Zedong in 1949.
To cater for that appetite therefore, the CHC declared that it would stage its races not just at home, without betting, but in jurisdictions in which betting is permitted and in which facilities exist for staging major events in what the rest of the racing world thinks of as the normal way.
Singapore is a country geographically close enough to China to make it a short plane hop; with a population that speaks Mandarin as well as racing's lingua franca, English. It has one of the best racecourses in the world at Kranji, and since Singapore has good relations with the People's Republic, it seemed an obvious choice.
Money was not the problem. Any club that requires an annual membership fee of more than $1 million and which numbers its members in hundreds (exact figure still unspecified on the grounds that some wish to be discreet about their involvement) is not going to have any trouble raising SGD$3.05 million ($2.45 million) for the prize money, particularly when that prize money is sure to return to a group of its own members.
Nor is it going to be too bothered about the additional costs involved in staging a glamorous event. Media guests gazed agog as they tried to calculate the expense involved in just flying in many of racing's global movers and shakers then putting them up in five-star hotels.
Where did the horses come from? From five different countries (the U.S., Australia, France, Britain, and Singapore) on four continents. Those still trying gamely to stay oblivious to the fact that the CHC already races horses in several other countries too may have feigned surprise at their arrival.
In fact, they were a rather curious collection for a nine-furlong turf contest. Many had shown their best form at a variety of distances. Some had never even attempted what Americans would think of as a middle-distance trip. But they came, and with the exception of the French import Auvray, who injured himself at the start and had to be withdrawn (his long-term objective is likely to be the Melbourne Cup in any case), they ran.
The Clement family were not among the cynics. U.S.-based trainer Christophe Clement had clearly targeted the race with the 6-year-old mare Parranda. The best horse in the field with an official rating of 111, she may be no world beater, but the daughter of English Channel has been highly respectable performer in the U.S. with four graded stakes wins to her credit.
On Sunday, she overcame dark rumours that she hadn't travelled well, wouldn't enjoy life without Lasix, and might not like the Kranji climate by running up to her best and away from her opponents without much fuss when Christophe Soumillon sent her on early in the straight. Parranda will now remain in training in Singapore with Michael Freedman.
The only horse really to make a race of it was Ming Zhi Cosmos, trained in France by Christophe's brother Nicolas, who loomed briefly before Parranda eased away, then faltered near the line and was caught for second place by Zululand, an Australian who's been doing most of his racing at seven furlongs but who ran on Sunday like one whose future is at a mile and a quarter. Tropaios, who'd won the Longines Singapore Gold Cup for CHC in 2013, the first year of the club's operation, finished fourth.
So the best horse won. The placings were filled by those with comparable if not quite matching talent. The richest race ever staged in Singapore was a typical horse race. Those of us who'd shared a dinner table with Christophe Clement's son Miguel on the eve of the race, and thought he seemed a bit like a cat who was about to eat the cream, shouldn't have been surprised.
One of the pleasures of introducing racing in China, said CHC chairman Teo Ah Khing (perhaps best known outside Asia as the man who built Meydan and owned a share with Coolmore in last year's Epsom Derby winner, Australia) at an eve-of-race dinner "is to get people used not just to enjoying victory but to the idea of losing graciously."
As many as 500 of his members came for the event, including children for whom a creche was created as 18 is the minimum age for racecourse entry in Singapore. It was a remarkable turnout on the first weekend of Chinese New Year, which is traditionally a time for family. All except members of CHC's Prince Racing Stable, who own Parranda, got their free lesson last Sunday. But, judging by the glimpses of best hat, best dressed lady competitions, and the like, nobody went away long-faced.
What was in it for the STC? Attendance of "around 12,000" (exact figures unavailable) was respectable rather than sensational for a Chinese New Year Sunday. But the STC appreciates the value of the CHC's additions to the ranks of its horses in training and cooperation with a friendly racing power that can help it deal with the threat of quite recently legalised casinos.
"We've got eight more good horses as most of them will be staying here," said STC Vice President Soong Tze Ming.
In addition, the CHC through charity auction and donation gave generously to good works on the island republic, an unquantifiable but important plus in a country whose government still regards the sport with some suspicion, banning advertising of the racing product either in the print media or on TV.
To be part of an event that contributed $350,000 to such as the community chest and Riding for the Disabled is an important public asset to the STC. As Soong added: "Charity is very important too."
The CECF Singapore Cup is scheduled to run annually at least until 2017, a clear statement of faith from one established jurisdiction in a club that so far has nothing more than enthusiastic members.
Where next then for the pioneering Asian billionaires of the China Horse Club? CHC general manager Eden Harrington had an interesting view: "The club goes wherever it is made most welcome. So far Ireland and France have far surpassed Britain, for example, in this respect."
CHC members include of course Teo himself who, with Tom Ryan (of TRyanequine, a quiet power in world racing who, among other interests, manages funds for philanthropist and business magnate George Soros) owns the Australian trained Dissident, a distinct Royal Ascot possible after a brilliant victory on Feb. 14 in the seven furlong G1 CF Orr Stakes at Caulfield.
The club claims to offer "lifestyle" as well as cultural and charitable opportunities. Witness its magnificent ski lodge at Tschiertschen in the Swiss Alps and its splendid farm/resort, The Chase, at Sutton Forest, New South Wales.
For such an organisation, surely Ascot in June, to many the apotheosis of racing chic, must be an irresistible lure. Of course there will be no event at Ascot or anywhere else in Britain that would countenance a race, no matter what the prize money, for which entry is restricted to horses owned by a single club's members. But no doubt CHC members, already owners of five horses at Newmarket with Roger Varian who trained one of Sunday's also rans, Bajan, will be there to check the royal meeting out.