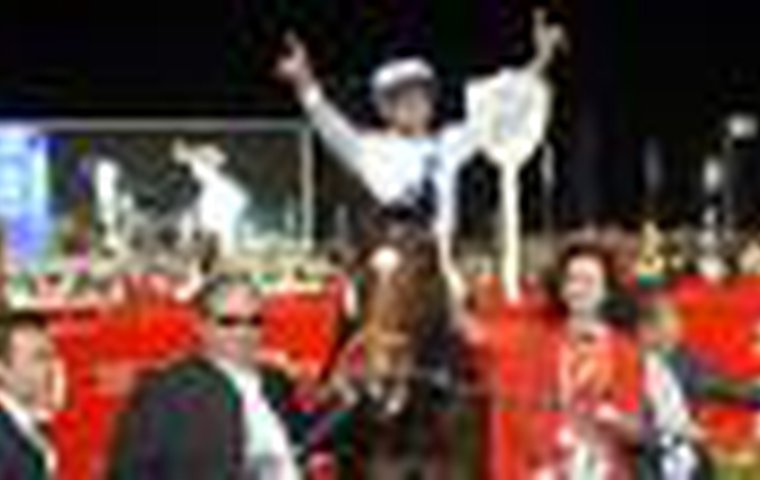 Self-effacing Brazilian João Moreira has been a sensation since switching from his homeland to Southeast Asia. Dubbed "The Magic Man" in Singapore, where he completely dominated the riding ranks, Moreira shifted his tack to Hong Kong late last year, entering one of the most competitive jockeys' arenas in the world. As the rider prepares to journey to Singapore for the May 18 Singapore International Racing Festival, Michael Cox analyses the extraordinary and rapid impact Moreira has made in Hong Kong.

When a foreign jockey arrives for a riding stint in Hong Kong he is granted a "Chinese" name by the Hong Kong Jockey Club: A set of two or three traditional Chinese characters sounding vaguely like his English name. And for Brazilian João Moreira, a mythical-sounding moniker was a precursor to the god-like status he has quickly gained with local race fans - but in stark contrast with the humble view he holds of himself.
Rival jockey Zac Purton has a Chinese name that sounds like "Poon Dun." Champion for the last 13 times in a row, but now only theoretically in contention, Douglas Whyte is known as "Wai Tat." But when Moreira arrived with much fanfare from Singapore he already had a head start with Hong Kong gamblers when he was dubbed "Mok Lui Lai" – the second symbol of his Chinese name meaning god, and leading to the ominous nickname "god of thunder."
Despite the heavenly comparisons and the fact he has tipped the Hong Kong racing scene on its head with his remarkable riding feats, it is clear Moreira still feels decidedly human. Maybe it's his tough upbringing as one of eight children - growing up for much of it without a father, or the long path to "overnight success" he trudged along, riding in relative anonymity for more than a decade. Or perhaps it is his more recent troubles with Hong Kong stewards that have seen him suspended a remarkable six times for careless riding this season. Whatever the case, despite putting his opposition on tilt from the moment he stepped off the plane, Moreira still feels like an underdog.
"I'm still feeling lost in this place – it's very tough, I still need to take time to get used to the system, know more people and most of all make my horses run straight," the 30-year-old said on a cool morning at Sha Tin Racecourse, pausing to chat on his mountain bike ride home from trackwork.
So, who is João Moreira? Well, he might just be the best jockey in the world. But if you ask the "Magic Man," it is clear he sees himself as being a long way from the supremely gifted rider his otherworldly nicknames, English or Chinese, indicate.
"I'm a very simple, humble guy who comes from nowhere," he said.
Nowhere is Paraná – nearly 700 kilometers (435 miles) southwest of São Paulo and close to Brazil's border with Paraguay. It is here that Moreira learnt to ride, sneaking out in the dead of night as a 10-year-old and jumping onto horses bareback, giving them a dig in the ribs, then hanging on for dear life to a fistful of mane. This is where the "magic" was born – as much as it seems like the South American's talents are God-given, his instinctive horsemanship and trademark low crouching style have been forged through adversity: He has learned, and earned, everything the hard way.
The cheeky midnight horse rustling with friends started a love affair with the Thoroughbred that was confirmed the first time he saw horses jumping out of starting stalls on a tiny 400-meter track near his home. He was 14, and still working in a factory - "making things out of wood" – but life was soon about to change for Moreira and his family.
It wasn't all plain sailing to the top of Brazilian racing, especially early on. The habit of Moreira being wayward on his runners was already problem. Ten weeks into his career he won his first race, only to be disqualified for interference, after which a peer called him and said, "You're not born for this. Look for another job."
But when Moreira set his mind on becoming the next Ivan Quintana, another Brazilian legend, success came reasonably quickly. He claimed two São Paulo premierships in 2007 and 2008, and rode 1,000 winners in less than 10 years, including five Group 1 wins. And the success meant a lot more than just fame or ego-fulfilment.
"My father died when I was seven, and my mother struggled to raise eight children alone. But my job as a jockey helped put a roof over our heads," he said in a 2010 interview.
It was Quintana, now a trainer, who set him straight and provided key direction in his career - and gave Moreira the ambition to burst onto the global racing scene.
Despite the fact that Brazil boasts the winning-most jockey of all time, Jorge Ricardo, with more than 12,000 victories to his name – and that countryman Silvestre de Sousa is a retained rider for Godolphin – South American racing is almost a blind spot for all but the trainspotter class of racing fans.
Despite the domestic dominance, overseas options, and recognition didn't eventuate immediately for Moreira. He's lost count of how many countries he's ridden in.
"Perhaps 18" he said, including a 2005 short-term stint in France that provided a taste of things to come. "It was very hard because I didn't speak French, but I don't regret it because I did some very good things."
The breakout move for Moreira was shifting to Singapore where he tore through the ranks. Riding records soon tumbled – four straight championships, with five and six timers a common occurrence. His most memorable night came on Sept. 6, 2013, when he rode a perfect eight from eight - only an event restricted to apprentice jockeys preventing him from riding the nine race card.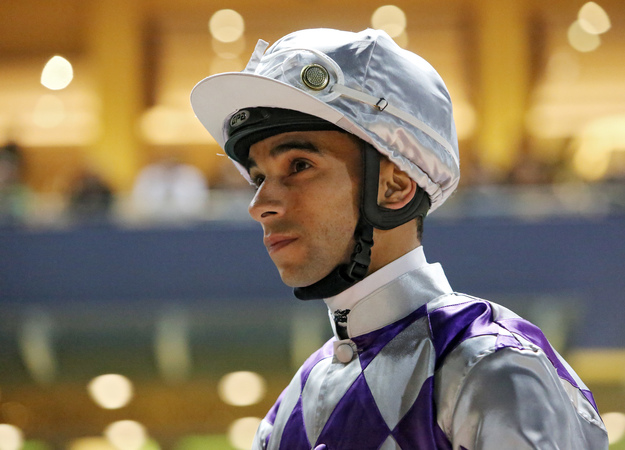 Perhaps his talent had already started smoking when he won those two titles in São Paolo. The eruption occurred when he reached Singapore. In 2009, he finished third behind local champion Saimee Jumaat, with 69 victories to Saimee's 99, but this stat fails completely to reveal the impression he made. He'd only arrived in the island republic when the season was almost halfway through. In 2010, he was champion with 116 winners - 36 clear of the runner up. In 2011, he won the title with a record 153 winners: 70 clear of anyone else. Then, in 2012, came a season that defied belief. Somehow Moreira rode 206 winners in a jurisdiction that stages just two or three race meetings a week. His closest pursuer Stephen Baster's score was 72.
Maybe Moreira had grown too big for Singapore. The following month he was headed to Hong Kong with a fourth Singapore title already sewn up as no one was in striking distance of the 179 he'd amassed before leaving with four months of the season still to run. There in Hong Kong, despite his having won the International Jockeys' Championship at Happy Valley a year earlier, there were plenty of skeptics in waiting. Was Moreira simply a big fish in a small pond back in Singapore, and about to be devoured by the sharks of Sha Tin?
If you ask Moreira himself, his arrival simply coincided with a seismic shift in the landscape. Ask others, and they'll tell you he caused it. One thing outsiders need to remember about Hong Kong is that incoming jockeys generally take two or three seasons to find their feet. All the plum rides go to those who've proven their ability to deal with the particular demands of Hong Kong racing. For the last 13 years, Douglas Whyte has been champion - sometimes challenged, never beaten.
Whyte's dominance was already on the wane before Moreira rode into town. But the Magic Man certainly killed off any hope of title No. 14 for the South African, and he has chased Australian superstar Purton, now a Hong Kong regular with more than five years experience and who nearly dethroned Whyte last year, all of the way through the season.
As of this week, Moreira had ridden 76 winners. Not bad with 67 meetings gone in the season, right? Well, how about this for impact? When he returns for meeting 69 this Sunday, he will have ridden at just 41 of those fixtures, because of his late start moving from Singapore and because of his constant run-ins with stewards. That means he has ridden 1.85 winners per race card.
It would be nice to compare Moreira's influence with another jockey's to provide perspective. But in the ultra-competitive environment of Hong Kong, no one has ever done what he has. He is striking at better than 20 percent this season and still can't be counted out of catching Purton - who leads by more wins than there are meetings remaining.
In March, Moreira made his grand entrance on to the international stage with five rides on Dubai World Cup night – and such is his overwhelming popularity with owners and trainers, he might have ridden all eight horses from Hong Kong if there hadn't been multiple runners in some of the races. Sprinters Amber Sky and Sterling City gave him two Group 1s on the night – and fanned the flames of the preceding week's hottest rumour – that Moreira was set to join Godolphin.
A sparkling performance in front of a prospective boss at Meydan certainly didn't hurt his career ambitions – but ask Moreira what his goals are and his feet are firmly planted in the here and now.
"What is my ultimate goal in racing? To be Hong Kong's champion jockey – that's my dream," he said when put on the spot.
This season, the thunder god's human flaws might stop that first title happening, but it sure seems inevitable that he will one day be champion. As far as this season is concerned, the self-proclaimed underdog is making the most of his careless riding troubles. That's bad news for opposition riders. He wants to get even better.
"When you are exposed to difficult situations, you improve," he said before riding his bike off to his nearby apartment. "It's been very difficult for me here, and I've been improving as a jockey since I have been here."
"Keep clear," he joked to some stable staff walking by. "Let's see if I can keep this thing going straight."
---
Michael Cox covers racing for the South China Morning Post.