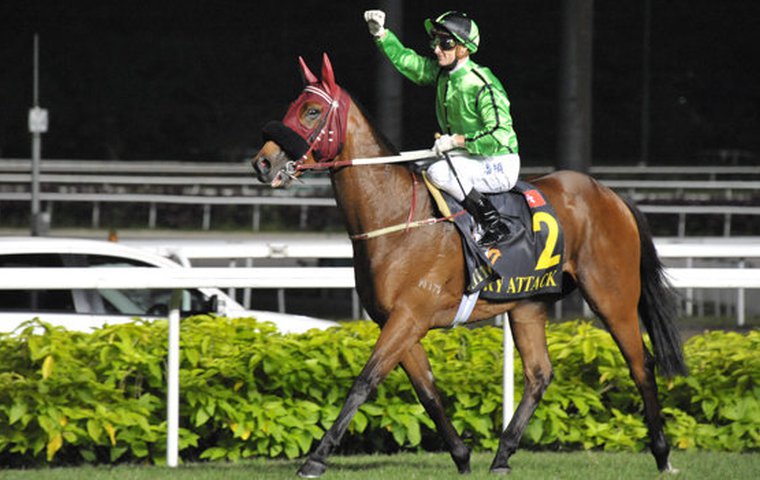 The proliferation of international race meetings, while a delight for internationalists, necessarily poses massive problems for those jurisdictions in which they already exist. It's not just a matter of finding a slot in the calendar. It's finding that slot being squeezed by the opposition after you've found it. Singapore, whose big racing day of the year comes on Sunday at Kranji Racecourse, is a classic case in point. Paul Haigh looks at the G1 Singapore Airlines International Cup and G1 KrisFlyer International Sprint.

At first glance the Singapore International Racing Festival, which comes to a conclusion Sunday evening with the G1 Singapore Airlines International (SIA) Cup and G1 KrisFlyer International Sprint, looks to be encircled by rivals. At second glance, too.
Two weeks ago, the Hong Kong's G1 Champions Mile may have siphoned off one or two who might otherwise have been thinking of a raid on the island nation. A week before that, the G1, 2,000-metre Audemars Piguet Queen Elizabeth II Cup, also at Sha Tin Racecourse, would certainly have done the same. There was a time when horses would have come on from the Dubai World Cup - notably Gloria de Campeao (2009) and Lizard's Desire (2010), both of whom triumphed at Kranji after distinguishing themselves in Dubai.
There was another time when Australians on their way to Royal Ascot used the SIA meeting as a money-making stopover en route to the other side of the world. Well, sadly there aren't that many Takeover Targets (winner of the 2008 KrisFlyer Sprint) to go round, if there ever was more than one. But there have usually been a smattering of high-class Australians willing to make the trip as an end in itself. Until this year that is, when The Championships at Sydney on April 17 gave them something nearer to home - and with even more money - to think about.
The spring G1s in their own backyards provide distraction for Japan's potential Singapore contenders, two of whom - Cosmo Bulk (2006) and Shadowgate (2007) - have already lifted Singapore's top prize. There are enough early-season G1s already in Europe for connections to think twice before considering forays in May to a racecourse, however attractive and elegant, that abuts the equator.
At the depth of the global economic crisis, and with the legalisation of casinos in Singapore, another new problem to ponder, there was even a school of thought within the Singapore Turf Club, a government agency, that the international races should be shelved, as the KrisFlyer had been between 2004 and 2008 – or even abandoned altogether. These are, after all, turnover damagers even if they do raise the country's profile, in Singapore as much as everywhere else - because punters the world over find themselves intimidated by the arrival of horses who are unknown quantities.
To general relief in the international racing community, though, that defeatist plan never got much traction. Instead Keynesian economics triumphed over long-faced austerity, and far from dropping their two international flagship events the Singapore Turf Club bulked them up, increasing the KrisFlyer's prize money to SGD$1 million (USD$800,000) and the SIA Cup's to SGD$3 million (USD$2.4 million).
It would be pleasant to be able to report that the jump in prize money has resulted in a corresponding rise in the quality of the two races. But perhaps the safest thing to say about them is that they have at least retained their previous high standard. The favourite for the Sprint will be the impressive winner of the Dubai Golden Shaheen seven weeks ago, Hong Kong's Sterling City. The gelding is trained by John Moore and, even more significantly, ridden by João Moreira, a hero to whom almost mystical powers are attributed in the country in which he exploded to fame in the four years he was here. However, the Australian-bred is unlikely to provide much meat on the bone for punters seeking a square meal. That remark might apply too to the same team's Military Attack in the SIA Cup itself, even though last year's winner has drawn the 10 gate on a tight turf track on which it takes an awful lot of equatorial rain to push finishing times much higher than a second or two longer than two minutes.
But the two races are not uncompetitive. The likely starting prices of the two Moore-trained horses are more a reflection of the superstitious awe in which Singaporean racing fans hold their Brazilian rider than of their true superiority, if any. Moreira has, incidentally, agreed to return to Singapore for the Hong Kong off season, which lasts from mid-July to early September. Local newspapers will have to be watched carefully for any reference to "The Second Coming."
Although the favourite will attract plenty of attention in the Cup, there are other internationals from France (2), Britain (2), Japan, the U.S., and Russia, as well as the locals - one of them an ex-Argentinian. Any of them could give the favourite a race if he finds himself caught wide. Similarly, the Sprint offers hope to the locals who exacta-ed the race in 2012 and won it in 2011 with the best horse Singapore has yet produced, Rocket Man - a winner in Dubai and Hong Kong. There's also last year's winner, another Hong Konger, Lucky Nine.
Both races retain their genuinely international flavour. Air conditioned stabling and the fact that the meeting takes place in the evening under lights help nullify the effect of the climate, and ensure that no horse who's run in Singapore suffers any startling decline in form as a result of the trip.
The winners of the Cup since 2000 start with local champion Ouzo, then feature a British horse, a runner from Dubai, a German, an Australian, two Japanese, a South African, a French-trained ex-Brazilian, another South African, a South African-trained ex-Brit, another Frenchman, and last year's Hong Kong-based winner Military Attack. Perhaps no international G1 has quite such a cosmopolitan recent roll of honour. Even if the meeting weren't run by an amiable and unpretentious group of administrators – people who take every opportunity they can to reduce formality and increase fun – that would be reason enough to wish Kranji's big night long life and success.