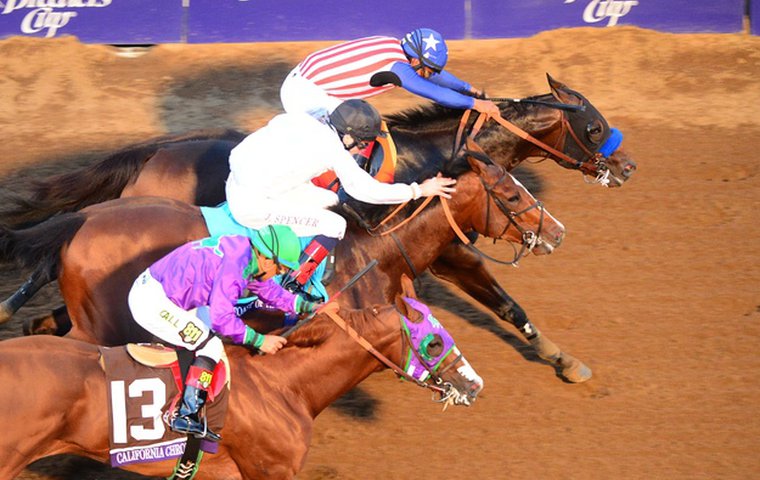 As horses align to take one last shot at American Pharoah in the Breeders' Cup Classic, one who fully merits his place in the line-up stands idly by. For Toast Of New York, the season is done before it got underway at all.

"Unfortunately, he is not going to make the Classic," said his trainer, Jamie Osborne, from his stables in Lambourn, England. "He is back in work and cantering with my string, but while he looks very well, there isn't enough time to get him ready from a fitness point of view."
Toast Of New York has been benched since he sustained soft tissue damage back in March, when Osborne was preparing him for a clash with California Chrome in the Dubai World Cup. The injury has taken longer than anticipated to respond to treatment; hence connections' decision to draw stumps on 2015.
"The plan is to get him ready for the Dubai World Cup in March." Osborne said. "We will see what evolves from there but the U.S. is on his agenda, culminating with next year's Breeders' Cup Classic at Santa Anita. He will hopefully have one or perhaps two races on dirt before that."
Toast Of New York's apparent fondness for the Santa Anita dirt makes the 2016 Classic an attractive end-of-season target. Indeed, it was over the California venue's main track in November that fans last saw the horse at the races. Then a 3-year-old, he ran a barnstorming race to close down on Bayern all the way to the wire before he succumbed by a nose in the 10-furlong Classic.
Among those further back were California Chrome and Shared Belief – although the latter was hampered at the start by the eventual winner, whom many felt was fortunate not to be taken down by the stewards. In that event Toast Of New York's connections would have cashed in the $2.75 million winner's prize.
"What happened on that day is history now," Osborne reflected. "We were obviously very proud of the horse, but in the end, to finish second in any race leaves something of a sour taste."
Toast Of New York's huge run at Santa Anita opened up a world of possibilities for the son of Thewayyouare, who was bred by the Ramos family's Ashleigh Stud in Paris, Kentucky, and sold for $35,000 at Keeneland in January 2012.
Soon after his narrow reverse in last year's Classic, he was sold by Michael Buckley to Sheikh Joaan Al Thani's Al Shaqab Racing outfit, for whom he has yet to race. But Osborne is optimistic Toast Of New York has plenty more to give.
"Believe me, his career is far from over," Osborne said of the horse he saddled to win the UAE Derby at Meydan racecourse in March last year. "In fact, there is every reason to think he will make a better 5-year-old than he was at three. He was a big, raw-looking horse back then and he has only run eight times in his life. He has very few miles on the clock."
Nevertheless, Osborne admits to disappointment over Toast Of New York missing out entirely on 2015. He operates a 40-strong stable and is bereft of an equine star in Toast Of New York's continuing absence. He has been consigned to the shadows.
"Sure, it has been quite hard to take," he said. "He was bang on course for the Dubai World Cup when we had to stop, and for him to miss out on a 4-year-old campaign entirely just makes it tougher."
Furthermore, Osborne has been unable to demonstrate his prowess ahead of Sheikh Joaan's imminent allocation of yearlings to his trainers. It was a prowess Buckley rewarded Osborne for by buying outright or taking shares in six horses presently in the trainer's care.
Toast Of New York has been largely forgotten within the hoopla generated when American Pharoah swept the Triple Crown. And despite his recent reverse in the Travers Stakes, Osborne believes Bob Baffert's stable star remains the horse to beat in this year's Classic.
"He is still the one," Osborne said of American Pharoah. "He is clearly exceptional, and any horse can be excused one blip of the kind he had at Saratoga."
Yet, for all the respect, Osborne would have had no qualms about running Toast Of New York against American Pharoah in the Classic. "Whatever the opposition, you have to aim horses like (Toast Of New York) at the biggest races," he said. "It's quite simple. If he's good enough, he wins. If he's not, he won't."
Come the Classic and Osborne will be tuning in on television from his Lambourn home, doubtless contemplating what might come to pass 12 months later. Before then, however, he will be happy just to get the Toast Of New York roadshow back on track at the Dubai World Cup in March.
"Missing the whole of this year is not what any of us involved with the horse thought would happen, but things can go wrong so easily in racing," he reflected. "Whatever happens, the horse has been very good to us already. And where his new owner (Sheikh Joaan) is concerned, I really hope there are still some good days ahead of us. Touch wood, there's no reason why there shouldn't be."
In the meantime, the long wait goes on.