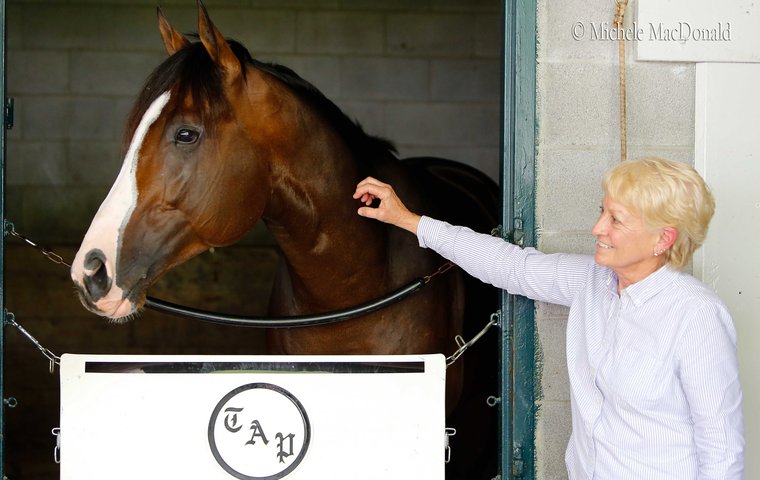 It's mostly by choice that Virginia 'Ginny' DePasquale is one of the least known professionals in American racing even though she routinely helps develop some of the most famous and accomplished horses in the sport.

She politely dodges interviews and cameras when she can, preferring to stay in the shadows of any spotlights, and she is often on the move, traveling with horses from coast to coast and around the world.
She can fit her belongings in the back of her car and she wakes hours before dawn every day.
Her focus is on her job, which, in shorthand, is to manage the daily regimens of a squadron of well-bred and valuable racehorses, attending to their needs and directing their exercise so that they have optimal chances to win prestigious races.
Over just the last few extraordinary months DePasquale has:
Assisted with the conditioning of Kentucky Derby winner Always Dreaming while he was in Florida.

Supervised the training of subsequent Belmont Stakes winner Tapwrit in April while based at Keeneland Race Course.

Saddled Neolithic for his third-place finish in the Dubai World Cup at Meydan, an effort worth $1 million in prize money.

Overseen the horses that established an all-time record for stakes wins at venerable Keeneland.

Taken off for Royal Ascot to direct the preparation of G1 winner American Patriot in an attempt to bring home one of Europe's major prizes, the Queen Anne Stakes, a week today.
For two decades, since the day she was hired on the spot in 1997 to help with a stable that numbered only three dozen runners at the time, DePasquale has quietly worked as an assistant to Todd Pletcher. Her relentless work habits and pleasant affability, salted with a bit of ironic humor, generally mirror the traits of her boss, and she has followed him in an ongoing climb to unprecedented heights.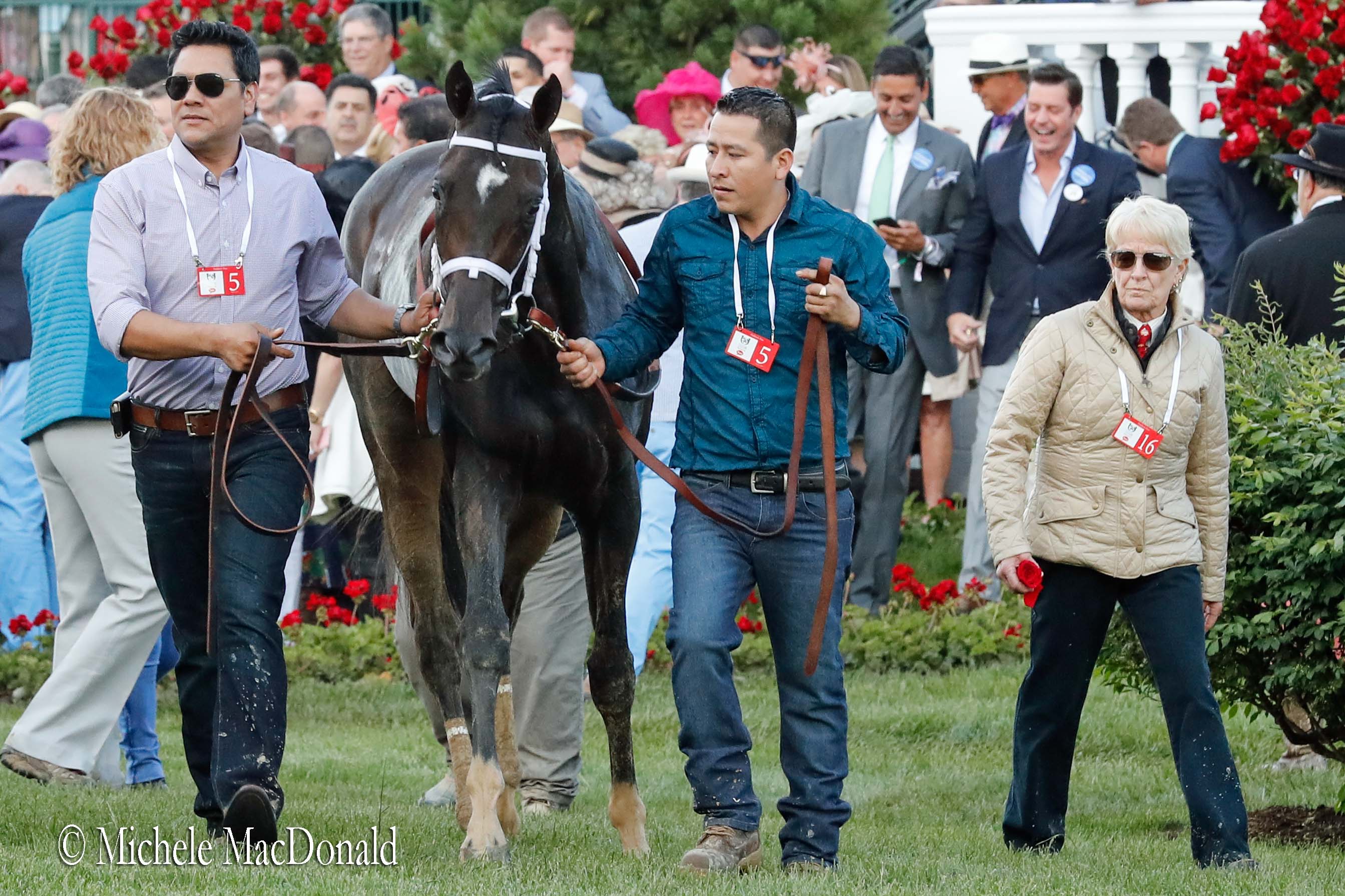 In the time since DePasquale was hired, Pletcher has risen to become the winner of a record seven Eclipse Awards, America's all-time leading trainer by stable earnings with over $341 million to date, and a world top ten trainer. Today his equine charges number well over 200, including a generous measure of the most talented horses in North America, and Tapwrit's classic victory at Belmont Park on June 10 marked the trainer's 150th triumph in a G1 race, according to data compiled on his website.
DePasquale has been a key component of the Pletcher operation while every single one of those G1 victories were achieved. Yet few may know much about her, and even fewer probably would guess that this behind-the-scenes dynamo, who has pulled the girths around horses owned by sheikhs and tycoons, is a grandmother.
"I'll leave it up to her to reveal her age, but I think most people would be surprised," Pletcher said while elaborating on how much DePasquale has meant to the success he and his clients have enjoyed.
Horse lover
"She's a huge part of the team and has been for quite a while. She's well versed in how our program works and she's perfect for these traveling situations where she's able to go around the world and supervise shipping and everything that goes along with it. It's great to have someone who is as experienced as she is," he said.
"She's a very caring person. She's a horse lover, and so that's like traveling with her babies. She's watching over them at all times, and, in most cases, has been around those horses quite a bit and is familiar with them and any idiosyncrasies they may have," Pletcher continued.
"When they travel those long distances, you're always hoping that they travel safely and that they are eating well and recovering from the trip and not showing any changes in their normal behavior. So, she's able to communicate that to us. In a lot of cases, these are the best horses you have, so you need someone that you can totally rely on to be supervising them."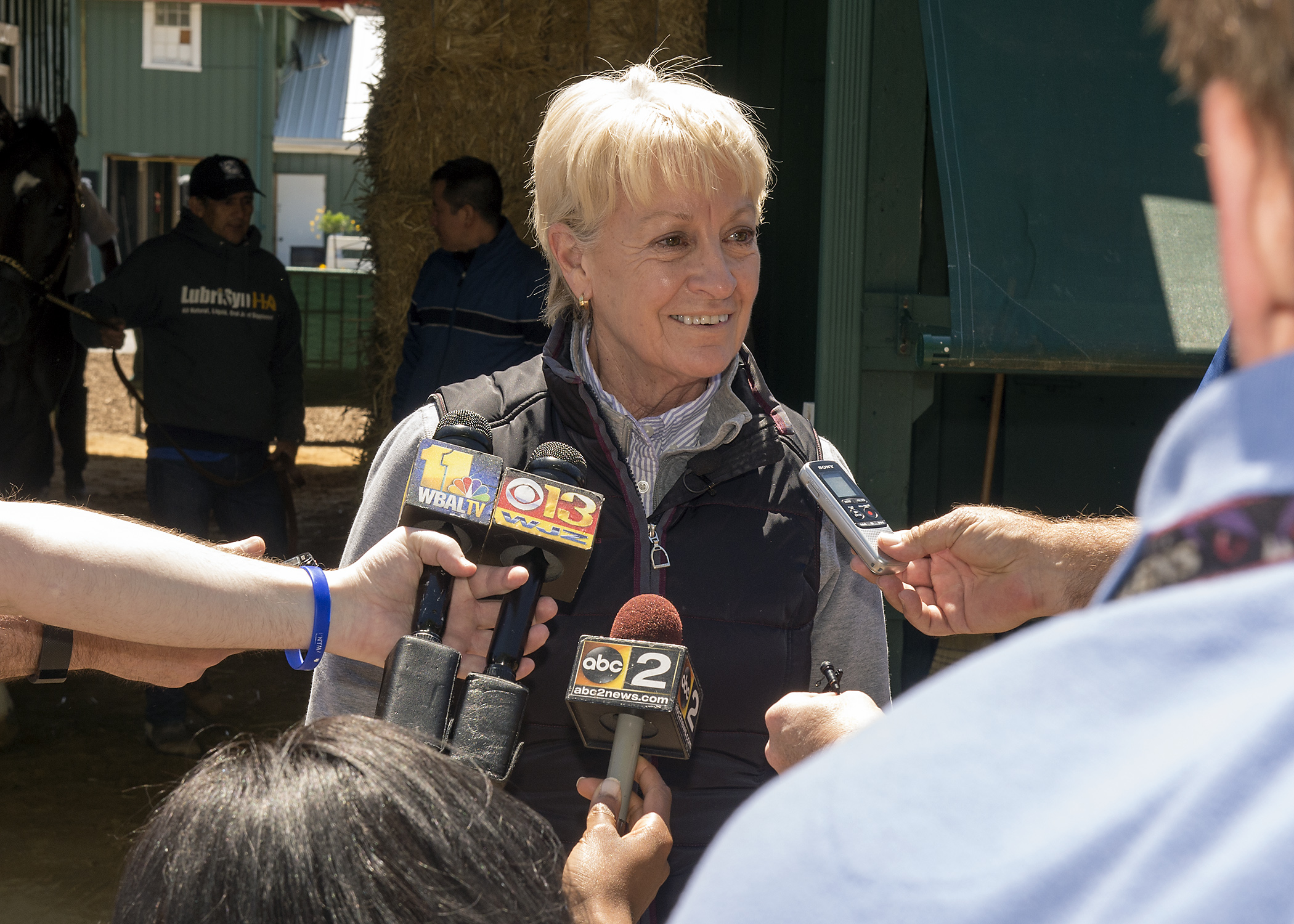 DePasquale has traveled to Dubai for a decade with the Pletcher runners aimed at the rich Dubai World Cup program races, and she now is on her second mission to Royal Ascot. And DePasquale was the one Pletcher sent to Pimlico Race Course to greet Always Dreaming when he shipped in following his Kentucky Derby triumph at Churchill Downs.
DePasquale also was assigned to coach the promising Tapwrit, a $1.2-million yearling, for a brief but key period before the frenzy of the Triple Crown. "He has come a long way," she said after a late April workout at Keeneland, "but you have to tell him, 'This is what we are doing today.' You have to keep him focused."
Pletcher assigned DePasquale to direct his string at Keeneland this spring following her return from Dubai, and she was just as busy many afternoons at the Lexington track as she was during morning works.
She dispatched three graded stakes winners, led by American Patriot in the G1 Maker's 46 Mile. That victory was not only a launching pad to Royal Ascot for the 4-year-old colt, it also broke the all-time record for stakes wins at the boutique Lexington track by a trainer, with Pletcher surpassing his mentor, Hall of Famer D. Wayne Lukas, with 51 stakes to his credit.
Golden days
By the time the Keeneland meet ended, the total had grown to 52 stakes wins, and the Pletcher barn finished second for the meet by wins with eight from only 17 starts, while leader Wesley Ward gained 11 victories from 50 starts.
It was during those golden days of good fortune at Keeneland that DePasquale shared a prophetic tip with those who stopped by the office at the end of a perfectly manicured shedrow at Pletcher's Barn 6: Always Dreaming was a colt to watch on the first Saturday in May at Churchill Downs.
"He has a great mind and he does everything right," she noted. "We really like him."
DePasquale often lights up when talking about the horses she works with, although she isn't nearly as keen to talk about herself. "I don't pour my heart out to anybody," she said.
But, in looking back over what many would view as an unorthodox and taxing life during all the long hours between euphoric visits to winner's circles, she said, "I was kind of born to this."
Totally fearless
While she was growing up, DePasquale and her parents constantly moved due to her father's position with the United States Navy, so she learned to enjoy new places and people, never pining for deep roots. And, from her earliest years, horses exerted an almost magnetic force that drew her to them.
"My Dad was in the service so we pretty much traveled halfway across the United States and all over the world. When I was in the first grade, I lived in Jacksonville, Florida, Philadelphia, Pennsylvania, and Corpus Christi, Texas — and that was just the first grade. So, I'm used to traveling — it's kind of in my blood. If I'm in one place too long, I kind of get restless," DePasquale related.
"I think I've always been drawn to horses, from the time I was a little girl when we lived in Corpus Christi on the naval base and there was a riding stable right across the street. I was four years old and I used to walk across the street and crawl into the corral with the horses. My mother would have heart failure seeing me walking around inside the corral with these horses. I was totally fearless but my Mom would be having a fit," she said.
"They had riding horses on a lot of Navy bases. We lived in North Africa, in Morocco, for a while, and they had a riding stable there that I used to go to. I think I was like 12 years old, and I used to spend all day and sometimes all weekend at that riding stable."
Show circuit
She graduated from high school in Key West, Florida, and DePasquale summarizes the next phase of her life succinctly. "Basically, I got married," she said, and soon her life revolved around a son and a daughter.
Horses were never too far away, however, and she and her family became involved with showing.
"We had a farm and the kids had show ponies and I had a couple of show jumpers. So, we showed on the circuit. As a matter of fact, I knew Michael Matz when he had the show horses, and Rodney Jenkins also was on the show circuit at the same time," DePasquale recalled of the two famous jumper riders who went on to become successful racehorse trainers.
"We had a nice horse that we bought off the track and he was a grandson of Count Fleet; his sire was Count Turf, who won the Kentucky Derby. We bought him just as a show horse and we found out he could jump tall buildings in a single bound so he turned into a really nice show jumper. We were really pleased; he won a bunch of classes for us," she said of the horse who jumped under the name Spy Commander. "He was with me for 21 years; he was a cool horse."
A memorial trophy has been given in Spy Commander's name to the high-score jumper at the South Florida Hunter Jumper Association Charity Horse Show since 1993.
As the years went by, DePasquale's attention turned to racing after her daughter began galloping horses at Calder Race Course, and she started breaking and training a few young horses and handling a small number of lay-ups at a farm near Palm Beach Gardens.
Not much of an interview
She embarked on the road that would lead to Pletcher and racing history much later in life than is typical, after she made the decision to free herself from the daily commitment of farm maintenance when her children were grown. She traveled to Atlantic City and worked for Red Terrill, who had trained G1 winners Turnback The Alarm and Pretty Discreet.
"Then I went to Monmouth Park and worked there for a while, and then I went down to Hialeah Park. That's where I met Todd," DePasquale said. "He was looking for a foreman so I went in and asked for a job and got hired. That was in 1997.
"It wasn't much of an interview," she added. "I said, 'I'm looking for a job,' and he said, 'You're hired.'
"Obviously, they were really desperate," she said, laughing.
Pletcher had been out on his own for a little over a year after working six years as a foreman and assistant to Lukas following his graduation from the University of Arizona Race Track Industry Program. As Pletcher recalled, DePasquale arrived at his barn just when he needed a key person to help manage his expanding business.
"Cindy Weaver was my assistant at that time, and Cindy knew [DePasquale] a little bit from being around New Jersey, and she was someone that I had seen at various places. It worked out well timing-wise," he said. "Our stable was starting to grow and we were looking to add an assistant/foreman type of person, and it was good timing for both of us."
DePasquale was given a fair measure of responsibility immediately.
"Todd and Cindy went to Belmont and left me at Hialeah with something like 15 horses. I would work at Hialeah in the morning and go over to Gulfstream in the afternoon for the races," DePasquale said. "From there, I went up to Saratoga."
Winners began to gallop home in quick procession for Pletcher, and he logged 12 stakes wins in 1997. In 1998, he collected 23 stakes trophies and his barn included dual Canadian Classic winner Archers Bay and triple G1 winner Jersey Girl, his first runner to succeed at the elite level.
As the stable continued to grow in succeeding years, Pletcher began to send his horses further afield to chase the biggest prizes, and DePasquale often went with them. Some of her fondest memories stem from the many successful forays she took with the stable stars.
"We won three big stakes in three weeks in 2007. I went to California with [champion] Wait A While and won the American Oaks. Next, we won the $1 million Virginia Derby with Red Giant, and he was 37-1. And then Unbridled Belle won the $1 million Delaware Handicap [by 7 ¾ lengths]," DePasquale said, clicking off the details as if the 2007 races were run just yesterday.
"I hardly had time to unpack. I just took the dirty clothes out of my suitcase. I was gone Thursday through Sunday almost every single week," she recalled. "I remember another fun time: I was at Pimlico and we had four horses in three stakes and Todd had gone back to Belmont. We had a win, a win, a win and a second.
"Todd said, 'How come you didn't get that other horse to win too?' I said, 'I told the jockeys I wanted a dead heat, but they didn't do it.' That was fun."
One big team
The Pletcher team is — by necessity, due to its size, and through the inspiration provided by the man at the top — tightly knit and highly organized. Other current assistants Tristan Barry, Byron Hughes and Anthony Sciametta join about 200 employees, including foremen, exercise riders, grooms and hotwalkers. Not much happens by chance.
"It's important that we're all one big team," DePasquale said. "With this many employees, this is like a big corporation.
"Todd is a very organized person and I think it's kind of like a trickle-down thing. If the boss is organized, everybody else pretty much stays organized too. And I think with an operation this big, you can't be haphazard. You just kind of follow suit. If your boss is organized, you're organized. That's the way it is.
"Todd has a very good work ethic. He comes in to the barn in the morning and we have a hundred-something horses in Florida and he's there at 4:30 every morning and he checks every single horse every single day, checks their legs, watches them jog, watches them train, walks through the barns. And he's on the phone to all the rest of the assistants and with the owners — he's got a very good rapport with the owners.
Avoiding public attention
"I talk to him every day. He calls me every morning between 10 and 11 and we go through every single horse; he does that with every assistant. He goes through every single horse every single day so he knows if there are any issues.
"His approach transcends to everybody else. They see how hard he works and they want to do the same thing," DePasquale said.
Over the 20 years they have worked together, Pletcher and DePasquale have reached a high level of understanding and communication, from the serious end of the spectrum to the more light-hearted zone.
"Todd is so easy going. He plays his cards close to his vest, but I don't remember him ever really losing his temper over anything. Every now and then you can see that he wants to, but he's really even tempered. After knowing him for 20 years, if you go into the office and you see him first thing in the morning, you know whether to sit down and have a chit chat or turn around and go out the door. He's very easy to work for — very easy to work for," DePasquale said.
Perhaps one of the most enviable parts of her job, at least to outsiders, is when DePasquale fills in for Pletcher at the major races he is unable to attend, but she tends to avoid public attention. She tried to sneak away from the winner's circle after some of the big wins at Keeneland, admitting that in-house television commentator Mike Battaglia had to grab her for an interview.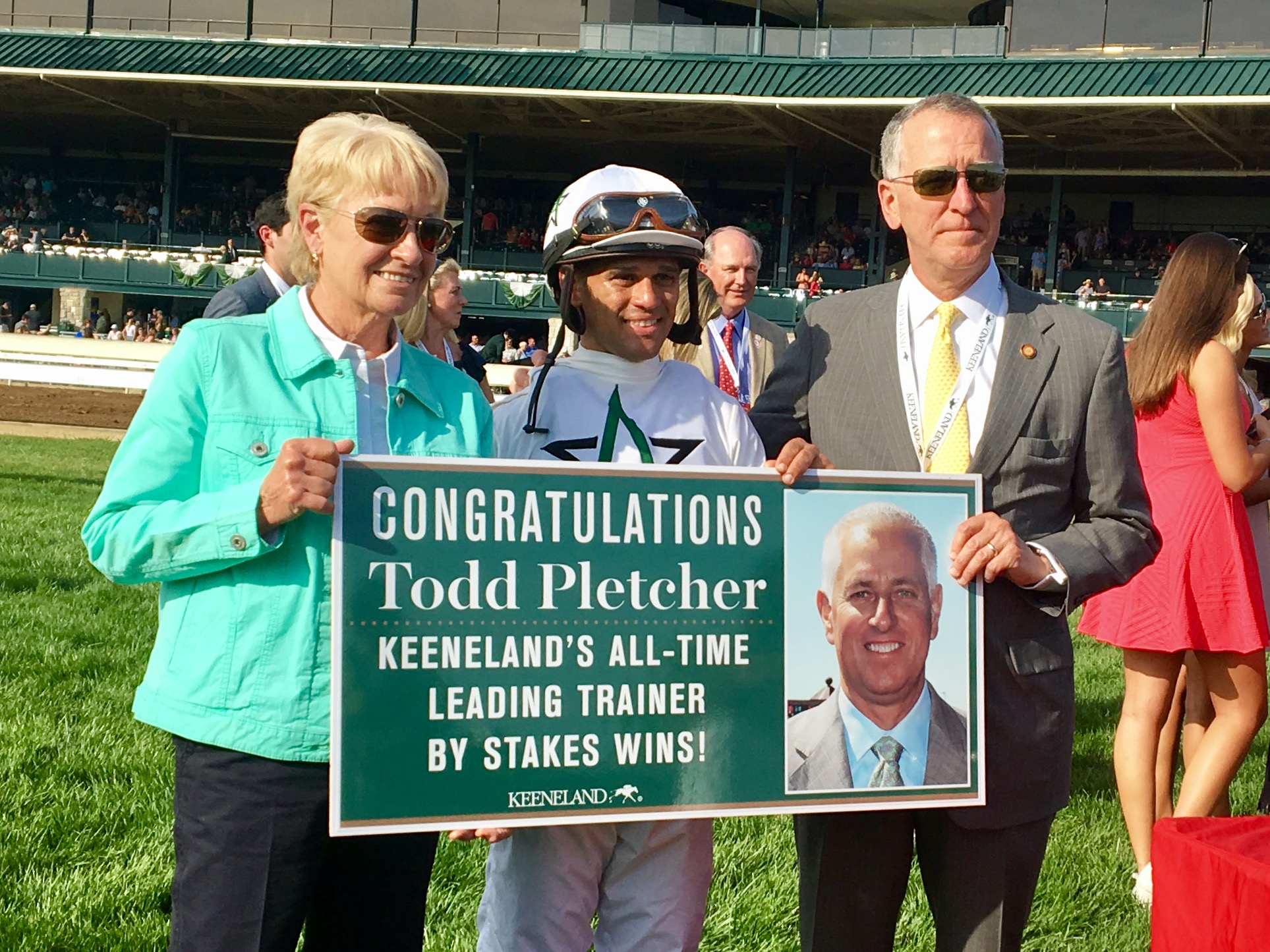 Following American Patriot's big win, DePasquale was asked to pose for photos with jockey Javier Castellano and Keeneland President Bill Thomason while holding a placard congratulating Pletcher for his all-time stakes record. She teased Pletcher and told him he had to carry the placard to a symposium he was scheduled to attend two days later.
"He said, 'No way,' but I said he had to do it," she joked.
On her first trip to Royal Ascot in 2011, however, stepping in for Pletcher was not so easy, particularly since DePasquale doesn't relish high-pressure media situations. She faced a seemingly unending barrage of questions about 2010 Breeders' Cup Juvenile Fillies Turf winner More Than Real, who was entered for the G1 Coronation Stakes, and 2009 Breeders' Cup Juvenile Turf runner-up Bridgetown, a G1 King's Stand Stakes entrant.
"I walked into this room and I saw this stage with a long table and about ten chairs and I said, 'Hmm, I wonder what's going on there?' The next thing you know, I'm sitting up on that stage with about 60 people from the press asking me questions that I didn't know the answers to. I made up answers pretty quick," DePasquale said, laughing.
Hungry to return
Regardless of that situation and the fact that neither More Than Real nor Bridgetown hit the board in their races, the unique spectacle of Ascot made her hungry to return, and going back with American Patriot was the top goal she mentioned for 2017.
"When you turn around and see nothing but men in top hats and women in all these beautiful hats, it is just an amazing sight. It's a place you can't miss — you have to be there at least once," DePasquale said.
As for American Patriot, he is one of her favorites, although there have been many over the years.
"He's a very laid back horse. He gets out there and does his job and nothing flusters him. He actually enjoys his job — he acts like he really likes what he's doing. He's just a really cool horse," DePasquale said of the WinStar Farm homebred by War Front out of Life Well Lived, a Tiznow full sister to Dubai World Cup winner Well Armed.
When asked about other horses she has particularly admired, champion English Channel, a winner of ten stakes, including six at G1 level from 2005-07, is the first name she mentions.
"I always loved English Channel. I traveled with him all the time and he was a great horse. He was little with a big attitude," she said.
Belmont glory
"And Wait A While — I took her out to California a few times and she won the Yellow Ribbon Stakes as well as the American Oaks. And Pollard's Vision [winner of four graded stakes in 2004 and 2005], with his one good eye. He gave you 110 percent every time despite having the blind eye," she added.
It was clear before the Kentucky Derby how DePasquale felt about Always Dreaming, and following Tapwrit's surge to Belmont glory — with another Pletcher trainee, the one-eyed Patch, following his stablemate home in third — she exclaimed, "That was amazing."
With such exhilarating rewards for the endless hours of work, DePasquale yearns for little else. This colorful, demanding, unique life she chose for herself after raising a family is all she wants. She said she enjoyed her last vacation to Hawaii, where her son lives, and taking care of her grandsons there, but she admitted she was restless to return to the track.
"I keep thinking I'm going to retire. But I don't want to retire," she said. "I'm only going to retire when I can no longer do my job."
Glancing down the shedrow, she looked over a dozen sleek bays, grays and chestnuts, and they gazed back at her. Their scrubbed halters and pristine coolers emblazoned with Pletcher's T.A.P. initials hung with exact precision outside their stalls, and all seemed right in DePasquale's world.
"I can't imagine doing anything else," she said.