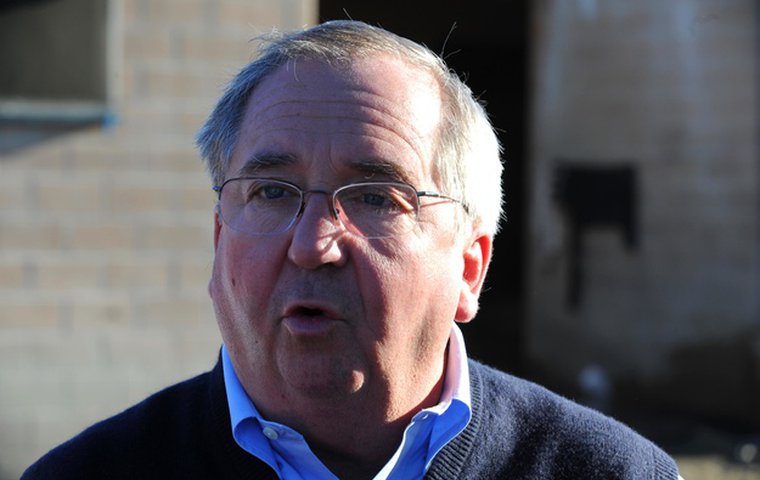 Shug McGaughey is one of the most prolific trainers in Breeders' Cup history. Since saddling his initial starter in 1985, McGaughey's mark at the World Championships currently reflects nine winners from 60 starters. His Breeders' Cup runners have earned nearly $10 million, which puts the Hall of Famer eighth among his peers.

McGaughey tightened the girth on some of history's most popular Breeders' Cup winners, most notably the undefeated Personal Ensign, who capped her brilliant career with a nail-biting, narrow victory over Kentucky Derby winner Winning Colors in the 1988 Distaff. He also conditioned Personal Ensign's daughter, My Flag, to a Breeders' Cup triumph [1995 Juvenile Fillies]. In turn, My Flag's daughter, Storm Flag Flying, was a Breeders' Cup champion [2002 Juvenile Fillies] for the trainer.
To boot, the McGaughey-trained Inside Information, the winner of the 1995 Distaff, possesses the record for the largest winning margin [13 1/2 lengths] in any race at the Breeders' Cup.
As private trainer for the Phipps family since 1985, the stalls in McGaughey's barn have long been occupied by Thoroughbreds carrying impeccable bloodlines. He also trains for a multitude of other influential American breeders, including Ogden Mills Phipps' cousin, Stuart S. Janney III. Janney and Phipps' homebred Orb provided McGaughey with his first Kentucky Derby win in 2013.
Honor Code, a homebred for Dell Ridge Farm in a partnership with Lane's End Racing, looks to provide McGaughey with his first win in the Classic at this year's Breeders' Cup. A ridgling son of A.P. Indy, Honor Code is the trainer's eighth starter in the Classic, which delivered him an agonizing defeat in 1989, when Easy Goer was narrowly denied the winner's spot by arch-rival Sunday Silence.
A native of Lexington, Kentucky, where the 2015 Breeders' Cup will be held, the 64-year-old McGaughey sat down with Karen M. Johnson in his Belmont Park office on Oct. 9 to discuss his thoughts on the evolution of the Breeders' Cup; his Classic starter, Honor Code; and the critical medication issues that are currently creating a maelstrom in American racing.
----------
In the 30 years since saddling your first starter in the Breeders' Cup (Vanlandingham, 7th in 1985 Classic), what changes to the Breeders' Cup program do you believe have benefitted the event?
"Obviously, the biggest change is the add-on of the races, which I was against for a while. But then I noticed every time I was watching them on a Friday, whether I was at the races or watching them on TV, I was enjoying them. I was probably wrong. And they have tweaked [the schedule] a little bit since.
"The other big thing is the event is more regional now than it is spread out. We have a little bit of a difference this year with Keeneland, but it's been in California for the last three years. When it was set up, it was set up to be this major day of racing on television at all these different racetracks. Well, they found out that really didn't work. And they had to pick their spots.
"By picking a smaller spot like Keeneland, I'm sure the Breeders' Cup knew that, by giving the track notice of holding the event, Keeneland is going to get it right. And I'm sure Keeneland is going to get it right. I'm very much in favor of it going to Keeneland because that is where it originated — it's mostly funded by central Kentucky breeders and their horses, stallions, and foals. So, I think it deserves to be in Lexington. I really think it's going to be a good week of pageantry in Lexington."
Do you prefer a rotation of host tracks, or would you like to see it run at one? If so, where would that be?
"I'm kind of undecided on that. My experience is that the last three years at Santa Anita have been very good. I do know that the [East Coast] horses have been a little bit at a disadvantage when we look at the results, but I think the Breeders' Cup needs good weather and [human] star power. I don't think people want to turn on the TV and watch the Breeders' Cup and see a whole bunch of people all bundled up and cold, or it raining. I'm sure people watching would prefer, like we saw at Santa Anita, stars coming out, participating, and hearing what they had to say about the event.
"You look at a guy like Jim Rome, who hated horse racing, and once he got introduced to it, he loved it. He's probably as good a spokesperson for the sport as there is.
"So, I think those are things that have to be taken in account, and I would probably lean the way of [Southern California] a little bit. But, if it does rotate around, it needs to be in New York at Belmont because of the big-city atmosphere."
How much are New York-based horsemen at a disadvantage having to ship for the Breeders' Cup? Is having it at Keeneland less of a disadvantage than the West Coast?
"Keeneland is less of a disadvantage, especially for [New York-based horses]. Even for the European horses, although, they have done well out at California. But I think the [European horses] will prefer the weather they get at Keeneland. One year, in California, it was 100 [degrees]."
Over the years, has your training approach changed with the notion you wish to make the year-end goal for your horses the Breeders' Cup?
"My goal all the time is to make a horse last from the start to the finish [of a racing season]. I've always felt fortunate that I've been able to participate in the Breeders' Cup quite bit, but I let the horse take me there. I don't ever really work back from the Breeders' Cup."
What was your biggest Breeders' Cup disappointment?
"I think Point of Entry [2012 Turf] was my biggest disappointment because I thought he was the best — not taking anything away from the winner, Little Mike, a very nice horse. I thought we were trouble all the way and then got loose and came flying at the end and just got beat [half-length].
"I was particularly fond of that horse. I thought he had extraordinary ability. I'm not really sure, except for a few times, that we got to really see it, because a lot of the time the turf courses, even though he won, weren't to his liking."
What ranks as your most satisfying Breeders' Cup victory?
"Personal Ensign, by far. She had won 12 in a row. If she had lost the 13th one, there wouldn't have been quite as much talk about Personal Ensign. She was going home [to be bred] an undefeated champion, the first time that had been done in a long time. It was my first Breeders' Cup win and Mr. Phipps' first Breeders' Cup win."
How nervous were you that day with Personal Ensign's unbeaten streak on the line?
"I was a little bit nervous. But I've always found I am a little bit more nervous on Breeders' Cup preview days than I am on the day because I always feel like, 'we're here, let's see what happens.' Usually, I just feel excitement on Breeders' Cup day."
You picked the one-mile Kelso as Honor Code's prep for the Classic instead of the 1 1/4-mile Jockey Club Gold Cup. Why was that?
"A lot of it was just a feeling I had, from the time I ran in the Whitney. I thought if we ran in the mile Kelso, it would kick-start us forward, where if we ran in the mile-and-a- quarter Gold Cup, we might have to play catch-up a little bit. I thought a mile sharpener . . . he ran really good here in the Metropolitan Mile . . .
"I also thought back on Vanlandingham, who won the Jockey Club Gold Cup and ran terrible in the Classic, and Miner's Mark, who won the Jockey Club Gold Cup and ran terrible in the Classic. When Easy Goer ran in the Jockey Club Gold Cup it was a mile and a half. I remember that it got back to me Charlie Whittingham [Sunday Silence's trainer] saying, 'Well, if he is running in the Gold Cup, I've got him [beat] at the Breeders' Cup.'"
Do you have any regrets with the move after Honor Code finished third in the Kelso? What was your take on his performance?
"I wasn't regretful. I was disappointed, obviously, that we didn't do better. But I never had any second thoughts that I should have run in the Jockey Club Gold Cup. I feel we ran in the right race. Hopefully, we didn't get a true race because of the conditions of the track [sloppy and sealed]."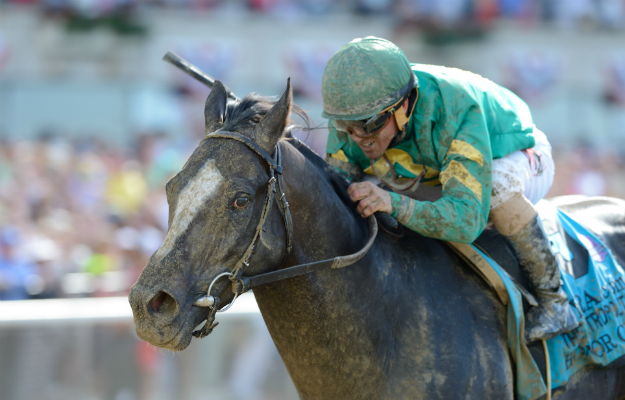 How do you measure in advance of the Classic if Honor Code got enough out of his prep in the Kelso?
"Probably won't know that until after the race. I've got no problems where he stands right now. I think he is a fit horse. He came out of the Kelso good and I think he got enough out of it. I think he is fit enough and has enough of a bottom in him to where I didn't have to have a hugely solid race to get him a mile and a quarter. He gets plenty out of what he does in the morning. I think I will be fine in that respect."
It's been well-documented that Honor Code is tricky to train — sometimes refusing to break off when asked in his breezes. How have you worked around that?
"I've just had to be patient with him. I've had difficult horses in the past. When he did it recently in a work, Javier [Castellano] found him a lead by following behind some horses, and he was fine."
What's Honor Code's behavior like in the barn?
"In the barn, he walks around there like a pony. That's one of the things that is kind of strange about him, he doesn't ever tout you. It's not like you're going to come into the barn and see him going down the shed row on his back legs."
Who do you believe is the horse to beat in the Classic?
"Probably American Pharoah — especially if he gets loose on the lead. I have a lot of respect for him. Hats off to [Beholder], she's exceptional, but as we all know, it's not that easy. I don't think [Beholder] can turn American Pharoah loose [for the lead]. That could be a help for Honor Code."
You train for a multitude of successful breeders, with the Phipps family at the forefront of the list. In what ways does that enhance your experience as a trainer?
"One of the things about training for the Phipps and Stuart Janney is that it's completely my program. There is no interference. I tell them what is going on, we discuss it, but 999 times out of 1,000, it has been my call. In fact, maybe 1,000 out of 1,000. It just makes it easier for me because I don't have someone asking me all the time, 'Why do you want to run there?'
"The other thing is that it has been fun for me being around brothers and sisters. Like today, I got a video on my phone of Point of Entry's little brother by War Front, and Orb's full brother yearling jogging in the field. Lots of the people who work for me have been with me for a long time, so I can show the video to them, and then it's kind of fun for all of us.
"And, no doubt, it's a big help for me being familiar with the families of these horses. Maybe I have a horse with an attitude, and I remember the same attitude in the mother. Also, knowing the family well will come up when planning breedings. I might say, 'Oh, I don't know about that [mating] because the mother was a little funny that way . . .'"
You were among the trainers in August 2014 to sign a pledge moving toward the gradual elimination of race-day medication (Lasix) in the United States. Why is doing away with Lasix for competition important to you?
"What is important to me is that we get a presumption out there that we are legit. I go to different places and I hear — not as much as I used — people saying things. In one case, it was a nurse saying, 'Oh, you're at the place where they drug all the horses.' I said, 'Now, wait a minute.' She said. 'Well, they give them that stuff every day.' I said, 'Well, that is a therapeutic thing, and they are not all drugged.'
"I think from what I read people want to see [racing] get cleaned up. They got tired of it in baseball, they got tired of it in cycling, and they made an effort to get it cleaned up. That's what I am more in favor of than anything."
Why do you continue to use Lasix, even with horses owned by Ogden Mills "Dinny" Phipps, who supports its elimination?
"I'm not in favor of not running on Lasix if everyone else is running on it. I don't use it on 2-year-olds owned by the Phippses and [Stuart] Janney. And I think we are a little bit at a disadvantage because everybody else is.
"When Lasix was [introduced] in New York in [1995], I asked Dinny Phipps what he wanted me to do. He said, 'We play by the rules, and the rules are you can use Lasix.' So, we started using it. [Phipps and Janney] later took a stand on Lasix in the 2-year-olds.
"Do I like it when I look up and see Keeneland or somewhere else in the spring where there are nine 2-year-olds going 4 1/2 [furlongs] and all nine of them are on Lasix? No, I don't like it.
"I'll use myself as an example. When I was a kid and training and we went to Oaklawn in the spring, we couldn't run on anything. As soon as we got back to Keeneland, we would run them on Lasix because we could. Did we need it? Probably not at that time, but we did it because we could."
Do you believe Lasix is a performance enhancer?
"That is something I really don't know. The only thing I know is that if it helps another horse breathe better than I'm at a bit of a disadvantage if I'm not using it. I have absolutely no problem at all not running on Lasix if everybody else is not running on it. I do have a little problem if everyone else is running on it, and I'm not."
Do you ever see Lasix being eliminated for competition?
"The drug reform thing is getting a little more play lately than it was. So, maybe it can."
Why do you think horses in other racing jurisdictions around the world, where Lasix is banned for competition, are able to race successfully without it?
"In Europe, I think one of the reasons is probably the atmosphere they train in. Also, in a lot of their races the way they race they are not being pressured early. So, if you've got a horse out there, on a long rein, just running along, he is not putting as much pressure on his heart and his lungs than maybe a horse we are pushing along [in this country].
"I do think [bleeding] can be a little bit hereditary. I don't have facts and figures on that, but I do think it probably could. We're breeding mares that bleed to stallions that bleed. So, I do think that could have an effect [on the American breed]."
What measures would you take with your horses who are bleeders if Lasix is banned on race day?
"Of course, the biggest thing [before Lasix] was we used to draw them some — take their water and hay away a little bit earlier [of race time].
"But I think the biggest thing now is we have to learn how to manage [bleeders] better than we are currently. I think a lot of us use Lasix as a crutch. If through [environmental] contamination they bleed a little bit or get mucous, we just give them some Lasix and they will be okay, instead of trying to managing it a little better, and trying to get to the bottom of the problem.
"I will, among other [therapeutic measures], use a hyperbaric chamber. Maybe I would even utilize Fair Hill a little bit more, where the horses can be outside. We have four great big grass paddocks down there and three round pens. You can leave them outside a little bit more. That is a little bit what [Michael] Dickinson's new theory is at Tapeta Farm."
What is your take on the United States Anti-Drug Agency overseeing the regulation of medication in this industry, a scenario that is backed by some very prominent owners and breeders, including several for whom you train?
"I'm in favor of it because I think with that we have one central unit that is going to be in charge — it will almost be like having a commissioner. Obviously, they won't be in charge of the daily things going on at the racetrack like a [sports] commissioner would be, but it would be a central governing body over drugs and the medication issue.
"We have a very interesting circumstance right now and that is Graham Motion. He has come out with his statement to where he thought he had done everything right, and then [Dionne Benson, the executive director of the Racing Medication and Testing Consortium] came out with a different opinion. She wasn't saying Graham wasn't right, but she was saying you can give Robaxin 48 hours out, so many cc's by injection, and you'll be fine, but if you want to [use a different treatment protocol], you probably should test the horse before you enter it. So, I think that [USADA] could clarify things in a situation like [Motion's].
"It's very difficult, too, when you're trying to run at different racetracks, and everybody is, to know what you can and can't do legally. I scratched a horse at [Parx Racing] because we injected the soft tissue of a suspensory for inflammation before I knew there was a race for the horse. We were seven days out [of treatment]. But I was told by one veterinarian 'You're fine' and I was told by another veterinarian 'I'm not sure you're fine or not.' So, I scratched her.
"I entered and got to thinking, 'Hmm. Maybe I better check.' I was told if it was an injected joint, I would definitely be fine, but going into soft tissue sometimes [the medication] stays in there a little bit longer. That was enough for me to hear. I told the owner I was scratching and here's the reason why. I'm not going to take a chance on getting a call that I came back positive.
"I'm so in favor of uniform medication rules, so that everybody knows what legal therapeutic medications we can or can't use.
"Another thing I think [USADA] would do is take a little bit of speculation out of the equation. I think [USADA] would be strict on things and maybe take away the outlook of 'Well, this guy is winning now. What's he using?' And if [USADA] isn't finding anything, it puts a stop to that."
What place does therapeutic medication have in your operation?
[Non-medication therapies] have a big place in my operation. I'm big on the cold water spa. I've got a vibrating plate at Belmont and at Fair Hill.
"Most of the injecting we do is hocks and stifles. I use very, very little of [muscle relaxants].
"[Non-steroidal] anti-inflammatories — I use nothing. The reason is when they had all the breakdowns that one winter in New York and I came back here from Florida, I decided I didn't want to give them anything because, God forbid, if something does happen and they do an autopsy and they say, 'Oh, Shug's horse had Bute or Ketoprofen or something.'
"As far as using therapeutic medicine, day in day out, we don't. But I am not opposed to — and I'm not going to be a hypocrite— if we need to inject them with something to help them, I'm not opposed to that."
Do you think medication has weakened the American Thoroughbred breed?
"I think the stats [on sales] shows it has because the Europeans aren't wanting to come over here and buy as much as they used to. Look at the Tattersalls sale results right now — they are through the roof. So, I think there are a lot of people who think our horses are inferior.
"I do think that not that long ago, [European stallions] were better than ours, but I don't think that is the case now. I think we have some really, really nice stallions in the United States. I don't think you need to go over to Europe to breed."