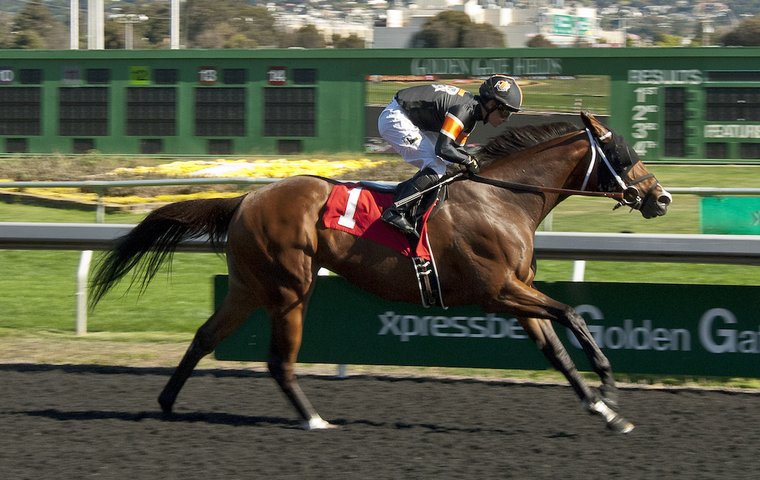 It took some convincing and a cross-country trip of more than 3,000 miles, but trainer John Martin has settled on the next spot for his stable star to attempt to extend what has grown into the longest win streak by any Thoroughbred in the U.S. this year.

Troy and Maritza Onorato's Mended, undefeated through nine starts since being claimed by Martin for $12,500 in January, is the 124-pound topweight in tomorrow's $110,000 Claiming Crown Glass Slipper at Gulfstream Park.
The one-mile Glass Slipper is the first of nine starter stakes worth $1.11 million in purses on the 11-race Claiming Crown Day program that kicks off Gulfstream's 89-day Championship Meet.
This marks the sixth straight year in South Florida and 19th overall for the Claiming Crown, created in 1999 to honor the blue-collar horses that are the foundation of the racing industry nationwide. Total handle for the Claiming Crown has surpassed $10 million each of the past three years, topped by a record $11.1 million in 2016.
Mended arrived in South Florida early Wednesday evening from Martin's base at Golden Gate Fields near San Francisco, shortly followed by the trainer. Martin has been judicious in choosing spots for his filly, whose streak has included wins over turf, dirt and synthetic surfaces.
"The horse made it fine and she's already in. She's won nine in a row. A lot of those races were hand-picked, but she is a good horse. I fully think that I have a huge chance to win," Martin said. "The owner picked the race. I'm aware of these races, but it's just a long way to travel. It's really hard to get me out of where I'm at because I have a lot of horses there. But the owner talked me into it and said he didn't mind. We're running out of spots to run so I said, 'Let's go for it.' It's going to cost him some money to do it."
Another win Saturday would tie Mended with champion sprinter Lost In The Fog for the second-longest win streak by a Bay Area-based Thoroughbred; two of those wins came at Gulfstream including the 2005 G2 Swale. The record of 11 straight victories was set by Hap Loge in 1973.
"Keeping the streak intact has altered me from running her so much. Being that she's had a good year, there's no sense in beating her up and running her every two weeks," Martin said. "I'm fine with the decisions I've made so far and I'm fine with running her in this race, too.
"It's been really fun," he added. "She's a good horse and she's actually really popular out there. I've had a lot of people telling me good luck on Twitter and stuff like that when the entries came out. She's got a little following. I hope she wins and keeps the streak alive. It's going to take a good horse to beat her."
Front-running style
Mended drew Post 6 in a field of 14 that includes the past two Glass Slipper winners, Tormenta De Oro (2016) and Moonshine Promise (2015). Regular rider Ricardo Gonzalez will be in town for the mount.
Seven of Mended's nine wins have come in front-running fashion, including a one-mile conditioned allowance Oct. 22 at Golden Gate, her most recent start. Her victories – eight coming at the Glass Slipper's one-mile distance – have come by 36¼ lengths combined, an average of more than four lengths per race.
"She does not have to be on the lead," Martin said. "My jockey is a pretty good jockey. He chooses to duel everybody into the ground and then keep going, but she does not have to do that. If somebody wants to get out there, we can take off the pace. It doesn't bother me at all.
"I gave her some time after her last race and now she's fresh. The traveling altered my training a little bit but I don't think it matters," he added. "She's in pretty good shape. I worked her the other day in 1:01, which is a decent work on the Polytrack, and she wasn't even tired. She's ready to go. It's a long trip here, but she's going to be fine."
Mended had won three of her first 16 career starts before being taken by Martin out of a fourth-place finish Jan. 6 at Golden Gate. The streak began Feb. 19 and includes a win over Golden Gate's turf course June 17, a $62,500 optional claimer at Del Mar in southern California July 27, and a similar spot at Oak Tree at Pleasanton Sept 23, the latter both on dirt.
"When I got her, I thought it was a bad claim because the horse was really sore. She had a bad foot. For two weeks she was really sore. We just worked on her foot for a while just doing normal things, soaking it and stuff like that, and the foot got better so I was able to train her," Martin said.
"The more she started winning I was able to train her the right way, not baby her. There's really no secrets. She's just able to train right through and she hasn't missed too much training over nine months. She's a big, powerful filly."
Martin, whose 1,808 career wins include the 2006 Claiming Crown Jewel with Me My Mine at Canterbury Downs, has won multiple training titles at Golden Gate and on the California fair circuit. He began his career working with quarter horses and Appaloosas, one of which, Papa John, once won ten straight races. He made the switch to Thoroughbreds in the mid-1990s and competed full-time at a Thoroughbred meet for the first time in 1997 at Bay Meadows.
"I claim a lot of horses. I like claiming horses and trying to fix them up," Martin said. "This horse, she just got good. I do have a good crew that takes really good care of the horses. If you're willing to spend money on the horses and do the right thing it gives you an advantage. It's the same at every track.
"It's exciting for me to come out here," he added. "Mended is a really smart horse and she wants to win, and that's a really good thing to have on your side. She wants to win bad, so we'll see."