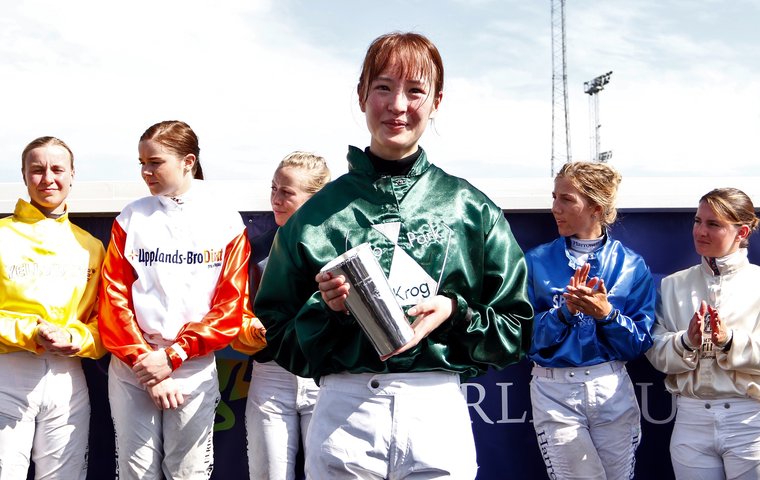 World Cup victory was seized by Japan when the country's only female rider, Nanako Fujita, was crowned champion at Bro Park, Stockholm, today (Sunday).

The 22-year-old, who arrived in Sweden with 62 winners to her credit, won the points-based Women Jockeys' World Cup, which is staged over five legs, with a total of 48 points from the reigning champion, Sweden's Josefin Landgren (43 points) with Britain's Jane Elliott, standing in for Hayley Turner, back in third with 38.
After receiving her trophy from Svensk Galopp's Dennis Madsen, Fujita, who won two races and finished second in a third said, "It's unbelievable. I am really happy. It is the first time I have ridden a winner outside Japan. Travelling to Sweden and riding Swedish horses has been very good experience for me and I hope I can inspire other female riders. I am thankful to my trainer in Japan and my parents and to Svesnk Galopp for inviting me to Sweden."
Sophie Ralston, representing Ireland, and Britain's Georgia Cox finished fourth and fifth among the ten invited international riders with 34 and 31 points respectively.
There was a dramatic start to the event for Cox when her Sunday-morning flight from London Heathrow was cancelled, forcing her re-route to Gatwick. She arrived just in time for the pre-racing photocall but after the time to weigh in for her first intended ride.
Two non-runners in the opening race, a 1200m contest, created an opportunity for Jeane Alves de Lemos to pick up Cox's ride, Monkey Bar Flies, who finished third, putting the Brazilian on the leaderboard with ten points, behind Landgren, who got her title defence off to the best possible start with victory aboard Paakame Enki, and France's Alison Massin on Lushes Lashes.
Fujita took the second leg on Franciskus. However a second place in the 1400m contest for Josefin Landgren aboard Good Sensation maintained the Swede's position at the top.
The third leg went to Ireland's Ralston, who brought Mindbender into the winner's circle ahead of Iwannabetheonlyone and local rising star Ulrika Holmquist, who rode four winners at the National Day meeting earlier this month, and Britain's Jane Elliott in third place on Haweswater.
Elliott came out best in a hard-fought finish in leg four on Nastenka and her 15 points for victory added to placings in legs one and three elevated her to second with 34 points behind the reigning champion, who picked up seven points for fourth. She was one point ahead of Fujita, who finished second.
Fujita went into the final leg of the competition in third, with just three points separating the first three, and sealed victory with a win aboard Chilterns ahead of Cox on Regan Budget, chased home by Ralston and Jive Talkin.
Dennis Madsen, Svensk Gallop's Director of Racing, said, "We are delighted for Nanako, who helped us make the Women Jockeys' World Cup a truly international competition. The Women Jockeys' World Cup, and in particular Japan's participation, has generated a huge amount of interest in Swedish racing and we are grateful to all media, trainers, jockeys, owners and commercial partners who have supported the third running of this event at Bro Park."
Final standings
Nanaka Fujita (Japan) 48 points
Josefin Landgren (Sweden) 43
Jane Elliott (GB) 38
Sophie Ralston (Ireland) 34
Georgia Cox (GB) 31
Ulrika Holmquist (Sweden) 28
Alison Massin (France) 27
Jeane Alves (Brazil) 25
Rebecca Danz (Germany) 12
Kaia Sophie Ingolfsland (Norway) 10